Beet juice is probably the most distinctive juice out there – it has such a rich color and unique taste. It's easily recognised and it's also easily made at home!
If you're hoping to start juicing beets yourself, then you're in the right place. In this article, I've gathered all of the information you'll ever need. I'll explain how to make your own beet juice, with or without a juicer; the health benefits you'll enjoy drinking beet juice; and some of my favorite recipes that you'll love.
Juicer vs Blender for Beet Juice
A question that has haunted us for centuries… okay, not really, but this is still a really good question!
Can you make beet juice in a blender, or do you have to buy a juicer?
Well, you can make beet juice in a blender but, in my opinion, it's better to make it in a juicer. A juicer is the perfect piece of equipment for unlocking all of the micronutrients in fresh beets. Making beet juice this way makes it easier to digest and all the nutrition makes its way through your system much faster.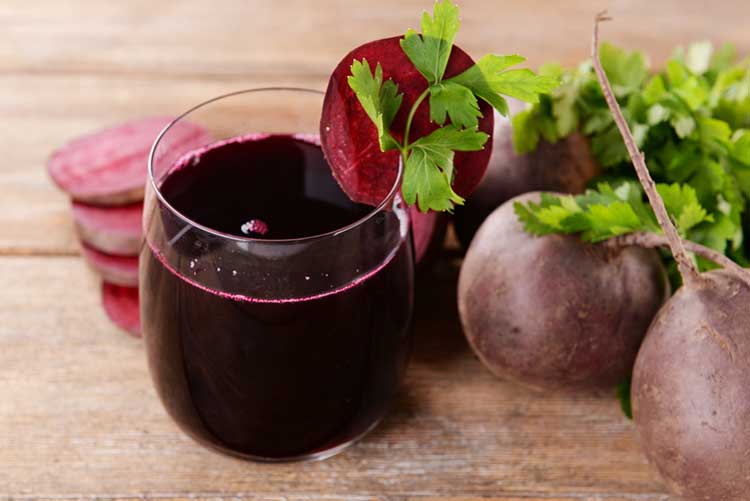 However, if you already have a powerful blender, then you don't have to go out and buy a new juicer if you don't want to. Your blender will still be able make great beet juice, it just won't be as healthy as the beet juice you would get from a juicer. I've got more on juicing vs blending here.
I'll explain how you can make beet juice using either method below!
How To Prepare Beets For Juicing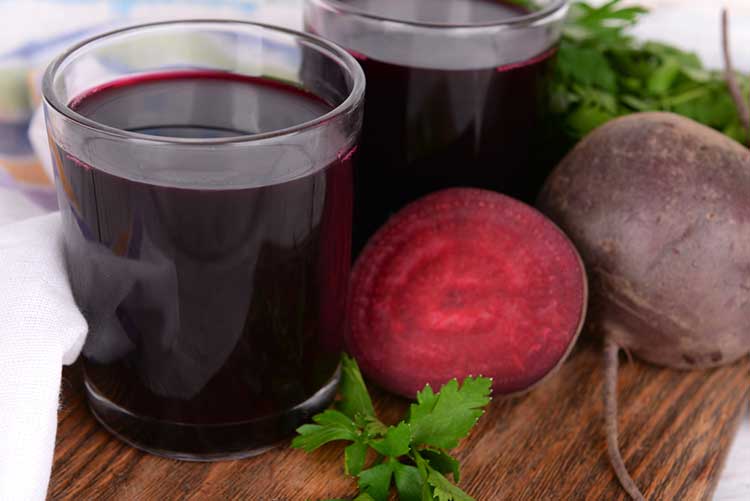 It's actually quite simple to make juice from beetroots. The only thing you really have to think about is whether or not you want to peel your beets before you juice them.
The peel of beetroot is perfectly safe to eat and juice, as long as you've scrubbed it clean with a brush. Make sure that there isn't any dirt left on your beets and you'll be fine.
If you decide you want to peel it, then peel it lightly. Don't take off too much of the skin, just enough to get rid of the outer layer.
Once you've done this, chop the tops off your beets and chop up the rest into small pieces – even smaller pieces if you're using a blender.
How To Make Beet Juice In a Juicer
Wash your beets, chop them up and then all you have to do is put them in the bottom of your juicer and it'll do the rest! Beets will go in and beet juice will come out.
You can't argue with that!
If you're opting to make beet juice in a juicer, then I'd recommend going for a masticating juicer if you don't already have one. They produce more juice than centrifugal juicers (and blenders) do, so you'll get more out of your beetroots
Masticating juicers work at slow speeds, which keeps your juice cool throughout the whole juicing process. This is good because not exposing your juice to heat protects the nutrients and enzymes within in.
Click here to read my guide to juicers for beets.
How To Make Beet Juice In A Blender
Making beet juice in a blender is a little harder than making it in a juicer.
If you're going for a red beet smoothie, then you can just drop your beet chunks into the blender with your other ingredients and you're sorted. This is the same process you use if you want to use avocado in your smoothie recipes too.
If you only want beet juice, though, it's a different process. You have to blend the beets first and then use a strainer to separate the juice from the pulp.
You do this using a muslin cloth, cheesecloth or a nut butter bag. You basically need a fine-mesh strainer that you can hold to form a bag. Pour your blended beets through your chosen strainer over a bowl. Squeeze the bag and you should get a rich purple juice from your beets. Just make sure you're wearing rubber gloves of some kind, otherwise your hands will be stained red!
When you're using this method, it doesn't matter what type of blender you have: Vitamix, Nutribullet, it all works the same way and you'll get delicious beet juice at the end.
Health Benefits of Beet Juice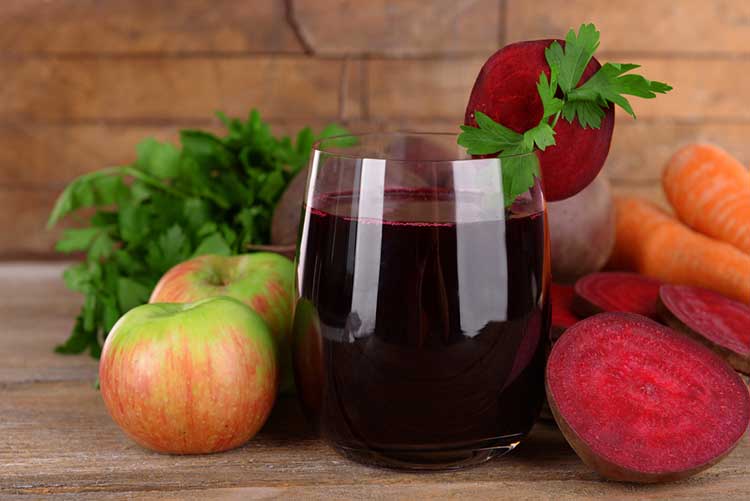 If you're interested in a more in-depth look at the health benefits of beet juice, I have more information in a different article. I've rounded up the top health benefits here to give you a quick insight into why beet juice should be a regular ingredient in your favorite juice recipes.
1. Lowers Blood Pressure
This is the major health benefit you get from beets. Studies have shown that beetroot juice can lower blood pressure in as little as 24 hours.
Lowering your blood pressure can help prevent strokes, heart attacks and other cardiovascular diseases, which is important since these conditions are one of the main causes of death in the United States.
2. Improve Athletic Endurance
If you're interested in improving your personal bests at the gym, then beet juice might be your friend.
It helps to open up your blood vessels, which is good because it improves your blood flow. This boosts your stamina and can even help you feel more awake, since you'll have more energy throughout the day.
Potential Side Effects of Beet Juice
Again, I've gone into more detail about these in the article I mentioned above. If you're interested in finding out a bit more, then check it out.
The main side effect you should know about when you drink beet juice regularly is a red color in your stools and urine. Don't worry, you're fine but if you don't know that this could happen ahead of time, it can give you quite a fright!
This happens to between 10-14% of the population and occurs because the red pigment that you find in beetroots doesn't get digested properly. While this is pretty harmless, if you find that this happens to you, it could mean that you have an iron deficiency. If you're worried about this, then think about speaking to your doctor about it.
The other side effect to watch out for when you're juicing beets is… staining your kitchen red! The red pigment has a habit of getting on everything, so unfortunately it might find a home on your chopping board, hands and blender. Take extra care not to get it on precious things and consider buying yourself an apron that you don't mind getting stained!
Frequently Asked Questions about Beet Juice
Do you need to cook beets before you juice them?
You don't need to cook beets before you juice them. As long as they are peeled and cleaned from any loose soil they are good to go. You just might have to chop them smaller to fit inside your juicer.
My Favorite Beet Juice Recipes
If you want to have beet juice on its own, then by all means, go right ahead – if you love beets, then have them however you want!
For me, I love mixing beet juice with other veggies and ingredients. Having it with other fruit juices and vegetable juices can make some really tasty juice concoctions that will definitely liven up your day. Beets and kale? Vegan beet juice? There are so many combinations you could try, you just need to get creative!
The recipes I've gathered below have been written with a juicer in mind, rather than a blender, but there's no reason you couldn't use one to make them. You would just need to use the cheesecloth bag again, to strain the juice from the pulp.
Spicy Beet Juice Recipe
Ingredients
3 Celery Stalks
2 Beets
1 inch of ginger
Ginger juice is an interesting ingredient, since it can give your juices some spicy goodness, as well as being a good anti-inflammatory. Mixing it with celery is excellent too, since it has such a high water content. This loosens up the rest of the ingredients and dilutes the strong spice a little.
if you aren't keen on celery, you could use cucumber or even green apple juice if you wanted to. A little bit of lemon juice could also be added if you like it sour!
Sweet Beet Juice Recipe
Ingredients
2 Beets
1 Carrot
1 Apple
1 Lemon
Method
Peel all ingredients
Chop into small chunks
Run through the juicer
Enjoy!
The apple juice and carrot in this recipe make it lovely and sweet, while keeping it crisp and refreshing. Add as much or as little lemon as you like, depending on how you'd like it to taste. This juice is great for getting that 'detox' feeling!
Rich Beet Juice
Ingredients
2 carrots
2-3 beets
1 sweet potato
4 oz fennel
Method
Peel all ingredients
Juice and enjoy!
This juice has a lot going on and will be a bit more filling than the other juices, making it a great option for weight loss. It's more savoury than the other recipes, since its packed with vegetable juice. Sweet potato is also a great source of Vitamin C, which not many people know!
This juice is ideal for regulating your hormones, ensuring they stay balanced and you avoid any nasty spikes or dips.
Heart Helper Beet Juice
Ingredients
3 Beets
4 Carrots
1 red Onion
1 Garlic Clove
Method
Peel all ingredients
Juice garlic and onion first
Juice carrots and beets
Brace yourself and drink
I won't lie, this juice is very strong-tasting! However, it has all the ingredients to keep your heart strong and healthy. I said before that beet juice helps to lower your blood pressure, which protects your overall cardiovascular system. Garlic and onion also have properties that are good for your heart, as well as both being packed with Vitamin C. Carrots don't just sweeten the taste, either – they have much needed Vitamin A, which also helps the heart, as well as your lungs and kidneys. It's a great all-rounder!
Method
Peel the beets and the outer green skin of the watermelon
Juice and enjoy the freshness
This is such an easy recipe but it's so tasty and refreshing, it's well worth trying! Some cucumber, lemon or even blueberry added to this basic juice recipe would also give it a bit of extra sparkle.
Conclusion
And there you have it – all the information you need to start making your own fresh juice with tasty beets! I hope you enjoy trying out the recipes above and maybe come up with some of your own. Could you create the ideal gluten-free beet juice recipe? Could you be the dairy-free wizard many of us are looking for? Share your ideas in the comments below so we can all try something new!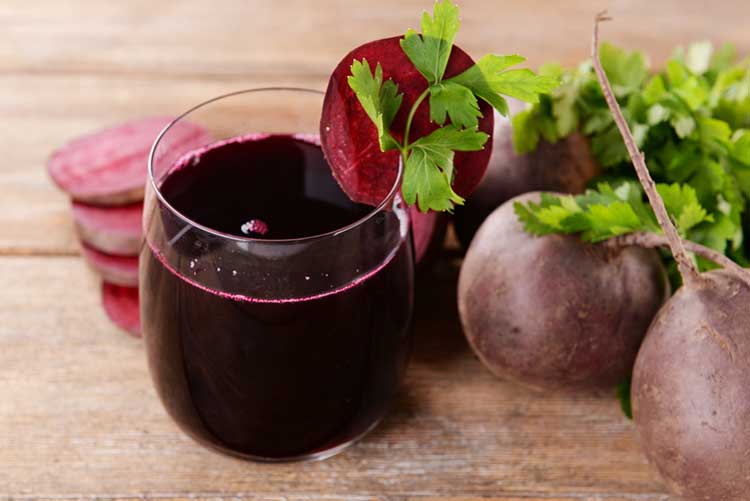 5 Favorite Beet Juice Recipes
Want to know how to make beet juice? This 5 recipes are simple yet delicious, try them out.
Ingredients
Spicy Beet Juice Recipe
3

Celery stalks

2

Beets

1

inch

Ginger
Sweet Beet Juice Recipe
2

Beets

1

Carrot

1

Aple

1

Lemon
Rich Beet Juice
2

Carrots

2-3

Beets

1

Sweet Potato

4

oz

Fennel
Heart Helper Beet Juice
3

Beets

4

Carrots

1

Red Onion

1

Garlic Clove
Instructions
Place smaller items like garlic or ginger in juicer first

Juice rest of ingrieients