Some fruits and vegetables are pretty straight forward when you're deciding whether to leave the peel on or not.
I'm sure you'd never peel your apple before you juice it right?
But do you need to peel ginger? It's so gnarly and rugged that it's hard to tell, my advice for you is that even though you can leave the peel on you should still peel it before you juice it.
The peel is hard for your juicer to handle and so it can cause damage if you juice a lot of it. Better to give it a rough peel (I talk about the fastest way to peel ginger below) and then push it through the juicer, then juice something watery after to flush it all through.
But if you don't want to peel it you don't have to! You can put it through with the skin on, especially if you don't juice it very often. Because that brings us to the next myth…
Is ginger peel poisonous?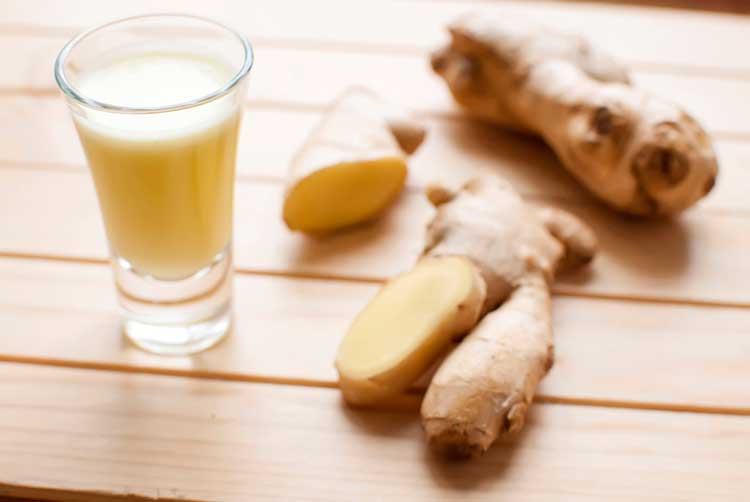 It is not.
Next!
I joke….
You do of course want to wash your ginger and chop off any stubborn lumps of dirt if you don't want to peel it because that can make you sick. But the peel itself isn't bad for you and there is absolutely no danger of it being poisonous, like I said the danger is more likely to be damage to your juicer!
Should you peel organic ginger root?
Always go organic if you can but I know it's expensive so if you can't afford to don't worry about it.
Besides even if it's organic you still want to peel it for the sake of your juicer. Peeling, in this case, isn't about how healthy it is, or whether or not there are pesticides or chemicals involved with it. It's just a case of keeping your juicer working effectively.
Do You Peel Turmeric Before Juicing It?
Turmeric belongs to the same family as ginger although it tastes a little different. but the same rules apply, you can leave the skin on but it's a little tough, though not as tough as ginger skin, so it can damage your juicer. But the bigger worry is that you'll accidentally stain everything because unlike ginger, turmeric has a nasty habit of turning everything it touches yellow so beware!
And don't even bother using dried turmeric, it just gets everywhere, doesn't really mix with the juice properly and some of the goodness has been dried right out of it. No, best to stick with the fresh stuff and stick with organic if you can.
What can you do with ginger peel?
I tend to just compost my used ginger peel but I had a look and The Kitchn had some good uses I hadn't thought about.
Perfume steamed vegetables – Throw some ginger peels into the steamer with your vegetables, or fish for that matter, and you get a nice gentle ginger flavour added to them.
Add to marinades – Marinading something Asian? Instead of using ginger use ginger peels! Same great flavour without any waste.
There third is to make ginger broth but I think it's similar to the recipe I shared for a stewed ginger juice which I think is a tastier use, although if you were making spicy broth you could add ginger to that. And tea is coincidentally another easy use I just thought of!
And of course, you just throw the ginger peel into the freezer and take it out as you need it. No waste, no spoiling, just be aware that it might freeze together and be hard to separate if you throw it all into the freezer at once.
Is ginger bad for your juicer?
I talked about this a little bit already but basically ginger is a tough fibrous root, so juicing it is hard work. Now if you've got a super expensive juicer like a Green Star or a higher-end Hurom juicer then I'm sure you've got nothing to worry about but if you have a cheap to mid-range juicer then you're going to need to be careful.
Peeled ginger is a bit easier to manage on your juicer but if you're juicing large quantities of it because you lie to make your juices in batches then you're going to want to only juice for bout 15 minutes then leave it for an hour. Otherwise, it's going to overheat the and before you know it your juicer is going to have given out and stopped working completely.
No fun.
But, if you're just juicing a knob of ginger a day as part of your daily juice then your juicer should be just fine, as long as it's been peeled that is!
How do you peel ginger quickly?
This is a fun trick, you can peel ginger using a regular metal spoon! You just apply some pressure with the spoon facing down and run it down the ginger. The skin just peels away with a minimum of waste.
This is great because you can get into all the nooks and crannies without having to just cut big pieces off.
A knife is another effective way because you can just cut down the big pieces into squares but you lose a lot of the ginger that way and it just feels a little wasteful.
Conclusion
So there you have it, you can juice with the peel on, in that nothing bad will happen to you, but something bad might happen to your juicer so best to give it a peel using a spoon and you'll keep your juicer happy and your juice spicy and delicious.