When you're just starting out on your juicing journey, some fruits and vegetables are easier to get the hang of than others. Like apples. When you juice an apple you rarely find yourself second-guessing how you should go about it and most people know that you can juice them with their peels on – it's super easy!
But some ingredients seem a little more intimidating, like ginger. Do you need to peel ginger before making ginger juice? It looks gnarly, rough, and definitely not like the tasty fresh ginger juice recipe essential that it is.
But it turns out that you actually don't have to peel fresh ginger before popping it in your juicer if you don't use it regularly. But if you regularly juice ginger then you're going to want to peel it so that it doesn't damage your juicer. I'd also recommend washing it first.
Like I said before, fresh ginger is rough and the peel can be a lot for some juicers to handle, depending on the type of juicer you have.
If you're a fresh ginger juice super-fan, and find yourself juicing at least a piece of ginger every day, then I'd recommend peeling your ginger before juicing it (I've explained the best way to do this quickly down below).
Once you've done this, you can juice both the peel and the rest of the ginger to enjoy all those ginger health benefits. After you've done this, I'd recommend juicing something watery, like maybe watermelon or some citrus fruits, just to make sure that all the ginger has been flushed through.
However, if you don't want to take this extra step of peeling your ginger, you don't have to, especially if you don't juice very often! Which brings us to our next fresh ginger myth…
Is ginger peel poisonous?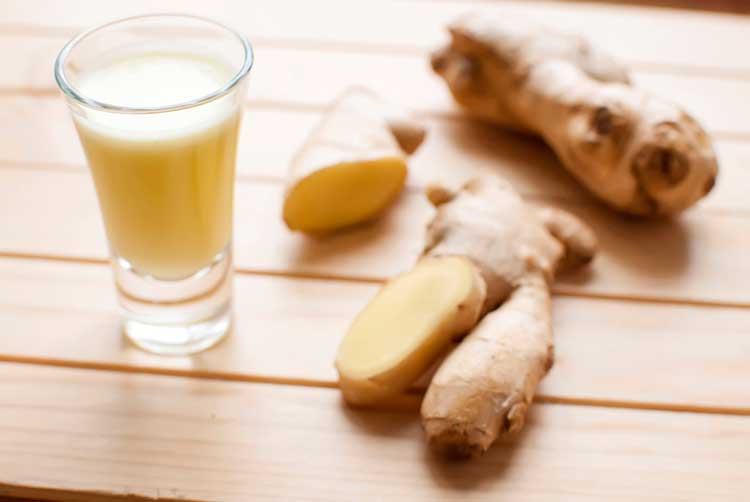 It is not.
Next!
I'm kidding, I 'm kidding, I'll explain a bit more.
Even though ginger peel isn't poisonous, it's still a good idea to wash your fresh ginger thoroughly and chop off any stubborn bits of dirt. However, ginger peel is completely safe to juice and eat – it is absolutely not poisonous. The only thing that could go wrong with using ginger peel is that it might damage your juicer.
Should you peel organic ginger root?
In terms of saving your juicer, there's no difference between organic ginger root and ginger root that isn't organic. Regardless of whether or not it's organic, it could damage your juicer.
When it comes to organic fruits and veggies, they really are the best you can get. You avoid any nasty pesticides or chemicals that might be used in the growing process if you opt for organic.
Do You Peel Turmeric Before Juicing It?
Turmeric belongs to the same plant family as ginger and has similar anti-inflammatory properties. However, the taste is quite different from the distinctive taste of ginger!
The same rules apply to turmeric that apply to peeling ginger: you can leave the skin on if you want to but turmeric skin is a little tough, although not as bad as ginger skin.
The biggest concern with turmeric isn't actually peeling it, it's the chance that it might stain everything it touches! Turmeric has a nasty habit of staining everything a bright yellow, so beware if you include this in your smoothies or fresh ginger juice recipes!
And don't even bother with dried turmeric – trust me. It gets everywhere and doesn't mix with your other juice ingredients very well. On top of that, a lot of the nutritional value you find in turmeric gets lost when it's dried. So stick to the fresh stuff and get organic where you can!
What can you do with ginger peel?
I tend to just compost my ginger peel but I had a look and The Kitchn had some good uses for it I hadn't thought about before.
Perfume steamed vegetables – Try putting your ginger peels into a steamer with some vegetables or fish and you'll get a really tasty, gentle ginger flavor.
Add to marinades – Ginger is a staple ingredient in a great deal of Asian dishes. If you're marinading some food to cook later, try using ginger peel instead of regular fresh ginger. You'll get the same great taste, without the waste!
I found another recommendation to make ginger broth with your ginger peels but it's very similar to the recipe I shared for a stewed ginger juice ,which I think is tastier. However, if you're making a spicy broth, then you could add your ginger peels to that. Likewise, you could make a delicious ginger tea with ginger peels – it's like the sky's the limit!
Another great thing about using your ginger peels instead of just throwing them out is that you can keep them in the freezer and take them out as you need them. There's no waste, they won't spoil, and if you freeze them in an ice cube tray rather than one container they wont all stick together.
Or adding ginger to cold water is an easy way to make ginger water rather than a hot water for a ginger tea.
Is ginger bad for your juicer?
I've talked a bit already about this but ginger is a tough, fibrous root. This means that juicing it is hard work! If you have a more expensive, high-end juicer (masticating juicers are generally better for juicing tougher ingredients) then you shouldn't have any problems but if you've opted for a cheap or mid-range juicer, then you'll need to be careful about how you juice your ginger.
Peeled ginger can be a little easier for your juicer to take if you aren't doing it a lot. If you juice a piece of ginger a day for your daily juice, then you'll be just fine as long as you've peeled your ginger beforehand.
However, if you're juicing large amounts of shredded ginger root (this will happen if you make your fresh juices in batches), then I'd recommend only juicing for about 15 minutes at a time and then letting your juicer sit for about an hour. It's a little annoying but this will stop your juicer from overheating and breaking.
How do you peel ginger quickly?
I have a great and pretty fun way of peeling ginger that only uses a normal metal spoon. I much prefer this to the traditional method of using a knife to chop your ginger down into squares by cutting off the skin. You lose a lot of good ginger this way, there's a lot of waste.
Apply pressure on your piece of ginger with the spoon facing down. Run it down the side of the ginger and you'll see the skin just peel away – and there's so much less waste!
Should You Wash Ginger After You Peel It?
Like with a lot of fruits and veggies, washing your ginger root after you've peeled it isn't really necessary. By peeling it, you've already gotten rid of a lot of the bad stuff, so it doesn't need washing afterwards.
Is too much ginger bad for you?
I was surprised while I was doing my research to answer this question, but having too much ginger can actually have some nasty side effects.
The recommended amount of ginger you should have a day is 4g, so do not exceed that.
If you're diabetic or pregnant, you should pay particular attention to how much ginger you consume. Ginger root can lower your blood sugar, which can be a serious problem for diabetics who need to closely monitor their blood sugar levels.
Ginger can also impact an unborn baby's sex hormones or even cause miscarriage if it's consumed in large doses, so if you're pregnant please consult your doctor before changing your diet.
On a less serious note, eating too much ginger can cause some very uncomfortable tummy troubles, even though it's often prescribed to deal with an upset stomach. So don't overdo it!
Conclusion
So there you have it! Everything you need to know about peeling and extracting ginger juice.
In summary, juicing unpeeled ginger it is completely fine, it isn't bad for you. However, unpeeled ginger might damage your juicer through the juicing process, so whil you don't need to peel ginger beore juicing I'd recommend peeling it using the spoon method that I explained earlier. Your juicer will thank you for it and your juices will be spicy and delicious!
Preparing ginger for juicing is pretty straight forward otherwise. Just peel the outer skin and juice! You odn't peel the ginger, you don't slice the ginger, you just juice it whole or cut it into smaller pieces. If you do deiced to leave the skin on then washing ginger is a must to get rid of any dirt.
And if anyone has a salad dressing recipe using ginger peel then let me know! And if you need the best juicer for ginger juice check out this article.