Carrot juice is absolutely awesome.
It's such a nutrient-packed drink and one of the best ways you can start the day.
Not to mention all the health benefits you get from it!
But how do you make it?
Do you need to have a juicer or can you use a blender?
And what about carrot heads? On or off?
I've got the answers to these questions and more!
Just keep reading to find out the right way to make carrot juice and see my favourite recipes.
How To Make Carrot Juice
I've got the method for preparing carrots for juicing and then talk more about how to make carrot juice with or without a juicer, I hope it helps!
Preparing The Carrots For Juicing

I think it makes sense to start of your carrot juice with your carrots right?
I always try and buy organic carrots when I'm making juice because you can leave the skins on. If you buy non-organic you can still juice with the skins on but definitely wash them to get any chemicals that might be on them off.
Which brings me to step 1
Step 1. Wash Them
Even organic carrots should be washed before they're juiced, just to make sure any dirt is off them because that can make you really sick if you ingest too much of it. And if you haven't bought organic then you're going to want to give them a good thorough wash to get any chemicals that might have been put on them while they were growing. These get washed off and they're fine but since they're not being boiled which would remove these you need to make sure you're washing them properly.
Step 2. Chop The Tops Off
Or don't!
Carrot tops are safe to eat, I know there was a lot of confusion about whether or not they were toxic but this was false.
Carrot tops are in fact fine to eat and juice but the overlooked part?
They don't taste very good…
At least I don't think so, so I always chop them off and put them in the compost you're welcome to give them a go in your juicer and see if you like them but in my experience they're not the best and so it's worth just lopping them off and getting rid of them.
Step 3. Roughly Chop Them
More powerful juicers (or blenders) can handle whole carrots but a lot have a tendency to jam so it's best just to chop them up a bit first so you can insert them in pieces. Just big rough chunks about 1-2 inches in size is fine, you don't need to spend lots of time carefully dicing down or anything like that, just little smaller so they juice easier.
Now you're ready to go!
How To Make Carrot Juice In A Juicer
Now we have our carrots completely prepared we have the easy part. Making the juice!
In my mind the best way to make carrot juice is using a juicer but if you've only got a blender or even a Nutribullet don't worry I've got you covered below.
And if you don't have either then you definitely want to check out my article on the best carrot juicers.
Step 4. Put The Carrots In The Juicer!
Yup, after you've prepared them you just have to put them into the juicer and you'll have delicious carrot juice coming out the other end.
Since you've chopped them it should be fine and not jam or anything like that just make sure you've got your collection jug for the juice and your container for the pulp otherwise you're going to end up in quite a mess!
Step 5. Add Filtered Water
This is to taste, you certainly don't have to do it but I like to add a little water if I'm having straight carrot juice in the morning.
It helps soften it down and to me tastes a little better. If you're having anything else (apples, oranges) with it then you probably don't need any water.
The water just gets added to the glass a little at a time and stirred in until you get the perfect consistency and flavor for you.
How To Make Carrot Juice In A Blender
Never fear, you can still have delicious carrot juice even if you don't have a juicer, you can use any blender you've got whether it's a Vitamix or a NutriBullet. It takes a little longer and you'll need a juice strainer but once your carrots are prepped you do the following.
Alternative Step 4. Add Carrots To Blender With A Little Water
The water helps the carrots blend a little better so you need to add it in this case.
But you just blend it all up together until you have a puree. It works just the same in a Nutribullet as well!
Alternative Step 5. Strain It
Now you have to strain all the pulp out.
A couple of different ways you can do this:
With A Sieve
With A Coffee Filter
With A Nut Milk Bag
With A Cheese Cloth
With Pantyhose…
Can you spot the odd one out?
I've heard people suggest straining through (clean) pantyhose but I just don't want to try it…
I'm sure it would work, just not for me but I'm not judging, if that's all you have to hand go ahead!
The ones that will work the best are the nut milk bags or the cheesecloth. These you can properly squeeze to get any juice out.
But a coffee filter works too it will just take a little longer and won't drain quite as well, same as a sieve, it will likely let some pulp through. Which won't hurt of course! Nothing wrong with a little pulp.
After that you have some delicious carrot juice to enjoy!
Can You Peel carrots If You Want?
You certainly can peel carrots if you want to but I wouldn't recommend it, there are a lot of nutrients held right below the skin of carrots and it just gets lost if you peel them.
The skin doesn't affect the juice taste either and it still juices just fine even if you have a carrot with a particularly tough peel.
My 5 Favourite Carrot Juice Recipes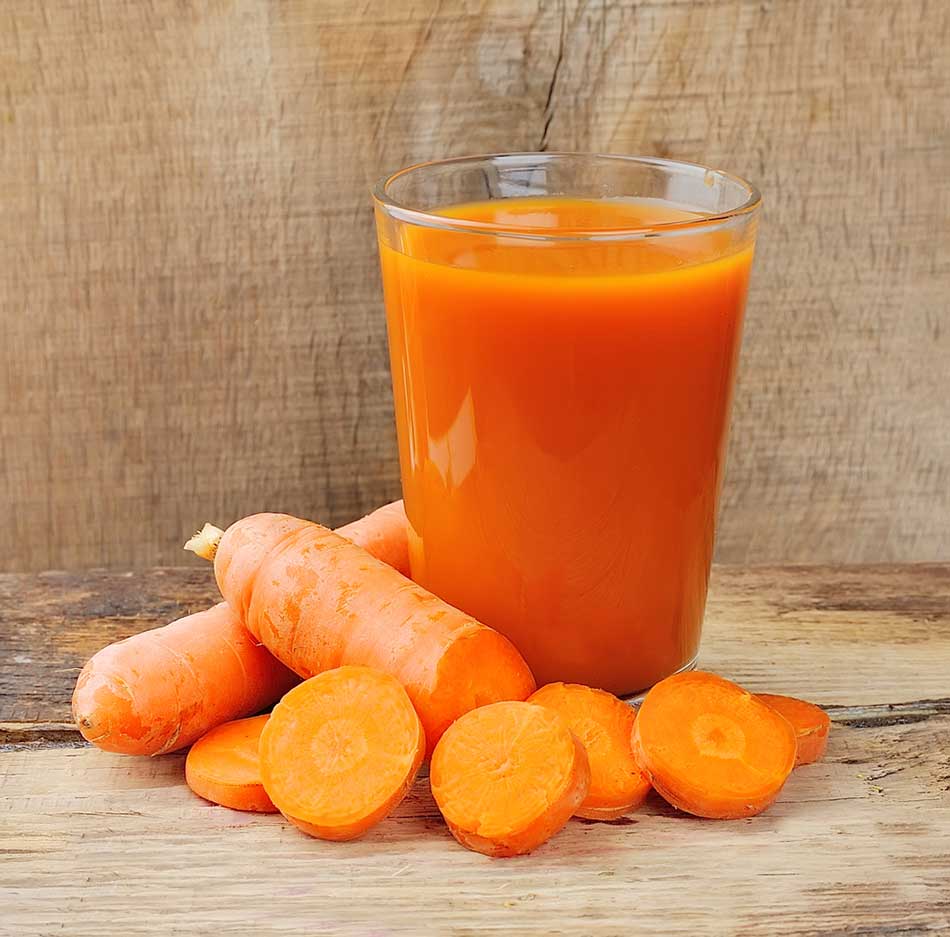 As an added bonus here are my favourite 5 recipes for juicing with carrot juice.
The steps follow the method above, you just have to juice all the ingredients together and drink what comes out the other side!
Straight Up
Ingredients
Yup, just good ol' carrots
The number of carrots you need will depend on your juicer because different juicers give out different amounts of juice, masticating and cold press juicers both have a better yield of juice for the amount of produce put in but centrifugal ones are faster but don't produce as much juice.
So start with 4 but you might need as many as 6. Just keep going till your happy with the amount you've got.
Immunity Booster
Ingredients
Peel the ginger before you juice it, this is one of the times where the skin does affect the taste so you're going to want to peel it first. Don't be too precious about it though, a little bit of peel won't change anything too drastically.
You're also going to want to peel the orange too, you can get any of the obvious seeds but again you don't have to be too exact, juicers are quite forgiving.
A huge boost of vitamin C kick-starting your immune system and leaving you ready to fight any winter bugs!
Energy Booster
Ingredients
If you're ever feeling sluggish drink one of these. It will have you awake, alert and ready in no time at all.
Just peel the beetroot and the orange, roughly chop it and get it into the juicer. You're going to love it.
Stomach Settler
Ingredients
4 Carrots
2 Big Apples
1 Cup Of Red Cabbage
A really nice red color this juice will help to settle your stomach and is ideal at helping ease IBS
Healthy Virgin Bloody Mary
Ingredients
3 Carrots
15 Cherry Tomatoes
2 Radishes
Another powerful red juice, kicks the ass of any bloody mary that's for sure!
How To Choose Carrots For Juicing
I'm sure you want to get the best possible carrots while you're at the market so here are a couple of tips to help you do just that.
Firm And Unflexible – You don't want a carrot that's gone soft and can bend in the middle, you want one that's hard and you know would make a really nice crunch sound if you bit into it. So pick it up, give it a squeeze and make sure it's firm.
Free From Gouges – Sometimes you'll see carrots that have big gouges in their sides that look a bit almost grey, it's not a big deal and you can cut that part out but I like carrots that are a crisp orange all the way around.
Any Shape Will Do – Wonky veg is fine, it can make it a little harder to chop but it turns into juice all the same. Just make sure you scrub into any crevices that can pop up in miss-shapen carrots.
F.A.Q on making carrot juice
There are a few common questions people have when making carrot juice and they didn't really fit anywhere else in the article so I thought I'd add them in here, but if you have any others then feel free to ask in the comments below!
Can I Add Sugar To My Carrot Juice?
You can… But it will make it a lot less healthy if you do, it does sweeten up the taste after all but if you're looking to improve the flavor then I'd recommend adding in sweeter fruits or your favorite fruits, but I talk about that a little more in the next question.
How Do I Make Carrot Juice Taste better?
If you're desperate you could add sugar as I said above but if you're that desperate to improve flavor I'd make a different juice! What I'd do to improve the flavor is start adding more fruits, carrots have a bit of sweetness already but adding in more apples or berries can help improve the flavor but best go with your favorite fruits.
Do you really love pears? Throw some of them in! Love a little nectarine? Sure add it in, just experiment and see what you come up with. Even a small squeeze of honey can lift up the sweetness nicely if you stir it in after it's come out the juicer.
Can Lime Juice and Ginger Be Added to Carrot Juice?
Why yes they can! Ginger is a favorite of mine and goes really well with carrots, and while lime juice is more unusual if you want to add some you just go right ahead and do so.
How Long Does Carrot Juice Last?
It depends on a few different things, I've got a separate article about how long juice lasts for those interested, but it mostly comes down to what type of juicer you use. Masticating, or cold press, juicers work more slowly which causes less oxidation to happen to the juice which is what spoils it.
So from a masticating juice your carrot juice will last about 2-3 days when stored properly in a clean bottle kept in the fridge, but from a centrifugal juicer, you'll only have about 24 hours before it starts turning.
But the best time to drink carrot juice is within about 20 minutes of making it, this gives you maximum freshness and ensures you're getting all the possible nutrition you can from it.
Conclusion
Woah that was a bit of a journey! I hope you found this guide useful and can start enjoying carrot juice straight away, if you have any questions about anything I've missed then please let me know in the comments and I'll be sure to get back to you. I might even update the article if it's a good enough question!
How To Make Carrot Juice With Or Without A Juicer (5 Recipes)
You can make any of these delicious carrot juice recipes with or without a jucier
Ingredients
Immunity Booster
4

Carrots

1

Orange (peeled)

2

inches

Ginger (Peeled)
Energy Booster
3

Carrots

3/4

cup

Beetroot (Peeled)

1

Orange (Peeled)

1/2

Cup

Strawberries
Stomach Settler
4

Carrots

2

Apples (cores removed)

1

cup

Red Cabbage
Healthy Virgin Bloody Mary
3

Carrots

15

Cherry Tomatoes

2

Radishes
Instructions
How To Make Carrot Juice In A Juicer
Wash and brush the carrots

Chop the tops off and discard. The carrot tops are edible but they don't taste nice!

Roughly chop the carrots so they can comfortably fit in your juicer

Feed the carrots into the juicer
How To Make Carrot Juice In A Blender
Follow Same Instructions as above, except feed them into blender with a litlte water

Strain Out Pulp using a Sieve, coffee filter, nut milk bag or cheese cloth