Carrot juice is absolutely awesome.
It's such a nutrient-packed drink and one of the best ways you can start the day.
Not to mention all the health benefits you get from it!
But how do you make it?
Do you need to have a juicer or can you use a blender?
And what about carrot heads? On or off?
I've got the answers to these questions and more!
Just keep reading to find out the right way to make carrot juice and see my favourite recipes.
Preparing The Carrots

I think it makes sense to start of your carrot juice with your carrots right?
I always try and buy organic carrots when I'm making juice because you can leave the skins on. If you buy non-organic you can still juice with the skins on but definitely wash them twice to get any chemicals that might be on them off.
Which brings me to step 1
Step 1. Wash Them
Even organic carrots should be washed before they're juiced, just to make sure any dirt is off them or anything else that might have come into contact with the outside.
Step 2. Chop The Tops Off
Or don't!
Carrot tops are safe to eat, I know there was a lot of confusion about whether or not they were toxic but this was false.
Carrots are in fact fine to eat and juice but the overlooked part?
They don't taste very good…
At least I don't think so, so I always chop them off and put them in the compost.
Step 3. Roughly Chop Them
More powerful juicers (or blenders) can handle whole carrots but a lot have a tendency to jam so it's best just to chop them up a bit first so you can insert them in pieces.
Now you're ready to go!
How To Make Carrot Juice
Now we have our carrots completely prepared we have the easy part. Making the juice!
In my mind the best way to make carrot juice is using a juicer but if you've only got a blender or even a Nutribullet don't worry I've got you covered below.
Step 4. Put The Carrots In The Juicer!
Yup, after you've prepared them you just have to get them into the juicer and you'll have delicious carrot juice coming out the other end.
Step 5. Add Filtered Water
This is to taste, you certainly don't have to do it but I like to add a little water if I'm having straight carrot juice in the morning.
It helps soften it down and to me tastes a little better. If you're having anything else (apples, oranges) with it then you probably don't need any water.
The water just gets added to the glass a little at a time and stirred in until you get the perfect consistency and flavor for you.
How To Make Carrot Juice In A Blender
never fear you can still have delicious juice it just takes a little more time and you need some sort of strainer.
Alternative Step 4. Add Carrots To Blender With A Little Water
The water helps the carrots blend a little better so you need to add it in this case.
But you just blend it all up together until you have a puree. It works just the same in a Nutribullet as well!
Alternative Step 5. Strain It
Now you have to strain all the pulp out.
A couple of different ways you can do this:
With A Sieve
With A Coffee Filter
With A Nut Milk Bag
With A Cheese Cloth
With Pantyhose…
Can you spot the odd one out?
I've heard people suggest straining through (clean) pantyhose but I just don't want to try it…
I'm sure it would work, just not for me but I'm not judging, if that's all you have to hand go ahead!
The ones that will work the best are the nut milk bags or the cheesecloth. These you can properly squeeze to get any juice out.
But a coffee filter works too it will just take a little longer and won't drain quite as well, same as a sieve, it will likely let some pulp through. Which won't hurt of course! Nothing wrong with a little pulp.
After that you have some delicious carrot juice to enjoy!
Can You Peel Them If You Want?
You certainly can peel them if you want to but I wouldn't recommend it, there are a lot of nutrients held right below the skin of carrots and it just gets lost if you peel them.
The skin certainly doesn't affect the juice either and it still juices just fine even if you have a carrot with a particularly tough peel.
My 5 Favourite Carrot Juice Recipes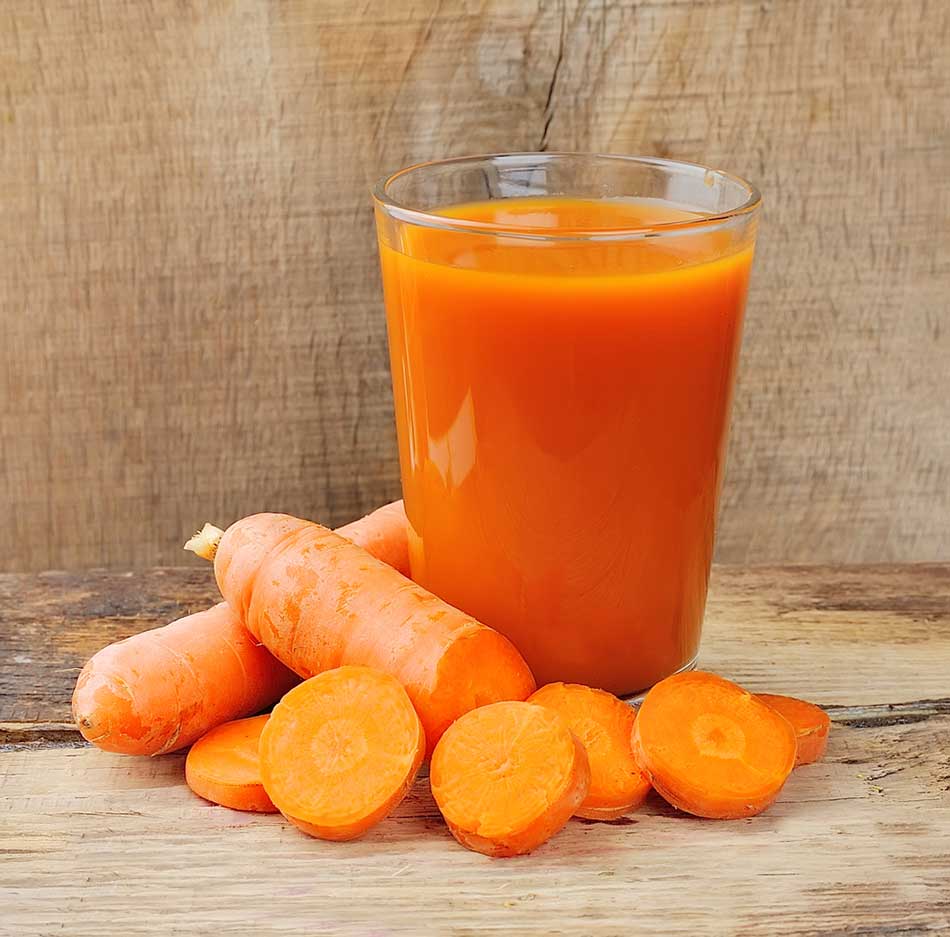 As an added bonus here are my favourite 5 recipes for juicing with carrot juice.
The steps are always juice all ingredients so I'm going to say it now and save repeating myself too much.
Straight Up
Ingredients
Yup, just good ol' carrots
The number of carrots you need will depend on your juicer because different juicers give out different amounts of juice. So start with 4 but you might need as many as 6. Just keep going till your happy with the amount you've got.
Immunity Booster
Ingredients
4 Carrots
1 Orange
2" Of Ginger
I normally peel ginger before I juice it.
A huge boost of vitamin C kick-starting your immune system and leaving you ready to fight any winter bugs!
Energy Booster
Ingredients
4 Carrots
¾ cup of beetroot
1 Orange
½ cup of strawberries
If you're ever feeling sluggish drink one of these. It will have you awake, alert and ready in no time at all.
Stomach Settler
Ingredients
4 Carrots
2 Big Apples
1 Cup Of Red Cabbage
A really nice red colour this juice will help to settle your stomach and is ideal at helping ease IBS
Healthy Virgin Bloody Mary
Ingredients
3 Carrots
15 Cherry Tomatoes
2 Radishes
Another powerful red juice, kicks the ass of any bloody mary that's for sure!