We can use beets in lots of our favorite tasty recipes. Maybe you never thought about juicing them before, I wouldn't blame you. But they're a great juicing ingredient and can provide a lot of nutritional value to your tastiest fresh juice recipes.
However, beets are one of the hard vegetables – you need to have the right juicing equipment to get the job done: high quality, powerful motor, you know the type. There are man types of juicers out there, but some are better for juicing your leafy greens than your beets and this article is going to explain which is the best juicer for your beets.
Click the links to head over to Amazon and order yours today.
Top 5 Juicers for Beets
1. Top choice – Omega J8006HDS Nutrition Center Quiet Stainless Steel Slow Speed Masticating Juicer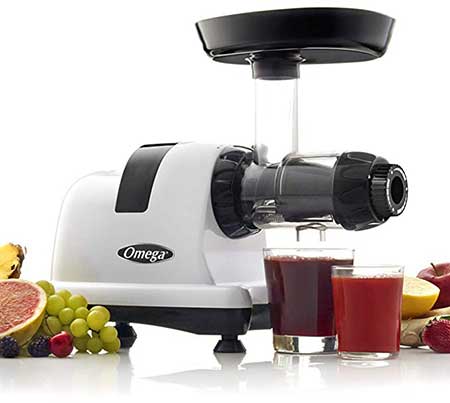 15-year warranty
High juice yield
Slow speed for longer lasting fresh juice
Omega juicers are some of the best in the game, I've talked about them a great deal across this whole site. Time and time again they've proven to have the qualities and design features that you want and need in a good juicer.
This is a masticating juicer, sometimes referred to as a slow juicer. This is ideal for juicing beets, since they need a slow speed to get the most amount of juice from them. It isn't just good for beets though. You'll also be able to juice things like carrots, kale, even wheatgrass.
This juicer has a massive warranty – 15 years! This covers every part of the juicer, so you know that you're investing in a quality product if they're willing to promise a 15-year lifespan.
It's only 8.5 inches tall (15.5 inches deep), which means it'll make the most of your counter space, rather than being too big to fit underneath your kitchen cupboards.
The auger in this juicer is super strong, so you'll be able to use it for more than just beets. You could use it for making baby food or nut butter to name a couple of options, which can be difficult if you don't have the right equipment for the job.
Like all masticating juicers, it's pretty easy to clean. However, some people have noted that the pulp that's produced can be a bit wet and they've put it back through the juicer for a second time in some cases, so it's something to be aware of.
On the whole though, this is an excellent juicers and will be perfect for including beets in your favorite juice recipes.
2. Budget choice – Housnat Juicer Machines, Slow Masticating Juicer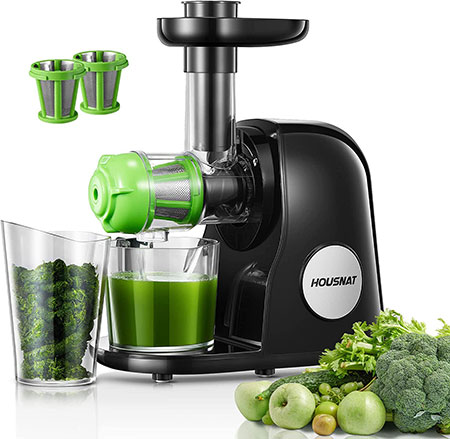 Runs quietly
Less pulp for more nutrition
Maximum juice yield
Considering that this is a budget juicer choice, the advanced technology that it offers really isn't what you would expect from such a low price tag.
It boasts a 7-step spiral system:
Cut
Break
Squeeze
Mill
Separate
Grind
Extract
This thorough juicing system means that you get the most juice out of your fruits and veggies as possible, which is exactly what you want.
Just like the previous one, this is a masticating juicer, which means it's a low speed juicer. It'll grind your beets and ensure you get the most goodness possible.
However, even though it's powerful, it runs below 60dB, which is really low noise level. Perfect for if you have sleeping little ones when you want to make some juice.
This juicer is also really effective at separating juice from pulp. If you like your juice smooth and fine, then this will be a great option for you. No lumps or bits here!
3. Best for Beets and Carrots – Breville BJE430SIL The Juice Fountain Cold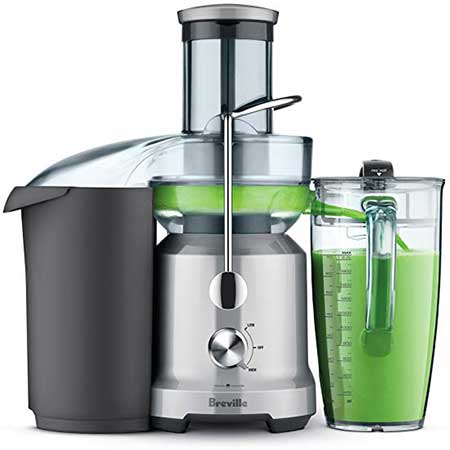 Cold extraction system
Extra wide feed chute
Seal and Store juice jug
This is a powerful juicer. It has an 850 watt motor, which means it'll make short work of your beets. It'll even make you cracking carrot juice, since any hard fruits or veggies are no problem.
The cold extraction system is great because it helps protect the nutrients and minerals that are in your ingredients. If these get exposed to too much heat, then they break down and you lose them. So this juicer will ensure you get all the nutritional value you want.
One of the things I really like about this juicer is how efficient it is. It has an extra wide feed tube, which means you can put whole fruit and veggies into the juicer, without having to chop them up beforehand.
Another efficient feature is the storing jug. As it juices your ingredients, they go straight into the jug that can be sealed and stored in the fridge – minimal clean up! If you keep your juice in this jug, it'll keep your juice fresh in the fridge for up to 3 days, which is also really useful.
4. Best fast juicer For Beets – Breville JE98XL Juice Fountain Plus 850-Watt Juice Extractor
Dishwasher safe
Overload protection
Froth separator
If masticating juicers aren't really your thing, this is a great alternative. It's a high speed juicer, with an 850 watt motor. It has stainless steel discs that juice your ingredients, rather than the masticating juicer that crushes your fruits and veggies.
I'm impressed at the feature this juicer has to operate safely and to ensure your juicer has a long life. It has an LED display that will alert you if you've overloaded your juicer. It also has a safety locking arm that means you can't use the juicer unless the cover is on.
This juicer also comes with an in-built froth separator, which will keep your juice nice and smooth, as well as a pulp container to save what gets left over in the juicing process.
On top of that, it comes with a cleaning brush and all the parts are dishwasher safe, which will ensure easy cleanup.
5. Best high-end Beet juicer – Tribest GSE-5000 Greenstar Elite Cold Press Complete Masticating Juicer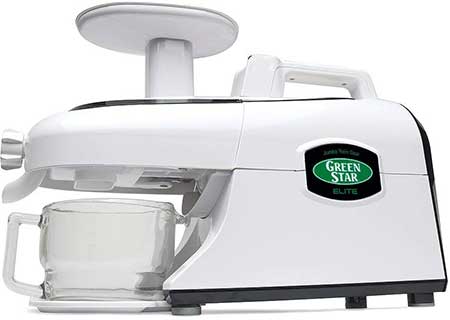 Cold press juicer
Easy assembly and easy cleanup
Really versatile
If you have a bigger budget, then this is the choice for you. This is a cold press juicer, which means your ingredients are kept cold while you extract juice. This ensures that the vitamins and minerals don't get broken down in this process. Keeping your juice cool through the whole process also means that your juice will stay fresh for longer once you've made it.
This juicer doesn't have as many parts as others do. It's simpler to assemble, which means you don't have to faff with multiple pieces. Its overall design is sleek and simple, which means it'll look good in your kitchen.
This juicer works on a twin gear system, which improves the way it's able to grind up fruit and veggies. It actually mimics the process of human teeth!
However, what makes this juicer really special is the fact that you can use it for other purposes, not just juicing. It'll double as a food processor or as a homogenizer, which means you could make sorbet, nut butter. There are optional pasta noodle nozzles you can buy, which widens the range of uses even further!
Centrifugal Juicer vs Masticating Juicer for Beet Juice
I talked about it a little in the reviews above, but let's go into a little more detail about what the difference is between a masticating juicer and a centrifugal juicer, and which one is better for juicing beets.
Centrifugal Juicers
Centrifugal juicers are generally the cheaper option when it comes to juicer. They have high speed spinning blades which cut up the fruits and veggies. As the ingredients get caught by the blades, the spinning motion forces the juice and pulp to the outside of the juicing container. The juice then comes out one spout and the pulp out of another into a pulp container.
They can be used to juice beets but do have some issues. The spinning motion that I mentioned creates friction and heat – which makes your juice heat up. This is a bad thing because exposing your juice to heat can make it spoil sooner.
As well as this, juicing fruit and veggies using spinning blades doesn't produce as much juice as the alternative – a masticating juicer.
Masticating Juicers
Masticating juicers work a little differently and in my opinion, they are the better option for juicing beets, or any other hard fruit or hard vegetable. They're a bit more heavy duty!
Where centrifugal juicers are high speed, masticating juicers are slow speed. They have an auger in them that grinds and crushes the fruit and veggies that you want to juice.
One of the big benefits of slow speed instead of high speed, is that you avoid the issue of heating up your juice. There isn't the same chance to create friction, so your juice will stay fresh longer!
Running slowly also means that this juicer is a lot quieter than high speed spinning blades!
Masticating juicers also produce more juice than centrifugal ones, so you get more juice for your effort. Getting the highest juice yield is an important factor in buying a juicer, in my opinion, so that makes a masticating juicer the best juicer for me.
F.A.Q
Can I Juice Beets with the Skin On?
The skin on beets is actually quite thin. Whether or not you peel them before you make your beet juice is really up to you. Some people leave it on and if you choose to do this, just make sure you clean them thoroughly – otherwise there's a good chance your juice or smoothie might taste like earth… But peeling your beets works just as well, if you want to avoid that possibility – it's really up to you!
Carrots also don't need to be peeled but you can if you'd prefer.
Can Raw Beets be Juiced?
Raw beets aren't as common as pickled ones but I can tell you that pickled beets will not be a pleasant addition to your green juice, aside from being a red vegetable! Juicing raw beets is completely fine, so don't worry.
Can You Drink Beet Juice Every Day?
Beet juice has plenty of health benefits. It's been shown to reduce blood pressure; increase endurance and stamina; and even improve your brain health by improving its more advanced functions.
2 cups of beet juice a day is generally recommended. You'll get the maximum nutritional value this way.
One thing to note is that when you juice beets, they do lose a great deal of their fibre, so make sure you're accounting for this in the rest of your diet. Beets are also naturally sweet, so you may unwittingly be having more sugar than you realise. Make sure you bear this in mind when you consider the rest of your sweet treats for the day.
If you drink beet juice regularly, you should also know that there's a chance it will change the colour of your urine and stools… don't worry, that's normal!
Is Beet Juice Bad for Your Kidneys?
Your kidneys are responsible for filtering the blood in your body and helping to dispose of waste. If your kidneys become damaged, it could have serious consequences.
If you're looking for a diet that will help keep your kidneys healthy, then generally you want a diet that is low in sodium and potassium. Obviously, if you're worried about your kidneys, please go and see your doctor!
From my research, I found that beet greens can be bad for your kidneys if you're already having problems. Beet greens and other leafy greens can cause problems because they're high in potassium. Orange juice is also a good one to avoid, for the same reason. However, I couldn't find any research that showed that beet juice itself is bad for your kidneys.
Again, if you have concerns, you should definitely speak to your doctor.
Other Beet Juicers Reviewed
If the juicers at the top of this article aren't quite what you're looking for, then here are seven more that might tickle your fancy. I've divided them into masticating juicers and centrifugal juicers to make it easier to find what you're looking for.
Masticating Juicers for Beet Juice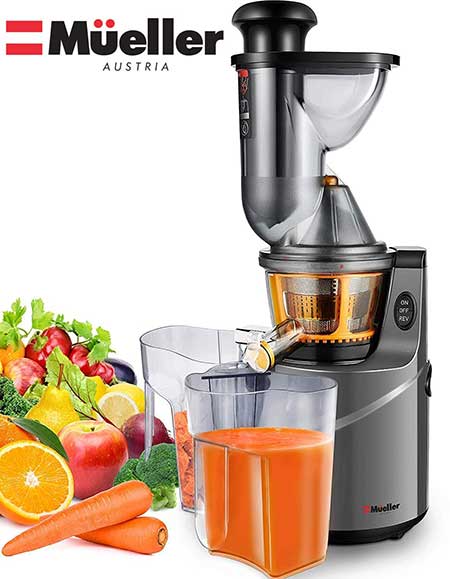 High juice yield
Large feed tube
Easy cleanup
The big feed tube on this juicer means that making your favorite green juice has never been easier. You can put whole fruits and veggies, as well as handfuls of leafy greens straight into the juicer, minimising the amount of prep you need to do.
On top of this, the juice yield from this juicer is really high, so all of your nutrition won't get lost in the pulp container.
Speaking of the pulp container, all the parts of this juicer are really easy to clean.
All in all, an excellent juicer!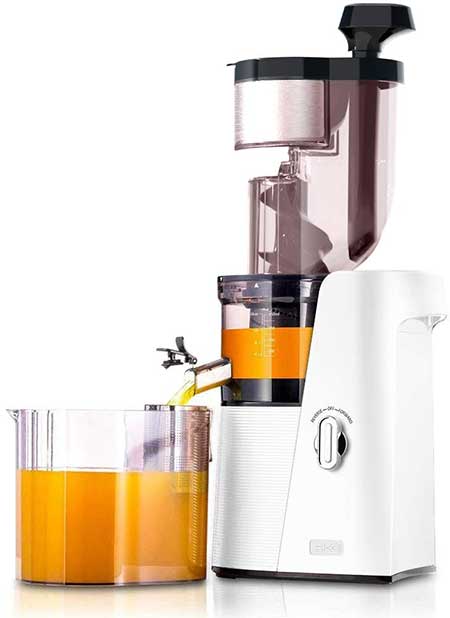 Strainer options
Easy to use
Overload protection
Pulp or no pulp? A question that divides many! With this juicer, you have the choice. It comes with two types of strainer that you can use to make your juice exactly how you want.
This is also a juicer for the safety-conscious. If it notices that you've overloaded it, or the juicer hasn't been put together properly, it will automatically switch off.
This is a high quality juicer with everything that you could need or want.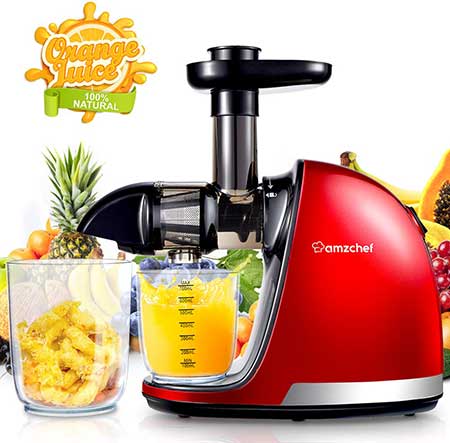 Automatic stop function
Quiet motor
Safe, small feed tube
This juicer also has an automatic stop function, which kicks in if it has been juicing for 20 minutes. This stops it from being on needlessly and will ensure your juicer lasts as long as possible.
It's really easy to use and to clean and comes with a reverse option that you can use to eliminate any clogging or to help you clean the machine.
It runs really quietly so it isn't going to disturb your whole morning while you make your fresh juice.
3-year guarantee
Easy cleanup
Durable
This juicer has removable parts and comes with a cleaning brush to make keeping it neat as easy as possible. It also comes with a 3-year guarantee, so you know that your investment won't be misplaced.
This will juice any fruit or veggies you might have in mind and has all the benefits of a good masticating juicer – cool juicing process and longer lasting juice freshness.
A fine choice of juicer for beginners.
Hurom HH Slow Juicer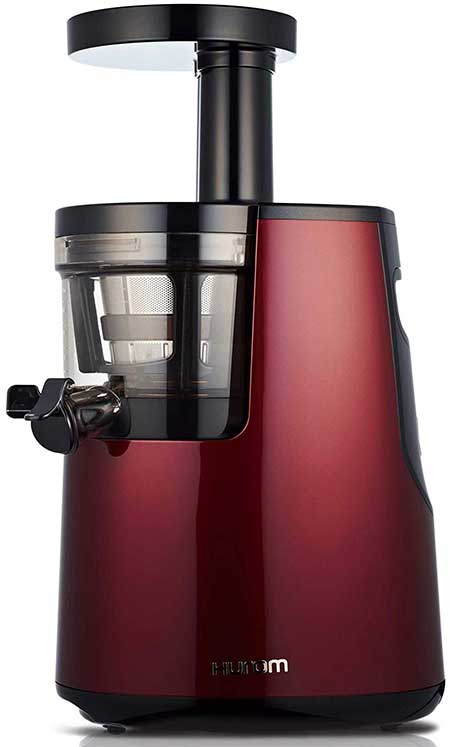 Sleek design
Mimics hand-squeezing motion
Versatile
This is one of the more versatile options in this list. It works well as a masticating juicer but can be used to make a whole range of things: nut butter, tofu, even ice cream.
It works at 43 rotations per minute, which is what makes it similar to the way you would squeeze fruits and veggies by hand.
It's a BPA-free juicer, which is always a healthy option, and the juice yield is also really high – so plenty of juice for your buck.
Centrifugal Juicers for Beet Juice
Heavy duty
Extra large feed tube
Dishwasher safe parts
This juicer has a powerful motor, which allows the spinning blades to work their magic. However, it doesn't compromise on safety. It won't juice anything unless the cover is on properly and the safety locking arm is in the right position.
This is another juicer that has a feed tube so wide that you can juice whole fruits and veggies – it makes for easy juicing!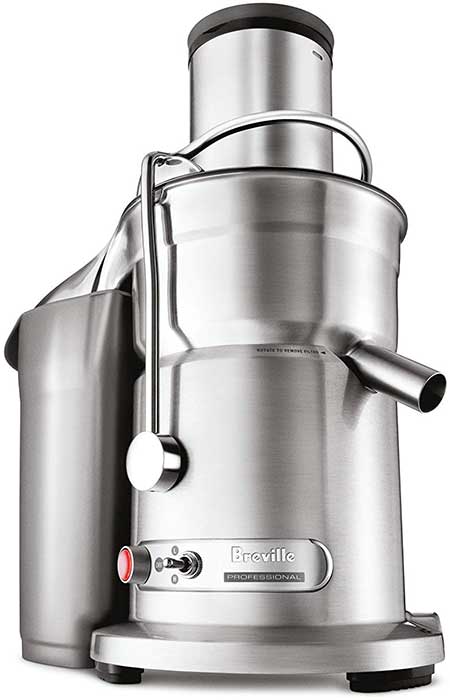 Speed control options
Titanium reinforced blades
Large juice jug and pulp container
Centrifugal juicers run faster than masticating ones but this juicer comes with two speed options, so you can choose which result you prefer.
The blades are made from titanium and the outer case is also made of metal, which means it's durable and a worthy investment.
It comes with a juice jug and a pulp container but also with the advice to not use it on the highest speed setting for longer than a minute at a time. You should also allow the motor to cool down in between these minutes.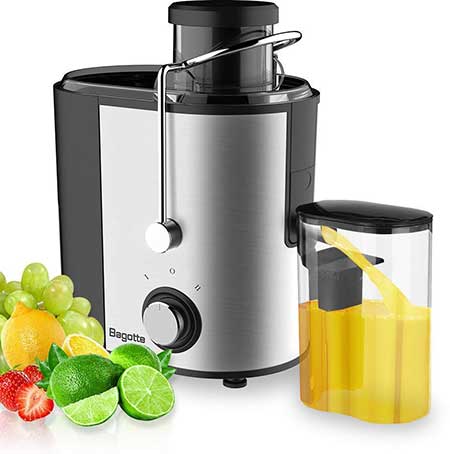 Suitable for juicing whole fruits and whole vegetables
Safety lock and overheating protection
2-year warranty
The feed tube on this juicer is 3 inches wide, which will allow for a whole apple or pear to be placed in.
One feature I really enjoy with this juicer is the automatic stop function that kicks in when the juicer exceeds 105 degrees. It's an excellent safety feature and helps deal with the problem some centrifugal juicers have with heating up the juice inside.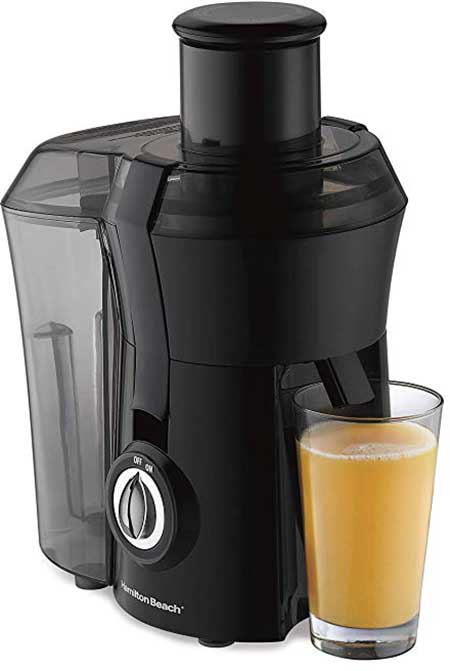 Powerful motor
Easy cleanup
Extra large feed tube
This juicer has an 800 watt motor – very powerful, which means it'll make short work of your beets and carrots (more of the best carrot juicers here). It should be able to juice any ingredients that you want to use.
The removable parts are easy to clean and dishwasher safe. One of these removable parts is an extra-large pulp container.
Yet again – I feel like this is a requirement for me to think of a juicer as a quality appliance – this juicer has an extra wide feed tube, so you don't have to chop up your fruit and veggies quite as much beforehand.
Conclusion
Beet juice are a tasty addition to fresh juices and are definitely an ingredient to experiment with and get just right.
All things considered, I would suggest opting for a masticating juicer. They give you a high juice yield, run at a lower temperature and work excellently for crushing hard vegetables – like beets. They do come with a higher price tag, but in my opinion they're definitely worth it if you want to get the best out of your homemade juices.
Related Reading