Celery juice is the craze sweeping across Instagram and right through Holywood. But is it the ultimate healing drink that everyone says it is?
I'd say it is very good for you, and while I don't think it's going to suddenly cure you of all your troubles I do think that it gives you a massive kick of nutrition to start your day right.
But how do you make celery juice?
Well it's really easy, I've covered how you can make it with or without a juicer as well as some of the health benefits and a few of my favourite recipes.
Keep reading and enjoy!
Health Benefits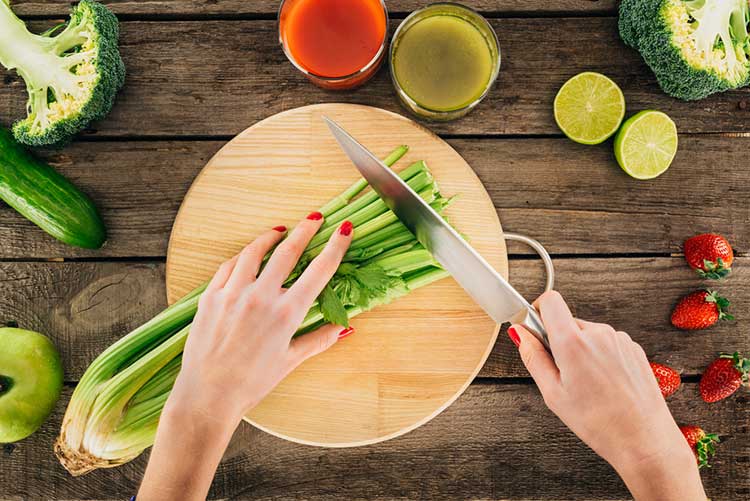 Celery juice has loads of health benefits but the most exciting has to be that it has been shown to have anti-inflammatory properties as well as its ability to ease digestion.
Anti-inflammatory
Inflammation can be the cause of a lot of different problems in the body but specifically, it's known to cause a lot of joint problems like arthritis. But what's more exciting is that there is evidence suggesting that inflammation could be a cause of depression!
So by drinking celery juice which has studies showing it's got anti-inflammatory properties it could be an effective way to relieve symptoms of your depression. Of course, it should only be tried alongside your medication, please listen to your doctor!
Keeps Your Stomach Happier
Anti-inflammatories also help ease IBS but not just that celery juice helps you produce more stomach acid which helps you digest properly. And there is a pigment in the celery which helps with gastric relaxation which can reduce stomach cramping and allows your food to better process its way through your body.
How To Make Celery Juice In A Juicer
Here at Juice Buff you'll be unsurprised to hear that I prefer using a juicer to a blender, surprised right?
So to me it makes sense that if you're going to be drinking celery juice you want to get a juicer and do it properly. But luckily once you have a juicer it's really simple.
Directions
Cut bottom end off of celery and wash all stalks in the sink
Feed celery through a juicer
Pour Into A Glass and Enjoy!
There that wasn't so hard was it? I've got a few different recipes to share further down if you're interested in mixing up the flavours. And if you've already got a blender you'd like to use then don't worry, I've got you covered.
How To Make Celery Juice Without A Juicer (Blender Method)
This works best if you've got a powerful blender similar to a Vitamix so you can blend it well enough to get all the juice separated.
Ingredients
1 Bunch of celery
Distilled water
Directions
Cut the bottom off of celery and wash all stalks in the sink
Chop stalks into chunks
Place all chunks in your blender
Add some water to help it blender properly and blend it till smooth
Pour out and strain through a muslin cloth or nut bag
How much water you add depends on the blender, some need water to help them mix while others don't, something like a Vitamix won't whereas a Nutribullet might need some water to get it started.
A sieve will work but you'll be left with some lumps, whereas a nut bag like this one will have it completely clear and make it proper celery juice, this is just to remove all the bits so you can have the smooth celery juice. But if you want to have it as more of a smoothie you are more than welcome too.
When Is The Best Time To Drink It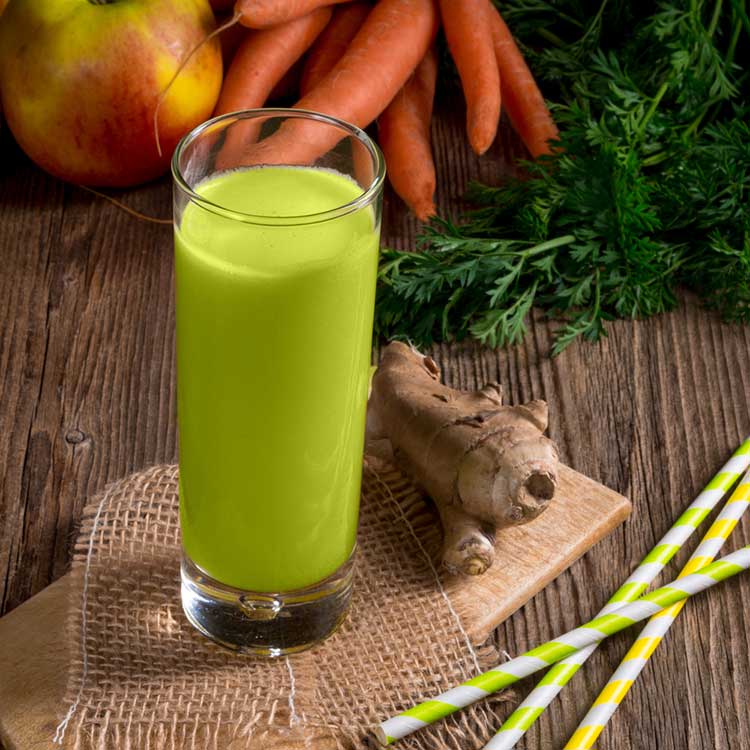 If you're looking to do it properly then you want to have it first thing in the morning before you have your breakfast, the nutrients get absorbed best and fastest on an empty stomach. Then ideally you want to wait 30 minutes after that until you have some food.
You can have celery juice at any time of day of course but it's a great nutrient boost and lift me up at the start of the day. And I'd avoid drinking it at night purely so you aren't up peeing all night!
My 3 Favorite Celery Juice Recipes
But haven't we already covered how to make celery juice?
We have, but I want to share with you a couple of different recipes that you can use to enjoy your celery juice in different ways. This is especially good if you want to make your celery juice taste better because you don't like it straight.
Celery And Carrot Juice Recipe
This is a really nice way to add some sweetness to your celery juice, and generally, fruits and vegetables of different colours have different vitamins in them so the orange with the green is a great way to balance out the nutrition profile of your morning juice.
Celery and carrot juice recipe
4 Celery stalks
4 Carrots
½ Lemon
½ Apple
Peel lemon and core apple
Wash all ingredients
Juice everything and enjoy!
Celery And Ginger Juice
This is the easiest way to make celery juice taste better, but I love ginger so I think it makes everything taste better! Adding ginger is just such an easy way to add in more flavour and spice if you don't plain celery juice. It's best to start with 2 inch of ginger and then ramp it up by using more if you want it spicier and tone it down with less if you want it less spicy.
Celery And Ginger Juice
1 bunch of celery
2 inch of ginger
Chop bottom of celery and wash
Peel ginger
Juice ginger first then celery
Enjoy!
Fresh Celery Juice
This uses fresh celery but also tastes really fresh! The mix of celery and cucumber work really well to give it a really light taste and then a little lemon just lifts the whole thing leaving you with a very refreshing celery juice.
5 stalks of celery
1 cucumber
½ lemon
Peel the lemon
Chop the bottom off and wash the celery
Juice the lemon celery and cucumber
Drink and enjoy!
Do It Yourself Celery Juice Recipe
Basically any mix of celery, cucumber, apple, ginger and lemon is going to taste delicious. So why not mix and match those and make your own perfect celery juice recipe! Or of course you can keep going with straight up celery juice, it's no fuss and effective so why not?
Tips For Making Celery Juice
I want to end this with a few tips you can take away for making celery juice so you can get the most benefits and the most deliciousness.
Always Wash It
I'm sure you've picked that up from context but it's really important, celery usually gets mud stuck right at the bottom where the stalks meet the base and eating that can make you really sick.
It's because the dirt could have anything in it, animal faeces, insect droppings, larvae and it could have viruses and dangerous bacteria in it. So if you want to avoid salmonella or E.coli (which I'm sure you do) you need to make sure you're washing everything that doesn't get peeled before you juice it.
Buy organic
Always buy organic when you can, it can be a little more expensive but is absolutely worth the price for all the extra nutrition it can pack, specifically it was found that organic vegetables were 20-40% higher in antioxidants than non-organic vegetables. Plus it means you don't get exposed to any chemicals that might potentially be harmful.
Use When Fresh
You want to be juicing your celery in the first few days after you buy it when it's still really fresh and crunchy. This helps it juice the best so you can get the most juice out of it but is also good practice for making sure that it's as nutrient dense as possible so you can get the maximum amount of nutrition in your glass.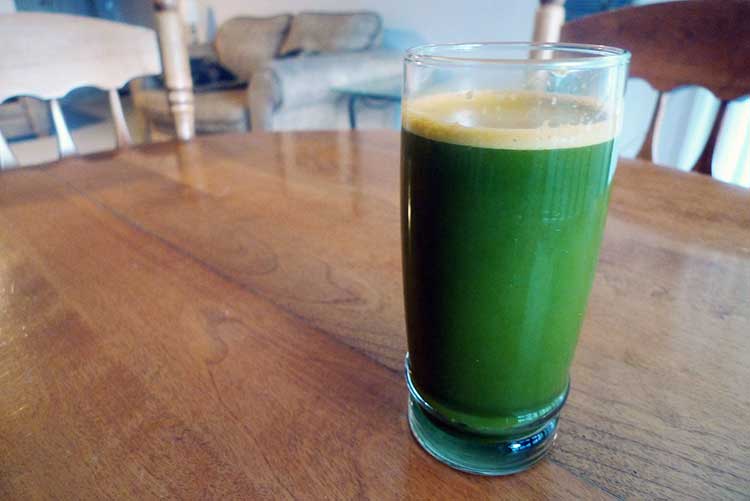 How To Make Celery Juice - My 3 Favorite Recipes
My 3 favorite celery juice recipes, all of which are quick easy and delicious
Ingredients
Celery and Carrot Juice Recipe
4

celery stalks

4

carrots

½

lemon

½

apple
Celery And Ginger Juice
1

bunch

celery

2

inch

ginger
Fresh Celery Juice
5

stalks

celery

1

cucumber

½

lemon
Instructions
Chop the bottom off of celery

Juice ingredients, drink, and enjoy!