Breville juicers are some of the original and some of the best. Joe Cross features them in his documentary Fat Sick and Nearly Dead which gave them their rise to fame (and is possibly even why you're here?).
They have a big range of products though so it can be hard to know which one to choose.
That's where I come in, I've reviewed all the currently available Breville juicers to help you find the one you need and linked them through to Amazon so you can order yours today.
But before you get to the reviews there are a couple of things to consider, so let's start.
Breville Masticating vs Breville Centrifugal juicers
You need to decide whether you want to buy a Breville masticating juicer or a Breville centrifugal juicer. I've had an in-depth look at the differences between the two here but for this article, I'll keep it brief.
Why You Might Want a Masticating Breville Juicer
I love masticating juicers, they're my favourite type because they're just so much better. They have a higher yield of juice for the amount of fruit you put in so they save you money in the long term and they don't heat up the juice you're making which means it lasts longer.
That's why they're often called cold press juicers but more to that they're also called slow juicers because they work by spinning a big auger which crushes the fruit squeezing out all the juice.
The result of the slow process? They aren't nearly as loud, so you can juice without waking up the whole house and the neighbours.
Pros of a masticating juicer
Quieter juicing for a more pleasant experience
Save money by needing less fruit
Keeps The Juice so it stays fresher and keeps more nutrition
The downside is that they cost more initially, you save that if you plan on juicing often though on the amount you'd otherwise be spending on organic produce! Because masticating juicers make an average of 30% more juice from the same amount so you save 30% on your juicing grocery bill every week which quickly adds up.
Cons of Masticating Juicer machines
They take longer to make juice
They cost more
Why You Might Want A Centrifugal Juicers
With all that said why would you buy a centrifugal juicer?
Because they're cheaper, if you're just trying out juicing you might want to just dip a toe in with a nice cheap juicer.
Centrifugal juicers work with a fast spinning blade that shreds up the fruit and using centrifugal force whips the pulp onto a mesh allowing the juice to pass through and the pulp to be collected in a separate container.
The pros and cons of a centrifugal juicer are simply the reverses of the pros and cons of a masticating one.
So what's it going to be? Masticating or Centrifugal? And don't worry, Breville have both.
Why Choose Breville
These are the things common amongst all Breville juicers and the reasons why they're such a great brand.
Well Trusted
Breville has been making juicers for a long time, and people have been enjoying them this whole time! Thousands upon thousands of people have chosen Breville as their juicer of choice, some models even have over 5000 Amazon reviews!
And if you consider not everyone who buys leaves a review that must be a good sign, definitely a sign you're not alone in your choice.
Unique Extraction Process
Breville use an ultra-sharp titanium reinforced cutting disk in their juicer which is sure to make short work of anything it comes into contact with. This is the surrounded by an Italian made micro mesh filter that helps extract up to 30% more juice and 40% more vitamins and minerals!
Extra Wide Chute For Minimum Prep Time
All their juicers come with a 3-inch feeding chute which means you can put in most fruit and vegetables more or less whole. What does that mean? Well it means you can get to making your delicious juice faster with less prep time.
Froth Separator
Finally all the juice collection jugs come with a froth separator which works to keep froth out your juice when it's made. Because when you're taking a drink of juice and get nothing but the foam on top it can ruin the taste somewhat, an ideal thing to avoid.
Best Breville Masticating Juicers
No surprise but I'm going to start with my top pick for the best Breville juicer, the masticating Big Squeeze juicing machine.
Breville Big Squeeze Juicer Review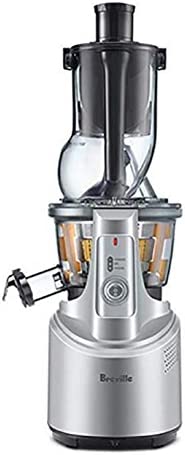 Pros
Easy Cleaning With Stopper Cap
Quiet Juicing With Low Power Motor
Very efficient juicing
Locks in nutrients
Cons
Smaller feeding tube so fruits and vegetables need to be chopped smaller
Quite a few pieces to assemble before use.
This is Breville's one and only masticating juicer, they've done it once and they've done it right. It's got two feed chutes into it one for smaller fruits and vegetables and the other for larger items which is very clever.
It means you can juice whole items without having to chop them up first which saves time, but the smaller chute means you can juice the likes of greens and berries with full effectiveness just as well because sometimes smaller items get stuck along bigger chutes which is a nightmare to try and clean.
And of course, it's got all the trademarks of a masticating juicer, slow speed, high yield and the motor is very quiet so you can juice away happily you don't have to clear the room first.
I also really liked the stop cap on the juice outlet, it works really well for cleaning because you can put the cap on and run it through with water to fill it up and rinse it out. Cleaning can be a pain so any way to make that process easier to save you time is a win in my book.
My absolute top pick for the best Breville juicer, you can't go wrong with The Big Squeeze.
Other Breville Juicer Reviews
Now onto the rest of the juicers, Breville's other juicers are all different models of the Breville juice fountain, a great and affordable centrifugal juicer.
Breville Juice Fountain Compact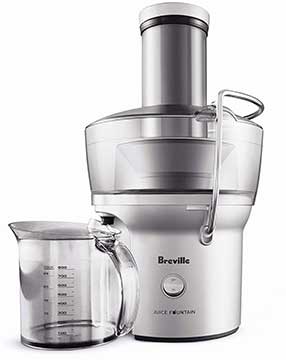 Pros
Budget Friendly Price
Dishwasher Safe
Takes Up Minimal Space
Cons
Not as powerful as other breville juicers
Pulp container is internal so harder to empty
If you're looking to try out juicing but aren't that sure then the Breville juice fountain compact is the juicer for you, it's a very reasonable price and does an effective job of making juice. A nice big feed chute for minimum prep time and it doesn't take up much counter space.
In fact, it's a got a clever design so that the pulp is collected inside the base of the juicer itself, funny it's the compact model eh? It's pleasing to look at too, something about it is just very sleek and modern.
And another huge plus is that it's dishwasher safe, it also comes with a custom cleaning brush so you can get the chunks out before it clogs up your dishwasher, overall it's a fairly painless cleaning experience.
It's the lowest-priced Breville juicer you'll find but does an excellent job for anybody who wants to get into juicing. Sure the breville juice fountain compact isn't as powerful as the Breville juice fountain elite or even the plus, but it still does a great job at making juice.
If you want a more serious health kick then read on for the juice fountains that will make even more delicious juice but otherwise the compact juice fountain will see you right.
The original and one of the best juicers you can get to start juicing, ideal for beginners.
Breville Juice Fountain Plus Review
Pros
High and Low Settings
850 Watts Of Power
Easy empty pulp container
Quick juicing
Cons
Still not as powerful as the Breville juice fountain elite
Transfers heat after extended use unlike the juice fountain cold
The juice fountain plus really is the plus version of the Compact juicer, it's got an extra 150 watts of juicing power to cut down anything you put in it and an adjustable two-speed motor for maximum control.
The two speeds, high and low, can be used for soft fruits and leafy vegetables or hard and dense vegetables respectively. This just gives you that little bit more control and lets you get the maximum amount of juice out of your produce.
For most people, there's enough power but if you're making gallons of juice using hard vegetables like carrots or beets then you might want to go for the upgraded Elite version which I talk about next.
The juice fountain plus a little bigger (as the name suggests) which means it takes up more room but overall it's still not that big. And the main reason it's bigger is that the pulp catcher is on the outside of the machine which makes it easier to empty out and clean up after.
The additional pulp container might not seem like a big deal but if you want to make batches of juice I can tell you that it's a godsend.
It is also one of the best juicers for greens and green juices.
Breville Juice Fountain Elite
Pros
High 1000 Watt Motor
Large Pulp Container
Large Juice Jug
Cons
Juice heats up if made in large quantities
The Breville juice fountain elite is another power upgrade for even more effective juicing and large juice and pulp containers so you can just keep on juicing.
The collection jug has a froth separator so you get all the juice without the annoying froth on top that sometimes comes with making juice. And it's a generous 5 cups in size so you can juice to your heart's content.
The 1000 Watt motor in the juice fountain elite is getting to professional standards when it comes to juicing compared to the juice fountain plus. You can make any juice you want and it'll get handled tremendously well in this juicer. It's also got the 2-speed settings so you can make everything perfect.
And once again dishwasher-safe parts so you can get everything cleaned up in no time.
Beville's most professional juicer.
Breville Juice Fountain Cold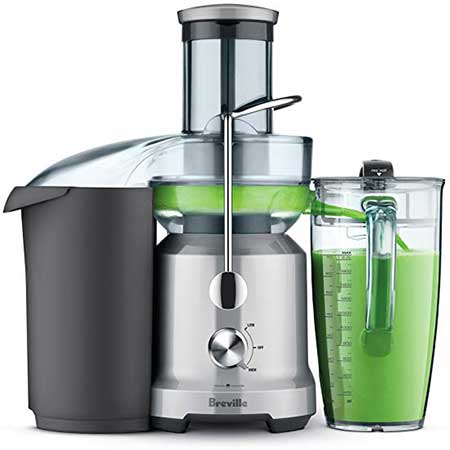 Pros
850 Watt
Cold Spin Technology
Seal And Store Jug
Cons
150 watts less than the Juice fountain elite
The Breville juice fountain cold is a really cool juicer because the other Breville juice fountains are all fairly similar but this one has some new technology which stops the heat transfer from the spinning blades!
A huge plus because it will keep your juice lasting longer and ensure more nutrients and enzymes end up in your glass.
With that, this includes a seal and store jug which, as it sounds, seals your juice so you can keep it in the fridge where it will last for up to three days.
Essentially you're getting everything you could need from a masticating juicer with the price tag of a centrifugal one! Except, in yield, the Big Squeeze will still outperform the Fountain Cold when it comes to how much juice is produced.
A really interesting choice for a Breville juicer.
Breville Juice Fountain Duo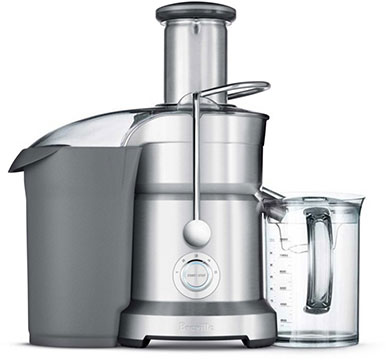 Pros
Blender & Juicer
5 Variable Speeds
1200 Watts
Cons
Expensive
Better to buy separate juicers and blenders
This is a combination blender and juicer, it juices similar to the other juice fountains but it can also make fruit smoothies out of soft fruits. I'm not sure how useful that actually is, because you can buy a smoothie blender that has far more capability and versatility than just making soft fruit smoothies.
And for the cost that it is you can buy a blender and a juicer, it'll take up more space because you'll have two appliances that at least do everything they're supposed to.
So as you can tell I'm not a fan of the Breville duo, better to stick with one of the other juicers or even better get the Big Squeeze so you're spending the same amount of money but have a far more capable machine.
Breville Citrus Press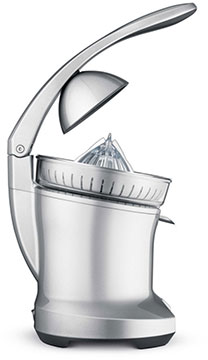 One Size Fits All
Easy To Use
Drip Stop Spout
If you have a lot of oranges to juice then this is what you need, it's a simple and effective way to juice any citrus fruit.
The way yo use it is intuitive, you just place half an orange on the juicing cone and squeeze down the handle to start turning it, hold it there till all the juice has come out then you have an entirely juiced orange half and you can move on to the next one.
It's all citrus fruit, lemons, limes, grapefruit, not just oranges but generally, orange juice is the only thing you make a lot of. The drip stop spout works to stop drips from falling onto the counter keeping the mess to a minimum which is a plus and the parts fit together easily and intuitively so you can take it apart for cleaning really easy.
Conclusion
So there you have it, all the Breville juicer's reviews. My favourite is still the Big Squeeze masticating juicer, it's so effective at making juice that's as healthy as possible with the maximum amounts of enzymes and nutrients so.
But the Juice Fountain Compact is also great if you're a beginner looking to just try out juicing, it'll give you everything you need to try your hand at making juice but be warned. Once you try it and start feeling amazing you won't go back! Check out these green juice recipes once you're ready to get started!
Related Posts