Ever wondered if you can juice raw beetroot or beet greens?
With beetroot being so tough and the skin on it so thick you might be wondering if your juicer can handle them. Should you cook them to soften them up first? And what about the big long greens on top? Can you juice them?
Well I did some research, I've juiced beets for a while and thought about putting the greens straight in the juicer but always best to check in case you end up making yourself sick!
And after some research I can tell you that you can in fact juice raw beetroot, and beet greens! The greens even have more iron in them than spinach making them a superb addition to any juice you're already making with beets, as always make sure you wash the beet greens before you juice them.
With the raw beets you're going to want to peel them before you juice them, you can juice them with the skin on but you're going to get left with an earthy taste that a lot of people find unappealing.
But once you peel them they're delicious! Check out my beet juice recipes here.
Dangers and Side Effects Of Juicing Beets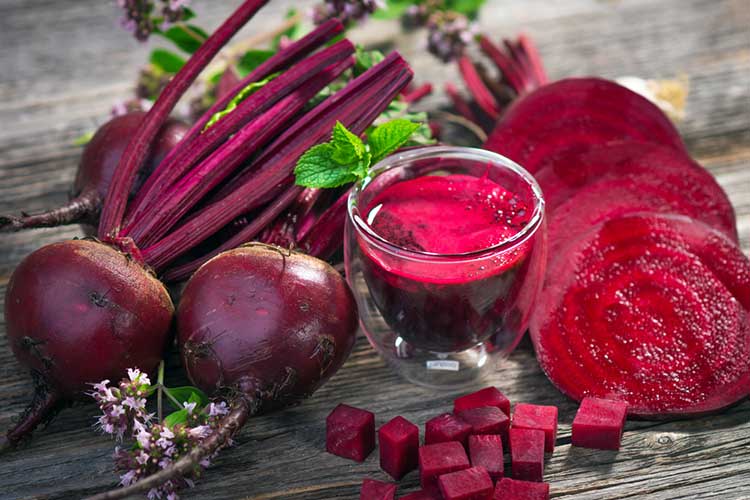 No such thing as a free lunch! You're not going to go too wrong if you're juicing beets but let's take a look at some of the possible dangers and why you shouldn't drink beet juice.
Red pee – This is the most obvious one, especially once you start drinking beet juice regularly! Beetroot can turn your pee red, so don't be alarmed when you go to the toilet, it happens! Not to everyone but about 10-14% of beet juice drinkers experience it. And something similar can happen to your poop too, you've been warned!
Kidney Stones – Do beets cause kidney stones? Beets have high levels of oxalates present in beets can sometimes cause kidney stones if you have them in high quantities. But this is more of a danger for people who are prone to kidney stones anyway.
High in Fodmaps – FODMAPs stands for something I can't remember but basically, these are a type of sugar that some people have difficulty digesting. You can get recommended a low FODMAPs diet from your doctor because they can cause a lot of digestion problems and IBS which can be uncomfortable. Not a worry if you don't have the need to be on the diet but if you do start getting bloating and discomfort this could be why.
Those are the main ones, they're pretty rare but I draw the line at including the fact beets are hard and one getting thrown at you would hurt!
How Do You Juice Beetroot
Let's go through the steps of juicing beetroot, I've got more details on this in another article so I'll make this brief.
Step 1. Peel the beets – As I said the skin can leave a really strange and undesirable taste that a lot of people don't like, so get them peeled, get them washed and get ready for step 2.
Step 2. Chop into chunks – It depends what juicer you have but you'll likely need to chop them up so they fit nicely in the juicer. I'd also chop off the greens so you can put them through separately. It's all going in but I prefer to do them separately, in my head it will stop it jamming but that feels silly now I write it down….
Step 3. Put them through the juicer! – Piece by piece tampering each one through making sure not to clog the juicer and you'll be all set.
Step 4. Dilute with other ingredients – Straight up beet juice is a very strong taste, you can have it by itself but most people need some other ingredients thrown in to break up the taste. Beet and carrot is a classic so a good one to try but it can be nice with some carrot too!
Are Beet Leaves Toxic
Not as such, they contain the most oxalate of all the beet which is what can cause problems with kidney stones but you have to eat them in excess to experience those types of problems. So as long as you're not juicing a ton of beets every single day you'll be fine! Which brings me to my next point….
Can You Drink Beet Juice Everyday
You can but I personally wouldn't, the oxalate in beets are the problem as I said above and start becoming a problem if you consume them in excess. Define excess? Well, it depends on the individual but I would say a recipe with a single beet would be fine but a recipe with 4 or 5 I wouldn't recommend. Just in case.
Spicy Beet Juice Recipe
This is my favourite beet juice recipe and one I think you'll like so get it juiced now that you know you can juice your raw beetroot!
Ingredients
3 Celery Stalks
2 Beets
1 inch of ginger

Method

Peel the ginger and beets
Wash the celery
Juice all ingredients
Enjoy!
Ginger juice is an interesting ingredient, since it can give your juices some spicy goodness, as well as being a good anti-inflammatory. Mixing it with celery is excellent too, since it has such a high water content. This loosens up the rest of the ingredients and dilutes the strong spice a little.
if you aren't keen on celery, you could use cucumber or even green apple juice if you wanted to. A little bit of lemon juice could also be added if you like it sour!
Conclusion
There you have it, you can in fact juice raw beetroot, you don't need to cook it in any way before you put it through your juicer but what you do have to do is peel it. And I know it's a pain because peeling small beets can be quite fiddly but it's worth it, you don't want to have that horrible bitter taste that comes with leaving the skin on.
But of course, you're welcome to try it, no harm will come from leaving the skin on!
And for beet greens, you can juice them too! Just don't go overboard with how much you're juicing your beet greens. Alternatively, you can fry them in olive oil with a little garlic and a sprinkle of salt and you've got yourself a delicious side dish!