Beetroot has become a really popular ingredient in juicing recipes – it tastes really unique and gives your juices a fab pink color!
But have you ever wondered if you can juice raw beetroot or beet greens?
Beetroot is one of the toughest veggies out there. The skin on it is so thick, you might be concerned that your juicer won't be able to handle it! Are you supposed to cook beetroot first to soften it? And are you supposed to just throw away the long greens on the top? Can you juice them?
Well I decided to do some research into the subject, since I use beets quite a lot, but I wasn't sure about juicing beet greens. In my opinion it's always better to check these things before diving in, to avoid any chance of making yourself sick!
I learned that you absolutely can juice raw beetroot and you can juice beet greens! Beet greens are like a lot of other leafy greens and have some great health benefits – for example, they actually have more iron in them than spinach! Beet greens are a superfood that we didn't know about! And they taste a little like swiss chard.
If you want to try using beet greens, then make sure you wash them thoroughly before putting them in your juicer. When it comes to using raw beets, you should peel them before juicing them. While it's possible to juice them with their skins on, you'll end up with a nasty, earthy taste. It's not nice, so peel your beets first!
But once you peel your raw beets, they're delicious! Check out my beet juice recipes here.
Dangers and Side Effects Of Juicing Beets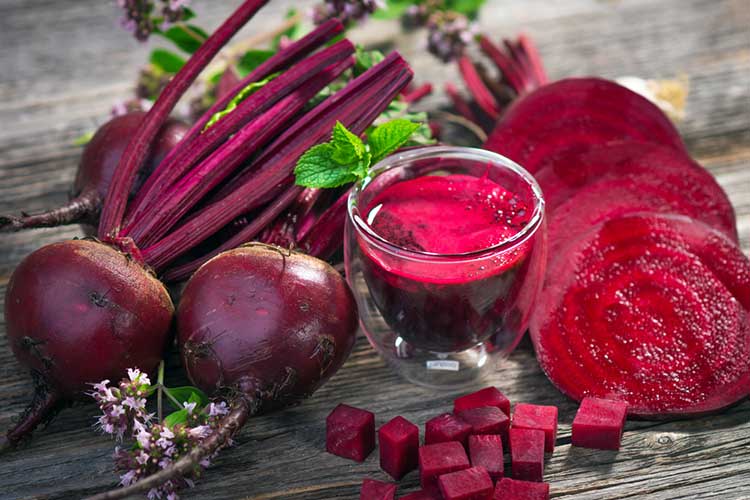 The nutritional value of beet juice is pretty huge, it's a great addition to a healthy diet. But, like with most things, there are some downsides and it's important to know about them before jumping into enjoying all the health benefits of beets.
Red pee – You might have heard of this side effect before, since it makes sense due to the vibrant color of red beets! Once you start drinking beet juice regularly, you could notice your urine becoming a red color. Don't panic! Nothing is wrong with you, you're not in any danger. This happens to about 10-14% of beet juice drinkers, so there's a chance that you may never notice it. A similar thing can happen to your poop too, as a heads up… you've been warned!
Kidney Stones – It's a question that's tossed around a lot when it comes to nutrition facts about beets – do they cause kidney stones? The reason for this is that beetroot contains high levels of oxalates, which can cause kidney stones if you consume them in large quantities. However, this is more of a risk for people that are already prone to kidney stones. If you're concerned, speak to your doctor, they'll be able to give you some advice.
High in FODMAPs – They sound funny but FODMAPs are a type of carbohydrate you find in wheat and beans. The problem with FODMAPs is that, for a lot of people, they're difficult to digest.They can cause symptoms like bloating, stomach pain or diarrhea – not nice!
So when it comes to beets, it's important to weigh up the nutritional value of them and the possible side effects. While the risks are reasonably rare, it's still good to know about them.
How Do You Juice Beetroot?
Let's go through the steps of juicing beetroot. I've got more details on this in another article so I'll keep this brief.
Step 1. Peel the beets – As I said before, the skin on beets can leave a strange and undesirable taste that a lot of people don't like. So I'd recommend peeling your beets and then giving them a good wash.
Step 2. Chop into chunks – This step depends a bit on the type of juicer you have. Like other root vegetables, I'd recommended chopping them into about 1 inch pieces, if not smaller. This way they'll fit well into your juicer and won't break it! I would also chop the beet greens off your beets so you can put them through your juicer separately.
Step 3. Put them through the juicer! – This is the easy bit! Put the pieces of your beetroot through, making sure not to clog up your juicer!
Step 4. Dilute with other ingredients – While beet juice is very good for you, it has a very strong taste, so you might want to combine it with other ingredients to make a tasty juice recipe. Beets and carrots are a classic combination, which will provide you with a good source of vitamin A, beta-carotenes and fiber.
Are Beet Leaves Toxic?
They aren't toxic but, like with most things, you shouldn't have too much of them. Beet greens contain a lot of oxalate, or oxalic acid, like kale and other leafy greens. This is what might cause kidney stones if you have a lot of it, or are already prone to kidney stones.
As long as you aren't juicing lots of large beets every day, you'll be okay. If it's something you're worried about, then I'd recommend not having beet greens along with other leafy greens, like kale, so that you don't overdo the oxalic acid.
Can You Drink Beet Juice Everyday?
You can, but I probably wouldn't. Like I said, the oxalic acid in beets can become a problem for you if you have it a lot. While having a recipe with a single beet would probably be alright, I would steer clear of recipes that call for four or five beets for your daily juice boost.
Spicy Beet Juice Recipe
This is my favorite beet juice recipe, so I wanted to share it with you. It's spicy, it's tasty and could potentially lower your blood pressure. It would be a great way to start using your raw beetroot!
Ingredients
3 Celery Stalks
2 Beets
1 inch of ginger
Method
Peel the ginger and beets
Wash the celery
Juice all ingredients
Enjoy!
Ginger juice is an interesting ingredient, since it can give your juices some spicy goodness, as well as being a good anti-inflammatory. Mixing it with celery is excellent too, since it has such a high water content. This loosens up the rest of the ingredients and dilutes the strong spice a little.
If you aren't keen on celery, which I hear from a lot of people, you could use cucumber or even green apple juice if you wanted to. They're both green juice recipe staples and very tasty. A little bit of lemon juice could also be added if you like it sour and it's a great source of vitamin C!
Related Questions
Can You Juice Beet Stalks?
Yep, absolutely. Just chop them into pieces the same way you would the rest of the raw beets, and it'll work great.
Are you better boiling beets before juicing?
Not really, you don't have to take this step. Raw beets boast an impressive nutritional value so I'd recommend just peeling, chopping and popping into your juicer.
Do you peel beets before juicing?
I answered this above but you don't have to. If you're worried that your juicer won't be able to handle this tough veggie, then peel them first. If not, just give them a good wash and chop them into pieces. However, I don't think the skin tastes nice at all, so I'd avoid it!
Conclusion
There you have it! You can juice raw beetroot, you don't actually have to cook it before you add it to your favorite juice recipe. I'd recommend peeling it first, to help take care of your juicer – I know it's a pain, but it's worth it! And to be honest, the skin doesn't taste nice – I'd avoid it.
And on top of that, you can juice beet greens too! Just don't go overboard on portion sizes, so you don't overdo it on oxalic acid. If you don't fancy juicing your beet greens, you could even fry them in olive oil, garlic and a sprinkle of salt to make a delicious side dish.