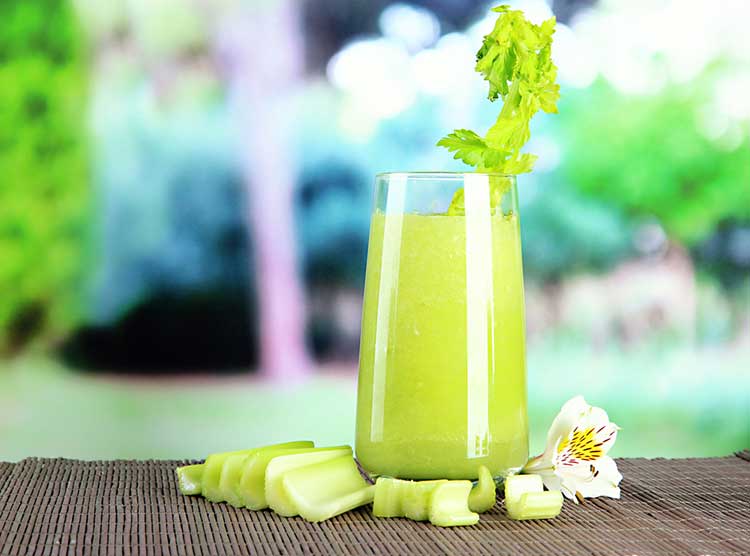 Celery juice is quickly taking over as the number one way to get yourself healthy.
And it's all well and good but if you don't have the right equipment you're never going to be able to enjoy all the benefits.
Which is why I've written this article on the best juicers for celery, so you can start enjoying celery juice and receiving all it's incredible health benefits.
With that said, let's get stuck in to help find the best celery juicer for you!
What Type of Juicer Is Best For Celery Juice?
Juices come in two main types, centrifugal and masticating (also called slow, or cold pressed juicers).
Centrifugal juicers work using a very fast spinning cutting disk that pulverises the celery and flings it to the side where it hits a mesh allowing the juice to pass through one section and the pulp to be collected in another.
These are normally low cost but tend to heat up the celery juice which can damage some of the enzymes causing it to lose nutrition
Masticating juicers, on the other hand, work with a slow spinning augur which looks like a big drill bit, this spins slowly and squashes the celery squeezing out the juice.
These don't heat up the celery juice and actually produce more juice than the centrifugal juicers so you need to buy less celery to get the same amount of juice saving you money in the long run.
So in my head, the only type of juicer you want for celery juice is a masticating one, more juice from a bunch of celery and it keeps it cool so it keeps all its nutrition. What more could you want?
3 Best Juicers For Celery
Here we are at the main event, I've found and reviewed my 3 top choices for the best celery juicer, all of them are available at Amazon you just have to click the Price & Reviews at Amazon button and you'll be taken there where you can read some other reviews and order yours.
Aicok Celery Juicer
Runs Quietly
Produces Lots Of Celery Juice
Cleans Easily
Fortunately celery isn't particularly hard to juice so you don't have to break the bank buying a juicer that effectively makes celery juice.
The Aicok is a masticating juicer than runs at under 60 db so you won't be deafened when you turn it on, this is especially useful if you share a house with other people and want to make your celery juice in the morning without disturbing anyone.
It's also got a 7 spiral augur system that provides does an effective job of getting out all the juice from your celery. But more than that it's easy to take the whole thing apart so you can clean it, and then it's nice and easy to reassemble afterwards too.
Overall a budget-friendly and quality juicer for celery.
Professional Omega Juicer
Produces Dry Pulp
Makes All Types Of Juice
Assembles Easily For Cleaning
The Omega is the perfect juicer for anyone who is serious about juicing, if you're the type of person who wants to try out celery juice to see how it goes then this isn't the juicer for you. However, if you're ready to commit to the healthier you that comes from juicing every day then this is certainly the juicer to do it with.
It makes short work of celery easily producing large amounts of juice while also being fully capable of juicing any other fruit or vegetable you would want to drink. It's actually my top choice of masticating juicer for just that reason.
Then you've got all the good stuff of it being easy to assemble so it cleans up in no time and you can put the parts on the top rack of the dishwasher. Plus it can make other things not just juices so you can grind coffee, make nut butters and even baby food and spaghetti.
A really great celery juicer for anyone serious about getting healthy.
Mooka Slow Juicer
Free Recipe EBook
2 Speeds
Less than 60 db Motor
My main problem with this juice is that in the Amazon listing they spell guarantee as guaranty, nothing to do with juicing but it just seems so wrong!
Anyway, with the Mooka after you order you get sent a juicing recipe book which is good if you want to move away from celery juice and start trying out some different juices.
That and it's got a soft and a hard setting so if you want to juice celery you'll only need the soft setting most likely but if you throw in some carrot or a harder vegetable you can ramp it up to get a really effective juicing experience.
A nice celery juicer for a beginner looking to try their hand at juicing.
Celery Juicing Tips
Now that you've found the juicer you need, you should have clicked through and ordered it from Amazon, now I'm going to share a few tips from my article on making celery juice so you can get the most from your juicer.
Wash Your Celery thoroughly
Always chop the bottom off the bunch and give each stalk a good wash in the sink before you juice it. Because of the shape of celery, it can get dirt trapped in the joint where the stalks meet the root and this getting into your juice can make you really sick, so wash thoroughly before you juice, which goes for any vegetables you're going to be juicing!
Buy Organic
Organic fruits and vegetables can have 20-40% more antioxidants in them making them considerably healthier for you, plus you avoid any nasty chemicals that might be lurking on your celery before you eat it.
Put Pulp Through Again
If you've put through your celery and the pulp has come out quite wet then you can simply put it back through the juicer to squeeze out the last of the juice. This is great if you've got a cheaper juicer because while it takes a little longer it means nothing's going to waste.
Conclusion
The best juicer for celery has to either be the Aicok if you just want to try out celery juice or the Omega if you want the full juicing experience to have celery juice and any other vegetable juice you could want.
Happy juicing!