Celery juice is quickly taking over as the number one way to get yourself healthy.
And it's all well and good but if you don't have the right equipment you're never going to be able to enjoy all the benefits.
Which is why I've written this article on the best juicer for celery, so you can start enjoying celery juice and receiving all it's incredible health benefits.
I've found and reviewed the 12 best celery juicers available on Amazon so you can order yours today. I've my top 5 choices below and go on to share some tips for juicing celery and short reviews of the other juicers that didn't make the cut. Check out the table of contents below if you want to jump to a specific section.
In This Article
The 5 Top-Rated Celery Juicers
I've found and reviewed my 5 top choices for the best celery juicer, all of them are available at Amazon you just have to click the Price & Reviews at Amazon button and you'll be taken there where you can read some other reviews and order yours.
1.Top Pick and Best Celery Juicer For Everyday – Omega Nutrition Center Quiet Slow Speed Masticating Juicer
Easy To Use
Makes All Types Of Juice
Assembles Easily For Fast Cleaning
After 3 years at the top spot thhe Omega juicer remains supreme.
It's the perfect juicer for anyone who is serious about juicing, it quickly makes a glass of celery juice, it's heavy duty, is easy to use and cleans up really fast.
Again and again, I come back to talking about the Omega as one of my favourite juicers and easily one of the best juicers out there.
It makes short work of celery easily producing large amounts of juice while also being fully capable of juicing any other fruit or vegetable you would want to drink, a great choice for green juice. It's actually my top choice of masticating juicer for just that reason.
You save money on the amount of produce you need from the high yield too!
Then you've got all the good stuff of it being easy to assemble so it cleans up in no time and you can put the parts on the top rack of the dishwasher. Plus it can make other things not just juices so you can grind coffee, make nut butters and even baby food and spaghetti.
One other thing I love is that you get a whopping 15 year warranty! This covers parts and performance and allows you to keep juicing day in and day out for years to come. I'm not a use and throw away kina person so buying something that lasts is important, and 15-years? Yeah, that's good going, for something with a motor in it especially!
A really great celery juicer for anyone serious about getting healthy, ideal for juice cleanses.
2. Best Small Celery Juicer – Aobosi Small Compact Celery Juicer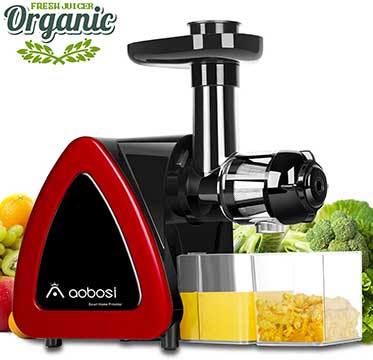 Quiet slow juicing
Very affordable
BPA free
This is a really great affordable option for those who want to make celery juice at home but don't want to spend too much money. Absolutely, you should be able to get celery's great health benefits regardless of budget.
The Aobosi does good work with celery and other fruits and vegetables with slow thorough juicing that isn't too loud and with an excellent yield.
As the name suggests it's a nice small size and the juice collector and pulp collector fit beside each other so you when you use it it doesn't take up too much space on the countertop which is something I really like.
It is cheaper, especially for a slow masticating juicer, so doesn't feel as sturdy since it's all plastic but as long as you're careful you'll get on absolutely great. Plus you get a 1-month free trial so you can actually take it back and test it out yourself before you fully commit to decide if you like it and if juicing celery stalks is for you.
A nice celery juicer for a beginner looking to try their hand at juicing, high juice yield and high quality.
3. Easy Celery Juicing – Housnat Slow Masticating Juicing Machine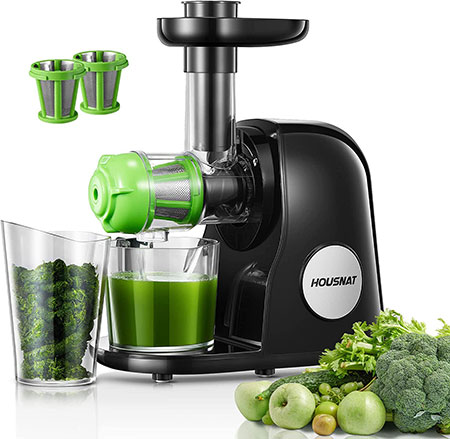 Runs Quietly
Produces Lots Of Celery Juice
Cleans Easily
This is the first juicer I owned and a top recommendation again and again. Fortunately celery isn't particularly hard to juice so you don't have to break the bank buying a juicer that effectively makes celery juice.
The Aicok is a masticating juicer than runs at under 60 db so you won't be deafened when you turn it on, this is especially useful if you share a house with other people and want to make your celery juice in the morning without disturbing anyone.
It's also got a 7 spiral augur system that provides does an effective job of getting out all the juice from your celery. But more than that it's easy to take the whole thing apart so you can clean it, and then it's nice and easy to reassemble afterwards too.
The motor has a 3-second delay when you turn it on where you think it's broken before it starts going as a heads up. The motor also has a reverse function which is good for when something gets stuck in the augur. Cucumber is what causes clogging for me but with the reverse function, I don't have to take the whole thing apart which is great.
Overall a budget-friendly and quality juicer for celery.
4. Fast Juicer For Celery – Breville Compact Juice Extractor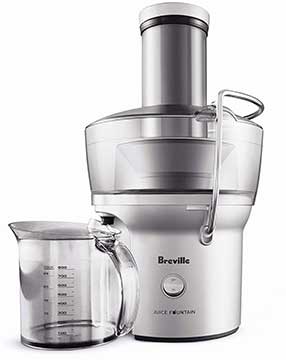 Fast Juicing
Affordable Price
Loing Established Brand
I know, I said that you don't want a centrifugal juicer but stay with me. This Breville one is actually quite good! Granted it doesn't have the same juice yield that a masticating juicer would, so you don't get as much juice per amount of celery you put in. But, it does make fresh juice very quickly.
So if you're in a hurry in the morning this is the juicer for you, it's got a large 3-inch feed chute so you can put the celery in more or less whole, maybe chop it in half first, but generally you can juice whole fruits which is great, and the high speed 14000 RPM cutting disc has the juice extracted in no time at all.
It also comes with a cleaning brush so you can clean it up relatively easily and the parts are dishwasher safe so you can just throw them in the dishwasher, you just have to rinse out the pulp first before you leave for work in the morning. The pulp also collects underneath the machine itself so you save some space.
It's also got a built-in Froth separator because quite often with centrifugal juicers you juice them and you get a lot of froth that sits on top which is fine but it can be a bit bitter in taste and you rather not have it than have it if you have a choice.
But the juice you collected using the jug provided has a froth separator built-in so you can pour out the juice and leave the foam inside.
The perfect small celery juicer for anyone in a hurry.
5. Budget Pick – Hamilton Beach Easy To Clean Centrifugal Juicer
Excellent Price
Extra Wide Mouth Fits Whole Foods
Makes juice fast
The Hamilton Beach juicer machine is a quick and easy solution for making celery juice. It's not as powerful as the other juices, it doesn't get you as much celery juice from the same amount you put in, but it is very affordable at under $100.
Which is the main reason you choose this juicer over the others, if you can afford one of the other models then I'd always recommend them because they are better but I think juicing should be open to everyone so if you want to start juicing celery and don't have a lot of cash then this is the way to do it.
It's got an extra-large 3-inch feed chute which means minimal prep time in terms of your veggies and chopping them up before you juice them, and it's easy enough to clean because the parts are dishwasher friendly and come apart with these.
Quite loud when you use it and you do need to hold onto it, otherwise it's going to rattle its way off the counter but it doesn't get too hot and makes quick work with any vegetables you put in it but especially celery.
A great choice for a beginner looking to try out juicing who doesn't want a big price tag.
What Type of Juicer Is Best For Celery Juice?
Juices come in two main types, centrifugal juicers and masticating juicers(also called slow, or cold-pressed juicers).
Centrifugal juicers work using a very fast spinning cutting disk that pulverizes the celery and flings it to the side where it hits a mesh allowing the juice to pass through one section and the pulp to be collected in another.
These are normally low cost but tend to heat up the celery juice which can damage some of the enzymes causing it to lose nutrition
Masticating juicers, on the other hand, work with a slow spinning augur which looks like a big drill bit, this spins slowly and squashes the celery squeezing out the juice.
These don't heat up the celery juice and actually produce more juice than the centrifugal juicers so you need to buy less celery to get the same amount of juice saving you money in the long run.
So in my head, the only type of juicer you want for celery juice is a masticating one, more juice from a bunch of celery and it keeps it cool so it keeps all its nutrition. What more could you want?
Tips for Juicing Celery
Now that you've found the juicer you need, you should have clicked through and ordered it from Amazon, now I'm going to share a few tips from my article on making celery juice so you can get the most from your juicer.
Wash Your Celery thoroughly
Always chop the bottom off the bunch and give each stalk a good wash in the sink before you juice it. Because of the shape of celery, it can get dirt trapped in the joint where the stalks meet the root and this getting into your juice can make you really sick, so wash thoroughly before you juice, which goes for any vegetables you're going to be juicing!
Buy Organic
Organic fruits and vegetables can have 20-40% more antioxidants in them making them considerably healthier for you, plus you avoid any nasty chemicals that might be lurking on your celery before you eat it. Although I still recommend you wash your vegetables before you juice them!
Put Pulp Through Again
If you've put through your celery and the pulp has come out quite wet then you can simply put it back through the juicer to squeeze out the last of the juice. This is great if you've got a cheaper juicer because while it takes a little longer it means nothing's going to waste. But I've got some other uses for pulp here.
F.A.Q on Buying A Celery Juicer
How many stalks of celery is 16 ounces?
A 16-ounce glass of celery juice is made up of 1 large bunch of celery. That equates to about seven to nine individual stocks of celery but it's easiest just to buy one bunch and chop both ends off before juicing it to get the complete 16-ounce glass.
Fortunately, celery is fairly inexpensive so getting a whole bunch of it to have for a single glass isn't too costly especially when you compare it to the price of getting a coffee takeaway in the morning.
How much celery juice should I drink?
Drinking celery juice is very healthy for you but that said you should never have too much of a good thing. so I would limit yourself, if you're having 16-ounce glasses, to one glass per day.
If you're following the medical medium then you are going to want to have that one glass first thing in the morning on an empty stomach and that will set you up nicely for the day. You don't need to have more through the day otherwise you'll be missing out on a balance of nutrition you get from having other fruits and vegetables.
Can I juice celery the night before?
Drinking celery juice, like all juices made with leafy greens, is best drunk as soon as it is made. the longer you leave it the more nutrition degenerates and starts to disappear from the glass so it's best to have it ASAP after you've made it.
I know it can be a pain having to make it in the morning but it's worth it.
That said, if you're going to make it the night before and keep it till the morning, make sure you keep it in a clean bottle in the fridge and that you've got a masticating juicer to make it with.
These produce the longest lasting juice and Juice from a masticating juicer can last 2 to 3 days it's not as good as when you first made it but it's still very healthy for you and better than nothing if you can't make it in the morning.
Other Celery Juicers I Reviewed
Manual Juicers For Celery
Healthy Juicers Manual Cold Press Juicer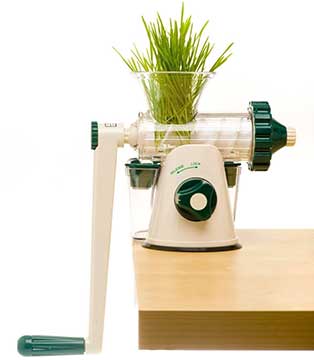 Manual Juicers aren't the easiest to use but they do feel very natural, so if you want to go down that route the Healthy Juicer is the way to do it. It's especially great for making wheatgrass shots, these are the best use for them in fact. If a centrifugal juicer is the fastest way to make juice then this is the slow way, not something I'd generally recommend.
Key Features
Easy Cleaning
Simple To Use
Madew By Juicers For juicers
Cold Press Celery Juicers
Vertical Juicers For Celery
SKG A10 Cold Press High Yield Juicer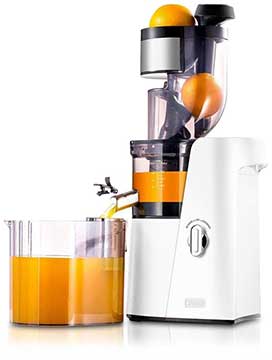 Not the cheapest but certainly one of the best vertical juicers around. Long-lasting juice with the maximum amount of nutrition locked in and minimal oxidation, what's not to love. It's also got one of the biggest feed chutes so you can even juice whole oranges! Make short work of your veggies in this fantastic juicer.
Compared with a horizontal juicer there isn't much difference other than space saved if you have a smaller kitchen.
Key Features
Wide Chute For Easy Access
Creates The Maximum Possible Juice From The Produce Inesterted
Easy Assembly For Easy Cleaning
Aicok High nutrition Vertical Juicer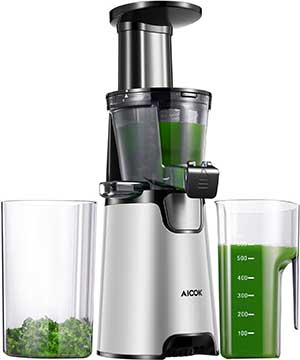 Aicok have made a phenomenal cheap juicer that's one of the best juicers for celery and green juice, low speed, and different fineness filters allow for great versatility without breaking the bank. This is the vertical version of their horizontal juicer further up allowing for a bigger auger that speeds up the process closer to a centrifugal juicer but with a juicing process that allows for maximum nutrition.
Key Features
Makes Long Lasting Juice
Produces Higher Volume Of Juice Than Horizonatal Counterpart
Very Affordable
Mueller Austria Ultra Vertical Juicer Machine Extractor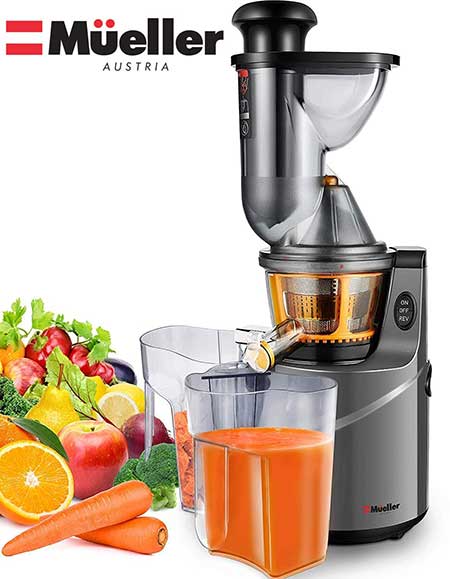 Dry pulp, cheap price, BPA free and made with German Engineering to the highest levels of quality. A high quality juicer that's under $100 at time of writing, of all the types of juicer I'm coming around to an upright juicer, the only problem is storing it because they're so tall! But if you are keen and have somewhere to put it then this is a fantastic choice.
A superb slow juicer for celery juice, celery stalks won't stand a chance
Key Features
Made In Germany
Cheap Price
Anti-Drip Design for easy clean up
Shine Kitchen Co. Vertical Slow Juicer
Very slow speed at only 40 rpm with a 200 W motor and a 3-year manufacturers guarantee for juicing celery everyday, nice. And plenty capable of juicing lots of fruits and veggies, soft veggies, soft fruits, hard fruits, it can manage them all. 18 inches tall so again a bigger juicer but if you have space you'll get some top quality juice coming out of it!
Key Features
Sleek Black and White Design
BPA Free Plastics and Stainless Steel Body
Comnpact size for easy storage
Travel Juicer For Celery
Portable Mini Travel Blender Machine
A blender rather than a juicer but if you need something to travel with this'll do you right, consider taking some sort of strainer with you for true juice or have it as more of a smoothie if you don't have space. It's not the most powerful so you will get some lumps but it's an option. I reckon you'd be better off getting a thermos for juice that you can take with you that will also keep your juice fresh.
Key Features
Rechargeable through a USB
Very compact
Blender rather than a juicer
Conclusion
I hope this guide to the best juicers for celery helped. I hope you now know everything you need to about buying a celery juicer and that you get to start enjoying the health benefits of a daily celery juice. If you think I've missed anything please leave a comment below and I'll get back to you.
To sum up, the best celery juicer in my mind is a masticating one that will get you the most amount of juice from a single bunch of celery and one that's not too expensive. If you can afford a more expensive juicer great, they do work better, but if you're on more of them but don't worry you can still pick up an excellent juicer without breaking the bank.
That's why I like the Aicok juicing machine, it's not too expensive it's a masticating juicer it is a really good job at celery and it's easy enough to clean that you can use it every day with minimal clean up after. Everything you could want.
And yes twin gear juicers are perhaps the best out there but the cost is so high I decided to exclude them. Even leafy green vegetables will get chewed up in any of these juicers so I'm happy with the choices.
Happy juicing!
Related Posts