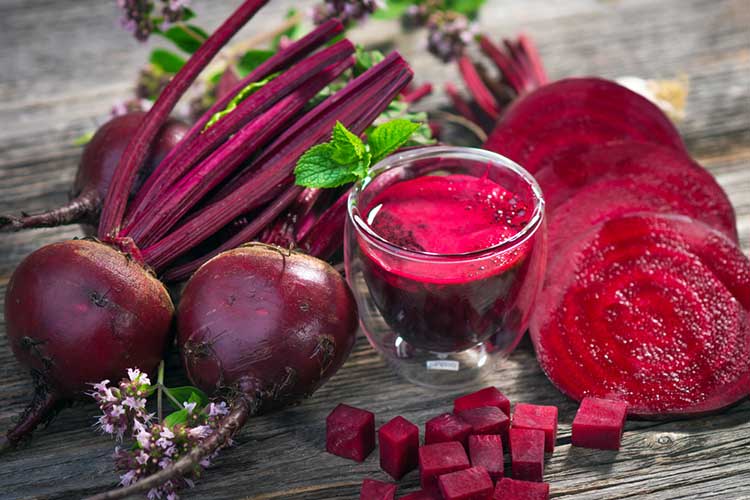 Beet juice is a fantastically healthy drink that can do wonders for your body by improving blood flow, lowering blood pressure and boosting your immune system.
And it's one of the tastier juices you can have on its own!
I've written this article so I can share the health benefits of beet juice with you and also so you can find out when's best to have it and any potential side effects you're going to want to look out for if you start drinking it.
That said let's get stuck in!
Why Is Beet Juice So Good For You
Beet juice has a lot of different good things in it but the main benefits come because it's a great source of Nitrates. Nitrates help with the flow of blood in the body and are found in leafy greens, lettuces, and beetroot because they get taken in through the roots from the soil.
Interestingly the benefits of having more nitrates are more pronounced in men whose bodies aren't as good at storing them, but don't worry ladies beetroot still has a lot of great benefits for you too!
Apart from that, you get a healthy dose of iron, vitamin C, and folate as well as a mixture of other vitamins and minerals. What does all this mean? I'll tell you, just keep reading to find the benefits of beet juice.
7 Benefits Of Beet Juice
In my research I've managed to find 7 scientifically backed benefits of beet juice, I've tried to avoid too much jargon but I've linked to the studies where appropriate so you can read deeper if you'd like, or just keep reading the article so you can see all the lovely benefits you can get.
1. Lowers Blood Pressure
High blood pressure is one of the leading causes of death in the modern world, in the USA it causes the deaths of 1000 people every single day through a heart attack, a stroke or other cardiovascular diseases. Which to me is absolutely terrifying!
But a lot of studies in humans have found that drinking beetroot juice every day was an effective way to lower blood pressure, almost instantly as well, within 24 hours they measured the subjects and found that their blood pressure was lower than when they started.
Which is really phenomenal, of course, you should always speak to your doctor and please don't give up any medication but beet juice remains a great way to take control of your blood pressure!
2. Improves Exercise Stamina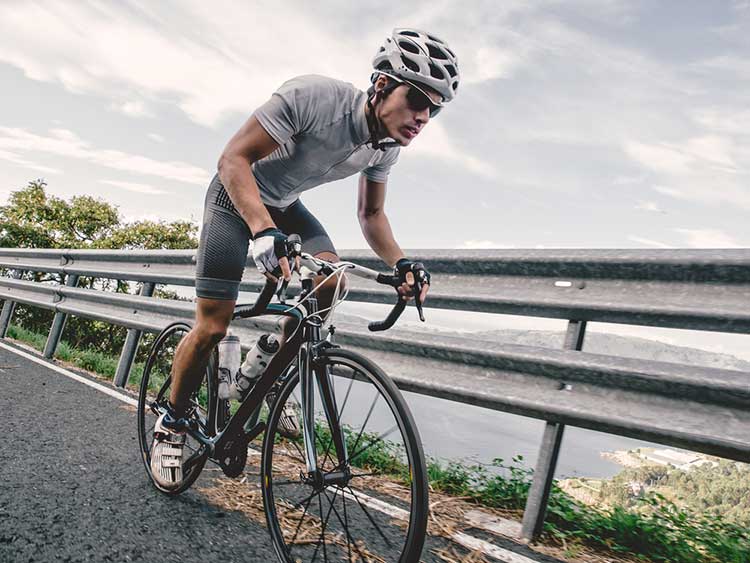 A study was done where they gave trained cyclists a dose of beet juice every day for 6 days and took a measurement of their time on a 10k cycle before and after. After the 6 days of beet juice, their time had improved by 12 seconds which was about 1%.
And while this might not seem like a lot a 1% increase after 6 days is incredible for someone who is already a trained cyclist and likely performing close to the top of their game. So it's worth trying if you're already exercising and are looking for something to give you that edge.
3. May Lower Cholesterol
It's not confirmed yet because no study has been done in humans but a study on rats found that beet juice can be used to lower cholesterol.
But I also found someone got a patent accepted for a serum of 1 part beet juice, 1 part lemon juice, and 0.4 parts bee honey that can be ingested once per day before breakfast that can help lower overall cholesterol in between 10-17 days depending on how high it was when you started.
And the patent expired this year so you can make it at home to your heart's content to try and manage your cholesterol.
4. Good For Immune System
Everyone loves vitamin C, it's an antioxidant that does so much good for your body including helping boost your immune system so you don't get sick. And who doesn't want that?
But vitamin C also helps fight against free radicals which are little molecules in the air that try and change your cells. They can mutate your cells and lead to a lot of health problems and can even be the cause of some cancers! So any boost of vitamin C is always going to be a good thing.
5. Prevents Iron Deficiency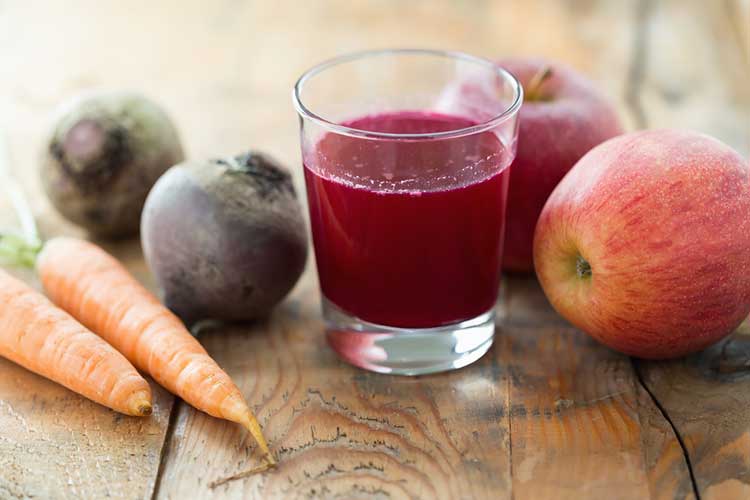 Iron deficiency is no joke, especially amongst woman because having your period means you need a lot more iron than a man does, and low levels of iron can leave you feeling low energy low mood and more seriously can result in you becoming anaemic.
So any source of extra iron is a good thing! Especially if you don't eat red meat because that's the most common place people get iron from so if you're vegetarian or vegan then beet juice is an excellent source.
6. Anti-inflammatory
We've talked about how beet juice has been shown to help reduce blood pressure but beet juice is actually also useful in reducing the risk of cardiovascular disease because of its anti-inflammatory properties.
Which means it can also help with pain related to inflammation and even IBS and some cancers which is quite astonishing.
7. More Energy By Improving Blood Flow
The Nitrates we talked about before have one other really fantastic use, they open up blood vessels allowing blood to flow easier around the body. The result of this? You have more energy from the better circulation of oxygen around your body and you're left feeling more awake and energised.
Interestingly this can also help erectile dysfunction because of the increased blood flow, that alongside the extra energy you'll have is a winning combination!
Potential Side Effects
Nothing is perfect unfortunately so there are a few side effects you want to watch out for when you're drinking a lot of beet juice.
Red Stools and Urine
That's right, you might start poopin' red a little bit, in fact, you probably will, same when you go for a pee, it'll come out a little red-tinged. It affects about 10-14% of people so it's not hugely likely to happen to you but if it does don't worry about it, it's not blood and it's not usually a bad thing.
What it can be is a sign of is an iron deficiency, so if that's something you're worried about then it's worth talking to your doctor to get it checked. But for most people, it happens to it is just a thing that happens, the red pigment doesn't get broken down and simply comes out again.
Potential For Kidney Stones
But you'll only be able to know if you've already had them! Beetroot is a source of oxalates which can prevent calcium from being properly absorbed into your body and so that calcium might build up and form a kidney stone.
If you're drinking plenty of fluids it shouldn't be a problem because even if any calcium doesn't get absorbed it can be peed out before it starts turning into stones.
So unless you've already been warned about oxalate kidney stones or you've had one in the past you'll likely be completely fine drinking regular beet juice.
It Can Over Lower Blood Pressure
We know beet juice is good for high blood pressure but it's actually the case that if you have low blood pressure then drinking beet juice could cause it to go too low.
Low blood pressure can lead to dizziness and fainting so if you have beet juice and feel those symptoms soon after then you probably shouldn't have it again! But speak to your doctor and get your blood pressure measured.
When Is The Best Time To Drink Beet Juice
Is it best to have beet juice in the morning? Or is it better as an evening drink? I would always say the morning is the best time to drink beet juice, even better if you can have it before breakfast so you can soak up all the nutrition right away and have the benefits of it lasting all day long.
If you can't drink it first thing that's ok, you just want to drink it as soon as you can and to drink it when it's as fresh as possible because the nutrition degrades the longer it's left.
Now you know the benefits, it's time to start making your own! Check out my guide to making beet juice here.