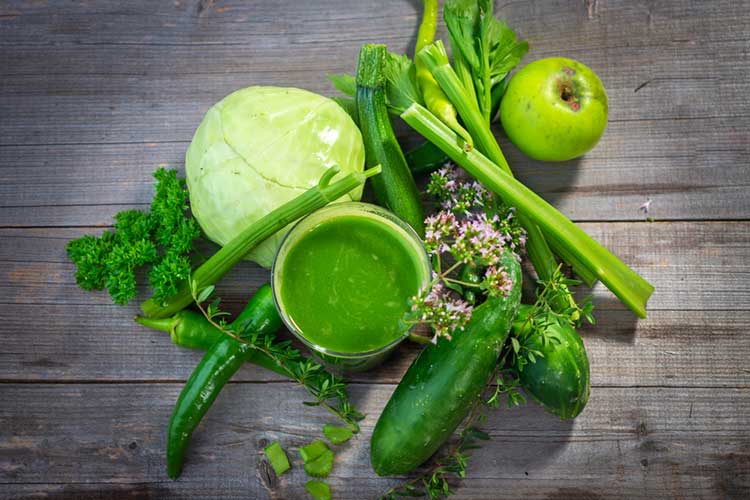 Green juice is one of the best ways you can detox, lose weight and get healthy.
But making it can be tricky if you don't know where to start which is why I've put together this guide.
I've got everything you need to know about making green juice and of course my favorite green juice recipes so you can start on a new healthy you as soon as possible!
With that said, let's get stuck in and take a look at what produce goes into making a green juice.
Possible Green Juice Ingredients
I'm sure you won't be surprised to learn that the main ingredients in a green juice are, well, green…
Green Juice Base
But let's get into some specifics, you'll want to have a good green base for your green juice so you'll want to use either cucumber or zucchini. These are nice and watery so help give enough volume to your green juice.
Ironically you want to add these last because the water content helps wash through your juicer so every little bit of goodness gets squeezed through.
Main Ingredients
After you've decided on your base you're going to want to add some of the real goodness, any combination of kale, spinach, celery, swiss chard or even wheatgrass will give a really great nutrition boost.
Beginners are going to want to stick with spinach or celery, it's nice and straight forward to juice and the taste isn't too strong so it's easier to get used to it. But feel free to mix and match.
A Sweetener
You don't want to go overboard with the sweeteners and make it too sugary or you'll start to negate some of the detox and weight loss properties of the juice. But it can be quite bitter so you'll likely want something to sweeten it up.
Apples are always a good choice, preferably green ones of course, but red apples are fine too, or you can add in some kiwi for a really different flavor. Carrot isn't as sweet but still has enough sweetness in it to improve the flavour without adding much sugar.
A lemon is always a nice addition as well, it adds a bit of sharpness which lifts the whole drink up making it fresher and much tastier.
Finish With A Little Spice
Finally you're going to want to top it off with a little spice, at least that's what I always want to do. Ginger is always my first choice, an inch or two of ginger adds a kick to it that's great first thing in the morning. But if you don't want your butt kicked with some ginger you can always add some cilantro or some mint leaves.
What You'll Need To Make Green Juice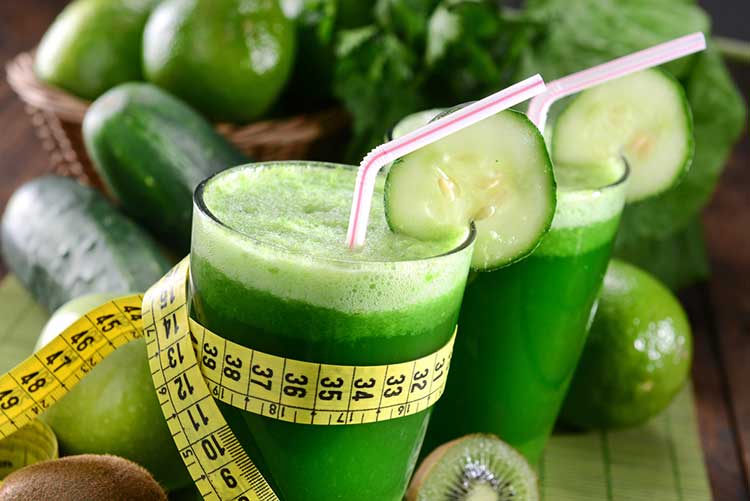 It depends on what you've already got in the house, because you're going to need either a juicer or a blender to actually get the juice out of your produce.
I'm sure it won't surprise you to know that I'd recommend a juicer, specifically you're going to want a masticating juicer that's tough enough to handle kale stalks and leafy greens. I've got my top choices for green juicers here.
Alternatively, you'll want a blender, I've talked about blenders for green smoothies here. Plus if you want to make green juice you're going to need a strainer of some kind, a sieve can do the trick but a cheesecloth or a nut milk bag would be even better if you're able to get your hands on one.
You can buy organic nut butter bags on Amazon that are reusable, click here to check it out.
How To Make Green Juice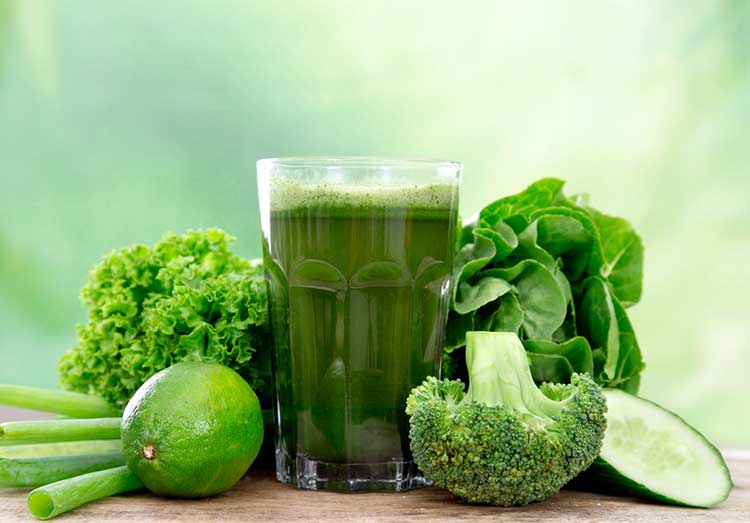 We know what ingredients we need, we know what equipment we need. But we don't know what to do.
So let's jump into the actual process of making a green juice before getting to my favorite recipes. This way you'll be fully equipped to start making green juice.
Step 1. Wash All Ingredients
Cooking kills germs on the outsides of plants so you can be more lenient about not washing thoroughly but with juicing you don't get that advantage so you have to make sure you wash them thoroughly before you juice them.
It's just a way to make sure any possible germs or leftover chemicals from when it was grown are removed so you don't upset your stomach.
As for peeling, you only need to peel the skins you wouldn't be happy to eat. So carrot skins are fine for instance but kiwi skins not so much. And the same goes for chopping off stalks, so the bottom of celery needs to be chopped off and the cores of apples removed.
Step 2. Roughly Chop
Make sure everything's roughly chopped, this will help your blender properly process everything and stops your juicer getting jammed. And if you don't chop it I can promise you your juicer will get jammed.
It doesn't need to be finely diced or anything like that just down into single 1-2 inch pieces that can easily be fed through the chute of the juicer.
Step 3. Juice In A Juicer
I'll cover blenders next but for now, you're going to want to put all your chopped ingredients through your juicer. Start with the smaller ingredients, so ginger, spinach leaves, kale, followed by your hard ingredients like carrots and finally your base ingredient.
As I said the watery base ingredient just helps push through all little pieces that got caught so it all gets juiced and you have an easier time cleaning up afterwards.
You've now got a glass of delicious and healthy green juice, sip it down and enjoy.
Alternative Step 3. Blend in a Blender
Because you're not going to juice in a blender or blend in a juicer right?
Anyway, there's an extra step involved with a blender but the initial one involves much less thought, you simply put all the ingredients in the blender and blitz it.
If it doesn't seem to be blending properly you can add some water, this just helps all the ingredients catch and be pulled into the blade.
Step 4. Squeeze Through a Nut Milk Bag
As I said earlier you need something to strain through the pulpy mixture to leave you with a healthy green juice. I recommend a nut milk bag(https://amzn.to/2UbohUH) because it allows all the juice and none of the pulp while a sieve can sometimes let through some pulp and not enough of the juice.
Once you've done that you've made it! A delicious crisp green juice awaits, so let's take a look at some green juice recipes.
My 5 Favorite Green Juice Recipes
Yup, here are all my favorite green juice recipes, I've organised them by what they're best for, so whether you're looking lose weight, improve your skin or detox then I've got you covered.
Detox Green Juice Recipe
No list of green juice recipes would be complete without talking about the Mean Green Juice, it's the original green juice Joe Cross used in his documentary fat sick and nearly dead. A fantastic green juice packed full of goodness.
This is also a great beginner green juice recipe, it tastes good and will leave you feeling good.
Mean Green juice
Ingredients
1 cucumber
4 celery stalks
2 green apples
8 kale leaves
1 lemon
1 inch ginger
Method
Peel the lemon
Core the apples
Wash the ingredients
Juice and enjoy!
Weight Loss Green Juice Recipe
A good weight loss juice has to be two things, it's got to be low in calories and it's got to increase your metabolism. So ginger is a must to increase your stomach acid and improve your digestion and steering away from fruits is a good idea to help reduce calories.
Lean Green Machine Juice
Ingredients
1 cucumber
8 kale leaves
1 cup of spinach
1 carrot
2 inch ginger
Method
Peel Ginger
Wash all ingredients
Juice and enjoy
Green Juice Recipe For Healthy Skin
Greens are full of vitamin A which helps repair skin cells which keeps your skin looking younger and helps protect against UV rays which can damage your skin. But carrots are also full of vitamin A so I thought we could double up the benefits by adding a bit of both to this recipe.
Revitalizing green juice recipe
Ingredients
2 Carrots
1 Zucchini
3 celery stalks
1 Lemon
Method
Peel the lemon
Wash the ingredients
Juice and enjoy
Other Delicious Green Juices
Here are two other delicious green juice recipces you can try one is a shot and the other is juts plain tasty.
Evergreen
Ingredients
2 celery stalks
1 fennel
2 cup romaine lettuce
1 cup pineapple
Method
Peel the pineapple and cut into chunks
Chop the bottom off the celery and, lettuce and fennel
Wash the ingredients
Juice and enjoy
Shots are normally reserved for ginger in my houshold but a green shot makes a nice change now and again.
Green Shot Through The Heart
Ingredients
2 kale leaves
1 handful of wheatgrass
1 teaspoon of spirulina
Method
Wash the ingredients
Juice and add sprulina
Enjoy!
How To Make Green Juice Taste Better
Tried the above recipes and still not sold on it? Fair enough, it does take some getting used to, and that's actually my main advice, just keep drinking it because it's good for you, eventually you'll grow to like it.
But if you can't wait that long my main advice would be to try adding your favorite fruit to it. Fruit is a lot sweeter which makes it more enjoyable so try adding more of that while you're getting used to it. But aim to start reducing how much fruit as you go so that it stays healthy.
I've also made this into an infographic you can pin for later!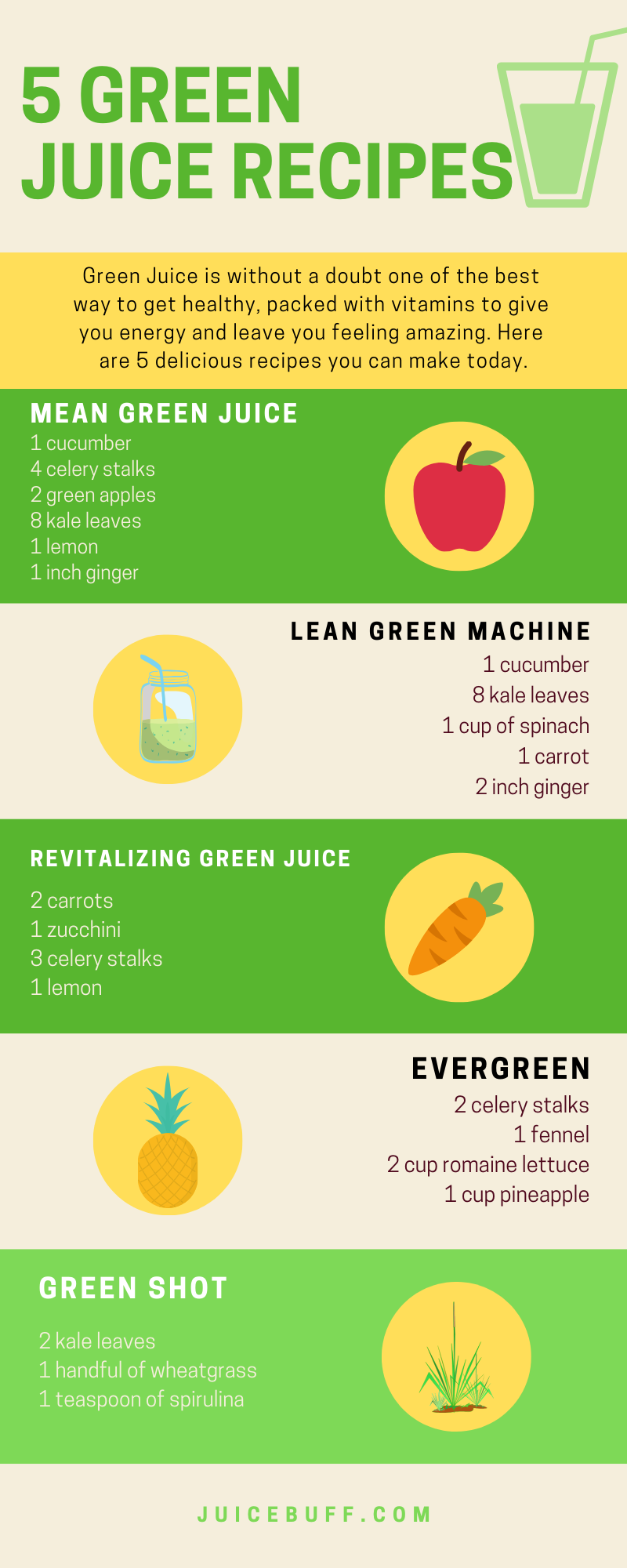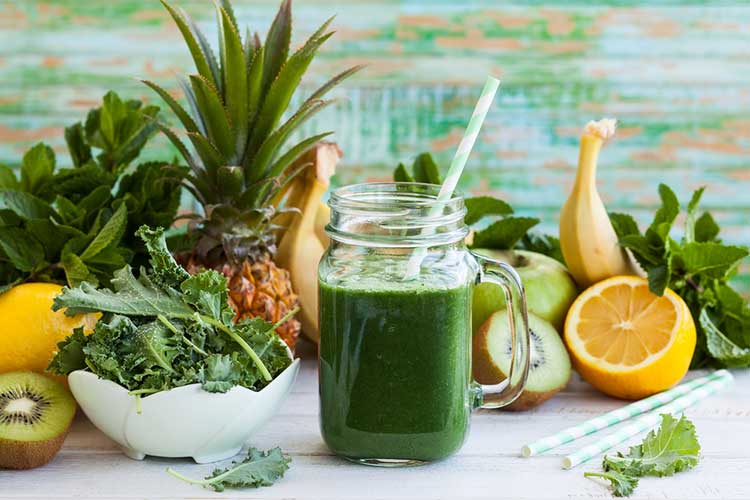 5 Green Juice Recipes You Need To try
5 quick and easy green juices for any occasion
Ingredients
Mean Green juice
1

cucumnber

4

celery stalks

2

green apples

8

kale leaves

1

lemon (peeled)

1

inch

ginger (peeled
Lean Green Machine Juice
8

kale leaves

2

inch

ginger

1

cup

spinach

1

carrot

1

cucumber
Revitalizing green juice recipe
3

celery stalks

2

carrots

1

zucchini

1

lemon (peeled_
Green shot through the heart
2

kale leaves

1

handful

wheatgrass

1

tsp

spirulina
Evergreen
2

celery stalks

2

cup

romain lettuce

1

fennel

1

cup

pineapple
Instructions
Wash all ingredients thoroughly

Chop the bottoms off of celery, lettuce and fennel. Chop tops off of carrots. Core the apples

Juice ginger first followed by lemons and the rest of the ingredients.

Finish up with cucumber to clear everything through the juicer