Juicing and blending are awesome, aren't they? The fresh juice, the health benefits, the tasty smoothies – there's no down side.
Except choosing between them, that is.
Despite their similarities, there are huge differences between juicing and blending and a lot to know about each one.
So I've written up this guide to take you through some of those differences. I'm going to share the pros and cons of each, as well as the important things you need to know!
What's The Difference Between Juicing And Blending?
Let's start with the basics. When you are juicing, you're squeezing all of the juice out of your fruits and veggies. The juice gets squeezed into one container and all of the pulp (the bits) get separated into a different container.
When you're blending, the juice and the pulp become combined as your fruits and veggies get, well, blended.
Makes sense, right?
Pros and Cons of Juicing
Pros
When you're juicing, you effectively remove the fiber content from your ingredients. This is a good thing because it makes the absorption of nutrients easier on your body. You get the maximum amount of nutrition with fewer calories, which makes it good for weight loss. Juicing is a lot easier to get the nutrients you need than if you ate all the fruit and veggies in your green juice individually. Great for a detox!
Cons
The big downside to juicing are the blood sugar spikes if you don't use enough vegetables. Fruit juice, especially juice made with citrus fruits, has a lot of natural sugar in it and when you drink your juice, you absorb all of this sugar at once. Rapid spikes in your blood sugar can lead to mood swings and feelings of nausea – not nice!
You can avoid this by having vegetable juice as well as fruit juice – balance is key – and consdier eating whole fruits and whole vegetables more often. I've also got more on how juicers work here.
Pros and Cons of Blending Smoothies
Pros
The blending process provides you with all the fiber that juicing doesn't. Removing the fiber content can help with absorbing the other nutrients but keeping the fiber in gives your digestion an easier time of breaking down all the sugar in your juice.
You can manage this by treating yourself to a delicious morning smoothie at breakfast – it'll leave you feeling fuller for longer.
Blending is also easier if you want to add supplements like protein powder into your drink to up your protein intake. It's possible to add protein to juice but it's not as easy. Chia seeds are another great addition that cant add to juice.
Cons
Blended smoothies just don't have as high a concentration of nutrients as juices do. The fiber in smoothies also means you can't have as much of them as you can juice, since you fill up more quickly! And more calories can be a problem if you're looking to lose weight.
Both are a great way to add in a healthy drink to your diet however. Plus if you combine more fruits and vegetables into your diet that can only be a good thing.
What Does The Fibre Do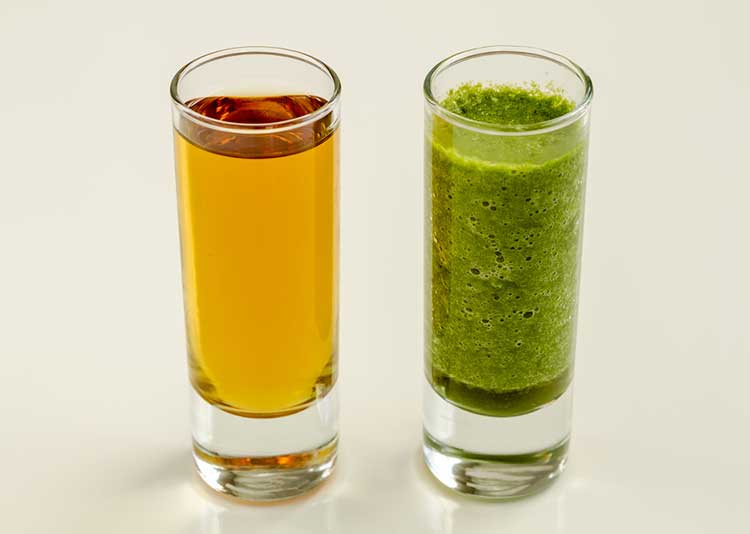 I wanted to go into this in more detail since it's the main difference between juicing and blending. Juice = no fiber; smoothie = fiber!
But what does this actually mean?
Well, there are two types of fiber: soluble fiber and insoluble fiber.
Insoluble fiber bulks out your stool and speeds up the passage of solid food through your digestive system.
Meanwhile, soluble fiber absorbs water and encourages good bacteria growth. This helps you digest better and can regulate your blood sugar. And soluble fiber is still present in juice.
Both types of fiber are present in smoothies, so if you're drinking a lot of juice and getting constipated, you might need to switch to smoothies. Most people get on fine, just make sure your fruit and vegetable juices and smoothies are part of a healthy diet and healthy lifestyle.
What About The Sugar?
Fruit juice is amazing but a lot of people are, rightly, worried about their sugar intake when they're on a juice cleanse or enjoying their daily green juice.
The first thing to know is that not all sugar is equal.
The sugar in soda, for instance, has zero nutritional value. It's refined sugar that's had all goodness removed. The sugar you find in an orange is coupled with the fiber content, so you digest it better and get all of the vitamins that you find in whole fruit.
So to say that drinking fruit juice is as bad as drinking soda is incorrect.
However –
Too much of anything is bad, and too much fruit juice is no different.
Even with all of its nutrients, drinking gallons of fruit juice is not good for you – your sugar intake will be way too high.
Make sure that you enjoy your fruit juice alongside a healthy, balanced vegetable intake, or swap out for green juice by using green veggies now and again. You could even consider sticking mostly to veggies when you're making your juice or smoothies.
Which is Better For Your Digestive System?
There are some mixed messages out there on this topic but the main thing you need to know is that juicing is better for the absorption of nutrients and easier on your digestive system. Juice is the best way to get a big boost of the good stuff.
However, smoothies can help you with the digesting of other foods because the soluble fiber in it makes this easier.
Which Has More Nutrients?
Before getting in to this, you should know that having a juice or a smoothie for breakfast is much more nutritious than most of the other options out there. So if you make the switch to either option instead of having cereal or toast, you'll be on your way to a healthy diet.
You can also switch the snacks you usually have during the day for a juice or a smoothie for the same reason – much better for you!
But, which is healthier – juicing or blending?
It's got to be juicing. Once again, it's the removal of the fiber content that means you get more nutrition per glass.
For example, a green smoothie might be made with apple juice, 3 stalks of celery and 6 kale leaves but a green juice could be made with 2 apples, 4 stalks of celery and 8 kale leaves but it won't leave you uncomfortably full.
Which Takes More Prep?
When you're blending, unless you've got yourself a Vitamix, you're going to need to chop your produce down into small chunks before putting it into your blender. Entire fruits and veggies won't be kind on your appliance!
But both masticating juicers and centrifugal juicers have their problems too! If you don't chop your produce before putting it into your juicer – even a Nutribullet – it'll still have a bad time.
So while it's pretty close, I would say that juicing requires a little less prep. There are some juicers out there – slow juicers, and cold press juicers – that usually have a wide feed chute that can fit entire fruits and veggies, or at least bigger chunks.
Which Has Easier Clean Up?
A good question, because no one likes having to do lots of cleaning, right?
Well, in this case, I think it's the blenders that win. If you get one that's dishwasher safe, it's just a case of putting the whole jug and blade in the dishwasher. Job done.
Again if you have a Vitamix or a Blendtec, they are self-cleaning. You just fill them up with warm water and soap and hit the right setting. Job done!
Juicers, on the other hand, need hand-washed or at least taken apart before they're put in the dishwasher, which can be a little annoying. This isn't a huge deal but blenders definitely win this round!
The Final Verdict
I'd love to be able to say it's a cut and dry decision but really it depends on what you're looking for and what you like! Either way your fruit and vegtable intake will increase and more fresh produce in your diet can only be a good thing. And dietary fiber is important so make sure to include some green smoothies.
Juicing is right if you're set on building a healthier diet and a healthier lifestyle. Juice has more essential vitamins and minerals helping your immune system and helping you lose weight. Check my reviews of some great juicers here.
However, blending smoothies is the right one for you if you're looking for convenience, since prep and clean up isn't as much of an issue. Check out my top choices of smoothie blenders here. Or check out how you can make juice in a blender.