It's a surprisingly tricky business choosing between juicing and blending.
They seem the same but there are a surprisingly large amounts of differences between the two.
So I've written up this guide to take you through some of those differences, I'm going to share the pros and cons of each as well as some of the other things you might want to consider.
What's The Difference Between Juicing And Blending?
Let's start with the basics and get something clear, when you're juicing you your squeezing all the juice out the fruit and vegetable into one container and removing all the pulp which gets spat into a different container.
With blending you get juice and pulp combined, because what goes into the blender is what goes into your glass.
Makes sense right?
Well let's take a closer look and decide what this actually means.
Pros and Cons of Juicing
Pros – Juicing is great because by removing all the fibre it means all the nutrients are easier to absorb so you get the maximum amount of nutrition with less of the calories. So you get a concentrated burst of all the goodness that fruit and vegetables provide really easily. Far easier than if you were to eat them all individually.
Cons – The main downside to this is that if you have a fruit juice you get a massive spike of sugar that gets absorbed all at once which can raise your blood sugar and lead to mood swings plus a general unwell feeling.
But that's easily solved by sticking to vegetables when you're juicing.
Pros and Cons of Blending
Pros – Blending gives you all the fibre that juicing doesn't and where this can be good is that it helps you more easily digest the sugars that can be present and fills you up more. So a smoothie at breakfast time can leave you feeling much fuller setting you up nicely for the day.
Cons – The cons are that you don't get as a high a concentration of nutrients as you do with juicing, plus because you get full from the fibre you can't have as much smoothie as you can juice.
What Does The Fibre Do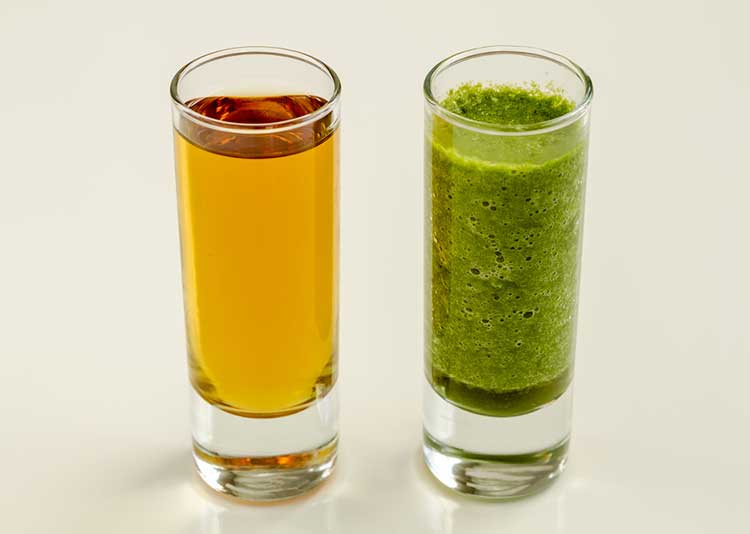 I wanted to go into this a little more, since the main difference is that with juicing you don't get fibre and with blending you do. But what does that mean?
Well I'll tell you, there are actually two types of fibre, soluble and insoluble, insoluble fibre bulks out your stools and speeds the passage of food through your digestive tracts.
Meanwhile, soluble fibre absorbs water and allows good bacteria growth which helps you digest better and can help regulate blood sugar. And soluble fibre is still present in juice..
Both types of fibre are present in smoothies so if you're drinking a lot of juice and getting constipated you might need to switch to smoothies but most people get on fine, especially when it's part of a healthy diet.
What About The Sugar?
When you're having a lot of fruit juice it can be a worry the amount of sugar that's present. And while that's true not all sugar is equal. Sugar in soda, for instance, has zero nutritional value, it is refined sugar that has had all nutrition removed. Meanwhile, the sugar in an orange is there alongside the fibre that helps you digest it and surrounded by lots of vitamins that are good for you. So to say drinking fruit juice is as bad as soda is just wrong.
But.
Too much of anything is a bad thing, and too much fruit juice is no different, even with all the nutrients if you're drinking gallons of fruit juice then you're going to be in with a problem because of the high intake of sugar.
So as I said before best to have it alongside some vegetables and try and stick to mostly vegetables when you're having smoothies or juice. Less sugar and more nutrition.
Ease Of Digestion
Some mixed messages as far as how easy the digestion is, but the fact of the matter is that juicing allows for easier digestion of the nutrients in the drink.
Smoothies perhaps better help you digest other things because of the extra soluble fibre but in terms of getting a big boost of nutrition from all the fruits and vegetables, it's juicing all the way.
Which Has More Nutrients
First off, both juicing and blending allow for much more nutrition than your normal breakfast, because compared to a bowl of cereal, or a piece of toast or even nothing having a glass full of fruits and vegetables is going to be good for you.
The same goes for as a snack, if you normally have a bag of chips or even a single piece of fruit, a glass packed full of it is going to be a lot better.
But, which is even better still, juicing or blending? It's got to be juicing, because by removing the fibre you're able to get much more into a glass, so a green smoothie might be made with 1 apple, 3 celery stalks, and 6 kale leaves while a glass of juice can have 2 apples, 4 celery stalks and 8 kale leaves without leaving you uncomfortably full.
So for that alone juicing has more antioxidants, vitamins and minerals present in it.
Which Takes More Prep Blending or Juicing?
When you're blending, unless you've got yourself a Vitamix you're going to need to chop your produce down into small chunks.
But juicers have their problems too, if you don't chop it down at least a little your juicer will get jammed.
So it's pretty close really but I'd say juicers take slightly less prep because you don't need to chop your ingredients down as far, but there isn't much in it.
Which Is Easier To Clean?
A good question, because no one likes having to do lots of cleaning after right? Well, in this case, I think it's the blenders that win. If you get one that's dishwasher safe it's just a case of putting the whole jug and blade in the dishwasher.
Again if you have a Vitamix or a Blendtec they are self-cleaning, you just fill them up with warm water and soap and hit the right setting.
Juicers, on the other hand, need hand washed or at least taken apart before they're put in the dishwasher which can be a little annoying, not a huge deal but blenders definitely win this round!
The Final Verdict
I'd like to say it's a cut and dry decision but really it depends.
Juicing is right if you're set on becoming healthy and really want to take your health seriously. Check my reviews of some great juicers here.
But blending is right if you're looking for more convenience. Check out my top choices of smoothie blenders here.