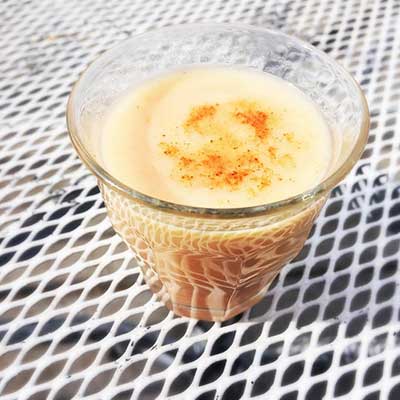 In case you're worried, if you have ginger hair like myself have no fear! We're not trying to juice you.
OK bad (very bad) joke aside, today I'm bringing you a complete guide to the best juicers for ginger and ginger shots.
You'd think making a ginger shot would be easy because it's sometimes one ingredient but not so.
It actually takes the right equipment to make a really great ginger shot and that starts with the right type of juicer.
I've got my top 3 picks in the table below, just click the name and you'll be taken to Amazon where you can read some reviews and order yours today! If you're stuck for choice my top pick is currently the Mooka small juicer.
Title
Mooka Small Ginger Juicer
Aicok Quiet ginger Juicer
Hamilton Centrifugal Juicer



Best For
Juicing Ginger As An Ingredient
Title
Mooka Small Ginger Juicer

Title
Aicok Quiet ginger Juicer

Title
Hamilton Centrifugal Juicer

Best For
Juicing Ginger As An Ingredient
What Type Of Juicer Is Best For Ginger
You don't want to drink a really pulpy ginger shot, you want a nice smooth shot that goes down easy, at least as easy as a shot of pure ginger can.
In my opinion, the best way to get that is from a masticating juicer rather than a centrifugal one.
What's wrong with a centrifugal juicer?
On the whole nothing, but for ginger and ginger shots it's a problem because the spinning blades can get hot, and they got hotter if there's not enough in the juicer as is the case if you're having a ginger shot.
And the extra heat can destroy some of the nutrients and enzymes that are present in the juice. I'm sure there is still plenty of goodness left but not enough!
I'm fickle and like my juice to be as healthy as possible.
Plus the amount of juice you get is usually lower and when you've only got a small piece of ginger you want as much of that turned to juice as possible.
So Masticating is the way forwards?
Yes!
Masticating juicers sort of chew up the fruit (masticate means chew after all) which is a slower more thorough process leaving you with a really smooth ginger shot at the end. And it tends to leave you with more juice which is what you want when you're only juicing small amounts.
Ginger Juicing Tips
Just a couple of tips that I know are going to make your ginger juicing experience a little better.
Peel It First
I know most vegetables you can put in whole but trust me, you want to peel your ginger first, the skin is just too thick and gnarly and doesn't juice well.
Ginger is strong so beware!
Pure ginger juice is really intense and takes some getting used to. You can tone it down with lemon juice or even coconut water to make it more enjoyable if you're just getting used to it.
Always Use Fresh
I'm pretty sure that's a given but thought it worth mentioning just in case…
So Which Ginger Juicer Should I Buy?
The ultimate question…
And one that I've answered!
Here are my three top picks for the best ginger juicers, I've linked each one through to where you can but it at Amazon.com so you just click through the Price And Reviews button and order yours today
Slow & Small Ginger Juicer
Brand:Mooka
Juicer Type: Masticating
Easy To Clean
Slow Effective Juicing
Small Size
A stand-up juicer that will make a ginger shot that leaves you needing to sit down again.
OK another bad joke aside I do really like this juicer, it's got a nice steady 80 rpm which does a really slow and thorough job of juicing ginger.
I'm a big fan of doing it once and doing it right, there is nothing worse than feeling like you have to put the pulp back into the juicer to make sure it's actually gotten everything the first time. Which is what makes this such a great juicer, it does a really effective job and produces a nice yield of juice.
It's also a nice compact size so it fits well into any kitchen, not too tall so it fits into most cupboards which is handy if you don't have a lot of space in your kitchen.
An easy top choice for the best ginger juicer
Quiet Ginger Juicer
Brand:Aicok
Juicer Type: Masticating
Runs Quieter
Makes More Juice
Compact Size
Now to be absolutely clear, I mean it runs quietly for a juicer, there is definitely still noise!
But that's to be expected.
As for the juice, you get a really good yield for the size of ginger you put into it. The chute size is plenty big enough to fit ginger in and although it gets lost in the giant cup if you're just making a shots worth it does a really efficient job.
Also it has a handy reverse function for when you get greedy and put too much in at once and it jams… Not that that would happen to me of course… Ahem…
Overall a really nice juicer for making ginger shots or anything else with ginger.
Ginger Ingredient Juicer
Brand:Hamilton Beach
Juicer Type: Centrifugal
Great For All Fruits And Veggies
No Extra Juice Cup
Dishwasher Safe
WHAT?? BUT YOU SAID CENTRIFUGAL WAS BAD!!
Yes I know I did but bear with me!
The Hamilton Beach juicer is ideal if you're looking to juice ginger as part of other drinks not just as a standalone drink.
So if you like adding ginger to bring some spice to your normal drinks then this is the one for you. 3-inch chute big enough to put fruits and veggies straight into and it has a good yield.
It doesn't come with a collection cup for the juice but I actually quite like that, it means you can cut out the middleman and save on a step of washing up. Yipee!
It makes short work of ginger but if a ginger shot is what you're after then go with one of the two above.