In case you're worried, if you have ginger hair like myself have no fear! We're not trying to juice you.
OK, bad (very bad) joke aside, today I'm bringing you a complete guide to the best juicers for ginger and ginger shots.
You'd think making a ginger shot would be easy because it's sometimes one ingredient but not so.
It takes the right equipment to make great ginger shots and that starts with the right type of juicer.
I've got my top 4 picks in the table below, just click the name and you'll be taken to Amazon where you can read some reviews and order yours today! If you're stuck for choice my top pick is the Aicok Juicer, it's affordable effective and can liquify ginger in no time at all.
Top 5 Best Ginger Juicers
1. Best Ginger Juicer – Aobosi Quiet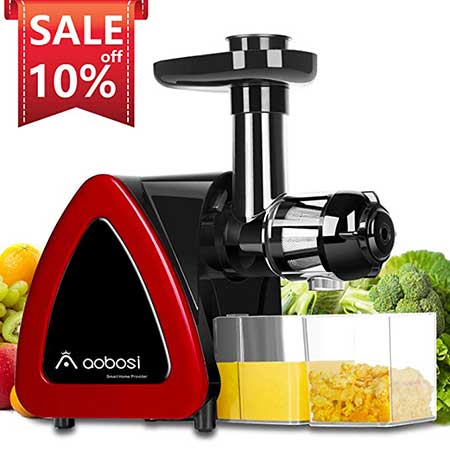 Aobosi Quiet Cold Press Masticating Juicer
Brand: Aobosi
Juicer Type: Masticating
Slow Juicing
Quiet Juicing
Compact Size
Now to be clear, I mean it runs quietly for a juicer, there is still noise!
But that's to be expected.
As for the juice, you get really good yield for the amount of ginger you put into it. The chute size is plenty big enough to fit ginger in and although it gets lost in the giant cup if you're just making a shots worth it does a really efficient job.
Also, it has a handy reverse function for when you get greedy and put too much in at once and it clogs… Not that that would happen to me of course… Ahem…
It's a nice small compact size so you can leave it out on the countertop which I always advise, once it's away in a cupboard it's too easy to leave there! The single auger makes short work of ginger root leaving you with a great yield and able to quickly enjoy a nice spicy ginger shot.
Overall a nice juicer for making ginger shots or anything else with ginger.
2. Best Ginger Shot Juicer – Housnat Easy To Clean Slow Masticating Juice Extractor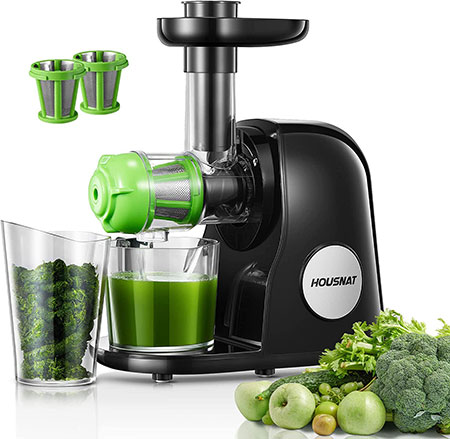 Housnat Easy To Clean Slow Masticating Juice Extractor
Brand:Housnat
Juicer Type: Masticating
Easy To Clean
Slow Effective Juicing
Small Size
A stand-up juicer that will make a ginger shot that leaves you needing to sit down again.
OK, another bad joke aside I do really like this juicer, it's got a nice steady 80 rpm which does a really slow and thorough job of juicing ginger.
I'm a big fan of doing it once and doing it right, there is nothing worse than feeling like you have to put the pulp back into the juicer to make sure it's gotten everything the first time. Which is what makes this such a great juicer, it does an effective job and produces a nice yield of juice.
It's also a nice compact size so it fits well into any kitchen, not too tall so it fits into most cupboards which is handy if you don't have a lot of space in your kitchen.
This was my first juicer and it's the one I use to juice ginger, it's easy to assemble and disassemble so you can clean it up easily enough. Strangely it says in the instructions not to use it for ginger but I've never had a problem with it. It's also fully capable at juicing leafy greens for a nice green juice and can handle tough kale stalks and hard vegetables like carrots too.
Overall a cracking juicer that is ideal for ginger and other juicers alike.
3. Top Pick For Serious Juicers – Omega J8006 Nutrition Center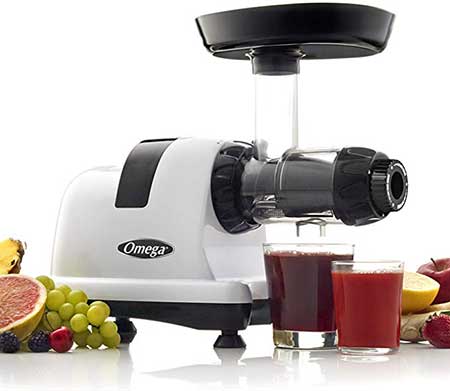 Omega Nutrition Center Professional Masticating Juicer
Brand:Omega
Juicer Type: Masticating
Effective juicer for any fruit or veg
Highest Yield Of Juice
15-Year Warranty
Stainless Steel Body
If you're serious about juicing then you need to get this Omega Nutrition Center. It's been the best juicer around for a long time and does amazing things to ginger. It's got a great yield so you'll get more juice for the amount of ginger you put in and it does it nice and slow so nothing gets heated up during the process.
It's also a nice stainless steel body which gives its a classy look if you're going to keep it out on the countertop, some of the plastic ones can look a bit cheap and you want to hide them away in the cupboard but not this one.
I like the versatility this juicer has too, allowing you to make nut butter, almond milk, grind coffee, make soy milk and frozen desserts.
If you're looking to make ginger shots and generally use ginger in your juicer then this is the way to do it, it's the best way to make a commitment to you and your health and start treating yourself to delicious ginger juice every single day.
It can handle anything you could put in it with the best yield of ginger juice on the list and its ability to make some of the healthiest fresh juice makes it an excellent choice of high-quality juicer. You won't be disappointed.
4. Top Budget Gginger Juicer – Hamilton Beach Centrifugal Juicer
Ginger Ingredient Juicer
Brand:Hamilton Beach
Juicer Type: Centrifugal
Great For All Fruits And Veggies
No Extra Juice Cup
Dishwasher Safe
WHAT?? BUT YOU SAID CENTRIFUGAL JUICERS WERE BAD!!
Yes I know I'm always talking about how great masticating juicers are but bear with me!
The Hamilton Beach juicer for ginger is ideal if you're looking to juice ginger as part of other drinks not just as a standalone drink.
So if you like adding ginger to bring some spice to your normal juice then this is the one for you. 3-inch chute big enough to put fruits and veggies straight into and it has a good yield.
It doesn't come with a collection cup for the ginger juice but I quite like that, it means you can cut out the middleman and save on clean up by juicing straight into your drinking glass. Yipee!
It makes short work of ginger but the yield isn't as high but if a ginger shot is what you're after then go with one of the two above.
5. Top Luxury Ginger Juicer – Tribest GSE-5000 Greenstar Elite Cold Press Complete Masticating Juicer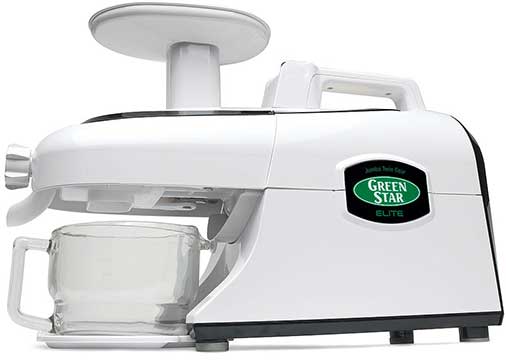 Healthiest Juice Possible
Easy cleaning
15-year warranty
Highest yield
Now this slow juicer is certainly overkill if all you want is to make a ginger shot in the morning, but if you want to start juicing or you're interested in doing a juice cleanse then this is the juicer for you.
It's a twin gear juicer which means it masticates using two augers that grind the juice out of the produce while simultaneously locking in extra nutrition because of the Tribest's exclusive technology that uses magnets to rearrange the water. There's a bunch of science behind this but I'll not bore you with it!
You've also got some versatility in the ability to create nut butters, sorbets, sauces and pates.
It's a bit pricey but the real reason people pay more for this juicer is that it's the best, it gets the most yield out of the produce, it gets the most nutrition out of the produce and is just one of the best slow masticating juicers out there. The only downside is it takes a bit longer to clean so if you're going to use it you'll want to use it for batch making juice.
What Type Of Juicer Machine Is Best For Ginger
You don't want to drink a really pulpy ginger shot, you want a nice smooth shot that goes down easy, at least as easy as a shot of pure ginger can.
In my opinion, the best way to get that is from a masticating juicer rather than a centrifugal one.
What's wrong with a centrifugal juicer for ginger?
On the whole nothing, but for ginger and ginger shots it's a problem because the spinning blades can get hot, and they get hotter if there's not enough in the juicer as is the case if you're having a ginger shot.
And the extra heat can destroy some of the nutrients and enzymes that are present in the juice. I'm sure there is still plenty of goodness left but not enough!
I'm fickle and like my ginger juice to be as healthy as possible.
Plus the amount of ginger juice you get is usually lower and when you've only got a small piece of ginger you want as much of that turned to juice as possible.
So Masticating is the way Forward?
Yes!
The best Masticating juicers (also knows as slow juicers) sort of chew up the fruit (masticate means chew after all) which is a slower, more thorough process leaving you with a smooth ginger shot at the end. And it tends to leave you with more juice which is what you want when you're only juicing small amounts.
Ginger Juicing Tips
Just a couple of tips that I know are going to make your ginger juicing experience a little better.
Peel Your Ginger Before You Juice It
I know most vegetables you can put in whole but trust me, you want to peel ginger first, the skin is just too thick and gnarly and doesn't juice well.
Ginger is strong so beware!
Pure ginger juice is intense and takes some getting used to. You can tone it down with orange juice or even coconut water to make it more enjoyable if you're just getting used to it.
Always Use Fresh Ginger Root To make Ginger Shots
I'm pretty sure that's a given but thought it worth mentioning just in case…
F.A.Q
How Do Ginger Juicers Differ From Other Juicers?
They don't really, a lot of juicers will work well for all vegetables whether it's celery, apples, ginger or anything else. These ones are just the ones I know to be fantastic for making ginger juice. And are affordable because you don't want to spend too much right?
Do I have to buy organic ginger?
Certainly not, I always prefer to buy organic but I know it can be expensive so don't worry about it too much. And ginger has the bonus since you need to peel it before you juice it that anything that could be on the outside gets thrown away so you don't have any danger.
Can I use my ginger juicer for other things?
You can! You can use any of these juicers to make any type of juice you want, you're not limited and can try out as many varieties of drink as you like. You can even try dabbling with green juice!
Other Great Ginger Juicer Machines Reviewed
Breville JE98XL Juice Fountain Plus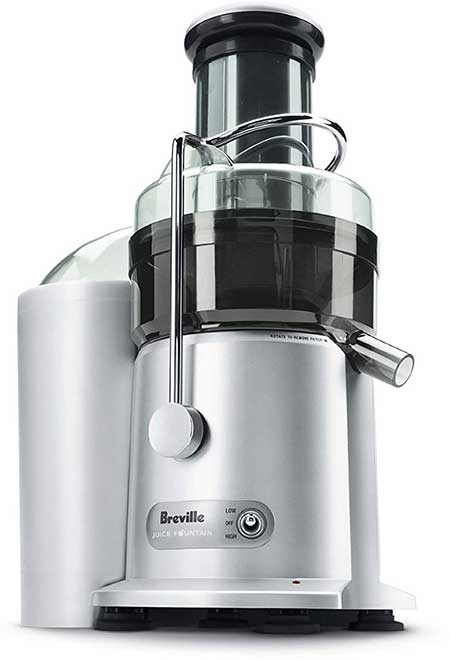 Fast juicing
Safety Locking Arm
Dishwasher Safe Parts
If you've got safety on your mind then this is the perfect juicer for you, it has a safety locking arm which means the internal blades can't start spinning until the lid is completely locked on.
And while it certainly isn't a slow speed juicer running at speeds of 12,500 rpm it is fast, you can make a small glass of juice in only 5 seconds! That's the compromise for the lower ginger juice yield you get out, so you'll need more ginger per ginger shot but they will get made considerably faster.
It's big got a big enough feed chute that you can put in whole fruits like apples (although you should take the core out first) meaning less prep time as well as the faster juicing.
A nice choice for people who don't have a lot of room in the fridge so can't batch make ginger juice and like to make their juice fresh every day.
Omega NC900HDC Juicer Extractor and Nutrition Center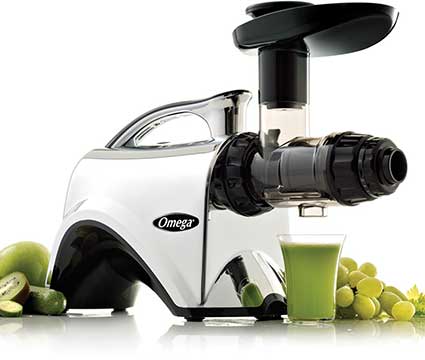 Variety of pulp levels available
Larger feed chute
15-year warranty
This is another single gear juicer from Omega, similar to the one at the start of the article but with a couple of differences. The main difference is the feed chute is wider making your juicing experience that little bit faster.
But you also get a range of attachments with it including 5 different pulp filters to allow maximum juice extraction and pulp control so if you want a little bit of pulp in your juice you can have it.
Apart from that, you've got the trusted 15-year warranty that Omega offers and a powerful 150-watt motor that turns ginger into juice with ease. a step up from the 8006model but for what the extra price gets you I'm not sure it's worth it which is why it's down here.
But if you want that pulp control and are short on time then this will be an ideal choice of ginger shot juicer.
HUROM HP Slow Juicer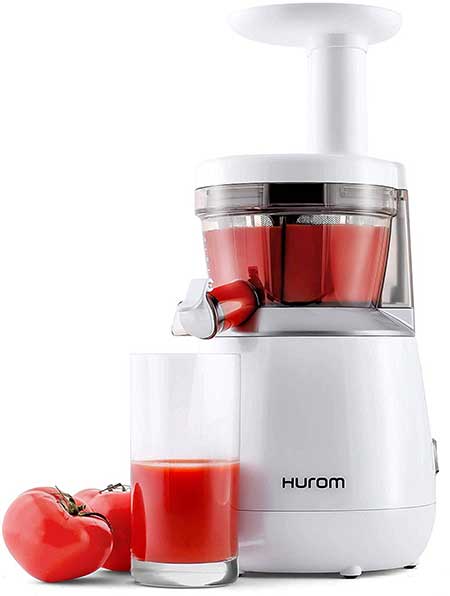 BPA Free parts
Quiet motor
10-year motor warranty
Did you know that Hurom created the first-ever vertical slow juicer? But not only did they create it, but they also perfected it creating one of the best vertical juicers around. It's created to be anti-clogging, easy cleaning and ideal for any juice recipe you can think of.
I like the spout it's got at the front which catches the juice inside the juicer before pouring but more to that it stops juice running out and all over the counter after you've finished! I like to minimise clean up and this is one of the best ways to do it.
It disassembles easily enough so you can clean it up quickly and it's really simple to use in that it comes with a single juice strainer and no other bells or whistles which I enjoy, sometimes it's nice to have a juicer that's just that, a juicer!
Aeitto Portable Cold Press Slow Juicer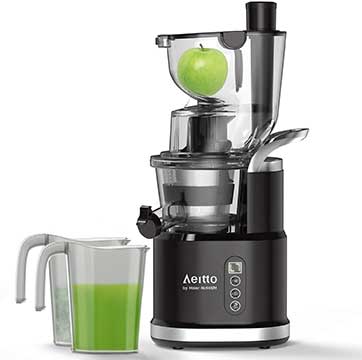 Large feed chute
BPA free and dishwasher safe
30-day money-back guarantee
This is similar to the Hurom above but not quite as good, so why mention it? Well, it's a lot cheaper at almost a third of the price and still does a pretty good when it comes to ginger.
The only place it struggles is the angle you have to put the pusher down, it's not quite as sensible as it should be having to press down at an angle, but once the juicer is in it it does a good job and gets a good amount of juice out. of all the types of juicer you get for ginger vertical probably isn't the best but they can be easier to store for some people so I included them.
It's only got four main parts to wash which is good and it comes with a brush to help you properly clean the filter removing every last piece of pulp before your next round of juicing.
Mueller Austria Juicer Ultra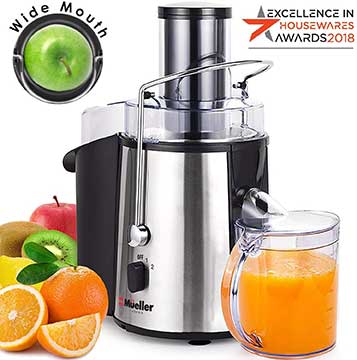 Inexpensive
BPA free
3-inch feeding chute
Another faithful budget slow juicer but from not quite as well known a company as the hamilton beach juicer machine further up which is why I only just included it now. But it's BPA free, and has dual speeds so you can use a slower speed for your soft citrus fruits and the higher speed for your ginger and tough veg so you can make a nice carrot, orange and ginger juice. I've got more carrot juicers reviewed here.
It's got a 2-year warranty so you can be sure at least some care went into making it and it's got handy features like the overheat shut off which stops the juicer from breaking from overuse.
One thing you will find is some pulp leaks through into your juice, not much and pulp isn't bad for you so there's nothing to worry about. It'll still extract juice from the ginger. Also, you'll want to make sure you clean up pretty soon after you've finished to make clean up easy, otherwise, the cleaning brush will be getting a hammering trying to get the dried pulp off!
Conclusion
And that just about covers it! I like the top juicer machine, it's the one I use to make homemade ginger juice when I need a pick me up and it works great every time. Plus it has the bonus of being affordable and not breaking the bank which is always going to be a good thing.
I still think masticating, or cold press juicers are the best way to go for maximum ginger juice extraction, they have high yield which is what you want when you're juicing ginger since it's so small and you don't want to have to buy a ton of it. And add ginger first when you're juicing so it can be pushed through by other ingredients.
I hope these juicer reviews helped and if you have any questions hit me up in the comments below and I'll get back to you soon!