Wondering when the best time to drink juice is?
So was I!
I wondered if it was really worth getting up that little bit earlier to make myself a fresh juice in the morning or whether or not I could drink it at night after work for the same benefits.
After a good deal of research, I found that my hard work was worth it and that the morning is the best time to drink fresh juice because you get a healthy dose of complex carbohydrates and some nutrient-packed calories to set you up for the day. Which is made even better,if you drink it on an empty stomach but I'll go into that further down.
This isn't to say that drinking juice at night is bad, it's just that I found it's better to drink it in the morning if you're able.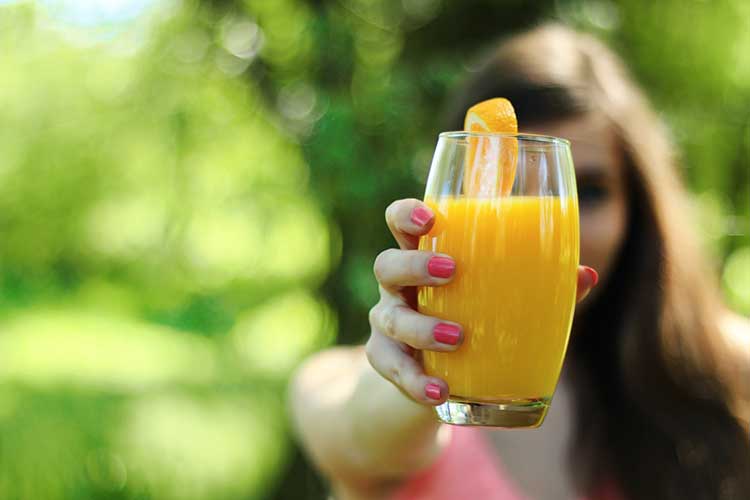 Why You Should Drink Juice On An Empty Stomach
In the morning your body wakes up hungry, you might not feel like eating necessarily but your body hasn't consumed any food for at least 8 hours so it's needing some fuel. When you're in this state your body becomes very able to absorb nutrients comma so you could fill yourself with sugary coffee and pastry or drink a fresh juice packed full of vitamins and minerals that will easily be absorbed.
Whereas, if you drink juice alongside a meal your body has a lot more to absorb and is much more likely to turn some of the waste so you might not get all the nutrition that you've drunk.
Plus, you can use it as a way to replace your morning coffee, but if the thought of not having coffee in the morning makes you shudder don't worry you can still have it just wait at least 20 minutes after having your juice.
I know there might be other times through the day or you're hungry in your stomach feels empty but it will never be as empty as it is first thing in the morning.
Why I Prefer Juice In The Morning
Personally, I just feel better through the day if I started my day with a juice. My breakfast used to either be toast or cereal with milk which would leave me a little bloated and uncomfortable while juice gives me a boost without weighing me down.
And it wakes me up and keeps me awake for longer compared to coffee, because coffee can give you that initial boost but it seems to wear off before long and you're left feeling lethargic and tired.
Plus, you get left that good feeling that you've done right by your body first thing in the morning which mentally really sets you up for the day.
Drinking Juice At Night
Drinking juice at night is by no means a bad thing and if you can't drink it in the morning then this is going to be your best shot.
But one of the main problems with having juice before bed is it I can give you a big boost of energy which is obviously going to cause problems if you're trying to fall asleep.
That said, there are actually some studies done specifically about tart cherry juice and how it can help you fall asleep because it helps produce more melatonin. not the type of juice we normally drink around here at Juice Buff but I thought it was interesting and worth mentioning.
What I would avoid before bed is juice made with lots of fruits because it tends to have more sugar than a more vegetable-based juice. The sugar is fine through the day when you can burn it off but before bed, it can cause a big Spike and crash in your blood sugar during the night which will really interrupt your sleep.
Also all the citrus fruits are quite acidic and can cause heartburn if you're lying still so are also worth avoiding at night.
How Much Juice Should You Have
Now you know when to have it I thought I'd throw in a little bit about how much you should have.
Celery juice lovers swear by a single 16-ounce serving but that's actually quite a lot especially if you're relatively new to juicing. I recommend an 8-ounce glass as being a good serving but if that's a little too much 4-6 ounces is still great and if that's not enough you can have some more.
That's one of the great things about juicing, you can really tailor it to your specific needs and make it fit around your schedule and your body.
Conclusion
In the morning on an empty stomach is the best time to drink juice. At least in my opinion, but you get to listen to your own body if that doesn't agree with you or gives you an upset your stomach you can try something else.
And the morning is definitely better than the night so that your juice can help set you up for the day.
If I missed anything let me know in the comments below,I try and keep these articles up-to-date an entirely complete so if you do want me to talk about anything else just let me know.
Happy juicing!