the best time to drink juice is.
So when is the best time to drink your favorite green juice? Do you really have to make the effort to get up early and juice your fruits and veggies in the morning, or could you have it at night after work?
After a good deal of research, I discovered that the hard work you put in to your early morning detox is worth it. The morning is the best time to drink fresh juice because you get an essential dose of complex carbohydrates. Complex carbohydrates are calories that are packed with nutrition and can help with weight loss, since you don't have to eat as many calories to get the nutrition you need every day. If you drink your fresh juice on an empty stomach, then the complex carbohydrates reach even further down into your stomach.
However, this isn't all to say that drinking juice at night after work is bad for you, it isn't. Getting your juicer out at night is lots better than not having it out at all, so if this is the only time of the day that you're able to enjoy your juice, then that's okay.
Just bear in mind that if you're able to tweak your routine a little so that you can have your juice recipes in the morning, then go for it. You'll enjoy more health benefits that way, since this is when your juice will be healthiest.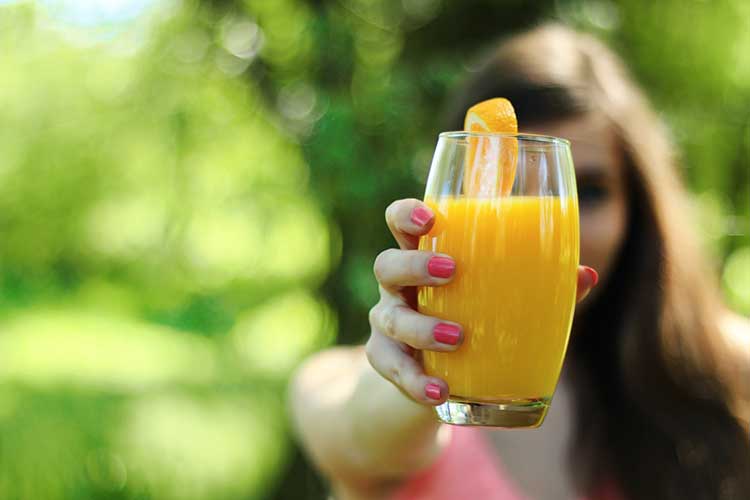 Why You Should Drink Juice On An Empty Stomach
Why Should You Drink Juice On An Empty Stomach?
Your body is hungry in the morning, since it's usually gone around 8 hours without any food. Even if you wake up and you don't feel like eating, your body needs fuel. Your digestive system needs a little kick to get going, just like we all do in the morning!
Just when you wake up, your body is in the ideal state for absorbing nutrients. So, you could fill yourself up with a sugary coffee and a pastry, which would taste great but isn't great for you in the long run. Or, you could drink a delicious fresh juice and absorb all of the vitamins and minerals in it and then enjoy all of its health benefits too.
If you drink fruit juice or vegetable juice alongside a heavy meal, your body has to work a lot harder to absorb all of the goodness and it's more likely that your body will turn some of it into waste. If you're going to all of the effort of making yourself a juice, you want to get all of the nutrition packed in there!
You can ease your juice into your morning routine by replacing your first coffee of the day. However, if missing your morning coffee makes you shudder, don't panic! You can still have it, just wait at least 20 minutes after having your juice.
Why I Prefer Fresh Juice In The Morning
Personally, I just feel better through my day if I started it with a juice.
My breakfast used to be either toast or cereal with milk, which would leave me a little bloated and uncomfortable. Juice gives me a boost without weighing me down.
It wakes me up and keeps me awake for longer than coffee, because coffee can give you that initial big boost but it seems to wear off before long. Then you're left feeling lethargic and tired again!
Plus, when you have juice, you get left with the good feeling you get when you know you've done right by your body. Mentally, you set yourself up for a good day when you start it with juice.
Drinking Juice At Night
Like I said, drinking juice at night isn't a bad thing, so don't worry. If you can't manage to make yourself juice in the morning, then this is your best option. Some juice is better than no juice!
One of the problems with fresh juice before bed is that it gives you a big energy boost. Which isn't what you want! It'll cause you problems getting off to sleep, which can be really frustrating.
However, there are some studies showing that tart cherry juice can actually help you fall asleep because it helps you produce more melatonin. But I appreciate that this isn't a juice you'll be having all the time!
If you're having juice in the evening, I'd avoid having lots of fresh fruit juice because it has lots of fructose (a natural sugar) in it. Try to stick with vegetable juice-based recipes, since they're lower in sugar. Green vegetables, like kale, can be a good choice since they're so nutritious – a little superfood concoction before bed could be just the ticket!
Fruit juice is absolutely fine during they day because generally you burn off all that sugar, but at night it can cause a huge spike and then a crash in your blood sugar, which can really disturb your sleep patterns.
Try to avoid citrus fruits too, since these are fairly acidic and can cause acid reflux, or heartburn, particularly if you're lying down!
How Much Juice Should You Have At Once?
Now that you know when to have your juice, you need to know how much to have!
Celery juice lovers swear by a single 16-ounce serving but that's actually quite a lot, especially if you're relatively new to juicing.
I recommend one 8-ounce glass as being a good serving, but if that's too much, 4-6 ounces will work.
One of the great things about juicing is the fact that you can tailor it around your specific needs. You can fit juicing around your schedule, so go for what works for you.
Conclusion
If you can, drink your fresh juice on an empty stomach, first thing in the morning.
That being said, listen to your body. If juice in the morning doesn't agree with you, then try a different time. Your body, your rules!
If I missed anything, let me know in the comments below. I try and keep these articles up-to-date, so if you do want me to talk about anything else, just let me know.
Happy Juicing!