Juicing is a huge trend – there are so many different types of juicer, it can be difficult to keep up. What do you do if you're looking for the best juicer? Where do you go?
Right here!
This is exactly where you need to be to learn all about the main types of juicer. In this article, I'm going to give you a bit more detail on the 4 different juicer types:
Masticating Juicers Explained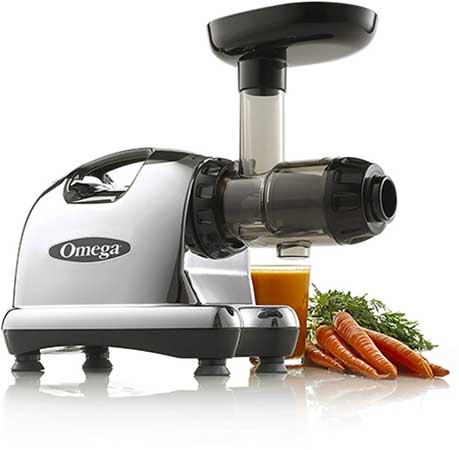 Masticating juicers go by a couple of different names, they're sometimes called slow juicers or cold press juicers. But they all work in the same way.
The key thing to know is that they work at a slow speed, which is great because it stops the juice from heating up as you're preparing it.
How Masticating Juicers Work
I'm sure you don't want me geeking out about all the tiny details of this machine, so I'll try to keep myself under control!
Basically, masticating juicers have a big single auger – similar to a big drill bit – that rotates and squashes the fruits and veggies that you put into it. The auger 'chews up' your ingredients, that's why these are called masticating juicers. Masticating means chewing.
So, the ingredients get chewed up and then your fresh juice comes out of one chute. The dry pulp comes out of another, which keeps your juice lovely and smooth.
The reason the slow speeds of the masticating juicers are so good for making juice is like I said earlier: the slow speed stops the juice from heating up during the process, which means your juice will stay fresh for longer. Keeping your juice cool is key to making sure it lasts as long as possible.
Why Masticating Juicers Are Great
They produce a high yield
Fresh juice stays fresh longer
They run more quietly than other juicers
Again, the cooler temperature that the masticating juicer runs at means the juice you make lasts much longer than it does from a centrifugal juicer. As long as you're storing your juice right, it can last up to 3 days after you make it.
Masticating juicers are also very efficient in terms of their juice yield. They produce a lot of juice from your ingredients, so you make the most out of what you buy. They even produce a lot of juice when you use ingredients like hard vegetables, which is a testament to the single gear auger system that they have.
The slow speeds of a masticating juicer are good for another reason too. You don't get the noise that you might get from a loud, high speed centrifugal juicer.
On top of all that (I know, I'm going on and on!) you can generally use a masticating juicer to make other things besides juice. Baby food? No problem. Sorbets? Absolutely. Nut butters? You've got it. So on top of high quality juice, you get a super useful food processor when you opt for a masticating juicer.
Why Masticating Juicers Aren't Great
I really like masticating juicers, so I'm struggling to find a downside to them. They're high-quality juicers and I really think they're a great choice.
The only bad thing I can really say about them is that if you don't prepare your ingredients properly before you put them into the feed tube, your juicer can jam.
This is really easy to fix though, just make sure that you thoroughly chop all of your fruit and veggies before making your juice and jamming won't be a problem. You can even get juicers that have extra wide feed chutes which can minimise the amount of prep you need to do even more.
Who Are Masticating Juicers For?
Masticating juicers are perfect if:
You're looking for a good all-round juicer
You want to start juicing seriously and regularly
You want to get the most value and nutrition out of your juice
I've actually reviewed my favourite masticating juicers here, so if these sound like you, definitely have a look.
Centrifugal Juicers Explained
Centrifugal juicers are a standard pick for a first juicer. They're generally cheaper than masticating juicers and work slightly differently.
How Centrifugal Juicers Work
Centrifugal juicers have a fast-spinning blade in their center, that runs anywhere from 3000rpm up to 10,000rpm! Compared to masticating juicers' slower speeds, these are lightning fast.
As the blade spins, the fruit and veggies inside endure some shredding and the centrifugal force spins them to the sides of the juicing container. This mixture hits a fine mesh layer which allows the fresh juice to pass through but catches the pulp, separating the two.
Just like with a masticating juicer, the juice comes out of one chute and the dry pulp comes out another.
Why Centrifugal Juicers Are Great
Centrifugal juicers are popular because they tend to be quite cheap.
You can find a decent one for about $100, but some are as low as $30-40. This means that if you're on a tight budget and you want a juicer, it isn't a pipe dream.
Why Centrifugal Juicers Aren't Great
Unfortunately, although they're cheaper, these juicers just aren't as good as masticating juicers.
The juice yield you get from one of these isn't as high, which means you aren't getting all the juice possible from your fruit and veggies.
The blade in a centrifugal juicer runs at such high speeds that friction and heat are created. This heats up your juice and impacts how long it will stay fresh for. For some people, this compromise on juice quality isn't worth the money you save compared to a masticating juicer.
The powerful motors in these juicers are also loud. Some are really loud! So it can be irritating if you're juicing regularly and have to put up with the racket.
I said earlier that masticating juicers are my favorite and this is part of the reason why.
Who Are Centrifugal Juicers For?
Centrifugal juicers are an excellent choice if:
You don't have a big budget
You've never tried juicing before and want to see if you like it
When it comes to the question of masticating or centrifugal juicers, it can sometimes depend on the specific brands of juicer you have in mind. Some of them will vary in terms of practical details like how much counter space they take up or whether or not their parts are dishwasher safe.
If you're still not sure if either of these juicer types is for you, then I've written a more in-depth article on centrifugal vs masticating juicers, so head over there if you need more information.
Twin Gear or Triturating Juicers Explained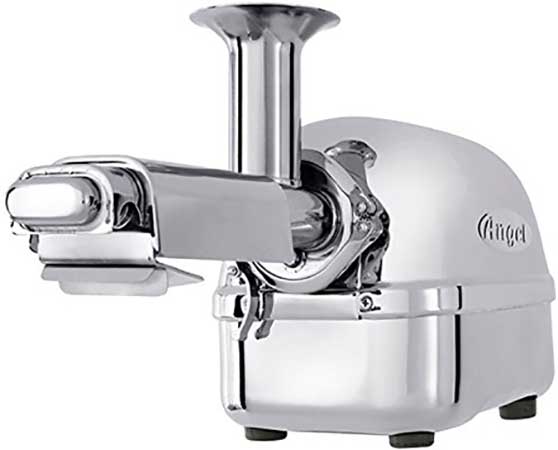 Twin gear juicers are not for the faint-hearted. Their price tag might make your eyes water. For the purposes of keeping things easy to follow, I'll refer to them from here on as twin gear juicers.
How Twin Gear Juicers Work
These are actually just a different type of masticating juicer. The main difference is that they have two augers in them, which improves how they extract juice. These augers press the juice even better than a single auger, making sure you get every last drop of juice out of your fruit and veggies.
Why Twin Gear Juicers Are Great
These juicers really are the best at what they do. They'll give you the most juice and they'll do it quietly. In my opinion, twin gear juicers are the best juicer.
Why Twin Gear Juicers Aren't Great
Plain and simple: the cost.
A twin gear juicer can set you back over $1000!
This type of juicer isn't the right fit for everybody and isn't the one to go for if you're just starting out with juicing. It's a big commitment when you're paying amounts like that!
Who Are Twin Gear Juicers For?
A twin gear juicer will be your perfect fit if:
You've been juicing for quite a while already
You are serious about juicing regularly
You have a big budget
These juicers are good if you're juicing at least once a day and plan to be for the considerable future. They're a big investment but an excellent aid if you're trying to adopt a healthy diet and lifestyle.
Citrus Press Juicers Explained
These aren't your standard juicer, they're a little bit different. They warrant their own section!
How Citrus Press Juicers Work
These are really easy to use, since they're designed only for squeezing citrus fruits. The name is the giveaway here!
You cut your citrus fruit in half – oranges, lemons, limes, etc. – and the citrus juicer presses the piece of fruit, releasing the juice. The juice is squeezed through a strainer as part of this process, which minimises the amount of pulp you get in your glass of juice.
You also get electric citrus press juicers, which are really handy. With these ones, you put the cut citrus fruit on the point of the juicer and press down the handle. The point starts to spin and that's what gets all the juice out of the fruit.
I've got the best orange juicers reviewed here.
Why Citrus Press Juicers Are Great
These juicers are really easy to use and are also really efficient – you'll get plenty of fresh orange juice for your breakfast!
These juicers make cleanup easy since they're so simple to use and if you go for a manual juicer, you'll find that it's a lot cheaper than electric alternatives of any of the types of juicer I've talked about.
Why Citrus Press Juicers Aren't Great
What makes these juicers good is also what makes them not quite right for everybody. These juicers are designed specifically for citrus fruits and citrus fruits only. So if you'd like to juice leafy greens, wheatgrass or any other soft fruits, this juicer won't make that happen.
Who Are Citrus Press Juicers For?
This is a specific type of juicer, so it'll suit a particular type of person:
You just want orange, grapefruit, lemon or lime juice!
Like I said above, if you want anything other than this type of juice, then this won't be your best juicer.
If a citrus juice party is what you want though, you should read my recommendations of the top choices here!
Conclusion
Hopefully this break down will help you navigate the wide range of juicers that are out there. My advice is just to think about what you're hoping to do with your juicer. Try out a cheaper option maybe, before committing to a more costly option – that way you can figure out exactly what you enjoy and go from there.
As ever, if you still have questions, let me know in the comments. I'd love to help you find the perfect juicer!