Leafy vegetables have amazing health benefits but it can be a real pain to try and juice leafy greens. They're tough, so you need to make sure you have high-quality equipment to get the job done. Otherwise putting an entire bag of spinach into your juicer might mean you only get a few tablespoons of spinach juice at the other end.
Not good value!
That's why it's important to make sure you get yourself the best juicer for juicing your tasty greens. You'll be amazed at how much juice you're able to make from them.
If you're looking for the best juicer for greens then keep reading and juicing leafy greens like spinach, kale, cabbage or swiss chard will be a breeze.
Click the names in the table or the Price & Reviews button to head over to Amazon where you can order yours today!
Top 5 Best Juicers For Greens Reviewed
So here we are!
These are some of my favorite juicers and they're all ideal for juicing leafy greens. The best part? They're all available on Amazon! So you can click through and order yours today – easy peasy.
1. Top Choice for Greens – Omega J8006 Nutrition Center Quiet Dual-Stage Slow Speed Masticating Juicer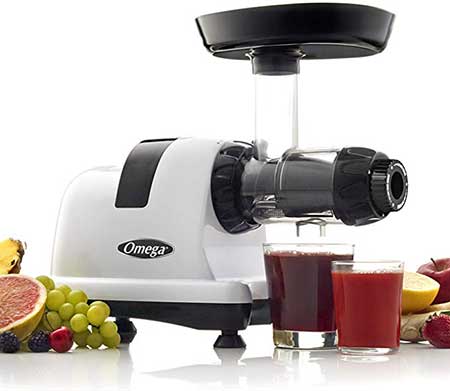 Brand: Omega
Type: Masticating juicer
Slow Speed For Better Juicing
Maximum Green Juice Extraction
Easy To Clean
Masticating cold press juicers run at slower speeds, which means your juices are more nutritious and you get a higher juice yield compared to a cheaper centrifugal juicer. They don't heat up your juice, which means it doesn't start to oxidise and the slow juicer also helps preserve enzymes in your ingredients.
The powerful motor in this juicer also makes it easy to extract juice from even the most difficult leafy greens and harder produce. You'll be able to juice just about anything with this!
When the pulp and juice are separated, your juice is lovely and smooth and the pulp that comes out of the other end will be dry, which is exactly what you're looking for. It means that you won't have to put it through your juicer twice to extract all the juice.
It isn't just veggies that you can juice with this, though. You'll be able to make juice from all your favorite fruits, which will make your juice recipes taste even better. In my opinion, this is the best masticating juicer you could go for.
2. Budget Choice – KOIOS High Yield Cold Press Juicer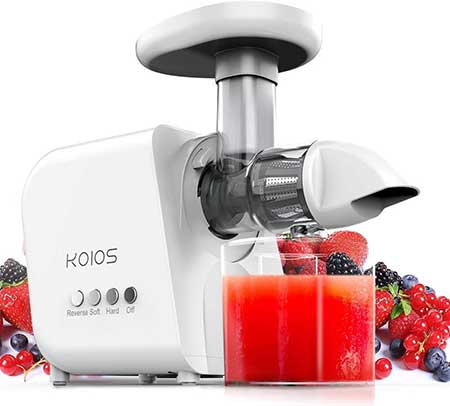 Brand: Mooka
Type: Masticating juicer
Reverse Function to Avoid Clogging
Slow Speed Juicer
High Juice Yield
Even though this is my best choice for if you're on a budget, it's quite difficult to decide whether this is actually better than my top choice above.
The price of this juicer is a lot easier to manage – the Mooka is about half the price of the Omega – but the compromise is that it doesn't do as good a job. Rather than producing dry pulp, this juicer sometimes allows the pulp into your juice, so it isn't as smooth as you'd maybe like it to be. You can use a strainer and fix this problem but you shouldn't really have to take this extra step. It's more work!
That being said, the juice that gets extracted from the ingredients you put into this affordable masticating juicer is impressive. Even from leafy greens or hard vegetables, you get a good amount of juice, which can be difficult with other juicers. Veggies really require the right kind of juicer and this does the job well.
My advice would be to go for the Omega if you can afford it, because ultimately it is the better juicer. However, if your budget is a little tighter, then going for this option means you're still getting a fantastic juicer but at a lower cost. You'll still be able to enjoy tasty, fresh juice whenever you like.
3. High End Choice – Tribest GSE-5000 Greenstar Elite Cold Press Complete Slow Juicer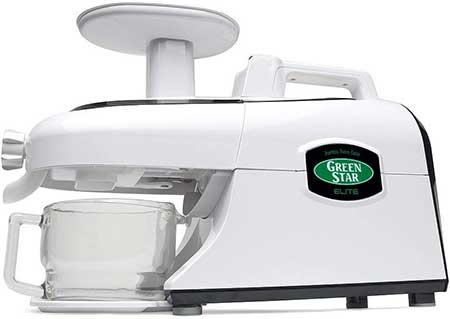 Brand: Tribest
Type: Masticating juicer
Doubles As A Food Processor
12-Year Warranty
Twin Gear Technology
I know exactly what's going through your head – why on earth is this juicer so expensive? And is it really worth all that?
Well, I'm not going to pretend that this is an affordable juicer, but I can tell you that this one is the best of the best and the only machine you need if you're an avid juicer..
Twin gear juicers are a heavy duty type of slow masticating juicer. They have two augers in them, which means your fruits and veggies get chewed up even more than in a regular masticating juicer. You get even more juice extraction but without exposing your juice to any heat. Your juice stays smooth, cool and nutritious.
Using a twin gear juicer also means that you can make a whole range of recipes, not just fresh juice. For example, you could use this juicer to make yourself nut butters, sorbets or even baby food. It's versatile and means you get more for your money – which is definitely what you'll want!
The masticators – the twin gears that actually grind your fruits and veggies – have been cut in a way that means they're even sharper than other juicers, which makes them more efficient. They manage to squeeze every last bit of juice out of your ingredients as possible, which means you aren't wasting juice left inside the pulp.
So you're getting a high quality product with this juicer, far better than even the Omega juicer I talked about above, but this may only be an option for you if budget isn't an issue, because it is a lot more expensive. You'll make the best cold pressed juice out there.
4. Best For Leafy Greens – Breville BJE430SIL The Juice Fountain Cold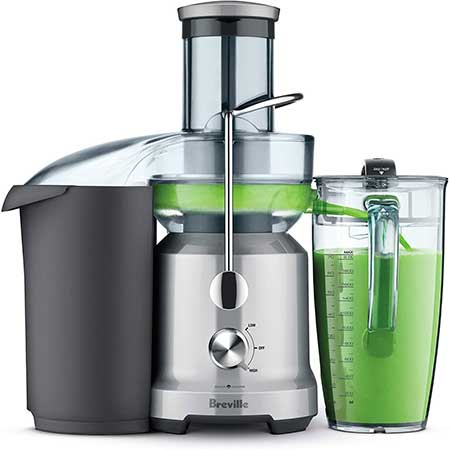 Brand: Breville
Type: Centrifugal juicer
Cold Spin Technology
Extra Wide Feed Tube
Large Pulp Container and Juice Jug
The Breville Juice Fountain is a centrifugal juicer, so it's different to the two I've talked about already. While slow masticating juicers 'chew up' your ingredients slowly, a centrifugal juicer spins your ingredients around, exposing them to sharp spinning blades to extract juice. It's still an effective juicer but centrifugal ones do tend to heat up more. Exposing your juice to heat can affect how fresh your juice stays, so this is something to consider.
However, the juicing technology in this one attempts to minimise the amount of heat that's created. The cutting disc and mesh strainer are both made from stainless steel to keep the juicing process as cool as possible.
This juicer also has a really wide feed tube – 3 inches – which means you can potentially juice whole vegetables or big handfuls of leafy greens. This minimises you prep time, so makes juicing even easier.
It also has a big pulp container – a whopping 3.4 liters – and a large juice jug – 70 ounces – which both mean you don't have to keep pausing while you juice to empty them out and refill them again. You can do it all in one, so it's super time efficient.
If a fast juicer is what you're going for, then this is a great choice. Easily one of the best juicers for leafy greens.
5. High Speed Green Juicer – Breville BJE200XL Compact Juice Fountain 700-Watt Juice Extractor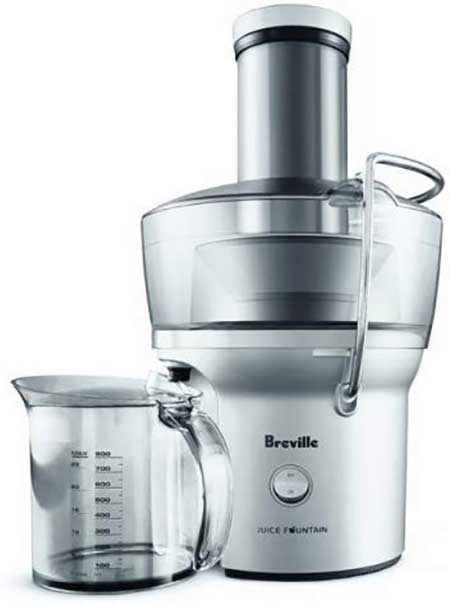 Brand: Breville
Type: Centrifugal juicer
Reasonable Price
Compact
Dishwasher Safe
Another centrifugal fast juicer, but as far as they go it's a good juicer.
Generally, you're going to be better with a slow masticating juicer for leafy greens. They just work better.
However, even the best centrifugal juicers are almost always cheaper, so they're still a popular choice. This Breville Juice Fountain is a good choice because it isn't going to take up your entire kitchen. It has a compact design that isn't going to monopolize your countertop, which makes it great for a small kitchen.
This juicer is also great because it's really easy to clean. All the removable parts are dishwasher safe and it comes with a cleaning brush to help you really get in there and maintain your juicer.
It's similar to the previous juicer in that it has a wide feed tube, so you can put in harder fruits and lots of leafy greens at once but with this one, you'll need to put the pulp you get from your ingredients through your juicer again to extract juice properly. It doesn't manage it the first time around.
But the price tag is very reasonable for this decent green juicer. You'll enjoy some quality juice!
What Type Of Juicer Is Best For Greens?
I've explained a little bit in the reviews above, but there are two main juicer types that you can choose between when it comes to getting your own. They each work slightly differently, so have different benefits and drawbacks.
Masticating Juicers
These types of juicers work by using an auger to mimic the way our teeth chew to grind up or press the ingredients you put into your juicer. They get pressed and then the juice is extracted. The pulp that's left behind goes into the pulp container and your juice comes out of another spout. They work at a low speed and are usually more efficient.
Benefits of Masticating Juicers
In my opinion, getting yourself a masticating juicer is the best option. They're the better juicer in this face off! Their slow speeds reduce the amount of heat that your juice is exposed to. The cooler your juice stays, the longer it stays fresh and the more nutrition it retains also allwoing for cnotinuous juicing. Heat can destroy the goodness found in juice, so if you're health-conscious, then a masticating juicer is the way to go.
It may be a minor benefit but the slow speeds of a masticating juicer also means that they have a quiet motor, so you aren't going to disturb the rest of the house when you make your morning orange juice.
Their juice yield is usually higher than a centrifugal fast juicer, so you'll get the maximum amount ofjuice from fewer ingredients. It's more efficient and less wasteful.
Depending on your budget, you could even go for a twin-gear masticating juicer, which works even better than a single auger one.
Drawbacks of Masticating Juicers
All in all, there are very few drawbacks to a masticating juicer, other than the price. It's the better option and very versatile.
Masticating juicers are also known as slow juicers, which means that it can be a long process to make a juice with lots of ingredients with one of these. If you're pushed for time, then this could be a problem.
Another drawback can be the cost. If you're just starting out with juicing, then the higher cost might be too much of a commitment for you when you're just figuring out whether or not you enjoy it.
Centrifugal Juicers
Centrifugal fast juicers work differently to masticating ones. They have blades or cutting discs inside them and spin your fruits and veggies around (using centrifugal force) to cut them up and extract the juice from the pulp. These run at very high speeds and generally have powerful motors to do this.
Benefits of Centrifugal Juicers
The main benefit is the cheaper cost. A centrifugal juicer can be a great choice for a first juicer, since generally you can't be sure you actually enjoy juicing until you've tried it.
I mentioned the high speeds that fast centrifugal juicers run at previously. Because they operate this way, they can make juice really quickly. So if your goal is to make yourself juice before you head out to work in the morning, and you don't have a lot of time, then a centrifugal juicer is the way to go.
Drawbacks of Centrifugal Juicers
Just about all of the things that are good about a masticating juicer are bad points in a centrifugal juicer.
It runs at a high speed, which means it's loud and heats up your juice. This means that your juice can spoil more quickly and doesn't have all of the health benefits you'd hope for.
Centrifugal juicers tend to not be as efficient as masticating ones, since you usually have to put the pulp through the juicing process a couple of times until it's dry. This can be time-consuming and more work than you maybe want from your juicer.
So, Centrifugal or Masticating Juicer?
If you have a really good centrifugal juicer, then you should be able to make green juice. However, you'll find more often than not that when you're juicing greens, lefy or otherwise, you end up having to put the pulp through the juicing process again to get enough juice out to drink.
I would say that you should go for a masticating juicer.
I've got more detail in this article.
As a heads up both will produce foam on top of the juice, especially when juicing greens. This is nothing to worry about unfortunately you can't stop it and it tastes a bit bitter but I normally just leave it in the bottom of the glass. You could spoon it off if you want but you'll get used to it.
Tips For Juicing Leafy Greens
Before we get down to the best juicers for greens, I've put together some tips for making juice that will make the process as easy as possible for you.
You Can Always Put Them Through Twice
If the pulp has come out of your juicer a bit wet, then put it through again!
This won't break your juicer or ruin your green juice, it's just like juicing another ingredient. The pulp still contains lots of goodness and putting it through the juicer again means you're getting more juice and more nutrition.
If you have a good juicer, then this is a step you shouldn't have to take, but it's good to know just in case.
Add A Watery Base
Only using leafy greens in your green juice recipe can make the flavor quite intense, especially if you aren't used to it. For my green juices (which you can see here), I prefer to add 'watery' vegetables, like celery or cucumber, since the extra water helps blend all the ingredients together and ultimately helps your green juice to go down smoother! I've got more juicers for celery here.
Add An Apple For Some Sweetness
This obviously depends on what you're looking for from your green juice. If you're on a juice cleanse that says you can't have fruit, then this isn't the tip for you.
However, apples can add a really nice sweetness to any juice but particularly a green juice – just make sure you go for green apples! They're good for hydrating and don't have a huge sugar content, so are a great addition to a juice recipe that needs a little extra.
Other Green Juicers Reviewed
I've put together some more reviews on juicers that are great for juicing those green leafy greens. I've divided them into easy sections so you'll be able to find exactly what you're looking for.
Slow Masticating Juicers for Greens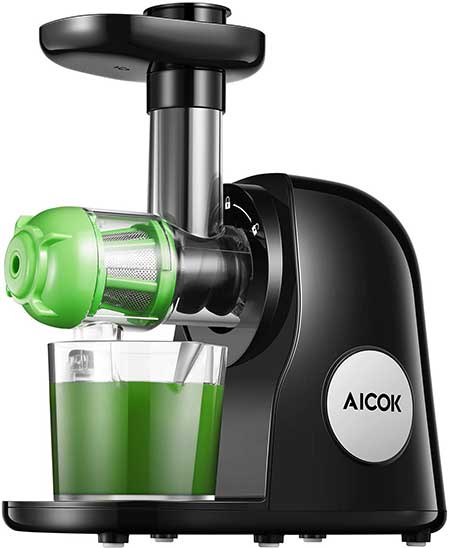 7-Stage Spiral Juicing System
Runs Quietly
Easy Cleanup
The juicing system in this masticating juicer is quite special. It uses 7 steps to ensure maximum juice extraction from your ingredients:
Cut
Break
Squeeze
Mill
Separate
Grind
Extract
This is an ideal juicer for a busy household or if you have young children. It runs really quietly – 60dB – so it won't disturb them if they're down for a nap and all of the parts are dishwasher safe, which makes cleaning up after juicing a breeze.
It's heavy duty, sturdy and reliable – a great family juicer choice!
Safe Feeding Chute
Reverse Function
BPA-Free
Another great juicer. This one has a small feed chute, which has been designed with safety in mind. It means you have to chop your ingredients up a little more but it minimises the chance of injury.
It also has a reverse function which can prevent clogging or deal with any jams that might occur while you're juicing. This'll keep your juicer in good working order and ensure everything runs smoothly.
All of the parts of this juicer are also dishwasher-safe but on top of that, they're BPA-free, making this a good juicer choice for the health-conscious.
15-Year Warranty
Versatile
5 Extraction Settings
This is a pretty superb juicer. It has the highest warranty that I've seen on any juicer – a whopping 15 years! This assurance is just what you want when you commit to an appliance.
You also get more than just a juicer when you opt for this Omega. You can make pasta, grind up coffee and spices or even make sorbet and baby food. In my opinion, this makes it a lot more useful than just your standard juicer.
It also comes with 5 different extraction settings, so you can decide how much pulp you have in your healthy juice.
All in all, my top masticating juicer, very useful and reliable!
Centrifugal Juicers for Greens
Wide Food Chute
Powerful Motor
Easy Cleanup
This juicer works quickly and efficiently to make your juice. It has a three inch feed chute, which means you can put in whole fruits, handfuls of kale, collard greens or other leafy green vegtables without having to chop it up first. Great if you're in a rush!
It also has a powerful motor – 850 watts – which will make short work of any hard vegetables that you want to juice. It'll manage no problem.
All the parts are dishwasher safe and easy to remove. Couple that with the minimal prep you need to do beforehand, this is great if you want to make your favorite juice quickly and on a budget.
Two Speed Options
Safety Locking Arm
Anti-Drip Spout
The motor in this juicer is considerably more powerful than the previous one – 1000 watts! However, it comes with two different ospeed settings. This means you can tailor how it runs to what you want to make. A lower speed will work well with soft fruits, like watermelon or citrus fruits, whereas a fast speed will work wonders with hard produce like carrots or beets.
Don't feel daunted by the motor, though. It has a safety locking arm which must be in place before it'll run and ensures that you won't injure yourself.
It also has an anti-drip spout, which is really useful for keeping cleanup easy – you won't be finding green juice all over your countertop! It's not a metal juicer like some of the others which keeps the cost down, it's also unclear if it's bpa free plastic.
A great affordable juicer.
Low Noise Setting
Wide Feed Chute
Large Juice Jug
Another powerful centrifugal juicer, this one boasts a fast setting that can juice ingredients 5 times faster than a masticating juicer. However, if you're worried about the noise, it also has a slow setting that runs 40% quieter, so it won't disturb everyone around you.
The feed tube is 3.5 inches wide, so this is another juicer that allows for minimal prep before making your juice, keeping things quick and easy.
The juice jug that comes with the juice can hold 70oz of juice and can also be sealed, which means you can pop it straight into the fridge and keep your juice fresh! And it might be at the end but that doesn't mean it's not one of the best juicers for greens
Final Thoughts
You can drink your green juice in no time with any of these. While fresh green juice first thing is only for the badass amongst us, you too can enjoy leafy green juice in your own home. Dark leafy green vegetables like kale will be easy juiced with any of these juicers but so will soft fruit and everything in between. Some even make nut butters and could grind coffee beans!
I hope this helps and enjoy eating the healthies juice possible. Juicing kale, juicing celery, even juicing oranges, it will all be easy.