Whether they're leafy or not greens can be a pain to try and juice.
And if you don't have the right equipment you can find yourself going through a whole bag of spinach and barely having a few tablespoons of juice at the other end.
That's why it's important that you get the best juicer for greens.
You'll be amazed at how much juice you can get.
This includes juicing all greens, os spinach, kale, cabbage, swiss chard, these juicers are perfect for all of those things.
What Type Of Juicer Is Best For Greens
So what do we need, centrifugal or masticating?
If you have a really good centrifugal it can be good for greens, able to properly have at them before they go through and get spat out. But you find more often with centrifugal juicers that you end up having to put the pulp through again to get enough juice out.
we want a masticating juicer.
Masticating juicers have two big gears that grind up and squeeze out whatever you put in, so you get one of these and get all the possible goodness you can out of your greens.
Tips For Juicing Greens
Before we get down to the best juicers for greens available let's go through a couple of tips I've got for you.
You Can Always Put Them Through Twice
If the pulp has come out a bit wet then put it through again!
Nothing wrong with it and if they've still got goodness in them then might as well put them through again!
Hopefully you won't need to because you've got the right juicer but it's always a good back up plan.
Add A Watery Base
Pure leafy greens can be quite intense, I like to have a celery or cucumber base to start things off, the extra water helps mix it all together and go down smoother.
Add An Apple For Some Sweetness
It depends if you're on a specific type of cleanse since some are no fruit at all but I sometimes like a bit of sweetness and apples are a great way to get it.
Just make sure they're green apples and it still counts!
Best Juicers For Greens Reviewed
So here we are!
Here some of my favourite juicers you can use for greens, and the best part? They're all available on Amazon! So you can just click through and order yours today.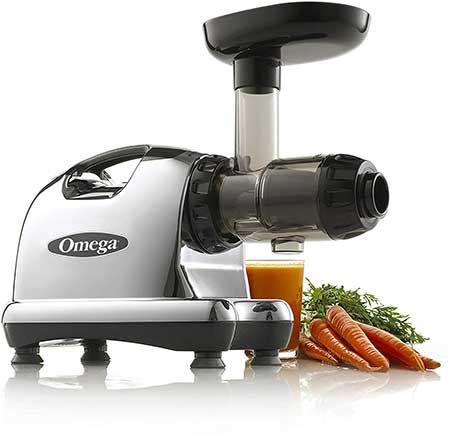 Nutrition Center 8006
Brand: Omega
Type: Masticating
Slow Speed For Better Juicing
Maximum Green Juice Extraction
Easy To Clean
It's slow speed to preserve enzymes and powerful motor make this an obvious choice for juicing greens.
Pulp comes out dry so you won't need to put it through twice and you get the maximum amount of juicy goodness from your leafy greens.
Another bonus is that it's really good for other types of veg too! And don't forget fruit, because sometimes you don't want a glass of green juice, you want a nice fruity sweet juice and it's best to have a juicer that can make you both. Like this one can.
Quiet Green Juicer
Brand: Mooka
Type: Masticating
Reverse Function For Jams
Slow Speed
High Juice Yield
It's a tough choice between this one and the Omega above.
What it comes down to really is price, because the Mooka is about half the price but it doesn't do as good a job. It has a tendency to let some of the pulp through with the juice so you sometimes have to strain it again.
A pain…
But the amount of juice you get is actually quite impressive, even from leafy greens you get a good amount in the cup for how much you put in.
So if you can afford the omega above go for it but if you are on a tighter budget and still want some delicious juice then this is the one for you.
Luxury Green Juicer
Brand: Tribest
Type: Masticating
Doubles As A Food Processor
12-Year Warranty
Twin Gear Technology
So…. What's the deal with the price?
I'm not going to pretend this isn't expensive, but is it worth it?
Well you get the absolute best of the best, much more care and attention has gone into every part of this machine. Twin gears give it maximum juicing power with minimal heat.
And the actual masticators themselves have been cut to be sharper more efficient and get as much juice as is machinely possible (get it instead of humanly possible?).
So you will get a mean glass of green juice out of it, better even than from the omega juicer but that does come at a price.
Juice Fountain
Brand: Breville
Type: Centrifugal
Reasonable Price
Compact
Dishwasher Safe
Yup, it's a centrifugal juicer, but as far as they go it's not bad.
It's not as good with greens as the masticating ones above but it's also smaller, cheaper and still does a pretty good job.
This is the time you'll need to the trick of running the pulp through again to really get all the juice out.
But not bad at all, for the price a very decent greens juicers.