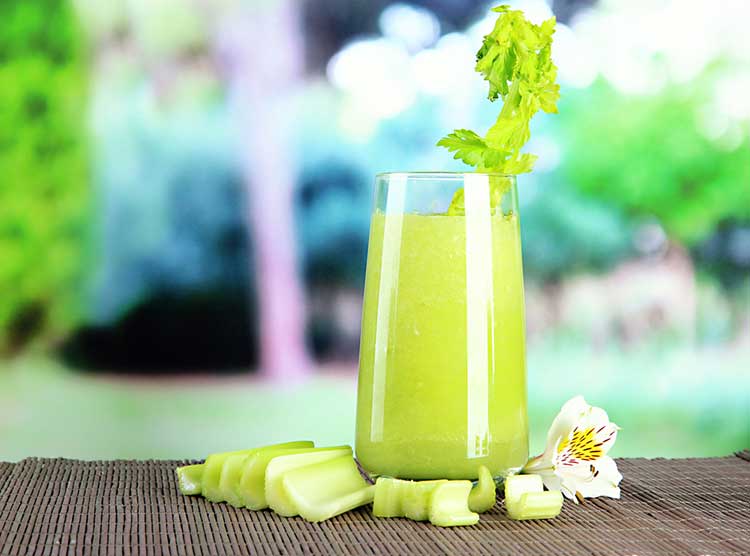 If you're conscious about your health, then drinking celery juice regularly might be something you've thought about. But what exactly are the health benefits of celery juice? Is it really a superfood? Is it worth all the hype?
If you aren't sure, then you've come to the right place.
I've done some research and brought together all the health benefits of celery juice I could find that were backed by scientific evidence.
However, none of this means you should stop taking any medication that you've been prescribed by your doctor! Always get medical advice if you're going to change your diet.
With that said, let's get into it!
What is Celery Juice?
I'm sure this won't surprise you, but celery juice is the juice you get from juicing celery. That's pretty self-explanatory.
You probably aren't here to find out what celery juice is. You're probably here because of the craze surrounding celery juice right now. Chances are you've seen a lot about this on social media.
Anthony Williams, the founder of Medical Medium, is largely responsible for this. He makes some big claims about what celery can cure in your body, which I don't agree with, so I'm not going to go into them here. But that doesn't mean that celery juice is bad for you. It just isn't necessarily a cure-all for all your health issues.
Enjoying the health benefits of celery juice is as easy as drinking 16 ounces of celery juice every morning on an empty stomach. Juicing is a much easier way to have a bunch of celery every day!
Let's get into these health benefits in a little more detail.
Health Benefits Of Celery Juice
I've done the leg-work and read lots of different studies that exist on celery juice. Many are still in their early stages but the positive effects all look promising.
1. Reduce the Symptoms of Asthma, Arthritis and Depression
Studies have been done that show celery has significant anti-inflammatory properties, which can help with all of the conditions above. Reducing inflammation using celery has also been thought to help people with the symptoms of asthma and even IBS.
Different studies also show that taking anti-inflammatories could be an effective treatment for depression. Celery could be an option for relieving the worse symptoms to help you feel bright again.
2. Reduce Blood Pressure
Have you been getting warnings and advice from your doctor about your high blood pressure?
Well, drinking celery juice could be the answer. It's in the early stages but a study has suggested that if you drink celery juice, you'll benefit from its antioxidant properties and a lower blood pressure than before.
3. Ease Digestion
If you're prone to bloating or constipation, drinking fresh celery juice might provide you some relief from your digestive issues.
The anti-inflammatory properties that I mentioned earlier can relieve IBS but celery juice benefits go even further. It helps your stomach produce acid, which is vital to effective digestion and gut health.
As well as this, research shows that celery juice helps to ease acid reflux, which means the extra stomach acid that's been produced won't cause any nasty symptoms.
Celery is also packed with flavonoids – a pigment that is found in plants. Flavonoids have links to something called gastric relaxation, which is really just a fancy way to describe how your food moves through your stomach. Flavonoids = healthy digestion.
4. Could Help Prevent Cancer
Flavonoids are the hero of the hour again! There's a specific type of flavonoid called apigenin that could help to prevent cancer, specifically breast, digestive tract, skin, and prostate.
The antioxidant properties of celery juice protect your cells and stop them from getting damaged or mutating. This is the process that can lead to cancer cells forming.
5. Fight Free Radicals
The antioxidants in celery can also protect your cells from a type of molecule called free radicals. These free radicals exist all around us, like in air pollution or plastics, and work to destroy the cells in your body.
Cells that have been damaged by free radicals can be the cause of ageing symptoms, damaged skin and hair, and even altered DNA!
Fighting free radicals is really important, so drinking celery juice is a must if you're health-conscious.
6. Keep Bones Strong
Celery is a great source of Vitamin K, which works with Vitamin D to help your body absorb calcium. If you absorb calcium effectively, then your bones become stronger and less likely to break or fracture.
Vitamin K can also help with healing in your body overall, which is why it's often claimed that celery can 'cure' certain conditions. When you have a lot of Vitamin K, your body can repair itself a lot better, with all of the healing properties the vitamin brings.
Celery Juice vs Celery Smoothie
So which is better? Celery juice made in a juicer or a blender?
It's hard to say. If you juice celery in a blender, you get all the fiber from your favorite veggie, but if you use a juicer, it removes the fiber.
When it comes to a juicer or a blender, I think it just comes down to personal preference. Regardless of the method you use, you'll enjoy the health benefits that I've discussed.
For me, I prefer using a juicer. I like the texture better, since it's much smoother. If you use a blender, sometimes you can get lumps which can be unpleasant.
And, you know… this is Juice Buff, not Blender Buff!
Other Ways To Have Celery Juice
It's totally fine to have celery juice as it is. However, depending on your tastes, mixing celery juice with other veggies can be even better. Green juices and other celery juice recipes use a combination of fruits and veggies to maximise your health benefits and treat your tastebuds.
So here are a couple of celery juice recipes to get you started!
Benefits of Celery Juice and Carrot Juice
The benefits of carrots are seemingly endless. They're packed with Vitamin A, which keeps your skin and hair looking healthy. They're also a great source of Vitamin C, which will have your immune system the strongest it's ever been.
A lesser known benefit of carrots is how they prevent your nails from breaking! They are a source of biotin, which stops your nails from becoming brittle – good if you're a fan of a manicure, since you won't have to get them fixed so often.
The combination of celery and carrot is a powerhouse of nutrition – boosted immune system, lots of antioxidants, bright skin and hair. What's not to like?
Celery and Carrot Juice Recipe
4 Carrots
4 Celery Stalks
1/2 Lemon
½ Apple
Peel Lemon
Core Apple
Juice and Enjoy!
On top of the amazing health benefits, the apple and lemon make this juice recipe lovely and sweet. You could even add some ginger if you were feeling daring!
Benefits of Carrot Juice and Ginger Juice
I absolutely love ginger in my juice! It adds a bit of spice and having it in the morning with some celery will start your day right.
All you need is a couple of inches of peeled ginger added to your favorite recipe.
Carrot And Ginger Juice Recipe
8 Stalks of Celery
2 Inch of Ginger
Peel The Ginger
Wash the Celery
Juice and Enjoy the Fire!
You can change the amount of ginger in your juice as you have it more, depending on how spicy you like it. It's great since you don't need a lot to enjoy a lot of flavor – it goes a long way.
Conclusion
So there you have it!
Now you know all about the amazing health benefits of celery juice. Excited to try it for yourself? I don't blame you! It's an important pillar in any healthy diet. Check out this guide for more on how to make celery juice, or check out this one on the best celery juicers.
Happy Juicing!