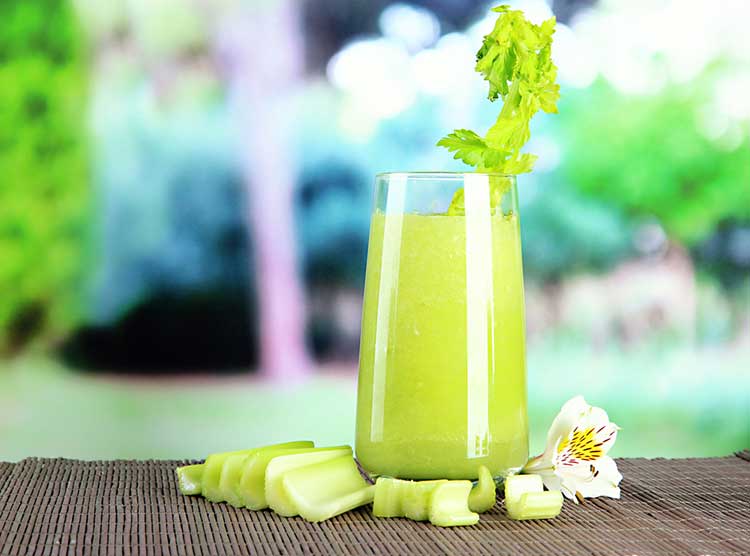 Drinking a big ol' glass of celery juice in the morning, something you've thought about trying but not sure about the health benefits?
Well you've come to the right place.
I've looked into it and found all the science-backed health benefits that celery juice can bring to your life, but please don't get rid of any medication you're taking!
Becasue celery juice can do some really great things for your body so if anything you want to see a doctor get their opinion and take celery juice at the same time.
With that said read on and let's get stuck into the article.
What is Celery Juice
I'm sure you won't be surprised to hear that celery juice is in fact celery that has been juiced! Surprised right?
Well more than that it's been put through a juicer but the reason you're likely here is because of Anthony William founder of medical medium he started the celery juice craze and brought it's fantastic health benefits to the forefront of everyone's mind.
He claims it can cure just about anything which I don't agree with, but I do agree it is super good for you and can leave you feeling better of nearly straight away.
It really is just as simple as drinking 16 oz of celery juice every morning on an empty stomach. Do that and then these are some of the benefits you might discover.
Health Benefits Of Celery Juice
So what can celery juice do for you? Well, I've looked into some of the science and read through a whole load of different studies, which are still in the early stages but looking very promising.
1. Anti-inflammatory To Help Asthma, Arthritis And Depression
Studies were done that showed celery has significant anti-inflammatory properties, what does that mean? Well, it means that celery juice is very effective in helping with arthritis but it's also thought to be able to help with symptoms of asthma and IBS.
But what's more interesting is that there are studies showing that anti-inflammatories may be an effective treatment for depression. So celery juice could help you with depression, take away some of the worst of the symptoms and leave you feeling bright again.
2. Reduces Blood Pressure
Has the doctor been warning you about high blood pressure? Celery juice could be the answer, it's in the very early stages but a study has suggested that celery can help reduce your blood pressure because of it's antioxidant properties.
3. Healp Ease Digestion
If you're prone to bloating or constipation then celery juice could be the answer, it has anti-inflammatory properties which as I've said help with IBS, but more than that celery juice helps produce stomach acid which is vital in proper digestion. And it actually helps ease acid reflux so the extra stomach acid is much better controlled keeping your guy happy.
There are also flavonoids present in celery, which is a pigment found in plants, that have links to gastric relaxation, which is a fancy way of saying how food moves through your stomach, i.e. helps you digest easier.
4. Could Help Prevent Cancer
The same Flavinoids, Apigenin to be precise, that are helping you digest better could also help you prevent cancer, specifically breast, digestive tract, skin, and prostate again because they are antioxidants.
And it's these antioxidants that are going to help protect you, these stop cells getting damaged and mutating which is what can possibly lead to cancer cells forming and growing.
5. High In Antioxidents to Fight Free radicals
Speaking of Antioxidants, we know that celery is full of them, but did you know they help to fight free radicals? Free radicals are little molecules that exist all around us that try to destroy the cells of our bodies.
They try and steal cells which can interrupt processes in your body that lead to ageing, damaged skin, your hair not being repaired and in some cases they can even change your DNA!
So fighting them is definitely something you want to do. And is something you can do because the antioxidants in celery juice protect your cells and sort of neutralise the free radicals so they can't do any damage.
6. Keeps Your Bones Strong
Celery is packed full of vitamin K which plays a big part in keeping your bones strong because it works with vitamin D to help take calcium to your bones. And with the uptake of calcium, your bones are stronger and become less likely to break or get fractured!
What's also cool is it can help with wound healing, which is why celery juice sometimes "cures" certain conditions, you get a huge intake of vitamin K and suddenly your body becomes a lot better at healing itself, so any cuts you have, from acne say, start getting properly repaired.
Celery Juice Vs Smoothie
So which is better? Celery juice made in a juicer or a blender?
It's hard to say, with a blender you get the fibre and with a juicer you don't. Personally, I think it comes down to a matter of preference, either are going to give you all the great benefits listed here but it depends which one you enjoy, or possibly what you have to make it in the kitchen.
I think out of a juicer is nicer because the texture is better, it drinks like water without any of the lumps you get out of a blender. And well, this is Juice Buff, not Blender Buff, so it's not hugely surprising that I'd prefer it out of a juicer!
Other Ways To Have Celery Juice
The original way to have celery juice is to have it straight, just celery, but you can still get a lot of the same benefits plus the benefits of other juices if you mix it up with some different vegetables. So here are a couple of recipes to get you started.
Celery and Carrot Juice Benefit
Adding carrots into the mix provides you with all the benefits of celery plus the benefits of carrots so you'll get a big dose of Vitamin A which helps your skin stay young, your hair stay strong and of course combine it with all the vitamin C carrot has and your immune system will be the strongest it's ever been. And while it helps your hair can also help your nails stay healthy and stop them gettings so brittle, carrots are a source of Biotin which has been shown to help stop your nails from breaking so easily.
So by combining the two you get a serious boost to your immune system to stop you getting sick, plenty of antioxidants to help stop you getting really sick, and your skin will look brighter and your hair feel stronger. What's not to like?
Celery and Carrot Juice Recipe
4 Carrots
4 Celery Stalks
1/2 Lemon
½ Apple
Peel Lemon
Core Apple
Juice and Enjoy!
The apple and lemon add a little sweetness to this one, and you can add in some ginger as well if you want to spice it up!
Carrot And Ginger Juice Benefits
I LOVE ginger in my juice, it just adds that extra bit of spice and if you have it in the morning with celery juice you'll start the day right. A big spicy wake me up from adding a couple of inches of peeled ginger and then that huge boost of nutrition to start you off the right way.
Carrot And Ginger Juice Recipe
8 Stalks of Celery
2 Inch of Ginger
Peel The Ginger
Wash the Celery
Juice and Enjoy the Fire!
Start with 2 inches of ginger but if you want it spicier (or less spicy I suppose…) you just have to put more or less in. You get a lot of flavour from not a lot of ginger so it doesn't hugely affect how much juice you get at the other end so it's really easy to add it to any juice you're having if you want a bit more flavour.
Conclusion
So there you have it, you now know all the health benefits of celery juice! Excited to try it? You should be, I can't wait for you to give it a go and start feeling incredible. Check out this guide for more on how to make celery juice, or check out this one on the best celery juicers.