Juicing is awesome. It's such a great way to get the nutrition you need and you can have so much fun developing tasty recipes.
But where do you even start if you haven't done it before?
This is the article for you if you're looking to start juicing and want to know what you'll need. I've put together a collection of the best juicers for beginners and I've answered all the questions you might have, so that you can start juicing at home with confidence!
Click the links to head over to Amazon where you can order yours today!
Top 5 Best Juicers For Beginners
Here are my 5 best picks for your first juicer. Keep reading for more information about different types of juicer, if you have something particular in mind. Click the name in the table below or the Price & Reviews button further on to head over to Amazon where you can order yours.
1. Top Pick – Omega J8006HDS Nutrition Center Quiet Dual-Stage Slow Speed Masticating Juicer
15-year warranty
Versatile
High juice yield
In my opinion, this is the best juicer you could go for. It's a masticating juicer, so it works at slow speeds to 'chew' and squeeze the juice out of your fresh fruits and veggies. The slow speed means it doesn't speed up, so it'll keep your juice cool all the way through the process and it also maximises the amount of juice you get from your ingredients – exactly what you want if you're opting for your favorite, tasty ingredients.
You can use this juicer to make lots of other things aside from fresh juice, such as nut butters, baby food, sorbets, soy milk or you can grind coffee, spices, herbs and garlic. So if you go for this juicer, you're getting a lot more than just a high-quality juicer.
On top of all that, it comes with a 15-year warranty. I always appreciate a company that believes in its products enough to promise longevity like that. 15 years is not to be sniffed at!
2. Top Budget Pick – Aobosi Slow Masticating Juicer Extractor Compact Cold Press Juicer Machine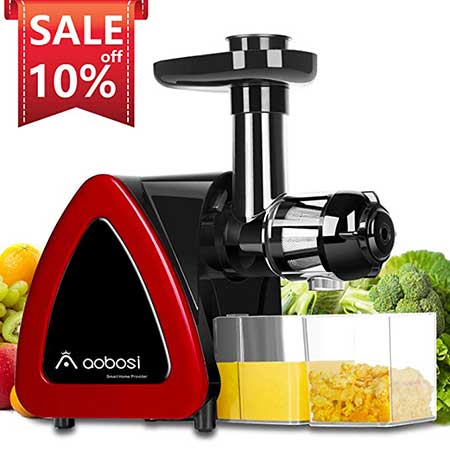 Safe design
Runs quietly
Easy cleanup
If you're on a low budget, this is an excellent choice. It's another masticating juicer, so has all of the benefits that this style of juicer brings. It has a powerful motor but doesn't cause a racket – it runs at around 60dB, so it won't disturb everyone first thing in the morning.
This juicer is designed with safety in mind. The feed chute is fairly small, so there won't be any hand injuries here! This just means that during your prep work, you'll need to chop your ingredients a bit smaller so the feed chute doesn't clog.
All of the parts of this juicer are easy to put together and take apart and it has a reverse function to help you clean it. These parts are also dishwasher safe, which makes cleanup even easier.
3. Best Beginner Juicer for Green Juice – Koios High-Yield Slow Juicer
Produces high-nutrition juice
Easy assembly
Juicing options
Are you a fan of your leafy greens? Then this might be the juicer for you. This one is ideal for making green juices because it works slowly – 80rpm – to ensure that all of the vitamins, minerals and goodness are extracted from your ingredients and aren't destroyed.
This juicer has several parts but it's really easy to put together. There's an auger and a juice strainer that are easy to assemble, so you can make your green juice as soon as possible. This juicer also comes with a cleaning brush to make sure you're able to keep each piece squeaky clean!
With this juicer, you actually get two options for how you want to make your juice. You have a soft option or a hard option, depending on the ingredients you want to use. Citrus fruits, like grapefruit, would suit the soft setting, while leafy greens, like kale, would be better on the hard setting.
4. Best Beginner Juicer for Celery – Housnat Juice Machine Slow Masticating Juicer Extractor Easy to Clean, Quiet Motor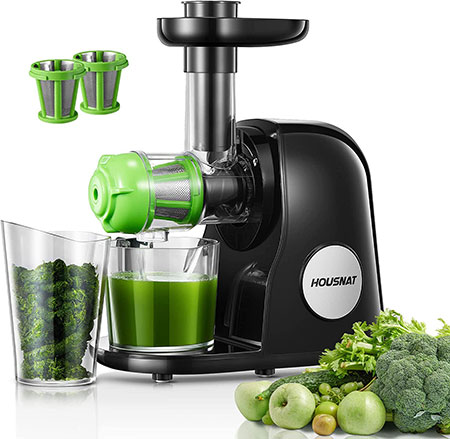 7-step spiral system
Separates juice and pulp perfectly
Easy cleanup
Another masticating juicer! If celery is your favorite, then this is the juicer for you. Celery is one of the hard veggies, so you need a juicer with the right stuff to get the job done.
This one is slightly different. The spiral system inside the juicer has 7 steps, which ensures that you get the most fresh juice possible, as well as the most nutrition possible.
These steps are:
Cut
Break
Squeeze
Mill
Separate
Grind
Extract
This system, couple with the slow speeds and cool temperatures you always get with masticating juicers, the juice you make with one of this is packed with goodness, since it doesn't get destroyed in the juicing process.
If you aren't a fan of pulp, this juicer is excellent and keeping the pulp separate from your juice. It'll always be nice and smooth, and you can even use the pulp you get from your fruit in other recipes if you don't want to waste it.
All of the parts of this juicer are easy to assemble and are dishwasher safe. So pop them in the dishwasher and get on with your day! I've got more celery juicers here.
5. Best Fast Juicer for Beginners – Breville JE98XL Juice Fountain Plus 850-Watt Juice Extractor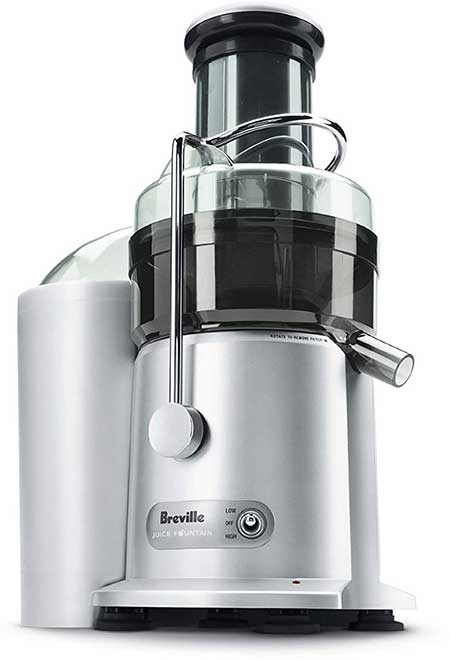 Wide feed chute
Overload protection
Powerful 850 watt motor
This is a different type of juicer to the ones I've talked about so far. This is a centrifugal juicer, so it spins the ingredients around to extract juice, rather than grinding them. It works at high speeds, rather than going slowly and this juicer has a powerful 850 watt motor, which ensures it'll work really well.
Even though it has a powerful motor, this juicer is really safe to use. It has a safety locking arm that has to be in the right position before it will work, and the juicer will automatically switch off if it becomes overloaded with fruit or veggies.
This juicer is good because it minimises how prep time and how much cleanup you need to do. There's an extra wide feed chute, which means it can take whole fruits and large vegetables – you don't have to chop them into little pieces. It also has a large pulp container, which means you don't have to empty it several times. Just start juicing and let it do its thing!
Types of Juicer
There are several different types of juicer that you could consider if you're starting out with juicing. Each one has different benefits and drawbacks, so read each one to work out which one suits you best.
Masticating Juicers
A masticating juicer is also sometimes called a slow juicer or a cold press juicer, but they all work in the same way. A masticating juicer has a large auger – which is kind of like a drill bit – in it, which slowly grinds or 'chews' the fruits and veggies inside it to produce juice. The juice comes out of one spout and the pulp comes out another, which means you have smooth, fresh juice to enjoy.
High-end masticating juicers can sometimes have two augers in them and these are referred to as twin gear juicers. They are some of the best juicers on the market but can be very expensive.
Because these juicers work so slowly, they don't create heat or as much friction as other types of juicer. Keeping your juice cool through the whole process is ideal, since it means your juice will stay fresh for longer.
Centrifugal Juicers
A centrifugal juicer works differently to a masticating one. It has a spinning blade in it, which spins the fruits and veggies inside the juicer. The centrifugal force – hence the name – pushes all of the mixture to the sides of the juicer and then they separate. The juice comes out of one spout and the pulp, another.
The juice that comes from a centrifugal juicer can be a little less nutritional than juice from a masticating juicer, since your juice gets heated up as part of this process, which means it won't last as long once you're finished.
However, these juicers tend to have a smaller price tag than masticating juicers, so can be good if you're on a budget.
Citrus Juicers
Like you've guessed, these juicers are designed for juicing citrus fruits! You can buy electric and manual versions of these, depending on what you want to go for. These are easy to use, just chop your fruit in half and place it on to the pointed part of the juicer. If you have an electric one, it will press down for you but if you have a manual one, press down yourself.
You can get different kinds of manual juicers, usually for juicing things like wheatgrass, but on the whole these aren't the best unless you need them for something really specific. I would go for an electric one, since they tend to be more versatile.
F.A.Q
How Much Should I Spend On A Juicer?
This is really up to you.
If you're just starting out with juicing then you can get a decent centrifugal juicer for around the $100 mark. It'll give you a chance to see if you actually like making fresh juice, without committing too much money to finding that out.
However, in my opinion, masticating juicers are the best type of juicer to go for but they tend to be more expensive. These can be closer to $300, although some can be more.
Take some time to think about what you want to get from juicing and your reasons for getting in to it. If you're serious, or have been juicing for a while and want to upgrade, that's when I would consider investing in a masticating juicer.
What Else Can a Juicer Do?
A masticating juicer can be incredibly versatile! There's a whole range of foods that you could make with it, rather than just juice:
Sorbet
Ice cream
Baby food
Nut butters
Nut milk
Soy milk
You could also use a masticating juicer to grind coffee and spices, or mince herbs and garlic. They're really useful, which is a plus if you're spending a little more. With a masticating juicer, you're not just getting a one-purpose appliance.
How Should I Store My Juice?
Generally you're best storing your juice in a glass container that has an airtight lid on it. Once you have it in a container like this, keep it in the fridge.
A glass container will stop any unwanted bacteria from getting into your juice, as well as help to keep it cool. Keeping your juice airtight is important for the same reason.
I will say that juice always tastes best and has the most nutritional value immediately after it's been made, so if getting all the goodness that juice has to offer is important to you, I'd consider drinking it straight away.
How Long Will My Juice Last?
This depends on how you store it, so definitely make sure you've read the advice above!
Fresh juice that's kept in an airtight container in the fridge will generally last up to 3 days.
However, this can vary depending on the ingredients you use, since certain fruits and veggies oxidise more quickly than others, which means they spoil more quickly.
Always use your best judgement when it comes to your juice. If it looks discolored or smells a bit off when you open it, then don't drink it. Don't just trust that it will stay fresh because you've kept it in the fridge!
Other Beginner Juicers Reviewed
Beginner Centrifugal Juicers
Breville BJE200XL Compact Juice Fountain 700-Watt Juice Extractor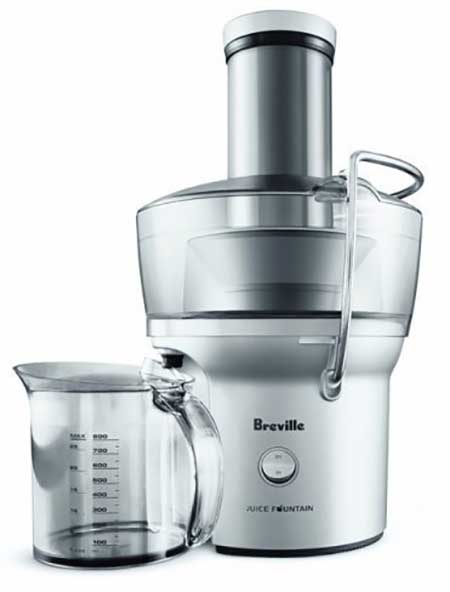 Compact size
700-watt motor
Extra-wide feed chute
Unlike the other juicers I've reviewed in this article so far, this juicer has been made with your counter space in mind. The pulp container on this juicer doesn't stick out to the side, it's more integrated with the rest of the juicer, meaning that it isn't going to take up your entire countertop every time you use it.
It has a 700 watt motor, which will be able to handle just about any ingredient you want to have in your juice. The spinning blades run at a whopping 14,000rpm! However, it's still safe to use, since it won't operate without the safety cover on, so don't worry.
The feed chute on this juicer is extra wide, around 3 inches, so it requires minimal prep work to use – another bonus!
I've got more centrifugal juicers reviewed here for those interested
Hamilton Beach Juicer Machine, Big Mouth 3" Feed Chute
Extra large feed chute
3-year warranty
Powerful motor
Another great centrifugal juicer. It has a slightly more powerful motor than the previous one – 800 watts – so it's an excellent choice if you're keen on juicing hard vegetables like beets, celery or carrots. However, even though it's powerful, it doesn't compromise on juice quality.
This juicer also has a 3 inch feed chute, which can handle large handfuls of leafy greens or some whole fruits. In my opinion, the less chopping you have to do beforehand, the better!
If you go for this juicer, you'll also benefit from its 3-year warranty, which will ensure that you have quality juice for a long time!
See also: Best juicer for carrots
Cuisinart CJE-1000 Die-Cast Juice Extractor
1000 watt motor and 5 speed options
Anti-drip spout
Foam-reducing strainer
This is a big juicer but is very powerful and good for making larger batches of juices. You get a 1 quart juice container and a 2 liter pulp container, which means a lot of juice per use!
The Cuisinart is the most powerful of the centrifugal juicers that I've recommended, since it has a 1000 watt motor, which means it might be a little loud. However, you don't always have to have it on the maximum setting – it comes with 5 options that you can choose between, depending on what you want.
There are another couple of features this juicer has that I thought were interesting. The juice spout has been designed so that it doesn't drip on your countertop, which makes for easy cleanup. It also comes with a foam-reducing filter basket, which keeps the froth out. After all, it's a juice you want, not a smoothie.
Beginner Slow Juicers
Kuvings Whole Slow Juicer C7000S – Higher Nutrients and Vitamins, Efficient 240W
Pulp options
10-year warranty
Versatile
This juicer has a wide feed chute, which means you can drop in whole fruits no problem. The 240 watt motor that operates the auger will have no problem grinding them and extracting juice. This juicer is excellent at separating the juice from the pulp, but you actually have a variety of pulp strainers you can choose from. You can go between no pulp or lots of pulp depending on your mood.
One of the big selling points of this juicer is that it comes with a sorbet-making attachment, which means you can use this applicance to make fresh juices and tasty desserts.
It also comes with a huge 10-year warranty, so you know that if you invest in this masticating juicer, you're definitely getting your money's worth.
More masticating juicers here for those interested.
Hurom HP Slow Juicer
Sleek and compact
Safety-conscious design
Heavy duty
You shouldn't judge a book by it's cover but the Hurom juicer has such a sleek-looking design. It's very modern and is also very compact, so your counter space won't be completely taken up by a hulking juicer!
But it doesn't just look good. This juicer has safety sensors that can tell if the juicing chamber has been assembled properly and it won't switch on if not. It also has an in-built cooling system that prevents overheating.
Hurom claims that they're strainer is 8 times stronger than traditional plastics that you normally find in juicers and all of the parts are BPA-free. It runs really quietly and the motor comes with a 10-year warranty.
So many plus points for this one, it's a top-notch juicer!
Hamilton Beach Masticating Juicer Machine, Slow and Quiet Action, Cold Pressed Fruits & Vegetables
High juice yield
Easy cleanup
Efficient
This juicer can juice pretty much anything – from soft fruits to hard vegetables, you've got it covered. The Hamilton Beach even boasts to extract twice as much juice from spinach than other juicers. It's efficient at extracting as much juice as possible, but is also efficient when it comes to power. It manages to juice really well, despite operating on a 150 watt motor.
Cleaning is incredibly easy with this juicer, there's no need for scouring or scrubbing. It even comes with its own cleaning brush, so you'll have everything you need.
Quiet, efficient, clean and easy-to-use. This juicer has everything you need.
Citrus Juicers
Breville 800CPXL Die-Cast Stainless-Steel Motorized Citrus Press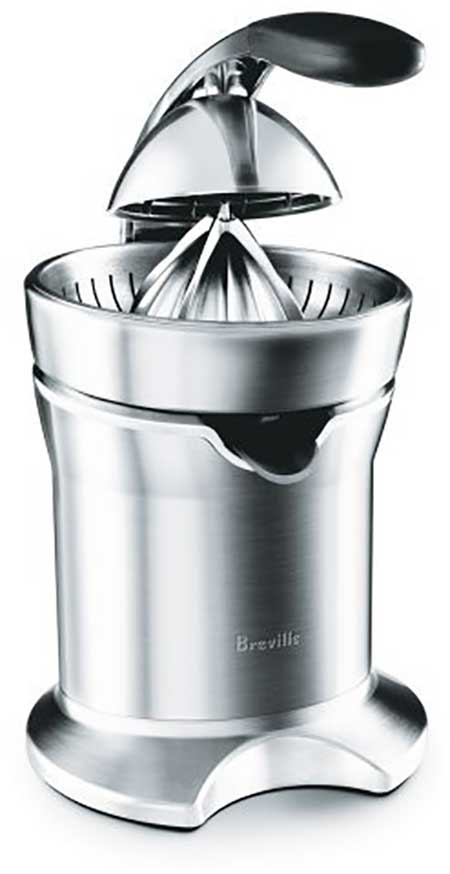 Stainless steel
Industrial strength
Drip-stop spout
This is an electrical citrus press, which is so easy to use. It's made from stainless steel, which is easy to clean and lasts really well. It has an industrial strength motor but still runs really quietly, which is excellent if you're squeezing yourself orange juice in the morning before everyone else is awake!
The spout is designed to prevent your juice from dripping, which means you'll get all of it in your glass and not all over the table.
Proctor Silex Alex's Lemonade Stand Citrus Juicer Machine and Squeezer
Portion of proceeds to charity
Detachable pitcher
Recipe book included
This is a great choice if you just make fresh juice for yourself occasionally, or when you have company. It comes with a pitcher you can detach from the juicer, which you can pour straight from into glasses.
This juicer is unique compared to others on this list for a couple of other reasons too. It comes with a recipe book that you can use when juicing your favorite fruits – you'll never be stuck for ideas.
However, the thing I like most about this juicer is that when you buy one, $1 is donated to Alex's Lemonade Stand, a childhood cancer foundation.
You can have fresh juice and feel good about it with this juicer.
Conclusion
There are so many juicers out there but with the information here, you'll definitely be able to find the one that's best for you. Think carefully about your price range and the kind of juices you want to make. Have a think about when you want to have juice too. Every day? At the weekends?
On the whole, I would say that a masticating juicer is your best bet, since they produce the highest quality juice. However, if you still have questions, please let me know in the comments below – I'd be more than happy to help how I can!