I think juicing can help everyone become their most healthy selves, whether you're losing weight or just want to feel better juicing can help.
The problem is, buying a juicer can be expensive, but it doesn't have to be…
That's where this article comes in!
I've gathered together my favorite juicers that you can buy for under $100. And just because they're cheap doesn't mean their bad, these can all still make you an excellent glass of juice in the morning.
With that said, here's a quick rundown of the top choices of budget juicer then I've got the buyer's guide for what you need to know and then a review of my top choices. Just click the links to go to Amazon where you can order yours.
Top 5 Best Cheap and Affordable Juicers
1. Top Choice – Housnat Slow Masticating Juicer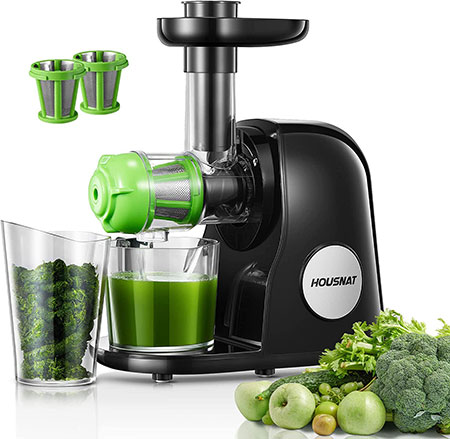 Brand: Housnat
Type: Masticating
BPA Free
Easy To Clean
Quiet Motor
A masticating juicer for under $100! Hallelujah!
As I said earlier masticating juicers make more juice from the same amount of fruit and the yield of the Housnat is up to scratch. A lot of juice comes out, no pulp and not heated up.
The key with this is to cut up the veggies first because it won't handle big whole vegetables it will jam, but if that does happen and it jams it has a reverse function that you can reverse the motor to get the jam out which is pretty cool.
It's capable of juicing pretty much anything you could want, it handles fruit easily and even harder root vegetables like carrots, but it can also take leafy greens as well if you're wanting to make yourself some green juice.
It also comes apart nice and easily so you can clean it without much hassle, plus as long as you remember to put the waste bin in place you can use it mess-free.
A great budget masticating juicer perfect for the beginner and experienced juicer alike.
2. Best Cheap Juicer Under $100 – Hamilton Beach Big Mouth
Brand: Hamilton Beach
Type: Centrifugal
BPA Free
800 Watt Motor
3-Year Warranty
If you're on a tight budget then this is the juicer for you, because it can make delicious juice and make it quickly but it comes at a cost…
A VERY LOUD COST.
It's pretty damn noisy when you use it, and because it's cheap and made of plastic it has a tendency to start walking across the counter.
But you know what?
Stick a tea towel underneath to stop it walking, keep all the doors closed and you still get a glass of juice at the end of it.
It doesn't come with the glass to catch the juice either so you have to have one that fits (most people do) but it does have that nice big collector for the waste on the back.
And the whole thing is BPA free and relatively easy to clean so you could do a lot worse, and it's almost half the price of the Masticating juicer above.
3. Best Cheap Fast Juicer – Breville BJE200XL Compact Juice Fountain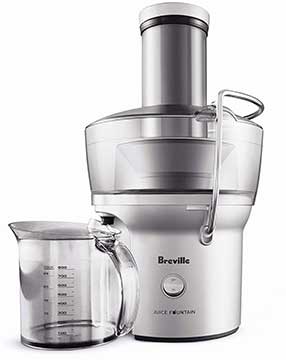 Fast juicing
Under $100
Dishwasher Safe
Extra-large feed tube
This is the perfect small juicer, the pulp container is built into the base of the unit to save space and you load in your produce from the top for a smooth juicing experience. High quality and heavy-duty being made of die-cast metal, titanium and stainless steel, plus it's made for you with a built-in froth separator to act as a strainer removing the bitter froth on top.
As I said the froth isn't anything to worry about but it doesn't taste great so being able to remove it easily is a bonus plus the feed chute is nice and wide at 3 inches so it makes for a fast juicing experience.
One of the problems is the low price means it only has one speed compared to other Brevilles. Its faster speed makes it better equipped to extract juice from harder fruits and vegetables, leafy greens won't get a look in and will just come out as pulp without much juice being extracted in the middle.
But if you're looking for an inexpensive choice then you can do a lot worse than this Breville juice fountain.
4. Best Inexpensive Citrus Juicer – Cuisinart Pulp Control Citrus Juicer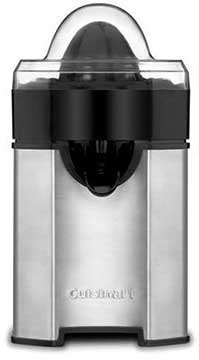 Brand: Cuisinart
Type: Citrus Press
Juices Citrus Fruits Only
Great Price
High Juice Production
To be fully clear, this juicer is designed to juice citrus fruits (oranges, lemons, grapefruit), and nothing else. I just don't want you buying this thinking it's something it isn't!
What's cool about this one, in particular, is that it has adjustable pulp settings, so you can change how much pulp comes out! So whether you like it smooth or pulps you can get what you want.
It's also got an extra spin feature so it finishes juicing slows down but then speeds up again for a final spin to get every last drop out.
Noise wise it's definitely in the middle, there are louder citrus juicers but there are also definitely quieter ones.
But if orange juice is your go-to then this is the juicer for you.
5. Best Masticating Juicer Under $100 – Mueller Austria Cold Press Juicer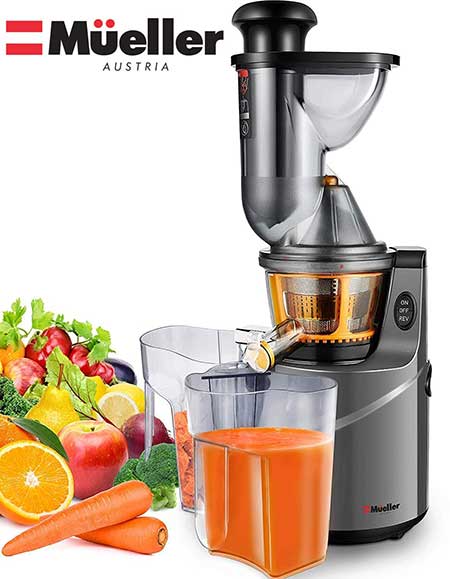 Wide Feed Chute
Vertical Juicer for More Power
2-year warranty
There aren't many masticating juicers you can buy for under £100 which is why the Mueller Austria vertical slow juicer makes the top 5.
The slow speed auger in the centre of the juicer allows for higher juice yield and the wide mouth at the top allows you to juice whole fruits and vegetables saving time in prep! The spout also has a cap which catches drips allowing for a cleaner experience and easier tidying of your countertop after you've finished using it.
The spout cap also makes cleaning easier because you can run it through with hot soapy water as a pre-clean before you easily disassemble it and clean it up with the included brush.
Because it's a cheap masticating juicer it does have it's problems, the main one being that if you overuse it pulp starts to escape. So this won't quite do for more than daily juicing but if you want to have a glass of juice a day or less then you'll get on absolutely fine with this juicer.
An easy way to get fresh juice that's packed full of nutrition.
Types of juicer
There are three main types of juicer you'll come across as you shop, and it's important to know the differences. Because you don't want to set out to buy a citrus press and come away with something designed for leafy greens!
Citrus Press
This is exactly what it says a press that squeezes citrus fruits for you. So you can use it to make fresh orange juice in the morning.
It doesn't have any sort of blade or gears involved, just a press to squeeze out citrus fruits. You definitely shouldn't be spending over $100 on one of these but I've included a cheap citrus press further down all the same.
Centrifugal Juicer
These work more like blenders and have spinning blades at the bottom which shred up whatever you put in and let the juice run out underneath.
The normal function of a cheap juicer, masticating ones (which I'll get to next) are normally a bit more expensive.
Where they excel is making a quick glass of juice though, the fast-spinning blades make short work of whatever you put in and they're normally nice and easy to clean. Great for beginner juicers who are wanting to dip their toe into the world of juicing.
Masticating Juicers
My preferred type of juicer, these work with two big rotating gears that your fruits and veg get fed through squeezing every last drop of juicy goodness out of them.
Normally a bit more expensive but I have found one cheap one that's under $100 that I've included in the list.
Masticating juicers give you more juice from the vegetables you put in compared to centrifugal ones and it stays cooler so all the enzymes inside get kept intact.
Other Things To Consider When Buying A Cheap Juicer
Just a couple of other things you should keep in mind when you're shopping for a cheap juicer.
Easy To Clean
Eventually, a self-cleaning juicer will be invented and when it is you can guarantee I'll be first in line to get one.
But until then we are stuck with having to clean them ourselves. And so let's make our lives a little easier and keep to juicers that are easy to clean. They normally say this on the box somewhere but generally the fewer parts it has the easier it will be to clean.
Keep It BPA Free
Just because the price is low doesn't mean we want to sacrifice health quality so always look for some sort of BPA free announcement on the packaging or descriptions.
BPA's are a chemical used in certain cheaper plastics and if it's in contact with food for prolonged periods of time it can seep into the food and you! Yuck! So let's just avoid that and stick with BPA free.
Included Waste Collection Bin
Make sure the pulp has somewhere to go when it's gone through the juicer, you don't want all the waste pulp going all over the counter! I've not seen many juicers come without a waste collection bucket of some kind but just make sure it does have one.
What To Watch Out For In A Budget Juicer
There's just one thing you have to look out for in a budget juice.
Don't Go Too Cheap
If the price is too good to be true it probably isn't. A decent juicer will cost at least $40-50 (unless it's on sale) any cheaper than that and it will just be useless.
Not for a citrus press, they'll always be less than $50, I'm talking about proper centrifugal or masticating juicers.
F.A.Q
How much does a good juicer cost?
A really good juicer will cost you between $100-$150 as a starting point. The ones I've recommended here that are around $50 are fine but they don't stand up to the likes of the Housnat juicer that's a bit more expensive. At the $100-150 mark, you start finding juicers that are made to last and make a wonderfully healthy juice.
​But, if you want to try out juicing and can only afford a $50 juicer that's fine too, you'll get on just fine as a beginner who wants to try out some different recipes and dip your toe into the world of juicing. You can always upgrade later.
Are these juicers good for beginners?
they sure are! I don't think a single juicer here isn't good for a beginner. They all make tasty juice, they're affordable and they do a pretty damn good job. Are they suitable for expert juicers? Yes and no, you could do a lot worse but the lower price does hold back the quality you get with some higher end juicer.
Is juicing worth it?
It depends on whether or not you want to get an easy way to massively up the amount of vitamins and minerals in your diet from fresh fruit and vegetables. Sound good? You bet it does, that's why juicing is worth it.
What is the difference between a juicer and a Nutribullet?
A Nutribullet is a blender so it keeps all the pulp fibre in the cup when you add the fruits and vegetables making it fibrous and filling. But juicers remove the pulp and fibre allowing you to have more in one go without getting too full. Plus it's a much nicer consistency and taste I'd say.
What's the froth on top of the juice?
The foamy froth on top of the juice is nothing to worry about, it's simply a mixture of juice and air, it can taste a bit bitter so you're welcome to scoop it off with a spoon. I prefer to leave it and then not drink the last mouthful which is normally all foam, then it just goes down the sink.
Other Cheap Juicers Reviewed
Aobosi Slow Masticating Juicer Extractor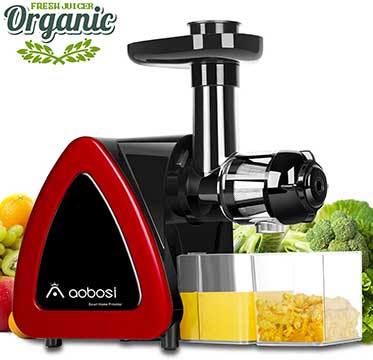 Compact Size
Under $200
Reverse function to prevent clogging
This is a great equivalent to the Housnat juicer, it's a single auger small size juicer with excellent yield. The prep work takes a little longer compared to some of the centrifugal juicers but it's a straightforward juicing process.
It works great for juicing wheatgrass as well as fibrous vegetables like celery and it can handle soft fruits like oranges, so really it's one of the reasons I like this juicer so much, it works well and it's got a diverse range of applications to make any juicer you can think of.
It comes apart easily enough and you can clean it up easily under a running tap using the included brush to scrub out the filter.
A nice juicer that fits comfortably on the countertop so you can keep it out and on display for easy access and fast juicing.
Hamilton Beach Masticating Juicer Machine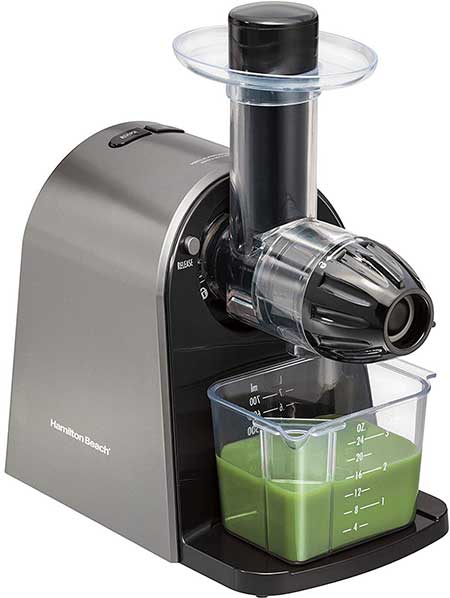 BPA Free
3-year warranty
Suitable for leafy greens
Another superb masticating juicer for a heck of a price, it's a great juicer under $200 that makes short work of anything you can put in it. Suitable for leafy greens like spinach, kale and wheatgrass while also being great for any other fruits or veggies you might want to put in it.
A high-quality build that's backed by a 3-year warranty and altogether a nifty little juicer. The cleaning brush is included and it cleans nice and easily under a running tap.
It's got a built-in reverse function which is good when soft things like cucumber get wrapped in the auger, you just reverse it and they get removed and you can go forwards again to get them juiced, it just speeds up the juicing process and stops you from having to dismantle the whole juicer before you've finished juicing.
Mueller Austria Juicer Ultra 1100W Power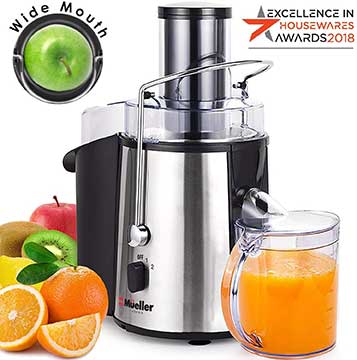 2 Speeds
BPA Free
Creates a 16 oz juice in 8 seconds
Fast juicers look slow compared to the Mueller Austria, a 16oz glass of juice in 8 seconds? That's madness!
But it makes sense when you've got the dual speeds that allow you to juice every type of fruit and veggie and an extra-large feed chute that can handle whole fruits.
Plus you've got a 2-year guarantee to help keep you juicing day in and day out for years to come.
You'll also love that it comes with a locking bar mechanism that means you can't turn it on until the lid is properly attached allowing for peace of mind that no little hands are going to get inside and get hurt.
You've also got ani-slip feet to keep it in place while it's working and stainless steel blades that stay sharp for long term effective juicing.
Aobosi Slow Masticating Juicer Extractor Compact Cold Press Juicer Machine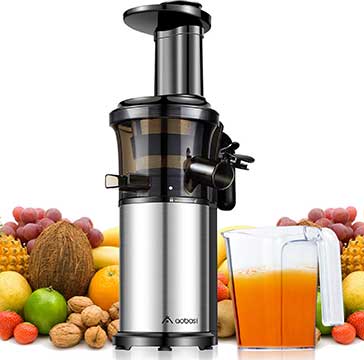 Small design
Easy to assemble
Waterproof switch
This is a compact tall design, 16.3*8.5*6.4* inch, so it won't fit under kitchen cabinets very well but it'll fit nicely into the right shape of cupboard, I prefer a juicer you can leave out but each to their own.
It's a slow juicer so all your nutrition is locked in and this does a great job with pretty much all produce. It struggles a bit more with harder stuff like carrots and beets but it does get them through, you just have to chop them up a bit first.
It's BPA free materials inside and is equipped with a waterproof switch for an extra level of safety, always a good thing when you're working with liquids after all!
But what you'll love the most is that it comes with a 1-month free trial for Amazon customers, you get to take it home, test it, and find out if you love it before you have to fully commit to it.
A great inexpensive juicer, just under $100 at the time of writing this so perfect for most budgets.
Bella High Power Juice Extractor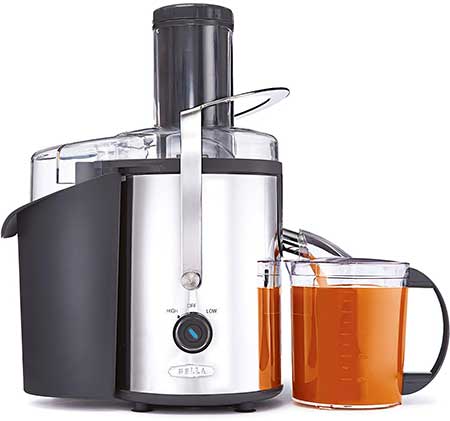 Brand: Bella
Type: Centrifugal
BPA Free
1000 Watt Motor
2 Speed Settings
It is with a heavy heart I have to be the one to say it….
This isn't the easiest to clean.
It's not hard to clean but it certainly isn't the easiest because it has quite a lot of parts you have to deal with while cleaning with it, but when you're buying a cheap juicer you can't have everything.
But what it does have is two different speed settings, 12,000 rpm and 14,000 rpm, which is good for maximizing the amount of juice you get from it when you use it. You use the high-speed setting for dealing with hard produce, stuff like carrot and kale stems, and then the lower setting for softer fruits.
Like anything though you'll start using it yourself and get to grips with how you like to use it.
Conclusion
So there you have it! Everything you could ever want to know about buying an inexpensive juicer plus a review of my favorite choices. I hope you found this helpful and you're able to pick up something you can afford so you too can start juicing and start enjoying the awesome health benefits it can bring you.
The Housnat is a fine top choice of juicer when you're on a budget so it'll see you right. And remember not to go too cheap or you'll end up paying for it in the long term because 6 months from now you'll be buying a new juicer and you'll start this process all over again.