5 days later and you've done it, you've drunk 30 juices, haven't eaten for 120 hours, you look in the mirror first thing in the morning on the 6th day you're the skinniest you've been in a long time, you feel incredible.
Sound good?
You bet it does.
Juice cleanses are an effective way to lose weight, detox and pack yourself full of nutrition so you can feel amazing. So many people like you and me have lost weight doing it but I had a look around the internet and couldn't find a thorough enough guide that really took you through the whole juice cleanse process.
But since starting Juice Buff I've learned more than I ever thought I could about juicing and want to share all my knowledge to help you whether this will be your first juice cleanse or your 10th and you're looking for some extra info.
Let's dive in. Or click here to download this article as a PDF so you can save it for later!
What Is A Juice Cleanse
To put it simply a juice cleanse is where you don't eat any food for a set number of days – usually 3, 5, or 7 days – and instead drink around 4-8 glasses of juice made from fruits and vegetables.
Pretty straight forward right?
But you probably knew what a juice cleanse is, you want to know the why. First off, compared to other fasts where you don't consume any calories juice cleansing lets you get the benefits of fasting without starving yourself.
You still get calories from the fruits and vegetables plus a whole load of vitamins and minerals so in my mind it's a lot healthier for you than a traditional don't eat fast.
Let's look a little further.
And please be careful, don't do anything stupid, this is not medical advice after all!
Why Do A Juice Cleanse
Apart from all the health benefits I'm going to talk about in just a second a juice cleanse is amazing because it allows your body to completely detoxify by having a limited number of calories that are packed full of nutrition.
If you compare this to a water fast where you're having no calories and no nutrition it's not only much easier doing a juice fast but it's healthier too because your metabolism is kept working and you feel much better because of all the vitamins you're getting.
Plus you lose a load of weight!
Besides we're used to eating three meals a day and snacking in between right? But why? Just because everyone else does? But what about our ancestors who survived for 250,000 years by hunting a deer, eating it, then living off what fruits and vegetables they could forage while they spent the next 3 days hunting the next deer.
Sound familiar? In fact, does it sound similar to a 3-day juice fast? You bet it does.
They did this for thousands and thousands of years and seemed to survive just fine, they didn't need a snack to get them from breakfast to lunch.
The best part is you don't have to do it regularly, doing it once every 3-6 months allows your body to rediscover what it feels like to have stored energy, to not be constantly burning through sugar and to feel a state of primal wellness many of us have lost in modern society. And with that comes a whole host of health benefits.
4 Major Juice Cleanse Health benefits
Juice cleanses have so many health benefits because it's a form of fasting, and fasting promotes something called autophagy, which basically causes your body to start recycling its cells.
So instead of working to repair old broken cells it makes them disappear, all the old and bad cells in your body get cleared out when you fast and the nutrition from the juice helps build up new healthy cells in their place. That's what the detoxing process is and why you feel so great after you've finished.
And with this come some very noticeable outcomes, and I'm sure you know what the main one is…
1. Juice Cleanse And Weight Loss
Weight loss is a huge part of the juice cleanse, perhaps the top and most noticeable effect and the best part is it is scientifically proven! A study was done which shows that after a 3-day juice cleanse the group of people who took part lost 3.5-7 lbs of weight and 2 weeks after they stopped they'd kept off 3- 5 lbs of weight. In only 3 days!
Which to me is incredible, such an effective way to quickly slim down before a holiday or a big event that's coming up. And the longer you fast for the more weight you'll lose so it's a no brainer as one of the healthiest most effective ways to lose weight.
You have the people who go on juice cleanses for 45 days and manage to lose 60 lbs and I've even heard of people losing over 100 lbs from juice cleansing.
Joe Cross who is arguably the man who started the juice cleanse lost 81 lbs in 60 days which is a really long time for a juice cleanse but a complete life transformation. Check the out the picture of his results below.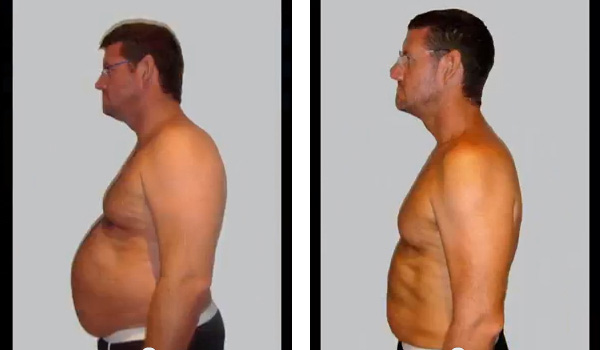 2. Heal The Gut
If you're not eating the right food, or even eating too much food it can put a lot of unnecessary stress on your digestive system, this leads to inflammation and can cause a lot of bloating, IBS, constipation and other very uncomfortable symptoms.
What a juice cleanse does is give your stomach a chance to relax and repair itself, juices are very easy to digest and also contain some really great enzymes and prebiotics that support a healthy guy.
3. Younger Healthier Skin
If you're prone to breakouts or acne then a juice cleanses could help, green juices, in particular, are really high in vitamin A which is used to help regrow skin cells. It helps get rid of the old damaged ones and replace them with new strong cells that leave your skin looking younger and radiant.
Plus you get vitamin E which helps protect against free radicals which are a type of molecule that is unfortunately all around us that works to mutate and destroy your cells. So the more protection against it the better!
And finally you get Vitamin C which helps protect against UV damage, especially good if you live somewhere warm and sunny but even in colder places when the suns out your skin can still get damaged by UV light.
4. Eliminates Toxins In The Body
Toxins are everywhere, free radicals from pollution, heavy metals from metal and plastic food containers, pesticides and chemicals on the food you buy. And they can be created inside the body as well, imbalances in hormones, bacteria and again free radicals. And that's not to mention being around smokers, chemicals in your bathroom products the list is almost endless!
So with all that bombarding you from inside and out it's important to regularly flush them out and what better way to do that than with a juice cleanse. As you're doing a sort of fast your body will work to eliminate all these toxins from your body while holding on to the healthy cells in a way to minimise energy usage.
Plus you then get a huge intake of nutrients from the juice which replaces all these toxin filled cells leaving you feeling fresh and rejuvenated.
I could go on and on about the health benefits but I don't want to bore you so I'll just say it can also do wonders for anti-ageing because the detoxifying process helps protects your DNA.
Vitamins like vitamin C help boost your immune system, and juice is packed full of micronutrients that help boost your energy levels by allowing you to better process food and turn it into energy.
Juice Cleanse Side Effects To Watch Out For
Most people have an easy time when they start a juice cleanse but some people can experience some stomach discomfort. Fortunately, if anything you're not comfortable with happens you can just stop immediately, no shame in that!
But if you're just experiencing minor nausea and an upset stomach then try these three things:
1. Drink plenty of water
Make sure you're drinking enough water through the day alongside your juices this helps keep your stomach happy and actually helps with the detoxifying process.
2. Try A Ginger Lemon Tea
Preferably made with fresh lemon and fresh ginger this can be a great way to help calm an angry stomach and take away any nausea you might be experiencing.
3. Dilute Your Juice With Water
It can be a shock to the system if you transitioned into your juice cleanse too quickly and the massive intake of vegetables can be a shock if they weren't previously a part of your diet. So you might need to dilute your juice with 25% water to help ease the intensity of the flavour.
4. Avoid Broccoli, cabbage, cauliflower, brussels sprouts,onions and garlic
These can all cause uncomfortable bloating in some people, so if you're having those stop! They might be what's wrong. Moreover, it can help to narrow down which juices make you feel worse so you can find the problem ingredient by elimination and then it's as simple as stopping using it.
How You Do A Juice Cleanse
So, we know what we're doing, we know why we're doing it, but how the heck do you actually do a juice cleanse? Well it's really easy, you either do the DIY approach which I'll get into below which is better if you want to do a much longer juice cleanse, more than 10 days (which I don't recommend without caution).
Or, you can actually buy juice for juice cleanses online, it's really easy, you just order for either 3, 5, or 7 days and they send you out the prepared bottles of juice frozen, so you just load up your freezer and defrost the days juice the night before. I love juicing myself but even I do this for a juice cleanse, the juices taste better and there's so little hassle involved. Raw generation is my go-to for a juice cleanse.
But before we get to that, we need to think about how we're going to do the juice cleanse, because there's some prep you need to do beforehand in the run-up to it and you want to think about what you're going to do after to transition back to normality.
How Long Are Should You Juice Cleanse For?
It's an important question to ask before you dive into anything, how long you cleanse for will depend what you want to get out of it, for instance, if you want to lose a lot of weight then you'll need to consider a juice fast of 7 days semi-regularly but as low as 1 day can be enough to help you feel good if you're already healthy.
1-Day Juice Cleanse
The 1-day juice cleanse is great if you've had a heavy weekend of partying and drinking, after a big event or even just if it's been a tough month and you want to be yourself again. You can also do a 1 day fast regularly so once a month you can flush yourself out and reboot ready to take on the world again. Perfect for someone already living a healthy lifestyle.
If you want to do it once a quarter you could try out a 2 day cleanse to push yourself that little bit further.
3-Day Juice Cleanse
This is best for beginners looking to try out a juice cleanse for the first time. 3 days is long enough to lose some weight, rejuvenate your skin and start repairing your gut.
And it's not too difficult so it's not too daunting compared to people I know who've jumped straight in for a 90-day juice cleanse! Too much, 3 days is perfect to test out the waters feel some of the great benefits without the side effects.
5-Day Juice Cleanse
If you want to do a 5-day cleanse then you're wanting to really feel the new you, and again 5 days isn't too long, it's a work week so very manageable without feeling too different during the cleanse. Afterwards, you'll wonder why how you felt before ever felt normal!
7-Day Juice Cleanse
This is for the type of person who seriously wants to cleanse, they want to lose a lot of weight fast, they want to feel radiant and they want to accomplish something. A whole week of juice isn't the easiest but it's definitely worth it if you're looking to lose weight.
7-day+ juice cleanses
I'm not a big fan of going any longer than a week, I know people do 10 day cleanses all the way up to 45, 90 and even 100 days but to me the transition back to solid food will be too difficult, better to stick to 3-7 days as a cleanse then incorporate juice into your regular diet, either as a meal replacement or snack replacement.
Pro Tip For A Beginner Juice Fast
If it's going to be your first juice fast then you should get some accountability and tell a friend about it. Even better get your friend on board and doing it with you, send them this article and get them on board. I know you can both do it!
Before, During, and After a Juice Cleanse
Know you have a good idea of how long you want to juice for, it's time to look at what you need to do before, during, and after your juice cleanse. After that, I'm going to talk about where you can get juice if you want to order it online which is easier and if you don't want to do that how you can do a DIY juice cleanse recipes.
It might be worth bookmarking this or saving it on Pinterest so you can reference back.
What To Do Before A Juice Cleanse
It depends on what you're lifestyle is already like, if you're an active veggie munching, exercise loving type of person then you could probably dive straight into a juice cleanse and be absolutely fine. However, if you don't love exercising and tend to mostly eat junk food or microwave meals then you're going to want to prepare your body for its first juice fast.
I know it's tempting to just dive straight in and immediately start your juice fast but trust me, you'll get much better results if you take some time to properly transition. A week is ideal for any length of juice fast but if you're doing a 1-3 day cleanse then taking 2 or 3 days before should be fine to start getting your body ready.
Avoid junk food, soda, anything that you make in a microwave, take outs and anything you can consider a ready meal. Also, no alcohol and minimal amounts of caffeine, bonus points if you only drink black coffee.
Instead you want to start eating salads, soups, nuts, lots of vegetables and home-cooked meals. Plus it's important to stay hydrated so start trying to get up to your 64 oz of water a day.
But the real killer you're going to start wanting to avoid is sugar, that can be the most addictive and the hardest to give up when you start a juice cleanse, so no candy, no chocolate and no soda, even diet soda, stick to water and add lemon or lime juice for a flavour change.
After that you're ready to start!
During A Juice Cleanse
During a juice fast you're going to want to drink your juice at regular intervals, about every 2 hours from when you wake up if you're having 6 a day, and make sure you drink plenty of water. Dehydration won't help but go easy, just little and often when you're thirsty.
Apart from that keep your coffee black and to a minimum and if you really need to eat and can't bare not too, that's ok! Just have some fruit, nuts or even a small salad and keep going, I know you can do it.
After A Juice Cleanse
You made it! You've cleansed, you're feeling good, now things can get back to normal. Again if you were healthy before and it was a 1-3 day cleanse you can jump back into solid foods keeping to vegetables, salads and all those delicious foods of course.
If it was a longer cleanse you should eat smaller meals more often, your body needs to get used to solid food again if you've been cleansing for a week. But don't worry too much just include lots of vegetables and keep drinking fresh juice as part of your diet.
So Where Can I Get My Juice?
Good question! As I said before, you can do the DIY approach of buying a juicer and sourcing all the ingredients which I go into further down or you can get your juices delivered from people like Raw Generation.
This are a great way to cleanse because you can order how many days you want and it actually works out much the same in terms of cost because they can buy fruits and vegetables cheaper then we can and it tastes a lot better.
I'm not even sure why, you can use all the same ingredients but it never tastes the same! Plus you don't have to buy a juicer which can be costly.
You also get a range of flavours to try out, the juice is never pasteurized and really is as healthy as if you made it yourself. Check out my favourite here.
DIY Juice Cleanse Plan
Still keen on doing it yourself? That's cool, I love using my juicer (which I'm sure won't surprise you given this is Juice Buff!) so I can give you everything you need to know to start your juice cleanse. Let's start with looking at what equipment to get. Or again you can click here to sign up for the newsletter and download this guide as a PDF.
Best Juicer For Juice Cleanse
It's easy, all you really need to get going is a juicer.
But which juicer? Well there are a couple of different types, you've got centrifugal juicers which work with a fast spinning blade that shreds up the produce and spits out the juice, and masticating juicers which have a slow spinning gear that crushed the produce squeezing out the juice.
In my mind a masticating juicer is the only type you want because unlike a centrifugal juicer it keeps the juice cold while it presses stopping any nutrition from escaping and it produces 30-40% more juice from the same amount of produce put into it.
Plus juice out a masticating juicer can last 2-3 days in the fridge compared to just 24 hours out of a centrifugal juicer.
So with that in mind the best masticating juicer is without a doubt the Omega J8006 Nutrition center, it's got a 15-year warranty, a stainless steel body and makes short work of any fruit or vegetable you might want to put through it. An easy choice of the best juicer for a juice cleanse.
Juice Storage
The only other thing you might want to consider getting is some juice bottles to store your juice in, these will help you take your juice to work and let you store it in your fridge so you can batch make your days juice every time.
These ones you can buy on Amazon are great because it's a 4 pack, they've got a drinkable lid and you can they're shatterproof so great for taking your juice on the go.
Aside from proper bottles when you're storing your juice you want to remember these four things:
Use Fresh Vegetables
Keep It In The Fridge
Clean The Bottles Thoroughly
Drink Within 2 Days (from a masticating bottle)
That'll keep you right for having fresh juice everyday through your cleanse.
Juice Cleanse Recipes
You've made it to the recipes! There are tons of different juice recipes you can follow so I'm going to highlight 4 that you can rotate through during your juice cleanse, there's enough variety to give you a good range of flavours but don't be afraid to get creative.
Staple Green Juice
8 kale leaves with stalks
4 celery stalks
2 green apples
1 cucumbers
1 lemon
1 inch piece of ginger
Wash all the ingredients
Cut the bottom of the celery
Juice the ginger first followed by the rest of the ingredients
Juice and Enjoy!
Great as your staple and go to juice, easily enjoyed multiple times a day. No juice is as healthy as a green juice!
Beet It Juice
3 Beets
3 Carrot
2 Apple
1 Lemon
Wash and scrub the beets and carrots
Core the apple
Peel the lemon
Juice and enjoy!
Beet it! Whether it's your weight, feeling sick all the time or any other goal, I know you can beet it with this juice!
Healthy Orange Juice
9 carrots
2 small oranges
1 apple
1 inch ginger
Wash and scrub all ingredients
Peel ginger and orange
Core the apple
Juice and enjoy!
Lovely and sweet and great for easing into the day with.
Spicy Sweetness Juice
3 medium apples
2 stalks celery
1 cucumber
1 cup spinach
1 Inch Ginger
1 lime
Wash all ingredients
Peel ginger and lime
Cut bottom of celery
Juice and enjoy!
A little spiciness to the sweetness from the ginger, a really great kick perfect first thing or last thing at night.
With those four in mind you're going to want to have 4-6 of them a day, it's ok to repeat different juices but I'd stick to one healthy orange juice a day at max and double up two of the others if you want to have 6 a day.
Juice Cleanse Plan
I just want to take you through what a 3-day juice cleanse could look like with the above juices. If you've ordered them then it'll be the same routine just with the juices they sent you plus any info they've given you.
Day 1 of Juice Cleanse
For day one you're going to start your breakfast with a nice healthy orange juice, followed by a green juice at lunch, beet it in the afternoon and another green juice at dinner time, then a spicy sweetness juice in the evening if you're still feeling hungry.
Day 2 Of Juice Cleanse
Day 2 is going to be much the same, you'll want to make sure you're drinking enough water and can repeat the same meals as day 1.
Day 3 of Juice Cleanse
It's easiest just to keep it the same day in and day out but if you want to mix it up I'd swap the healthy orange juice to the evening and the spicy sweetness to the morning. And from there you just keep repeating, it's easiest on your body if you keep it the same and easiest on you because you know the routine.
Conclusion
And that's you! All you need to know about your first juice cleanse, or some extra tips even if it's not your first. I hope you get on well with it and see the results you want, plus to make it easier on yourself why not get a friend on board, having some accountability is a great way to stay on track so send this article to a friend who you want to do a juice cleanse with.
Good luck!
F.A.Q
Here are a few common questions that didn't quite fit in anywhere else in the article.
Can you drink coffee?
Coffee's ok as long as it's in moderation and make sure it's black coffee, dairy can mess you up a little while you're cleansing so best to leave it out altogether and stick to black coffee.
In the morning and one more through the day is plenty though.
Can you eat food during a juice cleanse?
If you really need to eat and can't push through then a small snack of fruits, vegetables or nuts is the best way to go, don't go off the rails and start on junk food, just have a healthy snack and try to stay on track.
The need to chew
Sometimes you're not actually hungry your body is just missing the need to chew on something, it's used to chewing through the day so the muscle memory misses it when it disappears. Try just move your jaw around or even have a stick of gum to get through the sensation.
How often should you juice cleanse?
A 1 day cleanse is fine even weekly, similar to the 5/2 diet which sees you have limited calories 2 days a week, but once a month for a 1 day cleanse is great and every 3-6 months for anything longer than that. You don't want to over do it and make yourself sick
Where Can I Order Juice From?
I like Raw Generation which you can click here to visit, they've got really tasty juices, good prices, and quick delivery. Everything you need to start cleansing.
You Might also Like
Chef V Juice Cleanse Review
Best Juice Cleanse For Weight Loss and Detoxing