Manual juicers are a quick and easy way to add some fruit your cooking.
But they're also great for making a glass of juice for you to enjoy.
Quieter, cheaper, and a lot easier to clean they're a must-have in any kitchen, and ideal if you don't want to take out your electric juicer and have to deal with it.
But with so many different types to choose from it can be hard to know what one to go for. That's where I come in.
I've written up this buyer's guide so you know exactly what to look for when you're buying a manual juicer and I've reviewed all my favorite models that are available online.
Check out the table below for a quick rundown of the best manual juicers.






Manual Juicer Advantages
What better place to start than with all great advantages manual juicers have over electric ones.
Quieter – Hear that? No? Me neither, that's because you're using a manual powered juicer so don't have any of the whirring or gear sounds that you get from an electric one. Meaning you can juice happily without disturbing your whole house and your neighbors.
Cheaper – Because less technology is used inside manual juicers are a lot cheaper. You can pick up a reasonable handheld one for less than $20 and even a heavy duty crank operated wheatgrass juicer won't set you back more than $100. Though you'd be surprised at the quality of a cheap juicer.
Easier to clean – Less moving parts and far simpler designs make manual juicers much easier to clean up after. Fewer gears to get in and about to try and scrub clean and most are dishwasher safe so clean up is fast and easy.
You can travel with them – Not for everyone but they can be useful if you go camping a lot, or you travel for work because you can pack them away with ease and take them out ready to use wherever you end up.
Disadvantages
If only everything we used was as perfect as I am, ahem… OK so I'm definitely not perfect and neither are manual juicers, they've got a couple of drawbacks that you'll want to be aware of.
Requires more effort – They're not powered so you, of course, have to do all the work to get any juice out from your fruit. I'm guessing you probably knew that but thought I should mention it anyway.
Takes longer – As well as being physically harder to use they also take a bit longer to get the juice out. So while it can be more convenient to take out a manual press it can end up being a bit more work overall. But if you want easy to use and fast enough a manual juicer is still a great choice.
Can't Juice Vegetables – Manual crank juicers can handle wheatgrass but that's about it, cranking hard enough to grind up a carrot is going to take a lot of work, but if you're looking to mostly juice soft citrus fruits then you're going to get on absolutely fine. Though you might want to have a look at all the lovely vegetables you can juice.
Types of Manual Juicer
We've gone through the good, we've gone through the bad, but what about the ugly? Well, there isn't really an ugly side to handheld juicing unless you count the fruit after it's been juiced. But why don't we skip that and take a look at the different types of manual juicer you can buy.
Handheld Manual Juicers
These are the ones where you hold half a lemon in one hand, the reamer in the other and you push the two together wriggling away to get the juice out. But you also get the ones where you place the half lemon on a little podium inside a handheld juicer and squeeze the handles together.
Of the two the second type is the only one worth talking about in my experience, they don't cost much more and they produce a lot more juice than the other type. So if you see a wooden handle just back away slowly.
Jug Reamers
These are the type with a juicing cone that points up in the middle of a dish or a jug and you press the lemon down on top, twisting it and squeezing it to get all the juice out. I actually really like this type, when you're making orange juice this can work really nice especially if it catches in a jug that you can serve it from.
Table Top Press
These are heavy duty, a big downward crank that you pull the handle of pushing the lemon onto a juicing cone squeezing all the juice out really effectively. They can be a bit excessive for home use but you can't deny that they work really well, and it's all levers so you don't need to out in too much effort to get the juice out.
Crank Handle
These are best used for wheatgrass and leafy greens, they attach to the table you put your ingredient in the top and turn a big handle to get the juice out. These can manage other vegetables but like I said before it is hard going, far harder than any sane person is willing to go through for a glass of juice.
Materials
The last thing we're going to look at is what material you want your juicer to made of, do you want plastic, glass or metal? Plastic is, of course, the cheapest but metal is the longest lasting meanwhile glass is a good mid-range but it's hard to come by a juicer made entirely of glass that is, in fact, any good.
Plastic – Cheap, cheerful and good quality, they only thing you might want to look out for is that it uses BPA free plastic, BPA's are a form of plastic that can end up getting in your food and then into your body so you want to avoid them as much as possible.
Glass – Practical, generally sturdy but all glass juicers tend to not be great. They were very popular in the 70s but today I think you're better off going with a plastic model.
Metal – Metal juicers are a good choice if you're trying to minimize your plastic use through life but not easy to find. Some crank juicers are all metal but most manual citrus juicers may have metal elements but with have some plastic involved. Still, if you can find manual juicer partly made of metal it will do wonders for you.
The Best Manual Juicers Reviewed
Manual Citrus Press
Brand: Zulay
Main Material: Metal
Easy To Use>
Ideal For Cooking
Dishwasher Safe
This has got to be the easiest manual juicer around, it's my top choice for the best manual citrus press because it's lightweight, fits in a drawer, you can put it in the dishwasher and it's lightweight to use.
Plus it's made of metal which I love and it's got two sizes built into it for different sizes of fruit so you can use it for lemons or limes. And it is really well priced for how practical and useful it really is.
An easy choice of the best manual juicer.
Manual Juicer Jug
Brand: Oxo
Main Material: Plastic & Metal
Measurement Markings On Jug
Dishwasher Safe
BPA Free
This is a nifty little juicer that works nicely in collecting all the juice into the jug below which has measurement markings on it so you know how much you've got. It's also got two sides so you can juice big or small fruit.
It's not perfect and some pulp does get through but it works well enough and is great for taking out the cupboard for small jobs. It's really nice for making orange juice as well.
It doesn't say on the packaging but I had a snoop around the website and found that it is in fact BPA free plastic that's used which is good, and the metal shows no sign of rusting after extensive use.
A really nice jug juicer.
Hand Citrus Squeezer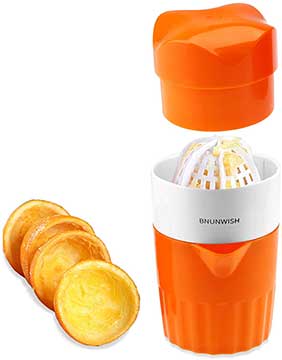 Brand: BNUNWISH
Main Material: Plastic
BPA free
Easy to use
Juices Into Cup
This is a nifty little piece of kit, you place the orange on the juicing cone and press down and twist the lid to squeeze the juice into the container below.
I really like the efficient overall design but my only gripe is it's not very big, so if your fruit doesn't fit into the lid you can't use it, which means it works fine for small oranges but big oranges are a no go.
Still it's a fun little juicer that can be good for kids to use in the morning before school, the strainer does a good job of catching the pulp so you get a nice clean glass of orange juice.
A fun little hand juicer for those who like a gadget.
Hand Press Juicer
Brand: Exclevan
Main Material: Stainless Steel
Heavy Duty
Cast Iron and Stainless Steel Body
Catches Pulp
The Amazon listing for this says commercial but I'd say it was more a commercial style but meant for home use, because it will do wonders in the home but in a busy bar setting it might wear out. But if you were juicing lots of oranges at home this is really effective.
It gets a really good yield of juice out of each piece of citrus fruit you put on it while doing a great job of catching the pulp.
The body is metal with a heavy base to keep it balanced and a plastic handle for comfortable use. You should also know it stands 41cm/16inch tall so you can measure to see if it's going to fit in your kitchen.
Crank Handle Juicer
Brand: HappyBuy
Main Material: Stainless Steel
All metal design
Clamps to kitchen counter
Handles leafy greens and berries
This is pretty heavy duty but if you're looking to manually make green shots then it's the way to go. It clamps to the side of your counter so you can turn the handle comfortably and crank out juice shots in no time.
You can see my post on wheatgrass juicers for more like this.
Not good for citrus but excellent for wheatgrass and other similar vegetables.