Have you been on the search for the perfect tomato juicer, but not quite sure where to start from?
Yeah, it can get pretty confusing to choose one out of the multitudes available, especially if you do not have all the information you need to make that impeccable choice.
Not to worry, I have compiled everything you need to know in this article. Before we jump in, here's a quick rundown of the top 5 tomato juicers available that you can click through to and order from Amazon.
My Top 5 Tomato Juicers:
Why Use A Juicer For Tomatoes
For starters, Juicers lets you retain most of the healthy nutrients in your tomatoes. You see, you lose a lot of vitamins, minerals, enzymes, and other nutrients when you cook your fruits or vegetables – tomatoes in this case.
On the other hand, when you juice your tomato, these nutrients don't cook or wash away; they will be there waiting to be ingested. You need to know that some juicers do this better than other.
Tomato juicers also make everything pretty easy and enhance the cooking experience; all you have to do is reach for the juicer and make whatever you want to make, at any time you want to.
But here is the thing; the demand for these juicers have increased in recent years, so there is an overflow of these gadgets in the market – some very good, some not very good.
Therefore, you need to know what you are getting before you splash your money on them. You would want to get good value for your money and the time you spent in getting it, wouldn't you? I know that this may be a challenge, and I would very much like you to overcome it.
5 Best Tomato Juicers Reviewed 2019
1. Top Pick – Omega NC900HDC Juicer Extractor and Nutrition Center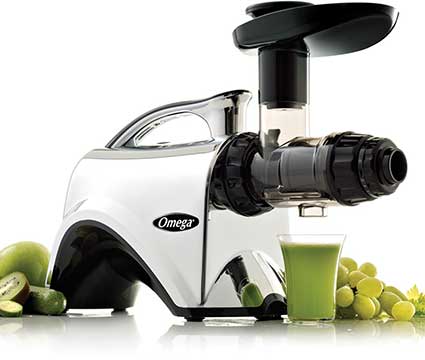 Omega NC900HDC Juicer Extractor and Nutrition Center
Key Features:
Slow 80 RPM motor to minimize oxidation
Extract juices efficiently and leaves a dry pulp
Powerful 2 Horsepower motor
15 Year Warranty
A dual stage mastication extraction from Omega (here are my other top masticating juicer picks), this juicer is something beautiful and functional. It is equipped with an adjustable end cap with 5 pressure settings so you can get more juice from the tomato than you would expect. As a matter of fact, the yield you would get from a small bunch of tomato is surprising in a good way.
This juicer weighs 13 pounds, but it is aesthetically pleasing. Moreover, it comes fitted with a handle, so carrying it around is hardly a chore.
You may be wondering if it makes a lot of noise when it is in use. Well, it does make some noise, but nothing deafening or disruptive, which is really something because its motor is equal to the power of a two horsepower motor. Using only 150 watts and 120 volts, it conserves lot of energy too – you will not be confronted with a huge power bill.
While we are on the subject of power and motors, this juicer is designed to grind your tomatoes slowly. It rotates at 80 Rounds per Minute. This reduces the heat buildup and the rate of oxidation, helping to preserve your juice for a longer time.
There is one more thing you would like; you will not have to worry about shoving it away somewhere to lay fallow if it develops a fault. This juicer has a whopping 15-year warranty on its parts and performance. How cool is that?
2. Best Budget Pick – Breville BJE200XL Juice Fountain Compact Juicer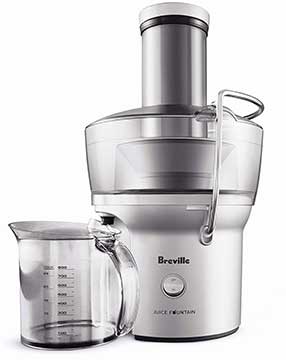 Breville BJE200XL Juice Fountain Compact Juicer
Key Features:
Compact design great for small spaces
In-built froth separator
Saves time
Locking Arm Feature
If you are looking for a juicer that does its job perfectly, and one you wouldn't spend so much money on, this product from Breville is your best bet. There may be quite the collection of juicers that fall under the $ 100 price, but there is not one I like more than this one.
It comes with a built-in 700-watt motor and runs at 14000 RPM, which ensures that you get the maximum juice out of your tomato. Its 3-inch centered feed is designed to take whole tomatoes, and are held firm by a dual knife assembly. All these make up its unique extraction system that is guaranteed to give you a great yield.
Its compact design ensures that it does not take much space. In fact, its dimension is only 10.5 x 10 x 16 inches, and it weighs about 9.7 pounds, making it a great fit for small kitchens.
You will not have to worry about its durability as the body is made of high-grade polymer designed with longevity in mind. While most of its other parts are made of plastic, there is a stainless steel cutting disc, and an Italian made micro mesh filter keeping its company. What does this mean for you? Perfect extraction of juice and nutrients for you.
And oh, cleaning it is fairly easy; it does not have parts in the numbers fancier, and maybe more powerful juicers do, so it takes lesser time to clean. Overall, it is simple in features but powerful in functionality.
3. Best Electric Tomato Juicer For Canning- Weston Deluxe Electric Tomato Strainer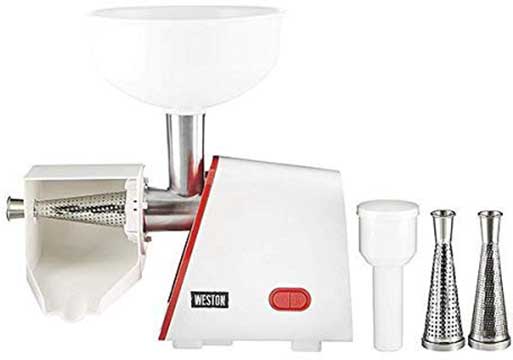 Weston Deluxe Electric Tomato Strainer
Key Features:
200 watt operated motor for top performance
Really Versatile
Extracts a large batch of tomatoes effectively in one go
This small but efficient tomato juicer is created to be a problem solver, and it does its job just right. Perhaps, one of its best features is that you will get a break from peeling your tomatoes before you dump them in the strainers because it is built to do that for you. It removes the juice from the skin and pulp in record time while retaining its great taste and nutrients.
To show you just how versatile this kitchen equipment is, you need to know that it is fitted with 3 stainless screens – one for tomato, one for pumpkin, and one for salsa.
Also, it is built with a forward and reverse operation, making sure that the strainer won't stop in the middle of operations because it has gotten stuck.
Juicing can be messy, but not with this strainer. Its Tamper makes certain that the tomatoes are dumped into the strainer to avoid any spill or splash when it starts extracting the juice. A perfect tomato juice for canning
4. Best Manual Tomato Juicer – VICTORIO VKP250 Food Strainer and Sauce Maker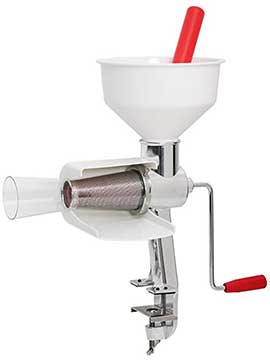 VICTORIO VKP250 Food Strainer and Sauce Maker
Key Features:
Upgraded handle device for easier turning
Built to work for many years
Sealed steel drive shaft to avoid leaks
Durable heat-resistant hopper
Rust-proof stainless steel
One year warranty
If you would like juicing equipment guaranteed to last you for years, this food strainer from Victorio is a great choice. The strainer is popular, and for very good reason. For more than 80 years, it has been helping people get the best juice out of tomatoes, so its durability is not in question.
While it is built for manual use, there is an option for electric use if you replace its handle with the Electric Motor VKP250-M, which I don't really think you need to do.
This device does most of the work for you with its simple design and functions, as well as its user-friendliness. Dump the tomatoes into the hopper and turn the handle; that is basically all. The screen removes the skin and seed of the tomato from the pulp that you dry pulp on one hand and maximum juice yield on the other.
5. Best Cold Press Tomato Juicer – SKG Slow Masticating Juicer Extractor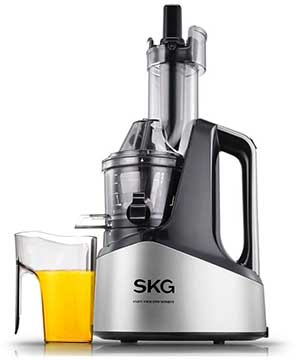 SKG Slow Masticating Juicer Extractor
Key Features:
Easy to clean and assemble
Prevents oxidation
Sleek Design
Unlike centrifugal juicers designed to rotate at an insane speed, giving room to more oxidation and shortening the shelf life of the fruits or vegetable – tomatoes, in this case, masticating juicers are built to do the opposite.
If you would like to preserve the juice extracted from your tomatoes, the SKG juicer is your best bet. It rotates at 50 rounds per minute, a slow speed when compared to other juicers. As a result, there is hardly rise in the temperature of the motor – this means o heat is produced to ruin the antioxidants.
The valve at the nozzle is a good idea as you can close it before you start juicing. This prevents the juice from coming out, and it also prevents oxygen from filtering into the chamber, preserving the nutrients to the optimal level.
It's also got a 3-inch chute, so you won't have to cut your tomatoes before you put them in and rest assured that the machine won't clog. Therefore, you spend lesser time. Let's face it; nobody likes to spend any time more than necessary on juicing.
Weighing 16 pounds, the juicer is not exactly light, but that is to serve some great purposes. The machine is made with stainless steel parts for durability. It also features a strong handle which facilitates easy movement.
Overall, the SKG is fitted with all the features and functions you need to get the maximum juice from your tomatoes.
Frequently Asked Questions
Which is the best juicer?
There is no single answer to this. Every juicer has its own peculiarities and strengths. Besides, your choice of a tomato juicer is dependent on different factors. However, there is something for everybody, and we have tailored only the best in this review. You can be certain that the juicers in this review will effectively serve their purpose.
Is it better to use the juice immediately?
Yes, it is to ensure that you get most nutrients out of the juice. However, if you would want to save the juice, I would recommend that you use it within 24 hours.
What is the best time to use tomato juice?
Well, you can use them any time, but studies have shown that the nutrients from the juice get absorbed easily in the morning. Do not get me wrong; you can use your tomato juice at any hour, but it is just best to do that in the morning.
Is cleaning the juicers a chore?
Juicers are built differently, so some of them are much easier to clean than the others. However, it is recommended to clean them immediately after use for the best cleaning experience.
Other Juicers I Reviewed
As I promised, the following is the review of the 5 tomato juicers that didn't make my top 5 picks based on my factors, but work wonderfully as well.
Tribest GSE-5050 Greenstar Elite Cold Press Juicer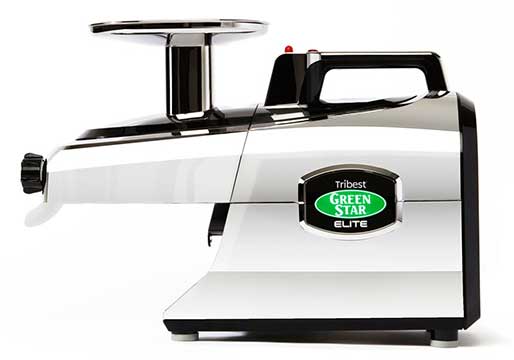 Key Features:
Slow 110 RPM to prevent oxidation
Simple design and easy to use
Different pressure options
12-year warranty
This is one powerful, fancy, and efficient juicer. Its price may be a downside, but if you get past that, it is something to own. It comes with a strong twin gears system in addition to a three-stage juicing system. With these mechanisms, it extracts the last drop of juice from the tomato and leaves a dry pulp.
It is a bit bulky and so may take more space that you would prefer, but that is only because of the heavy-duty gears it comes with. The good thing about this is that it stays firm on the surface when it is being operated – no chance that it will move or splash juice all over the place, making a mess of things.
It takes time to clean, though, because the gears can give in to rust if they are not properly washed and clean. You wouldn't want that, especially when you think about its price, would you? The point is that it takes a bit of commitment to use and care for.
In general, it is strong and gives you a lot of juicing options. If you are going to be juicing tomatoes a lot, you should consider going for this machine. Remember, though; it takes a bit of commitment to use.
Breville 800JEXL Juice Fountain Elite 1000-Watt Juice Extractor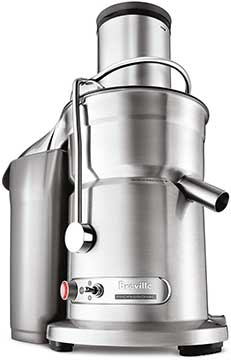 Key Features:
2-speed control
Locking Arm feature won't let it start unless the lid is in place
Short preparation time
You could say this Breville juicer is a heavy-duty machine. It is perfect for both hard and soft fruits and vegetables, and its two-speed options are designed to cater for this. The low speed operates at 6,500 RPM, which will be perfect for your tomatoes.
With its 3-inch chute, you will not need to cut up the fruits before you start juicing. This is another great feature, especially if you do not have much time or if you have a large number of tomatoes to juice.
If you think that this juicer is not strong or sturdy, I'm afraid to say, but you are wrong. It's got blades made from titanium, and they are designed to remain sharp as ever for years.
Kuvings B6000S Juicer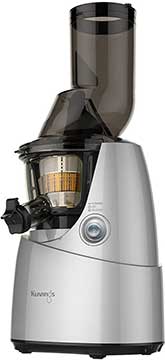 Key Features:
Relatively easy to clean
Quiet operation
Versatile
The motor comes with a 10-year warranty
This masticating juicer from Kuvings extracts a great deal of juice from your fruit and it doesn't compromise on the quantity.
Also, it sports a sleek designed, if you care about aesthetics. Weighing about 14 pounds, you will not encounter difficulties in moving around.
Like some of the products listed in this article, it also has a 3-inch chute to accommodate whole fruits without having to cut them into smaller bits first.
Hamilton Beach Juicer Machine
Key Features:
Powerful motor
Easy to assemble
3-year warranty
If you are just getting into the world of juicing, you may want this juicer. First off, it is not on the pricey side as some juicers, but its performance is breathtaking. Its 800-watt motor makes sure you get your fresh juice and dry pulp in seconds. Not to worry, the juicer is not difficult to assemble, and its compact design ensures that it doesn't take much space.
Breville JE98XL Juice Fountain Extractor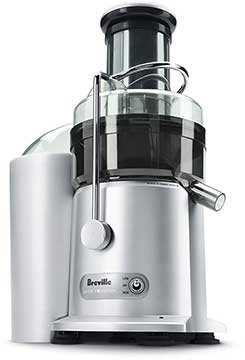 Key Features:
BPA Free Plastic
2-speed options
Powerful motor
Ah! Here comes another entry from Breville. I hope this doesn't sound sentimental, but Breville really does make good juicers. This model fits the requirements too; its 850-watt motor will make certain that your tomatoes yield maximum yield. It operates at a slow speed of 6500 RPM and high speed of 12,000 RPM. However, if you are juicing only tomatoes, you may not need the high-speed function.
It's fitted with a polymer body meant to prevent vibration when in use and generally makes it sturdy. And oh yes; it is also very easy to clean. If you are going to use a dishwasher though; make sure you remove the filter basket, food pusher, and the NutriDisc.
Conclusion:
Heh, this has been a fun thing to do. But this is all about you, and I hope you are now better informed about tomato juicers. The right one will help you get more nutrients and flavor out of your tomato. And yes, all 10 in this review are right for you, so you should choose the one you think is perfect for your needs.
Whether you want to drink tomato juice or make tomato sauce there is something right for you. And if you have a lot of tomatoes to get through then an electric juicer will be a wise investment. If you occasionally find yourself drinking tomato juice then you can probably get away with a manual juicer.
Happy (tomato) Juicing!