So you're interested in buying a Stainless Steel Juicer?
A fine choice!
Very Hygienic, no plastic involved, sleek looking and usually powerful juicers too! Everything you could want whether or not you're an experienced juice nut or trying it out for the first time.
In this article I've got a couple of the different things you need to know about buying a metal juicer then a review of my favorites. Just click the Price & Reviews button to head to Amazon to order yours!
So let's get stuck in!
4 Best Stainless Steel Juicers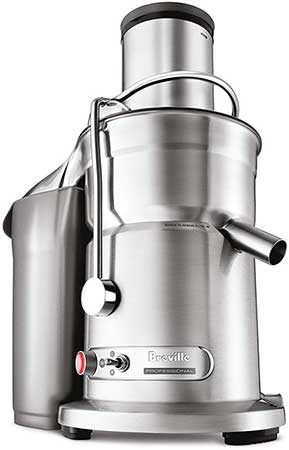 1. Top Choice – Breville Juice Fountain Elite
Brand: Breville
Type: Centrifugal
Titanium Cutting Disk
All Metal Body
3" feeding Chute
Stainless steel not good enough for you? How about titanium? The Juice Fountain Elite has a titanium cutting disk for even stronger cutting power, the body itself is die-cast metal rather than stainless steel but I still like the all-metal design, and the outside body doesn't come into contact with the juice so it's no big loss.
The whole thing is easy to use, the chute is nice and big and it can handle chunky fruits and vegetables which is excellent, plus all the parts can be put in the dishwasher on the top shelf so clean up is that little bit less hassle.
It's also got two speeds which gives you that little bit more control, you can juice softer fruits on the lower setting (normally a good idea to do that first) then hit any harder vegetables you're juicing with the higher speed.
Overall a very good choice of stainless steel juicer and I think my favorite on the list.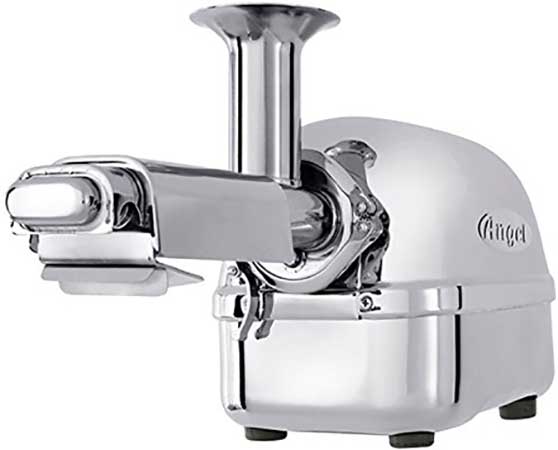 2. High End Steel Juicer – Super Angel Pro Stainless Steel Juicer
Brand: Super Angel
Type: Masticating
All Stainless Steel
Twin Gear For Maximum Yield
Includes Glass Pyrex Cup
So I mentioned the great juicers that are over $1000? Well, this is one of them… And boy does it do a good job!
Although it doesn't come cheap you get a very powerful twin gear juicer that can turn anything into delicious juice (though I'd stick with fruits and vegetables). It's got a cooling feature in the motor so that it doesn't overheat, reverse functions so it doesn't jam and it is one of the only fully stainless steel juicers, absolutely no plastic involved whatsoever.
Not for everyone but this is the real deal when it comes to stainless steel juicers so if you're serious about juicing then this is the one for you.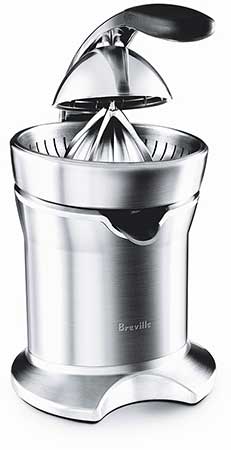 3. Best Stainless Steel Citrus Press – Breville Citrus Press Pro
Brand: Breville
Type: Citrus Press
All Stainless Steel
Push Arm Activated
Dishwasher Safe Parts
This powerful citrus press makes short work of any orange, lemon, lime or any other citrus fruit you might want to put in there. A really great yield and you look inside the fruit after and know it's done a good job.
Just to be clear if you're wanting to juice vegetables or other fruits then you'll need one of the other juicers on this list. This is purely for citrus fruit.
It works by sitting the fruit on the augur then when you press down the arm to clamp it in place it turns on and the auger starts to spin, so make sure your glass is already in place!
This is fully stainless steel except for the handle you press down on which is plastic, but again this comes into no contact with the juice itself and is just there to make it more comfortable to use.
Easily the best stainless steel citrus press available.
4. Dual purpose – STX Meat Grinder And Juicer
Brand: STX
Type: Masticating
Aluminium Auger
Also Grinds Meat
Pulp Control