Do you know what's better than starting the day with a glass of orange juice?
Starting the day with a glass of freshly squeezed orange juice of course!
But knowing what orange juicer to buy can be hard, there are a load of different types available and it can get confusing fast.
Which is where I come in.
I've reviewed all the best orange juicers available and linked them through to Amazon where you can order yours today.
Check out the table below for the quick rundown.
The Top 5 Best Orange Juicers Reviewed
1. Best Orange Juicer – Breville 800CPXL Stainless Steel Motorized Orange Juicer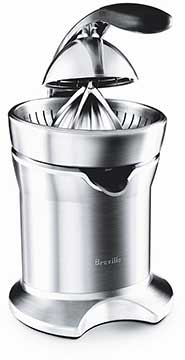 All Metal Body
Quick and Very Efficient
Dishwasher Safe Parts
There isn't a better orange juicer than the Breville 800CPXL, its design is built to last and effortless to use while giving you the absolute most juice possible out of your oranges.
The stainless steel metal body makes it stylish to look at but also resistant to the citric acid meaning it never wears out and never starts to corrode compared to plastic which can start to perish with excessive use.
The handle is comfortable to hold and you simply place the half orange on the juicing cone and hold the handle down, it's also got the safety feature built-in of not being able to turn on without pushing the handle down so it's completely safe to use with kids around.
Finally, you have the drip stop spout which stops the last few drops of orange juice spilling onto the counter after you've taken the glass away so you've not got a sticky counter to clean up and all the used parts are dishwasher safe so you're saving time on the cleaning up.
You won't get a bigger amount of juice out of any juicing machine except this one. It's an electric orange juicer that is the best at which it does.
Easily The best choice of Orange Juicer and it's my top choice of citrus juicer.
2. Best Budget Pick – Eurolux Electric Orange Squeezer
The Breville further up is obviously the best electric juicer for oranges but I've got a couple of other cool ones too, they're not as good but they are cheaper.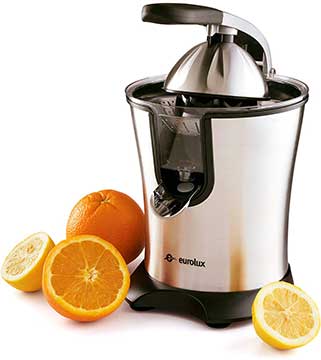 Eurolux Electric Orange Squeezer
Easy To Use
Suction Cup Feet To Stop It Slipping
Locking Spout
This is similar to the Breville in design and use with the exception that there's a lot more plastic involved. The price is lower and so is the quality, but, if you're not overusing it and want to enjoy occasional fresh orange juice this is perfect.
The juicing process is the same as the Breville with half the orange going on to the juicing cone at a time with a nice easy to use on or off that works by pressing down the handle. Plus, it's got suction cup feet which stops it sliding about when you're using it and a locking spout which opens and closes so you can hold the juice in the machine until it's ready to be poured making it a little more efficient.
BPA free and a cost-effective way to start having fresh juice in the morning. If you want to do a juice fast with large quantities this isn't the one for you but if you want to make yourself a glass of juice to have with your breakfast then look no further. AND it's got removable parts for easy cleaning so you can save time and enjoy your juice.
It's one size fits all for citrus fruits whether you want to juice lemons or grapefruit so not a bad little juicer at all.
3. Best Manual Orange Juicer – Chef'n Citrus Orange Squeezer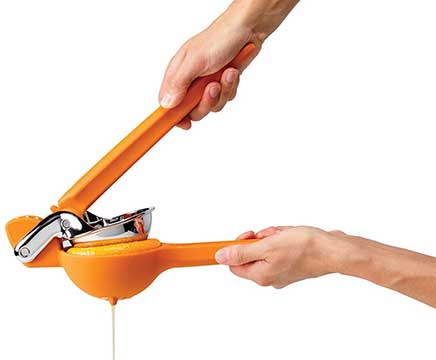 Simple To Use
Designed For Maximum Juice Extraction
Dishwasher Safe
This handheld orange juicer is very clever because it's got a dual-gear lever that works to squeeze harder with the same effort giving you more juice out the orange.
It's very simple to use and sits happily on the top shelf of the dishwasher, it's only drawback is on volume, it's ok using it juice a few oranges but if you're preparing large quantities you're going to get tired hands very easily.
The good news is you can save some time and put it in the dishwasher and it'll fit happily in a drawer in your kitchen, plus it's high quality so you're going to have it for years to come. And it comes in three different colors, a lemon, lime or orange color, nice touch Chef'n.
Perfect for cooking or making cocktails with, I've got more manual juicers reviewed here.
4. Best Juicing Machine For Oranges – Omega Nutrition Center Versatile Juicer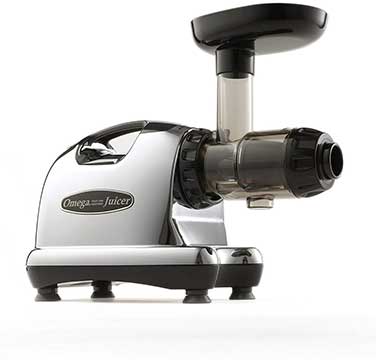 Most Versatile Orange Juicer
Can Juice Whole Oranges
Efficient At Juicing
The Omega Nutrition centre masticating juicing machine is one of my favorite juicers and I wanted to include it because not only can it juice whole oranges (peeled ones!) it can juice every other fruit and vegetable you can think of.
I went for it over a centrifugal juicer because the amount of juice you get is higher and the juice it makes lasts longer so you can batch make your juice. The amount of pulp is high because the skin gets turned to pulp too but that gets caught in a jug and you can just put it in the compost.
So you can enjoy delicious orange juice but also mix it up with some carrots as well, or apple juice or even a nice green juice if you're feeling adventurous. So while the Breville above is best for oranges and citrus fruit this is the best juicer that can handle any fruit and veg.
I even know of some juicers who splash out for both, they've got one of these for their main green juices and multi veg juices and then a Breville electric orange juicer to batch make orange juice! Perhaps a bit much for most people but if you want to start making orange juice and are feeling adventurous then this is the way to go.
Detachable parts to speed up cleaning and it fits nicely on your countertop so you can juice any time you want.
5. Best Commerical Manual Orange Juicer – Gourmia Large Orange Press
Manual Juicers are easier to clean and are very satisfying to use, you don't get as much juice per orange but they're quick and easy to use.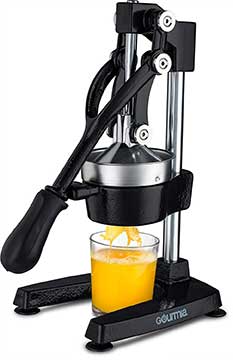 Gourmia Large Orange Press
Durable Construction
Efficient Manual Juicing
Commercial Grade Metal Construction
This is very heavy duty and it does a damn fine job at juicing an orange, you just cut the orange in half, place it on the cone and pull the handle down. Easy.
It's got suction feet to keep it in place which means it won't fall over while you're pressing down and the lever is in such a way that you need a firm press but it puts out a lot more force than you could manage by hand giving you more juice than other manual presses.
It's quite big so it's not the easiest to store but it's very sleek looking and doesn't look out of place on a kitchen counter. If you're looking for a commercial orange juicer for a cafe to serve orange juicer this won't work, but you need it in a bar and don't want to make a lot of noise a hand press orange juicer is perfect.
The most efficient manual orange juicer you can buy.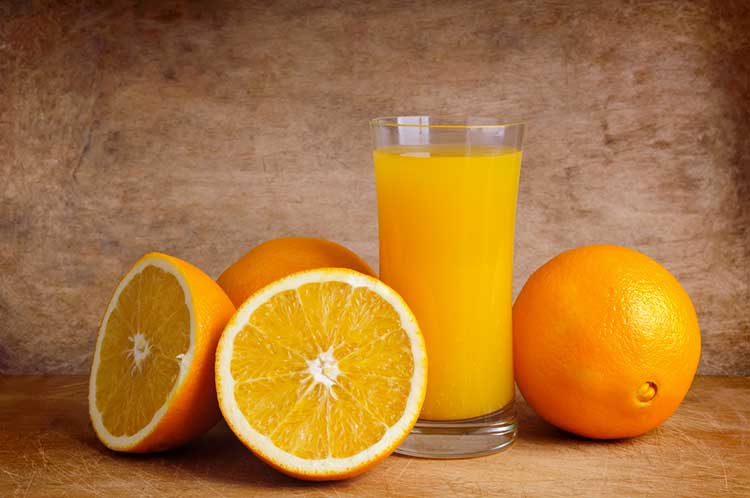 Types of Orange Juicer Explained
There are four main types of orange juicer, 2 are manual, the press and what I call the twist juicer, then you've got the electric orange press and your regular ol' juicing machine that can juice oranges and any other fruit and veg you might want.
Want to know which one is gonna be best for you? Read on.
Manual Twist Orange Juicer
These are the classic orange juicer, or a reamer as it's sometimes called, my mom had one of these in the cupboard for years and years. You put the half-cut orange down on the spike and squeeze it by hand until all the juice comes out. Although whenever I used it I always felt like there was a ton of juice left in it, but that was probably the fault of my tiny kid hands!
Super simple to use, very cheap, but not very efficient, you can never get all the juice out in the way you can with an electric juicer or even a manual press. But, they are great to use with kids because your kids can use them in complete safety until they get orange juice in their eye of course!
Plus the strainer never seemed to work properly so you always ended up with pulp and seeds floating in it. Alas, a different time with different technology.
Manual Press Orange Juicer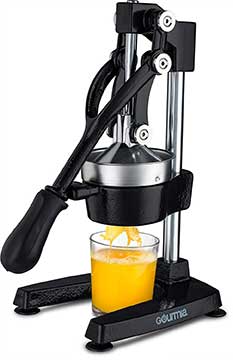 These are the big towering things with a large handle to crush down the orange on to a spike squeezing all the juice out. If you're looking to manually juice a lot of oranges these are great because they're fast, efficient and do a great job at getting all the juice out plus they're super easy to clean up after.
Good for bars where you might need the juice of an orange for a cocktail, whether that's for a home bar or commercial bar is your choice.
Electric Twist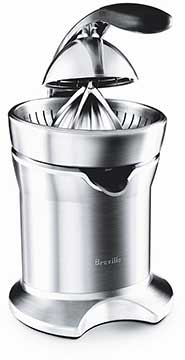 Not any sort of dance move but similar to the manual one only the spike is on a motor and it spins, so you put the upturned orange on the spike, the good ones you then pull down a handle which then presses the orange and turns on the motor quickly getting every last drop of juice out.
If you're just looking to make orange juice then this is the way to go, really efficient getting all the possible juice out quickly and with minimum effort on your part.
Electric Juicing Machine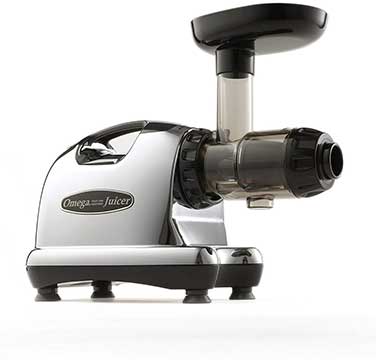 These are great because of their versatility, you can make orange juice in them sure but you can also make every other type of juice. Vegetable juices, green juices, fruit juices, all made simply and easily in your home.
An excellent choice if you like value for money because you can get so many different uses out of it. Plus these juice extractors help your orange juice last the longest.
F.A.Q
Can you put oranges in a juicer?
Why yes you can! I'm sure you've gathered that by now but people are asking about inside a juicing machine rather than an electric citrus juicer. And you can put oranges in a juicing machine. You will likely have to cut them up first so as not to clog it but you can juice them no problem at all. In fact, it's one of my favourite juices to make, a carrot, orange, apple, and ginger juice!
Is a citrus juicer worth it?
Well, it depends, If you juice a lot of citrus fruits then you bet it is! If you love fresh orange juice in the morning then getting an orange juicer is going to be the best thing you can do. It's easier to use than a juicing machine, takes up less space and it's easier to clean. Of course, that's because they only juice citrus fruits and not just any produce you have to hand.
For one thing, if you have orange trees in your garden then you're going to want one so you can juice it all up, freeze it if needs be and generally store it for later.
Can orange peel be juiced?
Sure can! When it's part of the orange anyway, I wouldn't juice just orange peel because there's not a lot of juice in it but you can put peel through an orange juicing machine. Some people find it makes the juice taste bitter and others report getting some bloating after juicing orange peel so listen to your body. If it doesn't agree with you, then you can stop, easy! I for one, however, do put oranges with the skin on through the juicer.
Is drinking orange juice good for you?
Sure is, especially when you make it yourself, store-bought orange juice might not be as healthy with less nutrition and vitamins but orange juice you squeeze yourself is good for your immune system, it's an anti-inflammatory, it's good for your eyes and more!
But! It is higher in sugar, so don't overdo it, you don't want to drink a gallon of it every day, as with everything it should all be had in moderation.
How much juice is in an orange anyway?
It depends on the size of the orange and the variety of orange but generally, a good size orange will give you about 1/3 of a cup of juice or 35ml. This is with a good orange juicer, with a bad inefficient one it'll be less but you'll be looking at 3-4 oranges to get a glass of juice.
Other Orange Juicers I Reviewed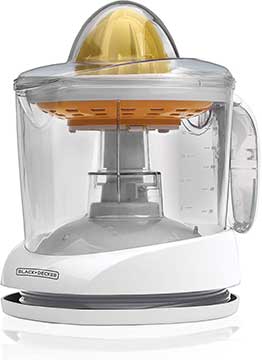 Black+Decker Citrus Juicer
Juices Straight into a Jug
Adjustable Pulp Control
Convenient To Store
Small, cheap, and cheerful, this is great because it's so compact, you juice straight into the container jug which you can then pour out for everyone who wants some. And you can adjust how much pulp gets let through while you juice. (as an aside you should have a read of my article on whether it's healthier to have pulp in your orange juice or not)
The parts are dishwasher safe which is good because it can be tricky to clean by hand leaving you with a strange smell about your juicer, definitely best used to juice lots of oranges.
Not as efficient as the other juicers so far because you have to press down by hand but a lot cheaper and generally pretty nifty. So if you have an orange tree in your garden and have a lot to go through so you don't mind the bit of waste this will see you through nicely.
Glass Orange Juicer
Classic Design
Fits in a Drawer
Made From Heavyweight Glass
It's probably one of the least effective orange juicers around but my mom had one growing up and it's technically where my juicing journey began so I wanted to include it. Purely for nostalgia's sake.
It works well enough and is fun with kids because it's heavy-duty and doesn't break easily, no moving parts to trap your hands in and does get the juice out the orange! Not a high recommendation but I wanted to include it.
SUNCOO Commercial Electric Orange juicer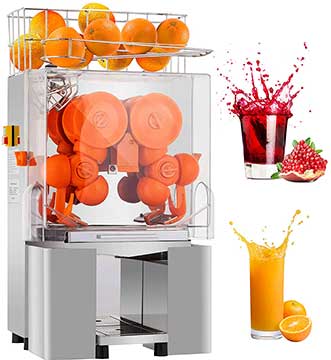 Juices 20-30 oranges per minute
Squeezes up to 70% of the juice
Powerful 120-watt motor
Safety switch auto on
If you need something heavy-duty, and I mean heavy duty then this is the one for you. 20-30 oranges per minute is insane, this will handle any high demand commercial situation that could need it. Its powerful copper motor is durable and resistant so you can count on this to work day in and day out.
It's also got heavy-duty stainless steel bins to make waste collection easy and you can use it in pretty much any situation. But what I like most is the safety features, it will only work if the cover is fixed in place so you can't have any accidents, no fingers trapped, no stupid people sticking their hands in it, just easy to use and practical.
All in all, its size is 17.7″(L) x 13.2″(W) x 30.7″(H) and you can assemble it yourself nice and easily.
Cuisinart CCJ-500 Pulp Control Citrus Juicer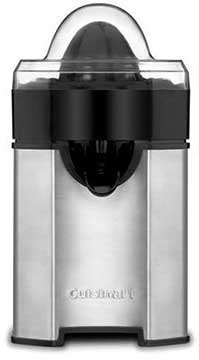 Adjustable reamer
Auto reversing for efficiency
Snap up spout to prevent dripping
This one is pretty straight forward, what I like about it is the reamer has three sizes you can adjust for if you're juicing oranges, lemons or grapefruit. This just increases how efficient it is especially if you combine it with the auto-reversing feature which means it spins backwards as well as forwards to squeeze every last drop out.
I'm also digging the snap up spout, it flicks upwards so as the last few drips inevitably come out after you've taken the glass away they get caught instead of dripping on to the counter. Plus it's an extra-long spout that reaches right into the glass for even less wasted juice and mess.
But the real gem of this juicer is the price, it's under $30! An absolute bargain for the budget-minded who wants to be able to make orange juice at home.
KitchenAid JE Citrus Juicer Attachment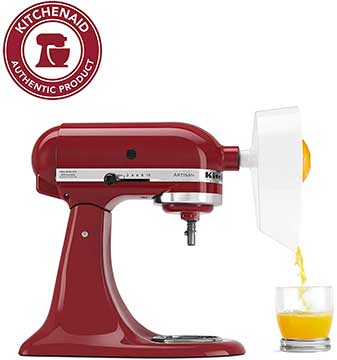 Attaches to a kitchen aid
Single piece
Catches seeds and pulp
This is the ATTACHMENT ONLY before you think you're getting a bargain on a kitchen aid, and it's why it's at the bottom of this article if you have a kitchen aid this is great. It's a single piece that washes easier than anything else and it works quite well too, the spinning reamer attaches to the auger and you press the fruit into it, the juice pours down through a little grate that catches the seed and some of the pulp that escapes.
Nice and simple, effective to use but only any use if you already have a kitchen aid so certainly not for everyone.
Conclusion
And there you have it! Everything you've ever wanted to know about buying an orange juicer, I hope you enjoyed it, I hope you found it useful and I hope you ordered on so you too can soon start enjoying your very own freshly squeezed orange juice!
If you're curious which oranges are best then check out this article, and if you want to know how much orange juice is too much then you're going to want to look at this article.