Whether you like to enjoy a glass of orange juice in the morning, you're a fiend for lemonade or you even fancy having some grapefruit juice for a change you're going to need the proper equipment.
That's where I come in…
This article covers everything you need to know about buying the best citrus juicer, whether you want a manual press or an electric motorised juicer I've got you covered.
With that said let's dive into the reviews and find out the top 5 citrus juicers available to you today.
They are all available on Amazon and you can just click the Price & reviews on Amazon button to go there and order yours today.
Top 5 Best Citrus Juicers Reviewed
And now it's time for the main event! I've got the top 5 citrus juicers, a few electric ones and a few manual ones so that everyone can get the one they need.
1. Top Choice – Breville 800CPXL Stainless Steel Citrus Press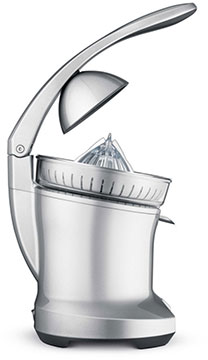 Brand: Breville
Quiet Motor
Stainless Steel
Dishwasher Safe