Whether you like to enjoy a glass of orange juice in the morning, you're a fiend for lemonade or you even fancy having some grapefruit juice for a change you're going to need the proper equipment.
That's where I come in…
This article covers everything you need to know about buying the best citrus juicer, whether you want a manual press or an electric motorised juicer I've got you covered.
With that said let's dive in and take a look at some of the things you need to consider before buying your own citrus juicer.
Motor vs Manual Citrus Press
What the difference comes down to really is how much effort you want to put it, a manual citrus juicer takes a lot more labour than putting your orange into an electric juicer holding it down and having delicious juice come out the other end.
But there are a few more subtle differences as well so let's check them out.
Motorized Citrus Juicers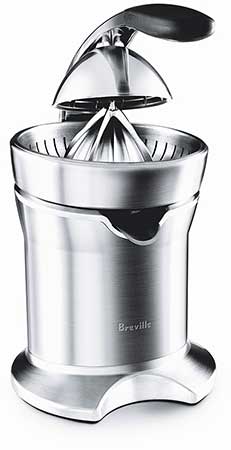 Motorised juicers basically work with a spinning juicing cone, so the citrus fruit sits on top and the juicing cone spins squeezing all the lovely juice out a spout below.
Advantages
Can Make Large Quantities
Less Effort To Use
Easy To Control How Much Pulp
Electric juicers are really great if you make a lot of fruit juice, over the top if you just need one for cooking but if you're drinking a big glass of orange juice every day then you'll be much better off with an electric juicer that can do the hard work for you.
Some of them can also control how much pulp they let through which I think is really cool, because it's all well using a manual press if you like smooth but if you like a bit of pulp you have to pick it out the orange peel and put it in yourself which just ruins the illusion for me.
Disadvantages
Yup, just one disadvantage and that is cost, electric juicers are more expensive (usually) but you get a lot more bang for your buck so in my mind they are entirely worth it.
Manual Citrus Juicers
Now manual citrus juicers come in two forms, you've got one which is the citrus press where you put, normally a lemon, into it and squeeze the handles together and the juice comes squishing out. These are ideal is cooking and if you're making cocktails and need that big squeeze of lime in your sour.
The other kind is normally for juicing oranges and the like, it's got the juicing plug which you twist the orange on to squeeze out all the juice, this is the kind that I grew up with before I even knew an electric version existed!
Advantages
Easy To Store
Easy To Use
Normally Cheaper
Just nice and simple to use, they normally fit inside a drawer so you have no hassle of doing anything with them while you're not using them.
And they're pretty cheap, shouldn't really cost you more than $20 to get one.
Disadvantages
Not Good For Large Quantities
This is the drawback, if you need to juice more than one of anything it becomes a real hassle, your forearm starts to cramp, and it just gets boring twisting on an orange for what feels like eternity.
What Fruits Can You Juice
You've got quite a lot of different citrus fruits you can juice but the main ones are oranges, lemons limes and grapefruit. So I just want to talk quickly about what's best for each one.
Oranges
Oranges need either a manual or an electric juicer, they're pretty easy in either but if you want to make a lot of orange juice then definitely go for an electric juicer.
Grapefruit
Grapefruit skin is that little bit tougher than oranges so in a manual juicer it can be really hard to juice so I'd go with an electric juicer.
Lemons And Limes
If you're cooking or just need to juice a single or half a lemon or lime then you can use a manual press, the handheld ones with the two handles are all you need. If you're making lemonade then I'd consider an electric juicer.
Best Citrus Juicers Reviewed
And now it's time for the main event! I've got the top 5 citrus juicers, a few electric ones and a few manual ones so that everyone can get the one they need.
They are all available on Amazon and you can just click the Price & reviews on Amazon button to go there and order yours today.
Best Electric Citrus Juicers
Let's start with the electric juicers.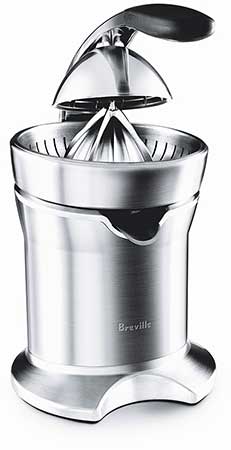 Serious Orange Juicer
Brand: Breville
Quiet Motor
Stainless Steel
Dishwasher Safe
This is the absolute creme de la creme of citrus juicers, it's expensive I'm not denying that but it's also the best.
It's fully metal so no plastic comes in contact with your juice from orange to glass, the motor runs quietly so you don't have to deafen the neighbours with an incredibly noisy juicing machine and the yield of it is excellent.
The only problem is the size of the spout is only big enough for smaller glasses to fit underneath, so if you like a really big glass of orange juice in the morning then you'll need to press it into a smaller glass and use that to fill a bigger glass, not really a big deal though, and it's only if you want a huge glass of it in the morning, for most people it's fine.
The spout itself is designed as a drip stop so it doesn't just keep on dripping everywhere after you've finished, a nice touch because you don't want to have to wipe down your conters after every use.
Then all the removable parts are dishwasher safe (please don't put the plug in the dishwasher…) so clean up is nice and easy. Meanwhile, the stainless steel material is incredibly robust so it will last happily for a long time to come.
I like that there is no plastic touching the glass and that you can just keep on using it fruit after fruit, a truly superb citrus press.
Budget Citrus Juicer
Brand: Cuisinart
Adjustable Pulp Settings
BPA Free
Handles Any Fruit
This is a surprisingly effective electric citrus juicer considering the price, it's got adjustable pulp settings so you can have low medium or high pulp, unfortunately, there isn't a selection for no pulp, you always get a little bit left in the glass. And the way you adjust how much pulp you want seems to just leave an extra space to get clogged.
It's also got a cool feature where you press down on the orange, lemon or whatever you're juicing and it juices down normally, then you put the lid down and press down on it when it's empty and it goes again and squeezes every last drop out of the pulp.
It's a plastic juicer on top, I prefer metal but again for the price you can't complain. What is a clever addition is you can push the spout so it snaps up (not breaks snaps, snaps shut snaps) to stop drips going on the counter when you're done. It's not as elegant a solution as the Breville above has but hey, it works.
Final point is that it won't handle large quantities of fruit, it's fine for a glass of orange juice but if you have a citrus tree full of fruit you'll find yourself rinsing the thing out as much as you do actually juicing the fruit.
So all in all it's a budget model, you get what you pay for.
Lemonade Stand Juicer
Brand: Proctor Silex
Juices Into 34 oz Jug
$1 Donation Per Sale
Dishwasher Safe
This is a really nifty juicer. It's electric, thought it might not look it at first glance, and able to juice comfortably, really simple to use juicing straight into the jug below it so you can juice at the table ( or your lemonade stand)
Another definite plus is that for every one sold they donate $1 to Alex's Lemonade Stand foundation fighting against child cancer. And it comes with a recipe book which tells you how to start a lemonade stand which would be very cool for any kids who were feeling up to it. Not sure how the PC police will feel about it but it's worth a shot.
It's got two different sizes of juice plug (the part you physically juice on) a bigger size for bigger fruits like oranges and grapefruits and then a smaller size for lemons and limes. I like the little bit of versatility this offers.
I also love that they tested this on barrels full of oranges and juiced 45 gallons of orange juice before they were happy that it was robust enough, that's more than 850 glasses of orange juice.
It's got an adjustable pulp setting so you can choose how much pulp you want to get through, it can't quite manage no pulp so you always get a little bit, but for the price point this is to be expected.
Overall a really nice small juicer, can handle larger quantities and each purchase gives a little back which is nice.
Best Manual Citrus Presses
And now a couple of my favourite manual citrus presses and juicers. I've got a few different types, one for lemons and limes, an easy one for oranges and bigger fruit then a fancy one for orange juice.
Lemon & Lime Squeezer
Brand: Zulay Kitchen
Simple, Easy and Comfortable To Use
Made Of Metal
Dishwasher Safe
This is just super straight forward does what it says on the tin. It's a lemon and lime squeezer and, you guessed it, it's great at juicing lemons and limes!
But I do like that this one is made of metal, it's got a coating on top to make it yellow but that's non-toxic and certified lead-free so I'm happy enough with that. The handles are nicely designed so that they sit really comfortably in the hand, there isn't any padding but they're nicely curved with no sharp edges so you can juice with ease.
The great thing about a lemon juicer like this is that it just sits inside a drawer, you don't have to try and clean up counter space or anything like you just fling it in a drawer and it's out of mind until you need it again (though make sure you clean it before that…)
It should fit any type of lime or lemon, but some people seem to always have giant lemons that don't fit, I'm not sure where they find these giant lemons but if you're a giant lemon lover then you're going to want the juicer below rather than this one (or an electric juicer of course).
Overall, it should do everything you need it too!
Heavy Duty Citrus Press
Brand: Gourmia
Commercial Grade
27.5" tall
Simple To Use
Now this won't be for everyone, but if you looked at that and thought wow you won't be disappointed, it's a commercial grade manual juice press and will make short work of turning any citrus fruit into juice.
It sits quite tall at 27.5" but if you've got space in your kitchen to tuck it against a wall it is surprisingly inconspicuous, it's fairly minimalist and quite stylish with the metal and silver look. And it's not so big that it won't fit in a cupboard.
The feet it sits on are suction cups so you won't just pull the thing over on top of you when you use it, and it won't slide account either. Plus it is just super satisfying to use compared to the smaller manual press above.
This is the ideal juicer if you want a manual juicer but also drink a large amount of orange juice, because it's easy enough to use for large quantities.
A final note to say it's not all metal, around where the fruit gets juiced is plastic with a metal look, a bit sneaky but it's still a great juicer.