Wheatgrass is one of those super ingredients that seem to have way too many health benefits for how small and unassuming it is.
But getting it into your diet can be hard, and some juicers aren't up to juicing it properly so you need the right equipment…
That's where this article comes in.
I've got everything you could possibly need to know about juicing wheatgrass and have reviewed my favourite juicers so you can start juicing wheatgrass right.
So let's get stuck in!
Wheatgrass vs Wheat Grass
I thought I'd start off with the big question, the one we all want an answer to, is it spelt wheatgrass or wheat grass?
Wait…
What do you mean I'm the only one who cares?!
Ok, ok, well for the record I'm sticking with wheatgrass through this article…
Health Benefits of Wheatgrass
Wheatgrass is full of loads of different vitamins and minerals so there are loads of different health benefits you can get, but I'm just going to share a few of my favourites here.
1. Full Of antioxidants
Antioxidants are really powerful within the body, they help fight against free radicals which can do all sorts of nasty things inside the body. Not to mention they are a leading cause of ageing of skin causing wrinkles to appear across the face.
And free radicals are ever present coming from things like car pollution they seem to be everywhere! So getting a line of defence inside you makes good sense.
2. Weight Loss
Wheatgrass contains thylakoids which have been shown to increase the full feeling you get after eating causing you to eat less.
It's also been shown to help with the release of a hormone that stops the feeling of hunger coming on again so quickly after eating.
3. Purifies The Liver
Wheatgrass is an excellent way to detoxify the body, it helps get rid of bad toxins and especially helps purify the liver and get it as healthy as it can be again.
Wheatgrass Shot Vs Wheat Grass As An Ingredient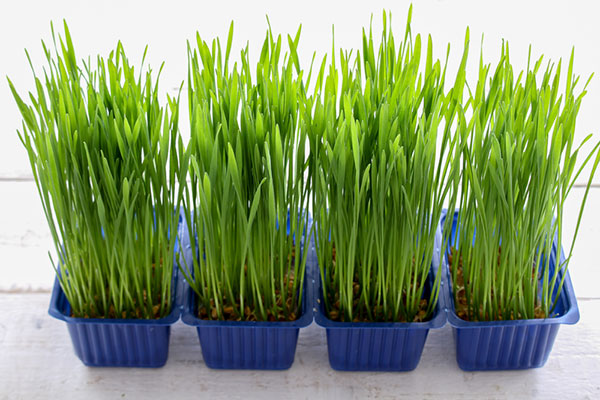 Which is better?
Is it better to have wheatgrass in a shot form and gulp it down in one or are you ok mixing it with other vegetables to make a green juice?
Thankfully either are good. Whether you have it in a shot form or as part of a bigger juice as long as you're having the same amount of wheatgrass you'll get the same amount of goodness.
Wheatgrass Tablets And Powders Vs Wheatgrass Juice
Now this does make a difference, because once it's in its powdered form then you've pretty much lost all of the good enzymes that come from a raw drink because they die when it gets dehydrated.
So you're always better going with the juice form, you'll still get some of the benefits from tablets but compared to having the juice it's no comparison, the juice is way better for you.
Manual vs Electric Wheatgrass Juicers
Which do you want? And who needs what?
Manual Wheatgrass Juicers are good if you're looking to have wheatgrass shots, they're nice because no heat gets produced from any mechanisms and it's very satisfying to crank out your own juice. If you want to start having wheatgrass shots then this is the way to go for you.
Electric juicers are better if you want to get more diversity out of your machine, because you'll be able to juice lots of different fruits and vegetables and have wheatgrass as an ingredient. Electric juciers are my prefered kind but I have reviewed a couple of manual ones as well.
Masticating Vs Centrifugal
If you've decided an electric juicer is right for you then you next need to decide whether you want a masticating juicer or you want a centrifugal one so I'm going to quickly go over the differences.
Masticating Juicers are my preference, they work by using big gears that grind the veg together rather than centrifugal ones which use blades. By grinding the veg the juice gets squeezed out normally leaving you with more juice and it works slower so the juice doesn't get heated up nearly as much.
Centrifugal Ones, on the other hand, tend to heat up the juice and leave a lot of wet pulp behind, and when wheatgrass is quite fine to begin with you want to really maximise the amount of juice you get out of it.
Best Wheatgrass Juicers Reviewed
Stainless Steel Slow Juicer
Brand: Omega
Type: Masticating
Powerful Motor
Slow effective juicing
Metal Juicing Auger
The Omega J8006 is the industry standard when it comes to juicers, and it's no surprise it can turn pretty much anything into delicious juice.
Including wheatgrass!
A powerful motor, highly efficient masticating gears and slow crushing speed turn wheatgrass into delicious juice in no time. And it's powerful enough to be able to juice just about anything else so no matter what you fancy you can get it all juiced and be drinking it in no time.
It's pretty easy to clean which is always a plus and it runs nice and quiet, the slow speed also means your juice lasts longer and doesn't come out all frothy.
The stainless steel makes it robust and durable so you can happily keep juicing for a long time to come. Plus it runs on rubber feet minimising noise and also makes sure it doesn't walk off the table by itself when you use it!
Everything you could need to start getting more wheatgrass into your juicing.
Budget Wheatgrass Juicer
Brand: Simple Taste
Type: Masticating
Slow Speed
Quieter Juicing
Easy To Clean
This another masticating juicer but one that is much lower in price, as a result, it's just not quite as good as the omega above.
It's yield isn't as strong and you seem to get a lot of juice in the pulp so you need to put the pulp through twice to really get all of the juice out.
But what it is, is easy to clean, easy to use and effective enough that you can still get a glass of juice out the other end. The opening for the actual juicer is quite small so you need to cut up your veggies if you're adding them in, luckily it's absolutely fine for wheatgrass since that's small anyway.
So although the quality isn't up to that of the omega it's still good value for its price point.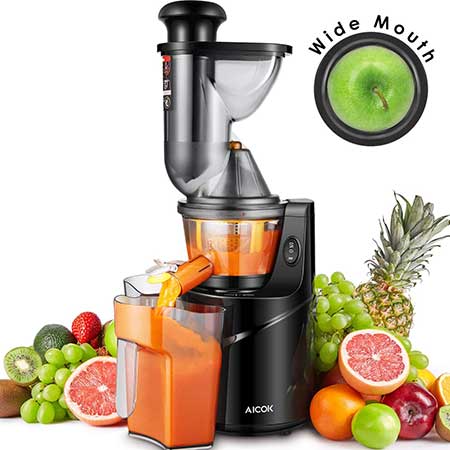 Tall And Quiet Juicer
Brand: Aicok
Type: Masticating
Upright Design
Wide Mouth
BPA Free
This doesn't just have an interesting design to separate from the others, it also has a nice wide feeding tube to easily fit everything you need into it without having to fiddle around cutting up veggies beforehand.
It's still not as good as the omega but at the same time, it isn't nearly as expensive.
It's pretty easy to clean because you have a cap you can put over the tubes where the juice and the pulp come out and then you can fill it with water and clean it that way. It's not as thorough as taking it apart to clean it but it's not a bad system either.
All in all a good budget-friendly choice.
Stainless Steel Manual Juicer
Brand: Hurricane
TypeManual
Very Durable
Easy To Assemble and Clean
Makes 1 oz of Juice Per Minute
A really incredible handheld juicer that can make a wheatgrass shot in no time.
Piece of advice, cut your wheatgrass into 1-inch strips first, it'll make the process that little bit faster and easier.
Also make sure you have at least 3 inches of counter lip to attach this to, otherwise, it won't screw on properly.
And if you can manage those two requirements then you won't be disappointed! You will have a manual juicer that can juice wheatgrass, ginger and even veg if you're willing to wait while it gets through it. A good yield of juice and it's super easy to put together and take apart to clean.
Everything you could want in a manual wheatgrass juicer.
Budget Manual Wheatgrass Juicer
Brand: Healthy Juicer
Type: Manual
Juices Leafy Greens With Ease
Easy To Clean
Keeps Juice Cool
Another manual wheatgrass juicer, again a cheaper alternative that isn't quite as good.
It's made of plastic so the whole thing feels a little flimsy, but the plastic is BPA free so the whole thing is still perfectly safe to use.
I do like the clear plastic body so you can see inside while your juice is being pressed, there's something very satisfying about it.
And that's pretty much everything you need to know! It can handle leafy greens with ease and even harder vegetables though you'll be there a lot longer if you want to have those regularly, best used for small shot like drinks.
Wheatgrass Juice Recipes
As a bonus here are a couple of wheatgrass recipes that can get you started. Just remember to always experiment and mix things up!
Kale And Wheatgrass Juice
Ingredients
1 oz Kale
3 oz wheatgrass
1 Teaspoon Of Spirulina Powder (optional)
Juice them up and enjoy! High in Vitamin b12 and chlorophyll plus kale is packed full of Calcium. A winner all round I'd say!
Sweet Wheatgrass
Ingredients
Big Handful Of Wheatgrass
1 Apples
1 Peeled Orange
A sweet way to get your wheatgrass, packed full of vitamin C and adds a real zing to your day.