Wheatgrass has become a bit of a superfood in recent years. Looking at it, you would never assume it has as much nutrition as it does. It's packed with health benefits!
Despite this, it's difficult to include wheatgrass in your diet from day to day. It's not an easy ingredient to use, you need to make sure you have the right equipment.
That's where I come in!
In this article, I've gathered up all the information you could ever need about wheatgrass juicing. I've also brought together all the best wheatgrass juicer, so that you can find the perfect fit for you.
Just click the names in the table or the Price & Reviews button and you'll be taken to Amazon where you can order yours.
5 Best Wheatgrass Juicer Reviews
1. Top Choice – Omega J8006 Stainless Steel Slow Juicer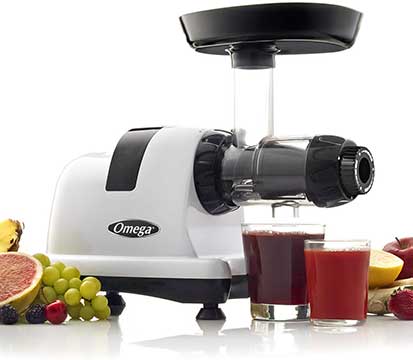 Brand: Omega
Type: Masticating
Powerful Motor
Slow effective juicing
15-year Warranty
The Omega J8006 Nutrition Center is the industry standard when it comes to juicers. It's no surprise that it can juice just about anything – including wheatgrass!
It has a heavy-duty, powerful motor and its highly efficient juicing process will ensure you maximise the amount of juice you get from your tasty fruits and veggies. You can also use it to make other recipes beside juices. You can make nut butter, baby food and even sorbet.
It's easy to use, easy to clean up afterwards and runs quietly, so it isn't going to disturb everyone first thing in the morning!
This juicer has everything you could ever want to start juicing, especially if you're keen on including wheatgrass in your tasty juices. More juicers for beginners.
2. Best Budget Wheatgrass Juicer – Housnat Slow masticating Juicer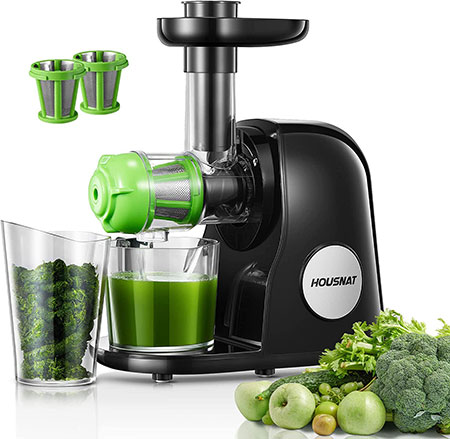 Brand: Housnat
Type: Masticating
Slow Speed
Quieter Juicing
Easy Clean-Up
This is a masticating juicer, just like the last one, but it comes with a much smaller price tag! It's a good juicer but it doesn't work as well as the previous omega juicer.
It doesn't produce as much juice as the Omega and the pulp tends to come out quite wet. You can get around this by putting the pulp through your juicer twice, which will make dry pulp.
The feed chute is a little narrow but you can get around this easily by just chopping your fruits and veggies nice and small. This isn't an issue when it comes to wheatgrass since it's quite small anyway.
This juicer isn't as high quality as the Omega, but it will still be a great first juicer if you're only just getting into juicing regularly.
3. Best Vertical Choice – Aicok Tall And Quiet Juicer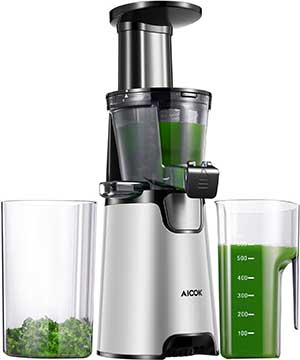 Brand: Aicok
Type: Masticating
Upright Design
Wide Mouth
BPA-Free
The sleek, compact design of this juicer means that it isn't going to take up your entire countertop, which is excellent for smaller kitchens.
It also comes with a wide feed chute, which means you don't have to prep your fruits and veggies as much beforehand – less chopping means quicker juicing!
This juicer is easy to clean up since it comes with an end cap. You put the cap over the tubes that eject juice and pulp and then fill them with water. That's it! It's not as thorough as taking it apart piece by piece, but it'll keep your juicer clean.
4. Best Manual Wheatgrass Juicer – Happybuy Wheatgrass Extractor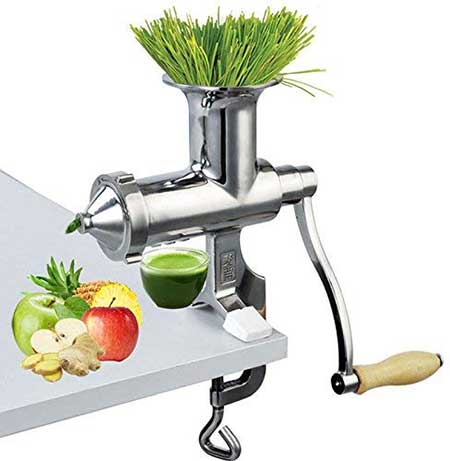 Brand: Happybuy
TypeManual
Very Durable
Easy To Assemble and Clean
Makes 1 oz of Juice Per Minute
This is a handheld manual juicer that'll make wheatgrass shots in no time.
With this one, cut up your wheatgrass into 1-inch pieces before you juice it. It'll make the whole process a lot more simple and quick.
Piece of advice, cut your wheatgrass into 1-inch strips first, it'll make the process that little bit faster and easier. You won't be stuck cranking for too long this way!
However, make sure you have at least 3 inches of countertop from the edge to attach this juicer too, otherwise, it won't stay on your countertop properly.
This is a great manual wheatgrass juicer, which will allow you to juice lots of ingredients, not just wheatgrass! It's easy to put together and easy to clean up – everything you could want to juice wheatgrass! More manual juicers here.
5. Best Budget Manual Wheatgrass Juicer – Healthy Juicer Manual Wheatgrass Extractor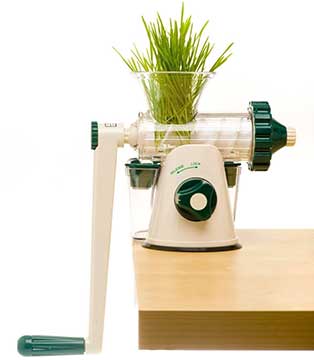 Brand: Healthy Juicer
Type: Manual
Juices Leafy Greens With Ease
Easy To Clean
Keeps Juice Cool
It's made of plastic, which makes it feel a little flimsy but it's BPA-free, so completely safe to juice with. And it's transparent, you can watch the juicing process happen as you go.
It's made of plastic so the whole thing feels a little flimsy, but the plastic is BPA free so the whole thing is still perfectly safe to use.
It has a smaller price tag but can handle just about anything you might want to juice – leafy greens or even hard veggies. It's best if you want to make shots since you won't be juicing as long.
Wheatgrass or Wheat Grass?
Firstly, let's get this out of the way. Is it spelt wheatgrass or wheatgrass?
I might be the only person who cares about this, but it's "wheatgrass."
That's what I'll be sticking with throughout this article!
3 Health Benefits of Wheatgrass
Wheatgrass is full of loads of different vitamins and minerals, which means that it brings lots of health benefits. Here are the top 3!
1. Lots of Antioxidants
Antioxidants protect our bodies from a lot of damage. They fight free radicals, which are molecules that can cause all kinds of havoc on our skin and inside our bodies. They are one of the things that cause our skin to age and can break down cells within the body too.
Free radicals are present everywhere – in plastic containers, in air pollution caused by cars. Having adequate defence, in the form of antioxidants, is a great way to take care of your body.
2. Weight Loss
Wheatgrass contains thylakoids, which have been shown to increase the full feeling you get after eating. If you have this sensation more often, then you'll eat less – which will help you lose weight!
Wheatgrass also encourages the release of the hormone that stops you from feeling hungry, which also helps with weight loss.
3. Liver Purification
Enjoying wheatgrass regularly is also a brilliant way to detox your body.
It helps you get rid of bad toxins and purifies your liver since it sometimes receives the brunt of a poor diet or heavy weekend… Some wheatgrass will get it back to normal and feeling better.
Wheatgrass Shot vs Wheatgrass As An Ingredient
Are wheatgrass shots better than mixing wheatgrass in with other ingredients, like in your favorite green juice recipe?
The good news is, both of these options are great. Regardless of how you have your wheatgrass, you'll still get the same health benefits.
Wheatgrass shots can be quite nice as a pick me up or as a daily vitamin but if you want to include wheatgrass in your juice then you can go right ahead.
Wheatgrass Tablets And Powders vs Wheatgrass Juice
There is a difference between these two, so I'll explain in a bit more detail.
Once wheatgrass is in powder or tablet form, almost all of the good enzymes have been lost. They die off when wheatgrass is dehydrated.
In this instance, going for a fresh juice with wheatgrass in it is better than opting for a wheatgrass tablet or a wheatgrass powder. Wheatgrass as a raw ingredient is much more nutritious.
Manual vs Electric Wheatgrass Juicers
We've established that wheatgrass as an ingredient is a must but how do we go about juicing it? You have a few options, which I'll talk you through below.
Manual Wheatgrass Juicers
These are great for making wheatgrass shots because using them doesn't produce any heat. It's also pretty satisfying using a hand crank juicer, which you probably won't believe until you try!
It is hard work though, there's a reason people made them electric but if you wanted a manual one more power to you, I've reviewed a couple of great ones.
Electric Wheatgrass Juicers
This is a better option for you if you want versatility. Electric juicers are ideal if you want to juice other ingredients besides wheatgrass. Fruits and veggies can both be put into an electric juicer.
This is my preferred type of juicer since I like using lots of ingredients in my juices but I've reviewed a selection of both types of juicer below.
Masticating Juicers vs Centrifugal Juicers
If you've decided that an electric juicer is the way you want to go, then there's a further choice you need to make: masticating juicer or centrifugal juicer? They work slightly differently, so I'll go through those differences below.
Masticating Juicers
In my opinion, this is the best juicer you can go for. They're sometimes known as cold press juicers or slow/low-speed juicers. They have a single auger inside them (or sometimes two, these are called twin gear juicers) that grinds up your ingredients to extract juice. Your ingredients aren't subjected to heat build-up from these juicers and they tend to produce a higher amount of juice than centrifugal juicers.
Centrifugal Juicers
These are different to slow masticating juicers. These juicers work at a high speed, with a spinning blade to chop up your ingredients and release the juice.
Centrifugal juicers aren't quite as good as masticating juicers because they heat your juice, which lowers its nutritional value. They also don't produce as much juice, since it tends to combine with the dry pulp.
Wheatgrass Juice Recipes
As a bonus, here are a couple of wheatgrass recipes to get you started. You can use these as a starting point and then get creative from there – be bold!
Kale and Wheatgrass Juice
Ingredients
1 oz kale
3 oz wheatgrass
1 teaspoon Of spirulina powder (optional)
Just put all of these ingredients into your juicer and enjoy!
This juice recipe is high in Vitamin B12 and chlorophyll. The kale in it is also packed full of calcium, which is good for your bones. A winner all round, I'd say!
Sweet Wheatgrass Juice
Ingredients
A big handful of wheatgrass
1 apple
1 peeled orange
This is a sweeter recipe than the previous one and a great way to get your daily wheatgrass. It's full of Vitamin C, which is great for your immune system. This recipe is a must!
F.A.Q On Buying a Wheatgrass Juicer
Do You need a special juicer for wheatgrass?
You don't need a special juicer for wheatgrass but you do need a specific juicer for wheatgrass. You need to get a masticating juicer, now whether that's an electric one or a manual one is up to you but don't even try with a centrifugal juicer.
Centrifugal juicers use a cutting blade rather than a squeezing motion to get the juice out and it just doesn't do anything to wheatgrass, you put the wheatgrass in and it comes out the pulp extractor without removing any juice…
Not ideal.
How much wheatgrass juice should you drink a day?
I'd stick to no more than 1 oz a day, which is about a shots worth, any more than that and you might run into side effects like nausea and general stomach discomfort. I will say however that if you're pregnant or breastfeeding then you shouldn't take any wheatgrass at all.
How long does wheatgrass last after juicing?
I'd drink it immediately after juicing, generally, the juice will last about 72 hours after it's come out of a masticating juicer but with wheatgrass, I wouldn't leave it very long at all. It's a very delicate juice and isn't made to last, so make your shot and get it down you!
Can you blend wheatgrass instead of juicing?
You can but you need to strain it after you've made it. Our stomachs aren't made to handle digesting grass since unlike cows we only have one stomach, not four! So you can blend it with equal parts water but you'll need a cheesecloth or a fine-mesh strainer to separate the grass from the juice.
Other Great Wheatgrass Juicers
Handy Pantry HJ Hurricane Stainless Steel Manual Wheatgrass Juicer
Stainless steel construction
Dishwasher safe
5-year warranty
This is the best manual wheatgrass juicer you can buy, but it's also amongst the most expensive which is why it isn't in the top 5. But if you can afford it this is the one to go for, it's as sturdy as they come being made completely of stainless steel and yet it comes apart easily to wash it.
The crank handle is tough to use but it's juicing by hand, it's always going to be tough, if you didn't want it to be tough you should use an electric juicer!
You can also use this juicer for barley grass and you've got a couple of other leafy greens you can feed through for your wellness shots. The best trick to using it is to run it forward and then to run it back to get all the juice through and to stop it clogging. The most robust manual wheatgrass juicer you can buy.
Aobosi Slow Masticating Juice Extractor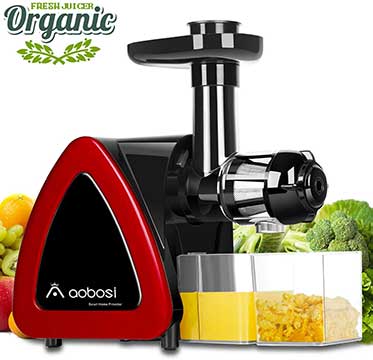 Compact size ideal for countertop
Quiet Operation
High Yield
This a cheap and cheerful masticating juicer that'd ideal for making wheatgrass shots, but not only that, it's great for making any juice you can think of, enjoy your daily green juice, some fresh orange juice in the morning, you name it.
Excellent juice extraction capabilities allowing for good yield even from wheatgrass and it's portable size allows for easy storage on your countertop which is important, once it's in the cupboard it's too easy to leave it there!
AMZCHEF Slow Masticating Juicer Extractor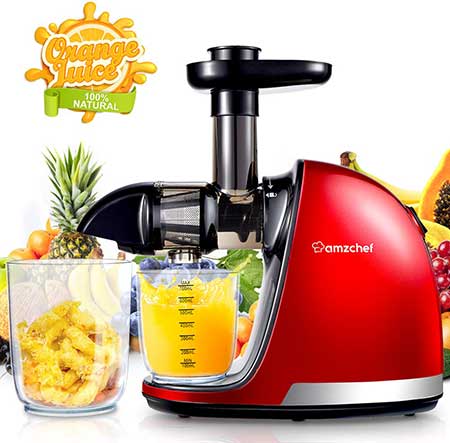 Easy to use
Easy to clean
Easy to set up
The bullet points say it all, this is the easiest juicer there is to make wheatgrass juice with. It's easy to assemble and disassemble so you can clean it up easily enough and you can put it together when you first get it quickly to start juicing straight away.
It's a cold-press juicer which is what we want for wheatgrass to get the juice out and the juice it makes will be longer-lasting and fresher because it doesn't get heated up at all during the process.
The fact it doesn't heat up also makes the juice taste better in my mind, sometimes you just don't feel like a green juice but know what's even worse? A warm green juice…
An excellent choice of wheatgrass juicer for a beginner juicer.
Tribest GSE-5000 Greenstar Elite Cold Press Complete Masticating Juicer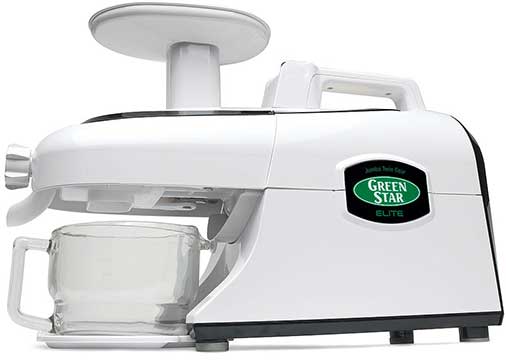 Locks in maximum nutrition
Most effective juicing
Commercial capabilities
This is the cream of the crop in terms of juicer, you really can't get a better juicer than this in your own home so if you're serious about your health then this is the way to go. No other juicer locks in as much of the nutrition of the fruits and vegetables as the Tribest.
It's so good as a home juicer it has a 15-year warranty but on top of that, it has a 3-year professional warranty! To me that's just a testament to the power of this juicer, if people are willing to use it in cafes it must be good.
The difference between this juicer and others is that t uses a twin gear system, so masticating juicers have a single spinning auger that squeezes out the juice, the Tribest essentially has two which crush the wheatgrass together to extract as much juice as possible.
It doesn't get better but it doesn't get much more expensive either so if you can afford it you won't be disappointed.
Samson Super Juicer Commercial Wheatgrass Juicing Machine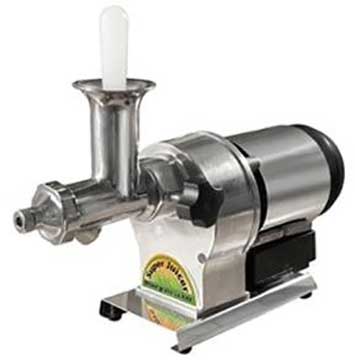 5 oz per minute of wheatgrass
Self-feeding system
Made from surgical stainless steel
Looking for a commercial wheatgrass juicer? I don't imagine you will be at home but if you need one for a business you're going to want to get a good one. And you'll be pleased to hear this is called a super juicer for a reason!
It's easily one of the best in the business able to juice 5 oz of wheatgrass a minute and made from the highest grade steel you can get for cleanliness and quality.
One of the most efficient juicer around able to create large amounts of juice in no time at all, every time you make a round of shots in minutes you'll get more pleased at your decision.
Conclusion
And there you have it! All the best wheatgrass juicers reviews, I hope you found the one you liked and have clicked through to Amazon to order it. I like the Aicok juicer, it's practical it's not too expensive and it just works well.
If you have any questions feel free to leave them in the comments below and I'll get back to you there.