Centrifugal juicers are the fastest juicer available, you can go from nought to a glass of healthy juice in no time at all.
They were the main choice of Joe Cross in Fat Sick And Nearly Dead the juicing documentary and pioneer of the modern juicing movement, so they must be pretty good right?
They absolutely are, they're cheaper than their cold press counterparts and accessible and easy to use making them a great choice for a beginner juicer.
But as you'll be well aware knowing which centrifugal juicer to get can be tricky, there are so many to choose from it can be a headache trying to decide, which is why I decided to write this guide, I've covered every other type of juicer but managed to miss the basic of centrifugal! Whoops!
But now it's rectified and I've got everything you need to know plus a review of my favourites right here, check out below for a quick rundown of the top choices of fast juicer. Just click the button and you'll be taken to amazon where you can order yours.
Top 5 Best Centrifugal Juicers
1. Top Choice – Breville 800JEXL Juice Fountain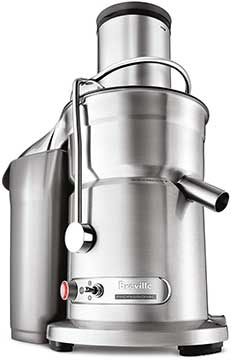 13000 RPM max speed
Die-Cast Body
Titanium Cutting Disk
This is the easily the best centrifugal juicer you can buy, it's high speed capable of very fast juicing but only transfers 1.8F of heat to the juice protecting the nutrients and enzymes inside. The body is all metal which I love and best of all the juicing pieces are dishwasher safe so you can clean up in no time.
It's got a locking arm as a safety measure keeping any little hands safe and it's long-lasting with an auto shut off that comes into effect if it begins to overheat. Which it doesn't if used properly but even if it's used improperly you can let it cool and go again in a few minutes.
You can get it with a pulp container for even easier clean up after, all the pulp will collect in a bag so you can just throw it out after instead of emptying the collector and washing it. However you can put the pulp into compost so it's by no means a necessary extra, they're available on Amazon if you are interested.
It handles leafy greens relatively well (more leafy green juicers reviewed here) if they're rolled up first you can put them through and the juice comes out nicely, plus the high-speed setting does well with harder vegetables, ginger and carrots get juiced up easily. Just if you're using hard vegetables don't juice for more than a minute without turning it off for a minute, but that's more than long enough to fill a glass with fresh juice.
Easily the best centrifugal juicer.
2. Best Fast Juicer – Breville JE98XL Juice Fountain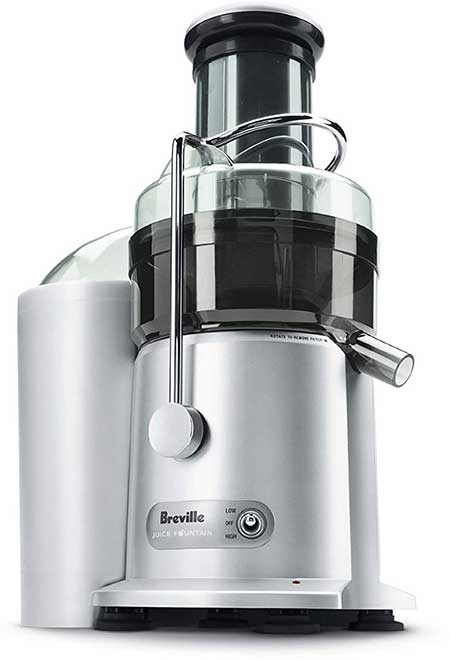 850-watt motor
Two speeds 6,500 & 12,000 RPM
Froth Separator
This is another excellent centrifugal juicer, it's the model down from the one above and so a fair bit cheaper, but it's also not quite as good. It's less powerful, doesn't have as high speed and doesn't look as sleek without the full metal body. (More on stainless steel juicers)
But it's still a nice juicer, the feed chute is nice and wide at 3 inches so you can get your ingredients in easily and the juice jug has a froth separator so your juice is much crisper. The froth isn't bad for you or anything like that but it can taste a bit bitter because it's just oxidised juice so any in my glass gets left at the bottom, but leaving it in the juicer is even better.
It also comes with a scrubbing brush to help with clean up, the major parts are dishwasher safe but it's nice to have the extra help to get the worst of it off.
It's a fast juicer and apart from the fast-spinning blade, it's also fast because of the 3-inch feeding chute which is large enough to juice whole apples in (although you should core your apples first!). This means less prep time and the ability to make an 8 oz glass of fresh juice in 5 seconds! You definitely couldn't do that in a masticating juicer.
A nice centrifugal juicer if you can't afford the one above, or take a look at Breville's other juicers.
3. Best Centrifugal Juicer For Leafy Greens – Cuisinart CJE-1000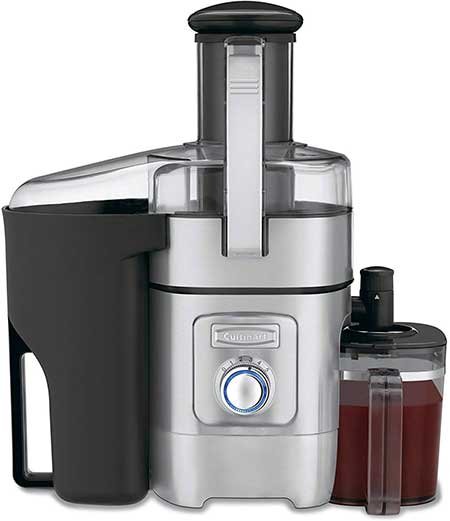 1000 Watt
5-Speeds
Stainless Steel Construction
The Cuisinart centrifugal juicer is a great choice if you're after a nice green juice with lots of leafy greens, it's got the 5-speed setting and 3 is perfect for spinach with 4 being good for kale.
Pro-tip for leafy greens is to roll them up into a tight bunch and put them in first followed by something juicier like an apple to help push all the leaves through. Or follow up with a cucumber for less sugar.
The body is die-cast stainless steel is high quality which I like and the 1000 watt motor provides plenty of power for a great juicing experience. The spout goes into a nice little 1-quart jug that catches all the juice with no mess and it's got an anti-drip system so it doesn't make a mess of the counter when you move the jug away.
This also has the anti-foam basket which I like and it's designed to run more quietly so you won't deafen everyone around when you decide to make some juice. You'll also like the 1-litre juice jug container, it's annoying when these are too small and you're emptying it into your glass before you've finished and having to mix it there.
A great juicer that'll do you proud and easily one of the best juicers for leafy greens.
4. Best Budget Centrifugal Juicer – Hamilton Beach Big Mouth Juicer
Dishwasher Safe
800 Watts
Comes With Cleaning brush
You know what? For the price this isn't a bad little juicer, it comes with a cleaning brush for easy clean up after getting all the pulp out the mesh and it's dishwasher safe so you can clean it up in no time.
And it's 800 watts so does a good job of actually juicing, the pulp can come out a little wet compared to other juicers but that's just the price you have to pay for it being a cheaper juicer.
The juice spout is a little low so only a smaller glass fits underneath, you might even be better using a Tupperware or a bowl to initially catch the juice.
But, the pulp bin at the back is massive and you won't come close to filling it up before you've finished making your juice. This is great because it sucks to not notice it's full and have pulp overflowing everywhere, been there!
Works great with hard veggies and soft fruits alike but doesn't do a great job with leafy greens.
For a budget juicer though you couldn't ask for more, a great little thing that makes starting out juicing hassle-free and easy on the bank balance.
5. Long-Lasting Juicer – Omega J4000
250 Watt
5200 Rpm
Small Compact Size
15-year warranty
I mention later that you don't always need as much as 1000 watts of power, this is one of those exceptions, it's small size allows it to get all the power it needs from its 250 watts, and the 5200 rpm is balanced by a strong cutting disc that makes short work of whatever fruit or veg you want to put in it.
While it doesn't do a great job with leafy greens but it does do well with all other fruits and vegetables, it's biggest plus is the size of 15 x 8 x 12.5 inches, nice and small to tuck away into a cupboard between uses.
What you're paying for with this juicer is its quality build, like all Omega juicers it has a staggering 15-year warranty and all the important pieces are made with stainless steel for truly solid build quality.
While the Big Mouth juicer above is largely made up of plastic and thin plastic at that, this is a solid small dense juicer that will extract juice day in and day out for years to come.
The main problem is it's quite pricey to not be as powerful, so unless you need the compact size I'd stick to one of the juice fountains mentioned further up the article.
Centrifugal vs Slow Juicer
I went into a lot of detail in a separate post comparing the two main types and I have to admit that Masticating juicers (another term for a cold press juicer) came out on top…
BUT, that doesn't mean to say a centrifugal juicer isn't right for you so here's a quick rundown of the differences.
Centrifugal Juicer Pros
Centrifugal juicers are fast, really fast in fact, they can have a glass of juice ready for you in next to no time at all, just put the ingredients in the top and juice is shooting out the bottom in no time.
Plus they're more affordable, generally, a high-end centrifugal juicer will cost similar to a lower to middle range masticating one.
And you don't have to prep your ingredients as much, in a masticating juicer you need to cut up the produce into small pieces to stop it jamming but in a centrifugal, you can put things in near to whole.
Cold Press Juicer Pros
These are slower and more expensive but they are damn efficient, a cold press juicer can get more juice out of the same amount of ingredient put into it so the pulp comes out drier. In a centrifugal, you can get around this by running the pulp through twice.
Cold Press juicers also don't heat the juice which is thought to cause some of the healthy enzymes to die off leaving it less healthy, and while true juice from a centrifugal is still miles more healthy than having no juice at all. And the best centrifugal juicers don't transfer any heat keeping your juice as fresh as can be allowing it to last as long as possible.
Some people like to get a centrifugal juicer to start and then when they're ready if they love juicing they upgrade to a masticating one and sell off the old one-second hand.
So If you want quick easy and cheap keep reading but if you're getting tempted by a masticating juicer then have a read of this article instead.
Things To Consider Before Buying A Centrifugal Juicer
There are a few different things you'll want to keep in mind before buying your juicer if you're going to compare them yourself.
Motor power – The power of a motor in a centrifugal juicer can range from anywhere between 250 watts up to about 1000 watts. Generally, you want to stick to more than 750 watts of power for effective juicing, but, power isn't the only factor if it's a more expensive juicer that is well built it'll still be able to juice properly with a lower wattage, but more than 750 is a good rule of thumb.
Speed – The speed of the juicer is the other half of power, generally more power means a higher RPM of the cutting blade inside, and a higher RPM means a better juicing experience. It can vary a lot from 3,000 up to 13,000 but the best centrifugal juicers have two speeds a low speed for soft fruits and higher speed for harder vegetables, with a lower of around 6-7,000 and a higher of more than 10,000 for fast easy juicing.
Long spout – Juice tends to fly out of a fast juicer so you want to have a nice long spout that faces downwards so you can get it well into a cup to catch the juice without making a huge mess.
Sturdy construction – I like all metal juicers, or at least the more metal the better, it's tougher lasts longer and won't degrade into your drink either. Most plastics won't either but it's nice to completely rule this out by sticking to the metal.
Ease of cleaning – They're always a bit of a pain to clean so if you can get one that has dishwasher-friendly parts all the better, just to make the cleaning process that little bit easier.
F.A.Q on the Best Centrifugal Juicers
How Does A Centrifugal Juicer Work?
For those who are curious a centrifugal juicer works with a circular cutting disk that spins incredibly quickly. Ingredients get dropped on top and instantly shredded and the wet pulp gets thrown to the side where it hits a mesh that catches the pulp and lets the juice through.
It gets thrown from centrifugal force hence the name but I've got a different article on how juicers work for those who are interested.
Are Centrifugal Juicers Bad?
They certainly are not. People think Centrifugal juicers are bad because there's so much talk about masticating juicers being better because they don't heat the juice.
But the truth is centrifugal juicers are still great, the difference is a 9/10 for centrifugal compared to 10/10 for masticating, and that's in terms of quality of juice because centrifugal juicers are a lot faster which is a massive advantage for some people and makes it much more accessible as a new habit.
So centrifugal juicers aren't bad and are an excellent way to start juicing.
Can I Juice The Night Before?
With a centrifugal juicer, you can indeed juice the night before and leave it in a clean storage container in the fridge till the morning. But I wouldn't leave it any longer than that.
Juice out of a centrifugal juicer will last about 24 hours before it starts to spoil, fresh out the juicer is the best time to drink it but if you don't have time in the morning then juicing the night before can be a great idea.
I've talked about juice bottles in a separate article here.
What is the foam on top of the juice?
The foam on top of your juice is simply a mixture of juice and air frothed together. It's totally fine to drink the only problem being it tastes a bit bitter.
I don't particularly like the foam but it ends up at the bottom of the glass anyway so I just leave that last small mouthful.
You could use a spoon and scoop the foam off if you were averse to it, even putting it through another fine-mesh strainer would work.
But that's just wasted effort in my mind if you're gulping it down that much when your drinking that it affects the taste then I think you need to close your mouth a little while you drink!
Can You Juice Wheatgrass In a Centrifugal Juicer?
No, unfortunately not. Wheatgrass is very delicate and doesn't have that much juice in it, so when it's put through a centrifugal juicer it just gets shredded and thrown into the pulp collector.
You need a cold press juicing process to get the juice out of wheatgrass, something that slowly crushes it so that you get left with the juice completely intact and ready for a shot.
Other Centrifugal Juicers Reviewed
Breville BJE200XL Compact Juice Fountain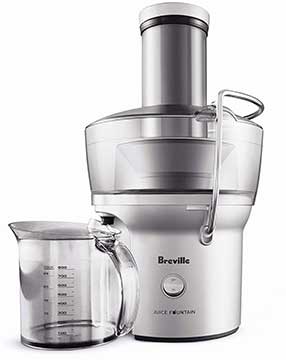 Compact Size
Easy Disassemble
Extra-wide feed tube
Another Breville juicer that's doing great things, this one is under $100 at time of writing putting it nicely in the budget category and it's a nice compact size so fits nicely in a cupboard making it a great minimalist juicer.
The small size means you can keep it out on the countertop which makes it a lot easier to try and start a juicing habit eliminating the excuse of not having it to hand.
It's a one-speed, one size fits all juicer but it does a pretty good job with hard fruits and vegetables alike although it's not so great with leafy greens.
It comes apart easy enough and has dishwasher safe parts and a wide chute for minimal set up when you start juicing.
Mueller Austria Juice Extractor Ultra 1100W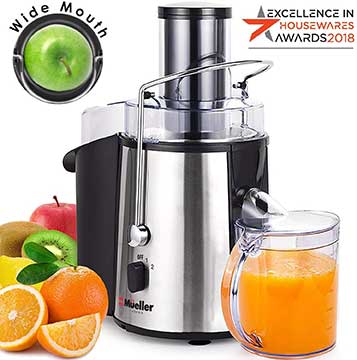 BPA Free
Whole Fruit Chute Size
Dual Speed
Have a tight budget but want to get some of the great benefits of juicing? Well, now you can!
The Mueller Austria Juicing Machine is well under $100, has a powerful motor, and does a great job at making fresh juice. It's got an extra-wide feed tube that you can fit whole fruits into saving you time and the juice yield isn't half bad either.
It's quite a compact size for an electric juicer and pulp filter basket is built onto it which saves even more space which you'll love because it tidies away on the countertop easily.
Just clean up your veg, pop it in the top and use the pusher to get it through the juicer squeezing every last drop out.
AICOK Juicer Extractor High-Speed Juicer
Anti-drip spout
Wide feed chute
Heavy-duty design
I love Aicok, I'm singing the praises of their masticating juicer all the time since it was my first juicer and it's fantastic.
But their centrifugal juicer isn't half bad either. It's got a nice wide feed chute for easy juicing and has recently been upgraded to extract 10% more juice and 15% more nutrition compared to their older model! Not bad at all for the price.
You'll love how well built it is feeling solid and sturdy when you pick it up but also knowing that the parts inside are of top quality being made of stainless steel with a 3 layer mesh system for minimum pulp escape into the juice.
And it's got the all-important locking arm that makes things that little bit safer.
KOIOS Centrifugal Juicer Machines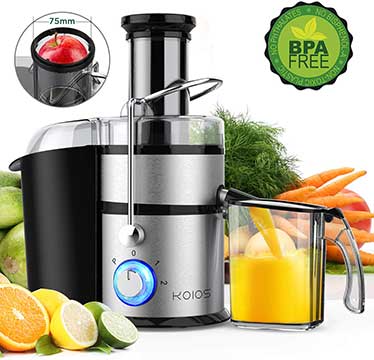 1200 watt motor
Easy to clean
Cleaning brush included
Another budget-friendly model although this time it's a little bit more than a $100, featuring a great big 1200 watt motor and 3 speeds to make it capable of juicing anything you could put in it, soft fruits, hard veggies, even does an OK job with leafy greens for a centrifugal juicer.
The clean up is a breeze because there are minimal parts involved but also the brush you get with it allows you to get right in and about all the blades for a thorough clean that takes less time than you think.
The motor is all copper which is generally considered to be higher quality and they make a claim that it could last 10 years, but I'm not sure what that's based on, because there's no guarantee to back it up and they don't say 10 years of daily juicing. I'm sure it would last 10 years being used once a month and very carefully stored but it doesn't necessarily help anything…
But, it's still one of the best centrifugal juicers you can buy.
Bagotte 1000W Juicer Machine
1000 watt motor
Recipe book included
Large 2.5L pulp collector
This 1000 watt juicer is BPA free and includes dual speeds so you can get a range of effective juicing out of it whether you're juicing soft ingredients or hard ones.
Able to create 1L of juice in just 10 seconds this really is a fast juicer that's ideal for celery, ginger oranges as well as carrots, apples, you name it!
Includes a brush that helps with cleaning up the blades and a recipe book to get you started. Although you can just come here to check out different recipes right? Even better you can sign up for the email list to get sent 5 essential juicing recipes!
Conclusion
I hope you found this buying guide on the best centrifugal juicers helpful. There are other juicers still that are great like the Breville JE98XL juice fountain plus but I had to draw the line somewhere!
And once that line is drawn your left with only the best of the best so rest assured that if you need an effective centrifugal juicer any of these will serve you well. My top pick is still the first Breville I reviewed in this article but still, I'm a masticating juicer fan and those will always be my recommendation over a centrifugal but the choice is yours.
If you have any questions feel free to drop me a comment below and I'll get back to you.