Pineapple juice is sweet, tangy, citrusy and delicious, but did you know it's also extremely healthy for you?
That's right, pineapple juice is one of the only natural sources of bromelain which is an enzyme that does wonders inside the body, plus it's packed full of vitamin C, a powerful antioxidant and beta carotene an important vitamin.
Plus, Bromelain is found mostly in the core of the pineapple juice which may be unpleasant to eat but can easily be turned into juice.
Want to know the specifics of why it's good for you? I get it, and don't worry I've everything you need to know about pineapple juice right here, including benefits, side effects, when to drink it and how to make it.
Read on to find out more.
And of course always listen to your doctor and don't throw away medication and start drinking pineapple juice instead.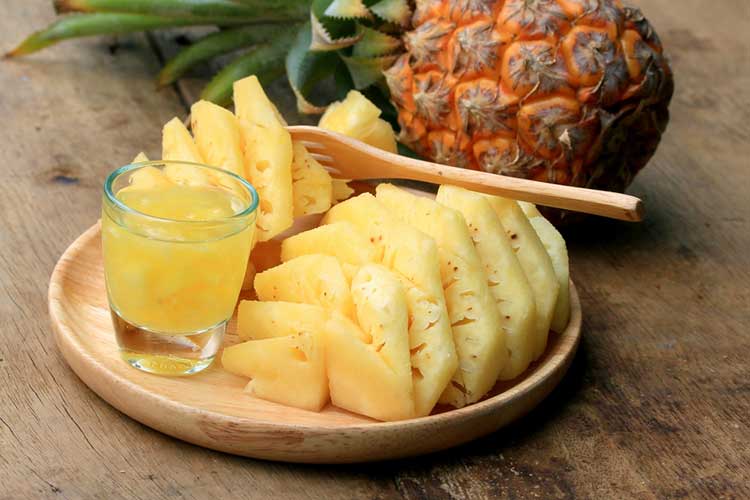 1. It's an Anti-inflammatory
The bromelain that's inside pineapple has been found to be an anti-inflammatory, and early studies have been done that show it as a promising treatment for osteoarthritis. Which basically means it's good if your joints are sore.
But anti-inflammatories have lots of other great properties, there's even evidence to suggest that inflammation could be a cause of depression and a reason why antidepressants sometimes don't work. So pineapple juice could help to ease symptoms and make you happier!
2. Pineapple Juice Is Good For Asthma
A study was done in which it was shown that beta carotene, which is present in pineapple juice, actually increased the quality of life for those who suffer from asthma. This was based on triggers, need to see a doctor last minute, activity and sleep, symptoms and psychological.
Good news if you're an asthma sufferer as it can be a drain on everyday life having to deal with it regularly.
3. Reduces Bloating and Constipation
Bromelain comes back to save the day again, this time it's by easing digestion and soothing the digestive tract to relieve bloating and other stomach discomforts. It does this by helping to break down proteins inside your stomach allowing for quicker digestion and a more pleasant stomach all around.
4. Good For Your Heart
Pineapple a is a source of Vitamin C which is great for your heart. In fact, one study showed that increased consumption of vitamin C has a substantial impact on your likelihood of suffering from coronary heart disease which is a risk of suffering things like heart attacks and strokes.
Couple your pineapple juice with some orange juice and you could very well be onto a winner!
5. Boosts Immune System
A study done on school children in the Philippines measured the effects on giving the kids one or two cans of pineapple a day and measuring the outcome.
The results?
A huge boost in the immune system of the kids involved, allowing for better protection against bacterial and viral infections that to young kids can be lethal. But even for adults having a strong immune system is important so you can live as healthy a life as possible without ever getting sick.
6. Pineapple Juice Is Good For Your Skin
The wonderful and powerful antioxidant that is Vitamin C is also great for your skin because it helps protect from UV rays and free radicals. I'm sure you're very aware that the sun isn't very good for your skin, well vitamin C helps make the skin cells on top of the skin more resistant to the damage of UV rays keeping your skin healthier and looking younger.
Plus free radicals, which are little molecules that try and damage the cells in your body, tend to be all around you being created from things like pollution, these attack your skin cells causing them to get damaged which can make your skin sore and tired looking.
7. Prevent Catarachts
Once again Vitamin C to the rescue, this time to help prevent cataracts which can happen in old age leaving you unable to see properly and requiring surgery to remove. But not just vitamin C but also manganese which is present in Pineapple helps to prevent them, add some carrots in to help you see in the dark and you're eyes will be ready to last a lifetime.
8. Good For Bones
Speaking of manganese did you know it's also an important part of keeping healthy bones? Not by itself but as part of a balance of copper, zinc and calcium magnesium plays an important role in keeping bone density high. This is very important in older people who can be prone to breaking bones more easily.
A study was also done that found that bone density of woman was increased over a 1 year period when it was supplemented with boron and vitamin D.
X
The takeaway? Pineapple juice is great for keeping bones healthy.
9. It Can Help You Sleep
Having pineapple juice before bed can be a great sleep aid that helps you drift off naturally and gently to sleep. This is because pineapple juice can help release melatonin which is a hormone in your body that tells it it's time to go to sleep, it gives you the sleepy feeling when it starts getting dark and helps you fall asleep.
Drinking pineapple juice during the day won't leave you feeling tired because the natural daylight will counteract the melatonin, it only really works if you drink it at night one or two hours before going to sleep.
Does Pineapple Juice Help With a Cough?
An all natural cough reliever or so it is claimed but is it actually the case? Well, the jury's out on this one because there just isn't enough scientific claim to back it up one way or the other.
There is one study (https://www.derpharmachemica.com/pharma-chemica/use-of-secondary-metabolite-in-tuberculosis-a-review.pdf) which talks about its use alongside salt and honey as a way to thin out mucus making it easier to cough up and expel from the body so that suggests it should help but the study was done about tuberculosis not about having a cold so doesn't hold too much weight as evidence.
But the flip side is with how great pineapple juice is for you anyway there's no harm in trying it! A mixture of pineapple juice, honey, lemon, and a little salt makes a great little healthy cocktail that's well worth trying next time you wake up with a cold. The quantities are up to you just go easy on the salt so it still tastes nice!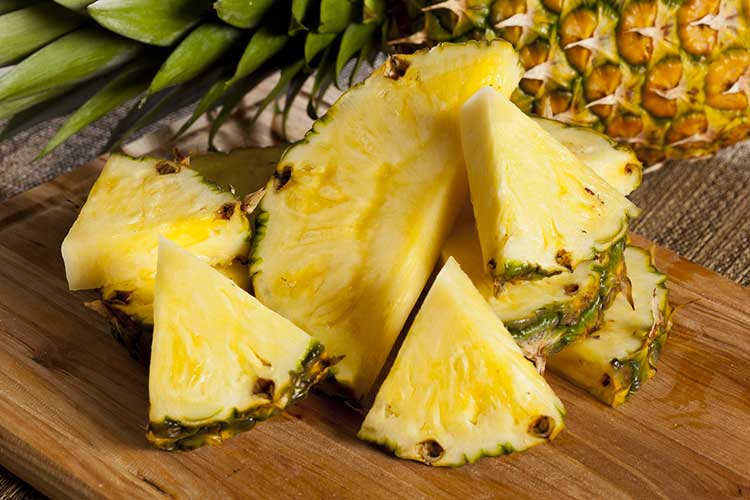 Are There Side Effects?
There can be, but the main one to watch out for is that if you have a latex allergy then you're more likely to be allergic to pineapple juice, which isn't going to end well. But apart from that if you experience any unpleasant symptoms then stop taking it immediately.
The only other thing to be aware of is mouth ulcers, pineapple juice is quite acidic so drinking too much of it too regularly can lead you to get mouth ulcers, nothing life-threatening but certainly not pleasant.
How To Make Pineapple Juice
Pineapple juice is really simple to make if you've got a juicer, if you don't I recommend this Omega juicer for making pineapple juice.
Step 1. chop the tops and bottoms of the pineapple.
Step 2. Stand the pineapple upright and chop down all the skin.
Step 3. Chop around the core
Step 4. Put it all in the juicer
Step 5. Drink and enjoy!
It's really easy to make pineapple juice and if you have a juicer you can combine it with other fruits and vegetables to make really delicious drinks.
And if you want to make pineapple juice in a blender then this is the article you want to look at.