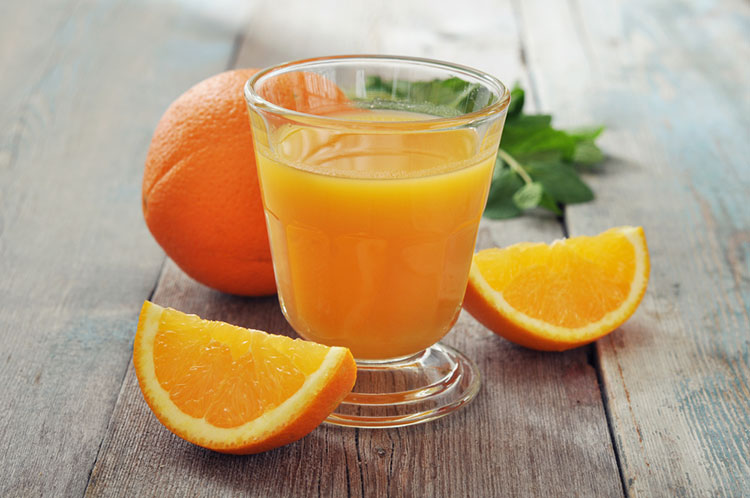 No one wants to take the ominous sniff test into the orange juice to make sure it's alright.
And equally, no one wants to take a drink of orange juice expecting a nice refreshing beverage only to get a big mouthful of slightly vinegary OJ…
Not good.
So today, I wanted to share some of my knowledge on how long orange juice is supposed to last, how to store it, how to check if it's still ok (without tasting it) and all that good stuff.
Hope you enjoy! And if I miss anything or have anything you think I should mention please let me know in the comments below.
Freshly Squeezed Vs Store Bought Orange Juice
As with everything, how long your orange juice will last depends on a few different things, firstly whether you made it yourself or bought it in a store. Store bought orange juice contains more preservatives so will last a lot longer compared to orange juice you squeezed yourself at home. But nothing beats homemade orange juice so even if it doesn't last as long it's well worth making.
How Long Does Freshly Squeezed Orange Juice Last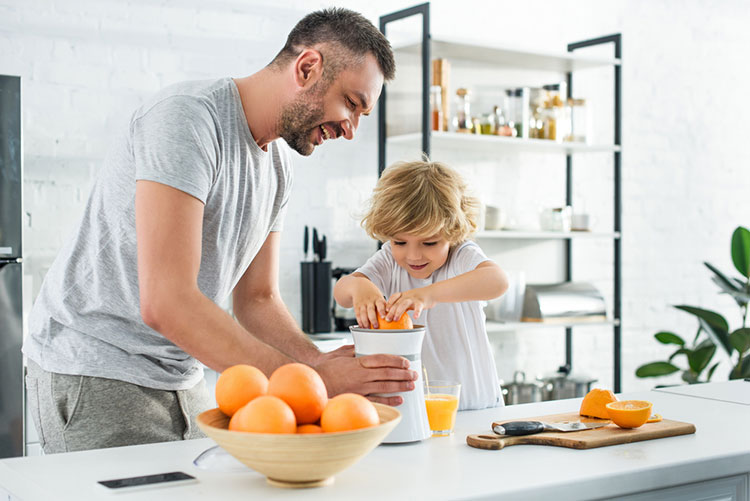 Ideally, you want to drink freshly squeezed orange juice you made on the same day you made it, that's when it's at its freshest and most delicious.
Otherwise, if you made it using a citrus press it should last about three days if you keep it in the fridge, if you used a centrifugal juicer (one with a spinning blade of some kind) then it will likely only last about 2 days because it gets heat up while it's juiced which can affect its shelf life.
So best to have the same day but usually about 2-3 days depending on how you make it and how fresh the oranges are, if the oranges are starting to go off themselves then they won't last very long as juice either.
Read on to find out how to check if your juice has gone off.
How Long Will Store Bought Juice Last
Unopened some store-bought juices can last up to a year which seems crazy, that's what the expiration date is normally in reference too, there's usually an extra bit hidden somewhere in small print saying to use within x amount of time once opened.
But how long is X amount of time? About 1-2 weeks.
It again depends on everything like brand, how long it was before you opened it, was it in the fridge before you opened it. So go with 2 weeks as a rough max and be wary about opening it after that.
How To Tell When Orange Juice Has Gone Bad
It's normally fairly obvious when your orange juice starts to turn for the worst but here are the things to look out for.
You Can See Something Floating In It
Bad orange juice starts to go mouldy and little spores start to grow inside of it, so if it's a clear bottle you'll be able to see them floating around. If your orange juice is in a carton then give it a shake and pour it into a glass, that way you'll be able to look out for anything that looks like it shouldn't be there.
Bad Smell
If it starts to smell acidic at all then it's either gone or going bad, and I'm talking acidic in a vinegar sort of way rather than a citrus sort of way. If you smell it and it smells at all different I'd be wary, likewise if you're not sure probably best to steer clear.
It Tastes Bad
Hopefully it won't come to this but if you've taken a drink and it does not taste right then it probably isn't. But what happens when you drink bad orange juice? Read on.
What Happens If I Drink Out Of Date Orange Juice?
It again depends, this time on how out of date it is, if it's just a day or two past it there's a good chance you'll be fine. But if it a long way out of date and you manage to drink a lot of it without realizing (which I'm pretty sure you would) you'll get normal food poisoning symptoms, Nausea, vomiting, diarrhea.
So it's not dangerous per se, but it certainly isn't good for you to drink out of date orange juice.
Best Way To Store Orange Juice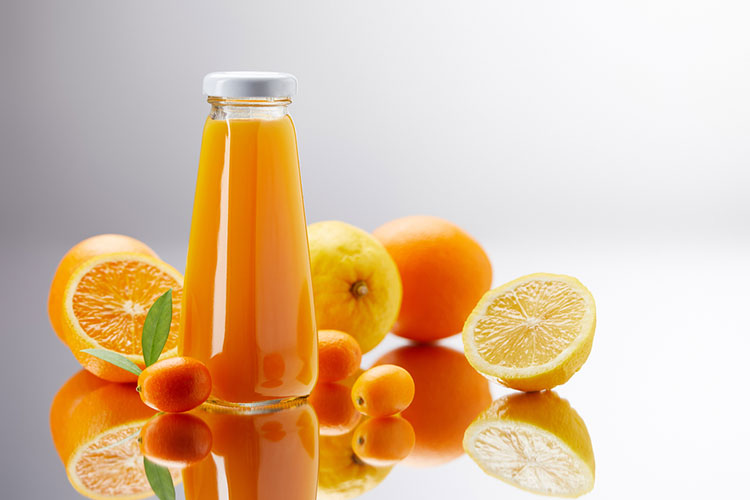 If you want your orange juice to last you've got to store it properly.
In the Refrigerator
Bit of an obvious one but I feel like it needed saying anyway, if you keep it in the fridge it's going to last longer!
Especially if the sun is shining outside and the temperatures getting up, the less time spent out the fridge the better. Because orange juice out the fridge will expire, there are no two ways about it, and it'll only happen faster if you do so.
Clean Bottles
This is if you're squeezing your own orange juice, you want to make sure you've got a proper juice bottle to keep your juice in. Make sure you thoroughly clean it between uses so that everything is completely cleaned from the inside otherwise you'll be more likely to spoil it sooner.
For the material of bottle you want to go with a BPA free plastic or a glass bottle. I personally like a glass bottle because it helps reduce the amount of plastic I use and, provided you don't drop it, glass lasts better, plus it doesn't get scratched up making it look all frosty and the glass doesn't get deep scratches in it that can get orange juice stuck in it and go off leaving a funny smell.
Tins in cool dry places
If you have tins or even cartons of long life orange juice you're going to want to keep them in a cupboard out of direct sunlight and preferably somewhere cooler, if they start getting too hot they'll spoil before you can open them.
Then of course once you open them make sure you pour the orange juice out into a different container before putting it in the fridge, you don't want to keep tins in the fridge because they can leech out tin and iron into the food leaving it with a strange taste and making it not very good for you to say the least.
Tips For Making Orange Juice Last Longer
I Mentioned a couple of things but wanted to bring it all together here so you can keep your orange juice fresh for as long as possible.
Use Fresh Oranges
As I said before you're going to want to use oranges that are as fresh as possible, but you're also going to want to keep them in the fridge before you juice them, if you're doing it manually it'll make it a little more difficult but if you've got an electric citrus press then you'll be fine.
Using cold oranges just helps keep the temperature down through the whole juicing process so that nothing bad can start to grow or take hold while you're juicing.
Proper Storage
In a clean bottle with that bottle inside the fridge. Keep it out the fridge for as little time as possible if you want to keep it for longer. And for bottle choice go with a glass bottle to help reduce plastic.
Can You Freeze Orange Juice?
Why yes you can! If you've got a tree load of oranges and you're overwhelmed by the amount of orange juice you've got ahead of you don't worry you can, in fact, freeze it. It'll stay good for about 3-6 months but it will start to lose some of the good nutrients in it over time. But it still tastes really good and if the alternative is freezing it then you can go right ahead and do so.
Conclusion
So that does it! Again if you think I missed anything or you still have questions please let me know in the comments below. But to some up store bought juice will last 1-2 weeks when kept properly whereas freshly made orange juice will last about 2-3 days. But with freshly made orange juice the sooner you drink it the better it will be, so I'd make batches of two day at a time if you're doing it yourself.
Hope this was helpful! I shall see you for the next article.