When you imagine a cool glass of fruit juice, chances are its a tall bright glass of orange juice that pops into your head. It's a staple at most breakfast tables and you'd probably find some in everyone's refrigerator.
The health benefits of drinking orange juice everyday can't be underestimated. It's an excellent source of vitamin C and is great for your immune system. Though, while it has plenty of health benefits, is it possible to drink too much orange juice? How much is too much?
This article will answer those questions, as well as explaining the risks of too much orange juice consumption and the best way to enjoy your orange juice healthily.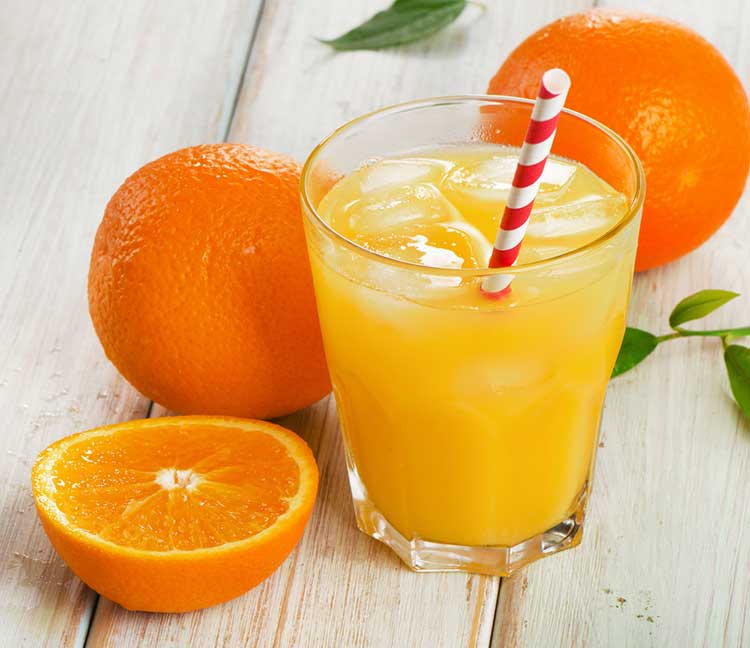 How Much Orange Juice is Too Much?
The recommended serving of fruit is about 1.5-2 cups a day. And an 8oz glass of orange juice is equal to one serving of fruit. So 8 ounces of orange juice a day is plenty.
There are plenty of ways you could enjoy your serving of orange juice: freshly squeezed, as part of a smoothie or as an ingredient in your juicing adventures at home.
Having more than the recommended 8oz of orange juice is when problems might start.
Now that we know large amounts of orange juice are bad for you, let's take a closer look at the health benefits and potential health risks of this tasty treat.
Health Benefits of Orange Juice
It's one of the things most of us learn as small children – orange juice is very good for you and will help keep the flu at bay! And this is completely true. Orange juice has a huge number of health benefits along with its great taste, which is one of the reasons it's so popular.
We've put together a list of the reasons that make orange juice so great.
It's a Great Source of Vitamin C
Let's start with the one that we all know: orange juice is absolutely packed with vitamin C. One glass of it has about 50mg of vitamin C, almost the 70-90mg that's recommended you have each day. A glass of orange juice really does set you up for the day ahead!
Vitamin C has all kinds of benefits:
It protects your body's cells.
It keeps your blood vessels, cartilage, bone and skin healthy.
It improves how your body heals itself when you get a cut or wound.
It boosts your immune system, putting you at lower risk of developing common colds and flus.
Orange Juice is Full of Antioxidants
As well as vitamin C, orange juice is high in several different antioxidants, like flavonoids. These antioxidants fight against free radicals, which degrade your body's cells and can affect your overall health.
Antioxidants are important to protect yourself against conditions like heart disease, diabetes and even cancer. They even protect your skin from damage and keep it looking youthful and glowing!
Its Nutritional Value is Sky High!
Vitamin C and antioxidants are only a small part of what orange juice has to offer, even though they're arguably the most well-known.
Orange juice also contains potassium, which is important in keeping your blood pressure at a healthy level and preventing coronary heart disease. Having enough potassium literally keeps your heart beating regularly.
Orange juice has even been found to lower cholesterol levels, which is part of the reason it does so much good for your heart. If you have too much bad cholesterol, then it clogs up your arteries and impacts the way your blood is pumped around your body. So if you have high blood pressure, then changing your daily routine to include orange juice is definitely something to consider.
Another important nutrient found in orange juice is folate (sometimes referred to as folic acid), which is particularly important for pregnant women, since it keeps the baby healthy and improves DNA synthesis – very scientific!
Orange Juice Can Prevent Kidney Stones
Kidney stones are very unpleasant and something to be avoided whenever possible. They're small pieces of mineral that build up over time in the kidneys and can be really painful.
Orange juice can alter the pH of your urine, which will help to prevent kidney stones from forming. When it comes to kidney stones, trust me when I say that prevention is better than cure – especially when it's as easy to keep at bay as drinking orange juice every day.
Potential Health Risks of Orange Juice
It makes staying healthy very simple when you can get so much nutrition from one source. Orange juice makes it easy to get all the nutrition you need, especially when it tastes so good.
However, with orange juice its definitely true that you can have too much of a good thing. Drinking glasses and glasses of OJ isn't necessarily going to stack up all those health benefits like you might hope.
We've looked into the risks of drinking too much orange juice and explained them for you below.
You Could Consume Too Much Sugar
I've mentioned already that one of the things that people love best about fruit juice is its delicious taste. It's sweet, it's zesty – like all citrus fruits – and it's fresh but this is largely down to its high natural sugar content.
Oranges are like all fruits – they contain lots of natural sugars, or fructose. These are healthier sugars than the ones you find in soda or candy, since those ones are usually processed. However, these natural sugars can still have a negative impact on your health.
Drinking too much orange juice can increase your blood sugar levels or cause the development of insulin resistance in your body. Eating too much sugar can even lead to Type 2 Diabetes.
Bear this in mind, because this might put things into better perspective: an 8oz portion of orange juice contains almost 21 grams of sugar! 21 grams!
Store-bought orange juices can have even more sugar added to them, making some fruit juices just as unhealthy as soft drinks.
That's why if you're able to juice whole oranges at home, then this is definitely the healthier option. You have more control over the sugars that are present in your juice this way.
If juicing at home isn't feasible for you, then just make sure you're strict about portion control. Make sure that you stick to the 8oz recommended amount!
It Could Lead to Weight Gain
This problem is linked to the one I've just described, since the reason OJ might lead to you gaining weight is its high sugar content, same with any other fruit juice.
Drinking too much orange juice means consuming too much sugar and not enough fiber. Fiber is what makes us feel full when we eat food, so without it you might find yourself drinking even more orange juice. Which means more sugar.
Freshly squeezed orange juice is healthy but too much is not. Make sure that you're careful with portion control, like I said, and enjoy it as part of a balanced diet, along with plenty of exercise.
If you aren't sure how to go about doing this, then consider speaking to a nutritionist. They'll have all the information you need to keep yourself healthy and fit, and will be able to help you.
Related Questions
Can you overdose on orange juice?
I've already mentioned some of the bad things that can happen if you drink a lot of OJ, and most of them apply to drinking too much fruit juice too. They generally have a lot of sugar, so sticking to the recommended amount is important.
However, there is another reason that not having too much orange juice is important – having too much vitamin C each day can have some nasty side effects!
Your body can only absorb so much vitamin C per day, so if you exceed that, it has to convert it into waste. You might experience nausea, diarrhoea or issues with your sleep, which are all unpleasant.
So stick to the 8oz serving per day – trust me!
Is drinking orange juice all day bad for you?
Well, yes, in the same way that eating only broccoli all day would be bad for you or only eating chocolate cookies all day would be bad for you. You would end up ingesting way too much sugar and not enough fiber and other minerals throughout the day if you drank that much orange juice. Not to mention feeling a bit queasy… so I wouldn't recommend it!
Can too much orange juice make you throw up?
I mentioned this above but yes, drinking too much OJ might make you sick, due to the high sugar content and the large quantities of vitamin C that you'd consume. and store bought juices can be worse because they sometimes have added sugar beyond the naturally occuring sugars. Everything in moderation is the way to go here.
Conclusion
All in all, orange juice can have major health benefits. It's packed with nutrition and can help you to prevent some serious illnesses and conditions.
However, orange juice in excess is a different story. It can be hugely detrimental to your health, just like any other sugary drink or meal. Plus too much orange juice is highly acidic and can cause mouth sores and ulcers.
The key is only drinking as much as is recommended – 8oz per day at the most.
If you're worried about the potential risks of OJ, then you could consider swapping to eating whole fruit instead. Eating whole fruit ensures that you get the entire nutritional value of the fruit, without worrying about added sugar or having more calories.