If you're looking to start taking your health seriously or are looking for ways to become even more healthy then smoothies are one of the best ways to do it.
What's better than starting your day with a massive hit of fruit or even vegetables? Nothing I can think of!
Plus they're really easy to make at home, at least once you've got the right equipment, and the right equipment, of course, involves getting the best blender.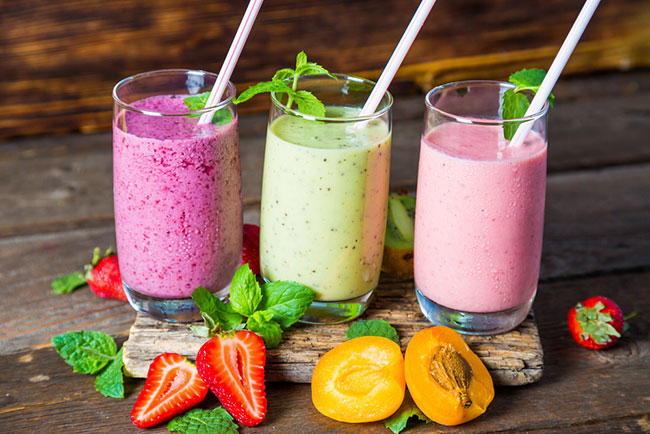 But that's easier said than done, there are so many to choose from and so many questions, I'm sure you're wondering if Vitamix's are worth the price tag or if you can get away with an off-brand model from Walmart plus a dozen other questions.
Well I hear you, and I've put together this article to answer every question you could possibly have about buying the best smoothie blender, plus I've reviewed all my favorites and linked them so you can click through a link, order yours from Amazon and if you've got prime be sipping a delicious smoothie and working towards a healthier you by tomorrow.
Here's a quick contents table of what's in this guide, just click to jump to the section you want or read on.
What Type Of Smoothie Do You Like?
Or even, what type of smoothies do you plan on making? Because that'll dictate what sort of blender you need because green smoothies, for instance, need a lot more power in them than plain ol fruit smoothies.
Green Smoothies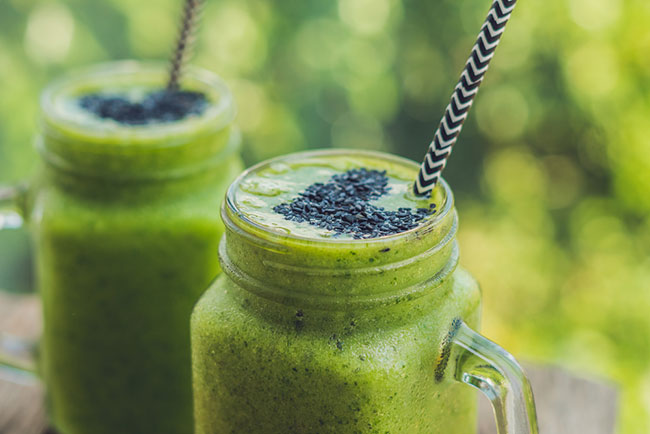 Green smoothies take the most power to make because green vegetables tend to be very fibrous and take a lot to break them down. Kale, for instance, tends to have a very thick stalk on it so you need a powerful motor to effectively break it up otherwise you're left chewing your way through. Which is not what anyone wants, I've got a separate article on the best blenders specifically for green smoothies if that's specifically what you want.
Ice Cold Smoothies
The same goes if you like to have ice in your smoothies, it takes a little more power (though not as much as you need for a green smoothie) to break up ice so it's smooth and cool. And likewise, if you want to use frozen fruit you need a little more power to break them down. What you don't want is big sharp bits of ice floating around while your drinking, and again I've got my favourite ice blenders in a separate article here.
Fruit Smoothies
The classic and all-time favourite type of smoothie, a bunch of fruit topped up with some orange juice, bliss. If you're just blending up fruit then pretty much any blender will do the job, I'd still recommend something more powerful so you can have the ability to make anything should the feeling take you. My article on the best fruit smoothie blenders is… Well, actually it's this article! So don't go anywhere.
Also if you have no idea which or any of these you're going to enjoy that's fine too! You can get a blender that handles all of them.
Personal Blender vs Countertop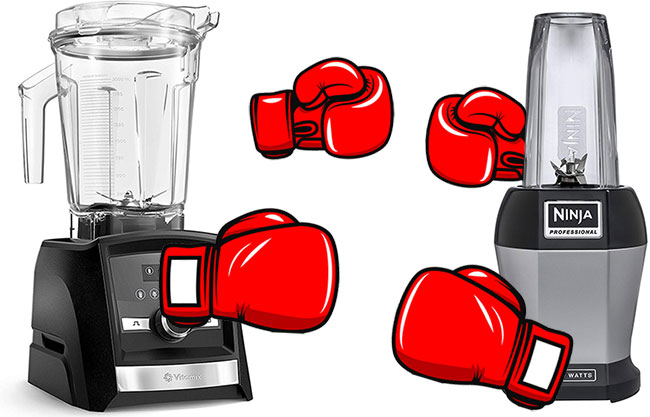 Quite a big difference between whether you want a personal blender to take smoothies on the go or if you want a countertop blender for complete control in the kitchen.
What's The Difference
Seems a good place to start! Personal blenders are the blender where you blend straight into the drinking cup, you fill up the bottle with what you're blending attach the blade lid, blend it, then swap the blade lid for a drinking lid (if you value your lips) and you can take it away and drink it.
Whereas a countertop blender is… Well… A standard blender, I'm going to go out on a limb and assume that if you're here you already know what a regular ol' blender is so let's move on…
Pros and Cons of a Personal Blender
I quite like a personal blender, just because of the sheer convenience, and having to do less washing up because you've only dirtied one container definitely helps. But it can't be denied that they just aren't as powerful or versatile as there countertop counterparts.
Pros
Less washing up
Great for on the go
Cons
Not as powerful
Can't handle green smoothies
Can only really make smoothies
Only makes one serving at a time
So there are definitely ups and downs, a personal blender is really best for someone who wants smoothies in a hurry and on the go and only needs to make a single serving for themselves.
This time I do have a separate guide so check this out if you want to know more and see my recommendations for the best personal blenders.
Pros and Cons of Countertop Blender
Countertop blenders are definitely the better of the two in my mind, far more power, you can make much more and you can use it to help make other recipes too. And if you get a really good one like a Vitamix they last for years and even decades so you really get your monies worth.
Pros
More power
Bigger capacity
More versatile
A good one can make any smoothie
Yup, you do pay more but you really get what you pay for.
Other Things To Consider When Buying A Blender
Here are a couple of other things you'll want to consider when your shopping for a smoothie blender, or any other blender for that matter.
Power
You've got different ranges of power as a reasonable estimation of what the blender can manage but as Vitamix say "it's not about the number of horses, it's how you use them". So power alone doesn't make a good blender one you get the higher end of the scale but it is telling at the lower end.
This is a rough blender power scale (in watts), some will fall in and out but this is a good gauge.
1400+, powerful enough to handle any type of smoothie you could want to make.
1000-1400, Fairly powerful and will handle ice but could struggle with green smoothies and tough stalks.
600-1000, the range of a good personal blender, they'll manage frozen fruit and ice and make a really nice smoothie to go.
Up to 600, probably a budget model that will handle soft fruits but struggle to break up any seeds, greens or tougher ingredients that you might want to make.
Brand
Brand can make a difference in the quality of the product you get, and throughout all the different blender reviews I've done the same brands tend to keep coming up.
Vitamix
Blendtec
Ninja
NutriBullet
Oster
Black+Decker
Hamilton Beach
There are still differences between those brands, with Oster and Hamilton beach tending to make budget-friendly blenders while Vitamix and Blendtec make higher quality higher priced blenders.
But those are all trusted blender brands and ones you'll want to look out for when shopping.
The Best Blenders For Smoothies Reviewed
That's right, you've made it to the main event! I've gathered together and reviewed my top picks for the best blender for smoothies. And all the reviews have a button that says Price & Reviews which you can click to go to Amazon and read some more reviews before ordering yours.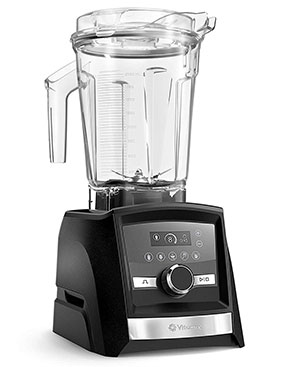 Digital A3500 Ascent
Brand: Vitamix
10-Year Warranty
1640 Watts
Connects To Wifi And App
Touchscreen Controls
Vitamix are the masters of blending, and the A3500 is the absolute perfect blender for smoothies. It's got a smoothie pre-setting (as well as four others built in) but it also actually connects to an app which unlocks 17 other pre-settings and 500+ recipes for smoothies and loads of other good stuff.
But what's really cool is that Vitamix uses a blunt blade technology so the blades aren't sharpened which means the blending comes from power alone. Not sure why that's good? Because it means the blades never go blunt and lose their bending power, which is why they have a 10-year guarantee and your blender will still be making the smoothest smoothies around a decade from now.
Another thing I really love about the Vitamix A3500 is it's self-cleaning! You just put in water and dish soap, choose the right setting and it will whir away until it's clean and you can just pour it out no problems at all.
If you're committed to a healthier you then this is the blender for you, huge amounts of power, self-cleaning, and a low profile 64 oz container make this an easy top choice for the best smoothie blender, or any other blender for that matter.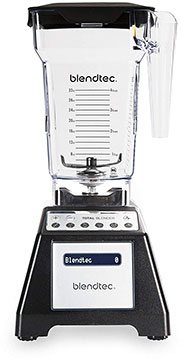 Blendtec Total Classic
Brand: Blendtec
8-Year Warranty
Hardened Steel Blades
10 Speed Control
5 Preset Speeds
Blendtec is another top of the range blender, sharing a lot of similarities to the Vitamix, blunt blade technology, hardened steel blades, what it doesn't have is the technology. While the Vitamix above connects to wifi and can continually be updated remotely this is a what you see is what you get blender.
But what you see is pretty damn good, and it's half the price of the Vitamix so if you can't afford it this is a good runner up. It's got an 8-year warranty which is more than long enough to get your money's worth and the 10-speed control gives you complete control over your smoothie.
The jar can handle 32 oz of wet ingredients so you can make about 3 good sized smoothies or 4 smaller ones if you want to use it at full capacity. But what it is missing is a tamper to push things down while you blend, it does a reasonably good job of circulating the contents but now and again you just need a tamper to push down the last few lumps.
So all in all a great smoothie blender for the price but it doesn't quite compare to the blender.
Fresh Smoothie Maker
Brand: Shark Ninja
1400 Watts
Fresh Vac Technology
Touch screen
20oz Cup Included
I love it when a blender does something different, because I'm sure you don't want to read about a load of different blenders that are near identical. Well if you're concerned with freshness then this the blender for you.
Ninja's FreshVac technology sucks all the air out during the blending process so you don't get any oxidisation of the fruits and vegetables which is what causes them to degrade. What does this mean? I'll tell you, it means that more nutrients are locked in while blending and it means the smoothie stays fresh, so you can make it the night before and keep it in the fridge to enjoy as if it was freshly made. A real time saver if you want a healthy breakfast but don't have a lot of time.
Apart from that it is in itself a very good blender, 1400 watts of power and 7 pre-programmed blending settings make it versatile while the 72 oz container gives you loads of room for anything you could want to make, make enough smoothie for you, your wife, your kids, your dog, hank from work, that guy you see at the gym sometimes, ok I'm getting carried away, maybe not thaaaat much but still a lot.

Shark Nutrition Pro
Brand: Shark Ninja
900 watts
24 oz Cup
Dishwasher Safe
So maybe you don't want a big countertop blender, maybe you want a personal blender (that will also sit on your countertop… Hmmm…) so you can make healthy smoothies on the go.
I completely understand, in which case you're going to want to get yourself the Shark Nutrition Pro, it's my top choice for a personal blender. With 900 watts you can make most smoothies, it can reasonably handle a green smoothie but not as well as a countertop blender, but it can take down frozen fruit and crushes even small seeds and hard fruits into a really nice texture.
The other plus is that it's really easy to clean, you just put it in the dishwasher when you get home and it's clean and ready to go for the next day. It comes with a single 24oz cup but you can also buy it as a set where you get 3 different cups, 24 oz, 18 oz and 12 oz plus a cookbook which is actually really handy if there's more than one person wanting to use it.
Three people could each put together there own smoothie then blend it one after the other, perfect if you can imagine buying it and everyone else in your house instantly wanting a turn.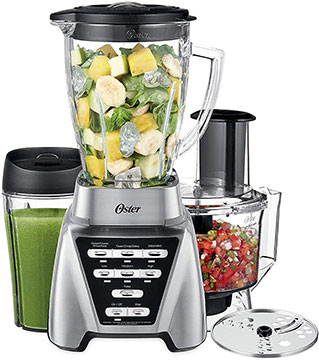 Blender + Food Processor Combo
Brand: Oster
Budget Price
1200 Watts
Comes With A Travel Cup
I wanted to include a nice affordable blender so that even if you don't have the money for a Vitamix you can still enjoy a healthy smoothie. So I thought the Oster Pro 1200 was the perfect choice, it's got 1200 watts of blending power and comes with a food processor attachment for more versatility and a travel cup.
1200 watts is enough to handle frozen fruit and ice but it'll struggle to make a truly smooth green smoothie, this still remains a really budget-friendly way to get more fruit into your diet. The food processor attachment may sit in a cupboard but you'll be amazed by how much you use it once you have one, it creeps up into a lot of different recipes.
It does have a green/frozen smoothies setting so you can make most smoothies but it doesn't quite manage the dreaded kale like the Vitamix or the Blendtec can. But it's also a fraction of the price so you definitely get what you pay for.
My Favourite Smoothie Recipes
So you made it to the bottom of the article? Awesome! I hope you found it useful and now know which blender you want, as a prize for making it this far here are some of my favorite smoothie recipes, this way you can have something to make when yours arrives.
Easy Breakfast Smoothie
This is from BBC Good Food who have a lot of great recipes, it's a really easy breakfast smoothie that's low on fat and high on protein. The oats give it a really nice texture meanwhile everyone likes a banana in there smoothie right?
1 Banana
1 Tbsp Porridge Oats
1 cup of Soft Fruit (anything on hand, berries work well)
⅔ of a cup of Milk
1 tsp Honey
1 tsp of Vanilla extract
I like to hope that could figure out the instructions for yourself, because one of the best things about smoothies is that you just put in all the ingredients and turn it on!
Best Green Smoothie Ever
This smoothie recipe comes from Simple Green Smoothies and is one of the best green smoothie recipes out there, if you want to start making your way towards more greens this is the way to do it.
INGREDIENTS
1 cup spinach (fresh)
1 cup water
1/2 cup pineapple*
1/2 cup mango*
1 banana (peeled)
Method
Tightly pack spinach in a measuring cup.
Add spinach to blender with water. Blend together until all chunks are gone. (Should resemble green water when blended well).
Add pineapple, mango and banana to blender. I like to use frozen pineapple and mangos to chill the smoothie down and save time cutting and prepping. It's a win-win!
Blend all together until smooth and creamy. Depending on your blender, this could take as little as 30 seconds or as long as 2 minutes.
Pour into a glass and serve immediately.
You can also store the smoothie in the fridge with a lid until ready to drink.
Hope you enjoyed.