There's nothing quite like having a fresh smoothie in the morning.
Except maybe getting to have a smoothie without also waking up the rest of the house or all the other apartments around you.
Yup, blenders can be noisy I don't think anyone can argue with that, but with a quiet blender you can have a much more pleasant time of it.
So in this guide to quiet blenders I'm going to take you through everything you need to know, if they work, how they work, what brands to look out for and a review of the best quiet blenders you can currently buy on Amazon.
Check out the table below for a quick rundown of the best 3 quiet blenders or read on for more info and more reviews. Just click the anems below or the Price & Reviews button to heaed to Amazon where you can order yours.



Best For
Professional Quiet Blending
Personal Quiet blending Solution


Best For
Professional Quiet Blending

Best For
Personal Quiet blending Solution
Best Quiet Blenders Reviewed
Here we are, all the best quiet blenders reviewed, and you're in luck because they're all available on Amazon so you can just click through the Price & Reviews link and order yours today.
Hamilton Beach Professional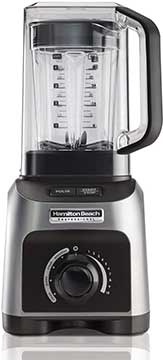 Quiet shield acts as a jug
BPA free
4 Program settings and 10 variable speeds
Great price, powerful, and quiet, need I say more?
Perhaps not but I'm going to anyway, this blender is everything you could want, its quiet shield is also a jug with a handle that you can use for serving and the inner blending size is 32 oz which is more than big enough.
I toyed with putting the Blendtec first in this list but you can't argue with the price point on this one at a quarter of the price of the Blendtec. The Blendtec is still a more powerful and better blender but this a great little thing that will do you proud.
Blendtec Professional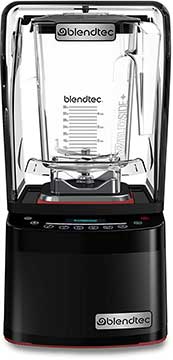 Best all round blender that's quiet
11 Speeds
Can Blend Anything
The Blendtec is the gold standard in blenders, I recommend them over and over because of their powerful blending abilities and robust design.
The fact that this one is also a quiet model is all the better! It's got a blade 10x stronger than most other blenders and creates a vortex inside pulling all the ingredients through the blades leaving you with a smooth anything you decide to put inside it.
This is the blender for anyone serious in the kitchen and serious about their health who wants the best smoothies and is prepared to get them.
Blender Buffer Sound Shield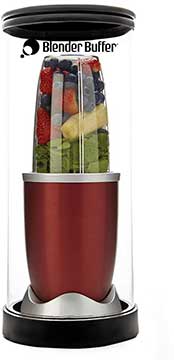 Sold Separately
Fits Over A Nutribullet
Best Quiet Personal Blender
This is just the sound shield you buy but it works really well in giving you a quiet personal blender that's actually quiet. They've got them for different models of Nutribullet (which are
sold separately, this is the Nutribullet the above is compatible with ) and just slot over the top.
The best way to use it is to unplug the blender, set it up so that it should be turned on, put the shield over the top and plug it in to turn it on and off.
This is a really compact way of making your personal blender quiet without having to deal with large appliances.
Best Quiet Commercial Blender
Vitamix Quiet One Blender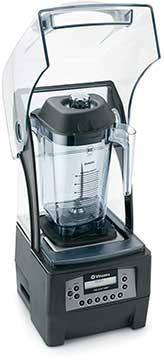 48 Oz Capacity
Perfect for Restaurants or Cafes
16.5 W x 8.5 W x 10.7 D in
The Vitamix Quiet one is exactly what you need for quiet blending in a commercial setting, very powerful blending which doesn't take long to make anything smooth and a well designed quiet shield to make the volume level acceptable.
The quiet shield also attaches with a magnetic strip which is useful for cleaning up as there aren't any clips that can get dirty and are often hard to clean.
The blender itself has Vitamix's blunt blade technology which is a hardened steel blade that is blunt and blends by the sheer power of the motor. This is great because it means it doesn't get blunt and lose it's blending power like you can get with cheaper blenders, which also helps justify the hefty price tag because it's a machine that's built to last.
Best Quiet blender Under $100
Hamilton Beach Quiet Shield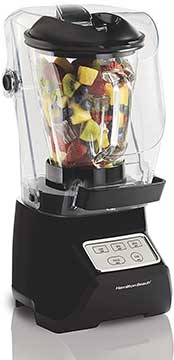 950 Watts
3 Speeds
52 oz Jar
Is this the best blender in the world? Of course not, is it the cheapest blender that has a quiet shield? Why yes it is.
And for that money you do get a good enough blender that's capable of whipping together a smoothie nice and easily without waking up the whole house and you can do it in a blender that you can put all the washable parts into the dishwasher after for easy cleanup.
The quietest cheap blender you can buy.
Do Quiet Blenders Actually Work?
Yes, but only to a point, it won't be like you switch it on and it's like you've pressed a mute button on the TV and can't hear a thing, but it will take it down to comfortable and manageable volume.
The kind of volume where you can still have a conversation at the same time. Where you'll put down the quiet shield and breathe a sigh of relief because it is still making noise but really that much quieter.
How A Blender Is Kept Quiet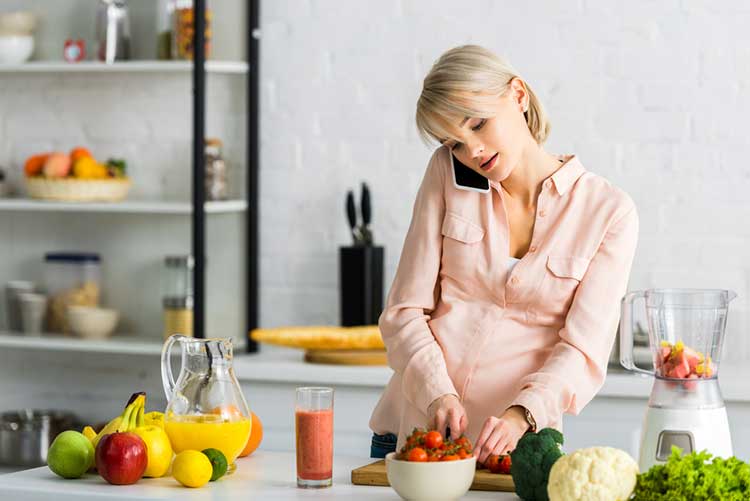 There are two main ways a blender can be fitted so it runs quietly, one of them works and one of them doesn't quite frankly.
1. Glass or Plastic Outer Blender Jar
This is the quiet shield, so it's a big empty jar that fits over the blender container which traps the blender noise inside and dampens it down. These are what commercial blenders in restaurants and cafes use to blend without disturbing all the customers, an audible noise but everyone can still chat away.
These are the best way to get a blender to be quiet and the only blenders on the market worth thinking about buying in my mind. Even when you're blending something loud like frozen fruit or ice cubes it stays reasonably quiet in comparison to no quiet shield.
2. Motor Dampening
This is the only other way a blender can be classed as quiet, a noise reduction housing is put around the motor to help shield sound but generally the motor isn't the loudest part. If you're blending anything with ice, for instance, you'll find that the sounds is still very loud.
If you see a quiet blender that doesn't have a sound shield this is what it will have. They do have the advantage of being cheaper than most sound shield blenders but I've managed to find a couple of great quiet blenders that won't break the bank.
Quiet Blender Brands:
Jamba Blender – This was one of the originals and one of the best, but it unfortunately no longer being made because the company that made it got taken over by Hamilton Beach, but luckily that means you can still get the same great blender under a different name.
Hamilton Beach – Now the gold standard in quiet home blenders, not as good as Vitamix or Blendtec blenders in terms of blending ability but far cheaper and much more accessible.
Vitamix blender – Everyone knows Vitamix make the best blenders, their quiet blenders are no different, the absolute best in the business but it comes at the cost of being around $1000 to buy one.
Blendtec – The up-and-comers making commercial-grade quiet blenders at a much more reasonable price than the Vitamix, still expensive compared to the Hamilton Beach models but really really good.
Black and Decker Quiet Blender – The don't have a quiet shield model but they do run quieter than most blenders, and you can get a more powerful blender for the same price as the Hamilton Beach, it will just be louder too.
Conclusion
If you buy any of these you can look forward to less noise in your home. a lot of great blenders here that can have you blending quietly no matter what your budget is. So get yours and start enjoying a more peaceful blending process.
No matter why you need a quieter blender one of these should do the trick.