Because I'm a fresh juice fan, I always have a lot of different fruit in my kitchen. I like trying lots of different recipes! But I noticed that my fruit bowl contained a fruit that I've so far neglected in my juicing adventures: bananas.
Which got me thinking… can you juice bananas? And what would that even taste like?
Can I Juice A Banana?
Unfortunately, the answer is no.
When you put a banana through the juicer, you might get a dribble of juice out of it. All you're usually going to get is a pulp container full of mashed banana.
When I discovered this, I started doing some research of my own and found a few different ways you can actually make banana juice. You don't make it in the same way you would make normal juice but there is a way to manage it without just making a banana smoothie.
Let's get stuck in!
Banana Smoothie vs Banana Juice
At the time of writing this, if you google "banana juice" you get a lot of different recipes claiming they're banana juice. But in actual fact, they're all banana smoothies. They're smoothie recipes!
Now I know I'm being a little picky, but to me, juices and smoothies are very different.
You came here to learn how to make banana juice, and while banana smoothies are one way of doing it, I'm going to show you some other ways you can make banana juice.
Alternative Banana Juices
Because we can't just juice our ripe bananas, we have to get a little creative. I've put together some tips for you.
1. Blend Your Banana Separately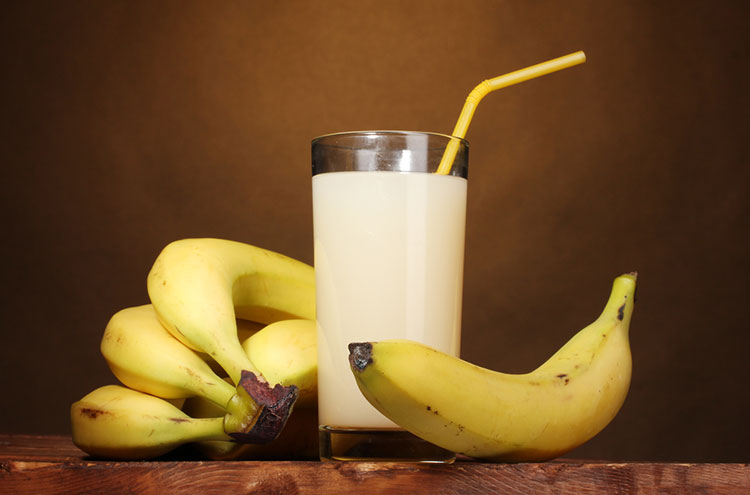 Make your juice recipe as normal in your juicer. Then pour your juice into a blender, with a banana. Turn your blender on and mix it all together.
This will change the texture of your juice quite a bit, it'll be a lot thicker. However, it tastes really good! There are some excellent banana juice recipes out there, like ones that are strawberry-banana based.
I know that this method is very close to making a banana smoothie but if you do it this way, there's a lower fiber content than you'd find in a traditional smoothie.
2. Juice The Banana First
This is fairly similar to my previous blender idea, except you blend the banana in your juicer first, before all of your other ingredients. It'll separate some juice from the mushy pulp.
Collect the banana juice in your glass and then juice the rest of your fruits and veggies as normal. Doing it this way means that all of the ingredients will catch the banana flavor that's leftover in your juicer.
The pulp from your other fruits and veggies will mix with your mashed banana, which will also taste good!
Juicing a banana in this way does make your juicer a little harder to clean, since banana can make a lot of mess. This method also doesn't blend the banana into your juice as well as the previous one, but doing it this way means you only dirty up one appliance!
3. Banana Soft Serve
Finally, you can actually make banana soft serve by juicing a frozen banana. This works a bit better if you use a masticating juicer because the slow speed stops the frozen banana from defrosting.
Juice a frozen banana like you would any other ingredient. The frozen banana pulp that you'll get in the container will be just like banana soft serve, and it works great as a tasty, low calorie dessert.
I know that this isn't the banana juice you were hoping for, but this option was too much fun not to include.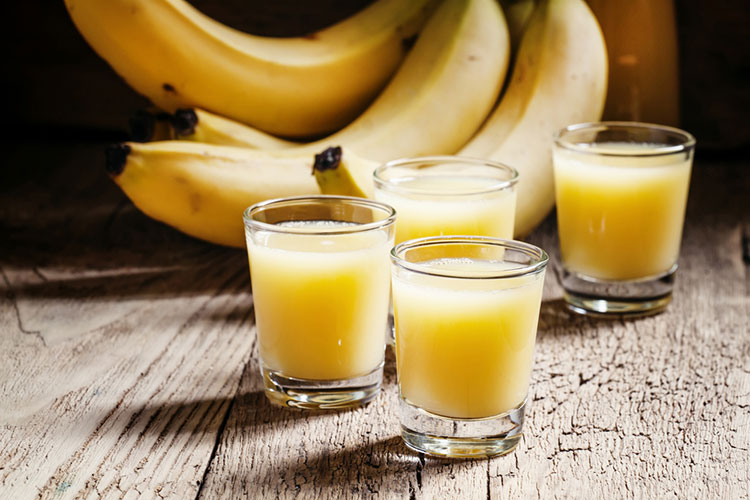 More Difficult Ways To Juice A Banana
I did find two different ways of making a banana juice but neither of them are a simple process. With both, though, you start with a banana and have banana-flavored liquid at the end.
1. The Microwave Method Of Making Banana Juice
This is the far simpler of the two methods. You start with a few frozen bananas, then you put them in a bowl. Cover it with plastic wrap, and microwave for a few minutes.
After that, pour the contents through a fine mesh strainer (like these I recommend) and let it sit.
If you do this, then banana juice will collect underneath it! Let it cool down before you mix it in with the rest of your juice recipe.
This is a longer process than traditional juicing but it's effective and reasonably easy.
2. The Boil In A Bag Method To Liquify A Banana
Getting the juice out of a banana means releasing the water that's inside it. The water in a banana is bound to starch, which is why it's more difficult to release. However, there's an enzyme called amylase inside bananas that actually separates water from the starch.
This method isn't quick or easy but if you're determined, this is probably the best way to liquify a banana and get the juice out of it.
Here are the steps:
Get about 2 kg of bananas, which will yield about 1 litre of juice.
Peel and mash them down to a puree and place the banana puree inside a plastic bag.
Squeeze the air out and seal the bag, before placing it inside a pot heated to around 150 Fahrenheit.
Let it sit for 5 hours (told you it wasn't quick!).
Strain out the contents and enjoy!
This method is harder work than the other but the juice yield is higher.
Conclusion
So technically you can juice a banana in a juicer but all you'll get is banana pulp, and no actual banana juice that you can drink.
The other techniques that I've found are difficult and time-consuming, so I'm personally going to save my bananas for smoothies. There are so many great recipes out there, with things like peanut butter, almond milk, papaya or even raspberry and watermelon.
There are also so many fruit juice recipes, I don't feel like I'm missing out by skipping on banana juice!
But if you're a banana-lover, then please try out the other methods and let me know how you get on. If you have any questions, don't hesitate to get in touch – I'd love to help out!
Happy Juicing!