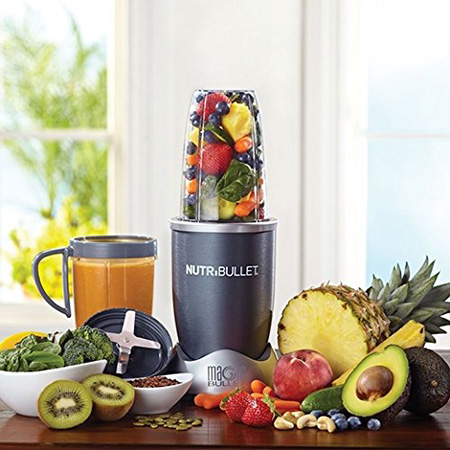 Some inventions have changed the world of convenience and the personal blender is one of them.
It might not seem like much but the ability to make a smoothie straight into the cup you drink out of is just genius.
It speeds up the morning routine, minimises washing up and makes getting healthy fruit into the diet all the easier.
But buying one can be hard, there are a lot of different models to choose from and knowing what the differences are is challenging. That's where I come in.
Here at Juice Buff I've done all the hard work of researching for you, in this article I've covered everything you need to know about buying a personal blende and I've reviewed some of my favourites.
Read on to find out my top choices that are available on Amazon so you can order yours today.
Advantages of A Personal Blender
Possibly the easiest part of this article to write because there are so many! I won't bore you though and just go into the most important ones.
Convenience
Probably the most obvious advantage, personal blenders are super easy to just fill up blend together and go. Just swap the lid from the blade attachment to the travel lid and you can head out the door and drink it on the move.
Or around the house if you aren't quite organised enough to pick it up and head out, that's ok too!
They're also really easy to put together to use and they normally only have a single on off button that pulses, so you just hold it down and then pulse until smooth, what could be easier?
Easy Clean Up
Always want to go with a dishwasher safe model so things are just that little bit easier, but even if it's not the drink containers are easy enough to get a sponge around. But the containers are a really reasonable size compared to a normal blender with the enormous jug that sits on top, then the blades at the bottom you can never quite reach and clean around.
You still have to be careful when you're cleaning the blades but it's a lot easier when they're removable as they are in personal blenders.
Easy To Store
Again because you don't have the enormous jug that normally sits on top it becomes that much easier to fit inside a cupboard when it's not in use. For the longest time I kept mine inside the box it came in, it was a good shape and worked great until the box started falling apart!
The three main wins from a personal blender are that it's super easy to use, normally just a one-button control and easy to assemble, really convenient to take on the go, the travel cup you just put a lid on when you're finished blending, and nice and easy to put away into a cupboard when it's not in use.
Disadvantages
Anything wrong with a personal blender? Only one thing really.
Only Makes Enough For One
Yup, as you'd expect it only makes enough for one, which is fine for most people, it's what they're designed for after all, but something to be aware of, not what you want if you're looking to make enough for everyone all at once.
Though I will say that some come as sets with multiple cups so you can make more than one just not at the same time, and everyone can make there own how they like, you just have to rinse off and swap out the blade between uses, easy peasy.
What To Look Out For When You're Buying
Now I just want to take you through some of the things you want to look out for when you're buying a personal blender.
Power
Does it have enough power, now personal blenders have a lot less power than regular blenders but they're smaller so this power goes a lot further.
600 watts is the sweet spot, less than this and you're going to be having lumpy smoothies, more than this is great but can be a lot more expensive, so around 600 watts of blending power is going to be enough to get you a great smoothie.
Capacity
You don't really want to go much smaller than about 18 oz, not as a main bottle anyway, if it comes with an accessory of a smaller bottle that's fine but 18 oz + is where you want to be, that's big enough to get a decent size smoothie and still have some room left over so it can circulate and blend properly.
Accessories
Speaking of accessories, you might be fine with just the blender and a single bottle, but if you want a bit of variety then you might want a personal blender that comes with a load of different shapes and sizes of bottle.
Just be aware that if you get a blender set you're going to need to find a home for all the pieces!
Likewise if there are a few of you in the house then a blender set is the way to go because everyone can have a turn and you'll still be able to make yours without your bottle disappearing.
Material
Most personal blenders are plastic, so you want to make sure it's BPA free plastic, all the models I talk about in this article but if you find a cheap one in Walmart then check it to make sure.
BPA's are a type of plastic coating they put on the inside of food packaging that can seep into the food and as a result into you. And if you're trying to pack yourself full of healthy stuff through smoothies you definitely don't want any plastic in there!
Is It Dishwasher Safe
Finally, you want to make sure it's dishwasher safe, it just makes life that little bit easier and ensures you can always easily get it cleaned up after you use it.
So you want it to be powerful enough for what you need, if you like green smoothies or frozen fruit then you'll need more power, at least 600 watts, you want to make sure it's big enough, about 18 Oz+, BPA Free, dishwasher Safe and that it comes with enough different cups for what you need, Make sense? Great, let's move on.
Brands
So what brands do you want to look for?
There are loads of great brands of personal blender, and they are all good for different things but the main big brands you'll see are:
Ninja
NutriBullet
Oster
Hamilton Beach
You've got a handful of other brands but those four are the main ones to look out for, they've been making blenders a long time and constantly seem to deliver good products.
Tips For Using Your Personal Blender
This is just a quick aside before you buy one so you know how to use it properly when it arrives.
1. Don't Overfill
It just causes problems when you pack it right p the the brim before you turn it on, you need a bit of space to let the whole thing circulate while it's blending, otherwise the pressure builds up and it wants to start leaking, plus it won't mix properly and you'll have to shake it around and stir it halfway through.
2. Clean The Seal
Make sure you clean the seal properly, a lot of people seem to complain about blenders like this that start to leak, across every model, but what seems more likely, every type of blender is badly made or some people use it wrong?
So make sure you clean around the seal of the cup so that it can carry on sealing properly into the future. And while you're cleaning it don't go yanking at it or digging into it with a knife or anything, just wipe it till it's clean then keep on using it happily for years to come.
3. Read The Instructions
I know you probably don't want to but just give it a quick glance through, you'll find out how to use it properly, the right ratio of liquids to solids to put in and all that good stuff so give it a read, it's worth it.
Best Personal Blenders Reviewed
And we've made it to the main event!
I've got a few of my favorite's together and reviewed them below and the best part? They're all available on Amazon! So you can just click the Price & Reviews at Amazon button and you'll be taken there where you can order yours.
Professional Personal Blender
Brand: Ninja
Power: 900 Watts
BPA Free & Dishwasher Safe
Very Powerful
Can Blend Greens with Ease
This Nutri Ninja is everything you could need in a personal blender, it's got 900 watts of power which make it very capable at blending anything you could put in it and it is super sleep looking.
What makes it pro is the extra few hundred watts of power you get, it might not seem much but it's the difference between a lumpy smoothie and big stalks being left in compared to it all coming out smooth. Which is what you want right?
Of course it is!
With that extra power though does come extra noise, the blades are spinning faster and the motor is working harder so it's noisier. But all blenders are, there isn't a quiet blender, only quieter blenders.
You can use this for pretty much anything you might need, be it green smoothies protein shakes or this is even one of the few personal blenders that can handle blending ice! Normally you need a full-size blender to blend ice
Overall a superb blender, everything you could need for making smoothies on the go.
12-Piece Blender Set
Brand: NutriBullet
Power: 600 Watts
Includes Multiple Cups and Blades
24 oz Bottle
Dishwasher Safe
Another great personal blender, not quite as powerful as the one above with 600 watts but that's still more than powerful enough for most people. What's really great about this one though is the fact it comes as a set so you get all the different pieces you could possibly need.
You get three different travel cups, one 24 oz and two 18 oz cups so ideal if you have a few people in the house looking to use it. Plus you get the regular blade and an extra milling blade which is good if you want to grind down dry ingredients, so you could blend up flours or grind coffee in it as well. If you don't need the second smaller cup you could dedicate it to be your coffee grinder.
It's got cyclonic action built into the motor which means that as it blends it recirculates the liquid for a thorough blending of everything inside, that's why they talk about nutrition extraction because it's this extra level of processing power that breaks down the smoothie into a more easily digestible state so you absorb more of the nutrients.
Budget Sport Blender
Brand: Oster
Power: 250 Watts
20 Oz Bottle
Great for Protein Shakes
Dishwasher Safe & BPA Free
This a great little travel blender that's ideal for protein shakes and fruit smoothies. The lower price comes with its drawbacks of course, it's got 250 Watts of blending power so won't handle vegetables very easily and might struggle with frozen fruit.
But, it can handle fruit really well and it makes mixing up protein shakes really easy, you sometimes get a bit of powder stuck at the edge of the bottle but it isn't much and washes out easily.
The shape of the bottle is really easy to take on the go, and you can rinse it out and use it as a water bottle while you're out and about.
But really for a personal blender that's less than $20 you can't complain, you'll be able to make a fruit smoothie, drink a protein shake and take it on the go really easily.
One last thing is that it can overheat if you use it for too long but it's got a fuse switch built in that automatically trips 15 minutes after use, so if it overheats and stops working just wait and it'll come back to life.
For the price a really great personal Blender. And if you want more great blenders for protein shakes check out my article on that here.
Large Auto Blender
Brand: Nutri Ninja
Power: 1000 Watt
3 Cups up to 32 Oz
Smart Blender Timer
BPA Free and Dishwasher Safe
This is the next top up from the Nutri Ninja I reviewed at the top of the article, and while it has some really cool features I just don't think they're essential, still, if gadgets are your thing then this is going to be the blender for you.
The main appeal if this one is the Auto-iQ base which has a smart timer that can detect how much is in the blender and adjusts itself accordingly so it doesn't over blend. Most personal blenders work on a single pulse button so this one is much closer to a traditional blender.
The 1000 watts mean it can crush pretty much anything you'll want to put in it, green veg, frozen fruit, it'll even handle ice pretty well. Plus it comes with a huge 32 oz jug that can make more than enough in it! And you also get a more reasonable 24 and 18 oz cups as well which each have their own spout lids to take on the go.
The extra power does of course make it a little noisier, but it's a blender that's still to be expected!
Overall a great personal blender with a few extra bells and whistles.
Two Jar Blender
Brand: Black + Decker
Power: 275 Watts
BPA Free & Dishwasher Safe
Comes With A Spare Jar
Fusion Blade Technology
So what is a Fusion Blade?
Basically it's Black+Deckers own style of blender blade that's meant to provide a better blending experience. Does it? Not on 275 watts….
Again 275 watts just isn't enough to cope with anything more than basic liquid smoothies and fruit, it gets on OK with frozen fruit and ice about not amazingly.
What it does do though is offer two travel cups that you can take away easily, a nice low price tag and enough power to make a basic fruit smoothie, so it's definitely not the worst.
You also get BPA free plastic and it's easy enough to clean with just putting it in the dishwasher, the bottles are quite tall and thin to get into while hand washing but if you have one of those brushes with the long handle you'll be able to clean it no problem.
Another reasonable blender for someone looking for a cheap alternative. You also might want to check out my article on blenders under $100
BONUS: A Few Of My Favorite Recipes
Just a couple of my favourite smoothie recipes as a little extra for after you order yours so you have something to make with it.
Breakfast Smoothie
Ingredients
200 ml of Milk
1 tbsp Porridge Oats
1 Banana
50g Of Blueberries
Honey To Taste
Put it all in the blender and blend! I don't think I've ever measured honey in a smoothie, I just put a big squeeze in because I love the sweetness, don't worry about only using blueberries either, just whatever soft fruit you have!
Green Smoothie
Ingredients
250 ml Milk
1 tbsp Ground Flax
Pinch of Cinnamon
1 Medjool Date (don't forget to take the stone out first!)
Handful of Spinach
1 tbsp Almond Butter
Put it all in and blend it up! This was from BBC Good Food who have some really great smoothie recipes inside.
Again don't worry about the exact ingredients just remember that if you put a load of fruit in with some milk it's going to come out tasting great! And don't worry about just using cows milk, use whatever type of milk you'd prefer.
Conclusion
So the final thoughts are that the Nutri Ninja Pro blender is an excellent choice with 900 watts of power it's capable of making any smoothie you would like, check it out here, and the NutriBullet is good for people looking for accessories, plenty of cups to go with it and 600 watts of blending power make it a powerful little machine, check the NutriBullet out here.