Green smoothies are absolutely one of the healthiest things you can drink, they pack an enormous punch of vitamins, minerals, and antioxidants guaranteed to have you feeling better.
But If your blender isn't up to the task then you're going to have to chew through most of it…
Get the right blender however and your green smoothie can be perfectly smooth the way they're supposed to be.
So what does it take to get there? Well I'll tell you, I cover all the most important things in this article and then review my top choices. So just keep reading and you'll find out everything you need to know. The best thing is that all my top choices are available on Amazon so you can orders yours today!
With that said let's get stuck in shall we? The table below has a quick rundown of the top choices which you can look at if you're in a hurry, just click the name to go to Amazon where you can order yours.
Top 5 Best Green Smoothie Blenders
1. Top Choice – Vitamix 750 Professional Grade Blender
Brand: Vitamix
Type Countertop
1,440 Watt motor
Self Cleaning
Aircraft Grade Steel Blades
BPA Free
5-year Warranty
Normally I stick with 1500 watts as a minimum for greens, but that's why the Vitamix so good, as they say themselves, it's not about the number of horses, it's about how they're trained, so basically, they manage to do more with less creating smooth green smoothies in no time at all.
But one feature I really loved is that it's self-cleaning! You just put in some dish soap and warm water and turn it on to it's cleaning setting and it takes care of itself from there. Cleaning a blender is probably the worst part about having one so being able to take that annoyance out really puts the Vitamix 750 out in front.
As I said before the blades are made of aircraft grade steel so just like the rest of the blender they are made to last, there's no denying that Vitamix blenders cost more but it's because they're built to last, an investment in the health of you and your family.
The green smoothies it makes are very smooth and completely delicious, plus it doesn't take long to blend them up saving you a bit of time in the morning. And the capacity is nice and big so you can even batch make a few days worth of smoothie in one go and keep some in the fridge.
Overall, a fabulous blender that will make you the best green smoothies around.
2. Best Vitamix Alternative – Blendtec Total Classic Four Sided Jar Blender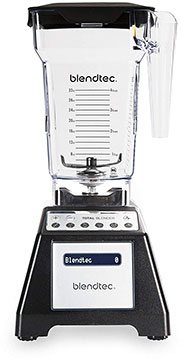 Brand: Blendtec
Type: Countertop
1560 Watts
Professional Standard Blades
75 oz Jar 32 oz Blending Capacity
The Blendtec blender is a fantastic upmarket high quality blender, this time it comes with a large four-sided jar that's nice and easy to scrape out of while you're using it and is nice and easy to clean after. Not quite self-cleaning level of easy but still pretty easy.
The blades are extra strong and thick making them built to last and they work in quite a clever way that means food gets pulled down towards them in a vortex while it blends so it's constantly circulating the food making sure no lumps are spared from the blades and the whole thing comes out smooth.
Although the jar is a large 75 oz it seems strange that it only has an actual blending capacity of 32 oz which isn't enormous, still plenty big enough for making a nice smoothie of course but it seems like a lot of wasted space. Presumably, it's to allow space for whatever it's blending to get pushed up the sides without coming flying out the top.
But the best part? The price, it's less than half the price of the Vitamix (at the time of writing this) yet can handle green veggies no problem at all, it's just missing the capacity size, the self-cleaning and it doesn't have quite the same speed control.
Easily one of the best blenders for green smoothies around.
3. Best Personal Green Smoothie Maker – Ninja Professional Blender BL450
Brand: Ninja
Type Personal
1000 Watts Motor
Includes 12,18 and 24 oz cups
Dishwasher Safe
The Nutri Ninja BL455 is one of the most powerful personal blenders available to buy. It's 1000 watts of power are just about enough to handle easy to make and take green smoothies. They won't be completely smooth but definitely smooth enough, and especially smooth enough when you consider the drop in price tag compared to the two blenders above.
The reason this is better at tackling greens than most personal blenders is the type of blades that are in it, they're Ninja's own pro extractor blades. These are very sharp (please be careful…) blades that are positioned to have maximum blending power breaking down anything you put into them.
You also get three different cups with it so if there are a few of you in the house you can all make up your own smoothies the way you want them and take turns blending them up, good if there are a few fussy health enthusiasts involved.
Overall the best personal blender you're going to get for green smoothies.
4. Best Budget Choice – Ninja Versatile Greens Blender
Brand: Ninja
Type: Countertop
1500 Watts
Self Cleaning
72 oz Jar
Another Ninja has snuck into our ranks… This one with a bigger jar and an extra 500 Watts of power!
But seriously, the Ninja chef blender has more than enough power to take care of greens and has 10 presets and 10 speeds to chose from so you get a really customisable blending experience.
Plus one of those settings is the self-cleaning setting! So again you just fill it up with dish soap and water, turn on the setting and it will clean itself like a load in the dishwasher. But likewise if you don't find that's working for you the jar itself is dishwasher safe so you can clean it that way too.
A great little blender, coming in a little cheaper than the Blendtec with more customisability but without the extra strong blades.
5. Powerful Choice – High Speed Leafy Green Blender
Brand: Jamba
Type Countertop
2.4 horsepower motor
64 oz Jug
Variable Speed Settings
Now I was stuck on this one for quite a while trying to figure out what on earth it meant by having an infinite speed dial. Because it seemed to me it had a 10-speed dial, but what they mean is that it doesn't click into place between numbers, it moves more like a volume control so you have very precise control over the speed of the motor. Not entirely relevant or useful but it feels very slick when you use it.
What is good however is the fact it has a 2.4hp motor, that is a serious amount of blending power and makes it more than capable of coping with blending up leafy greens into a smoothie, not to mention any seeds nuts fruits or anything else you might want to put in there.
The blades on it are made of stainless steel but don't use the same blunted power that the Vitamix or the Blendtec use. So while it's very good I think you're money is better spent going for the Blendtec as it's not much more expensive or the Vitamix if you can afford it.
What Your Blender Needs For Green Smoothies
First let's look at what a great green smoothie blender needs. Well it needs to make smooth smoothies of course but let's delve a little deeper.
Enough Watts and Power
Power is one of the two most important things you need, because if there's not enough power then the blades won't turn fast enough and you won't be able to get a really smooth finish.
Under 1000 Watts is guaranteed to leave you with lumps, 1200-1400 is ok and will only get caught in tough stalks like kale, so it's upwards from there that you really want 1500+ watts or more than 2 hp.
Once you get above 1500 watts you're into the territory where greens don't stand a chance any more. Ideally, you want to get a blender that measures it's power in Horse Power, hp, so that you know it's got enough strength in it to make short work of anything you could put in it.
Strong Blades
Here's the secret second step, and the reason brands like Vitamix and Blendtec are so good…
Blunt blade design.
Yup, the blades are already blunt (on purpose) and made from stainless steel so the blending power comes from a powerful and fast motor, it tears through whatever you put in there no problem at all. And this has the massive bonus that the blades don't go blunt themselves and wear out.
This just gives it a lasting power that means you can keep on blending for years to come. Plus it means you can crush ice and frozen fruit easily and without blunting the blades and eventually wearing them out.
But if you don't want to go with a Vitamix or a Blendtec then just make sure the blades are a strong stainless steel so you'll know they last. It should also be pointed out taht blendtex and Vitamix are both ideal for juicing.
A Big Jar Size
Not strictly necessary but if you get a blender with a big enough blending jug then you can make your smoothies two days at a time and keep the other in the fridge, or if your having a few through the day it means you can make them all in the morning. The biggest time saver from this is that you don't have to clean it up as often, you can keep your cleaning to a minimum of once every couple of days or once a day depending on how often you want to have your smoothie.
But if you just want single-serve green smoothie then a smaller personal blender might be alright for you.
Accessories
Not really essential but I thought it was worth mentioning, you might want to get a blender that comes with a travel cup or two so you can take your smoothie on the go. You can pour it into any travel cup you have but if you don't have on already this can be a good thing to look out for.
Will A Personal Blender Work?
Personal Blenders are the ones where you can blend right into the travel cup, like the Nutri Ninja above.
The problem with using them for green smoothies is that they tend not to have enough power to handle the tough stalks the greens like kale have. So you'll end up with a green smoothie that's a little on the lump side.
However, I've included one in my reviews below that does a good enough job, it's not as good as the other countertop blenders but it's portable, doesn't take up a lot of space in your kitchen and is generally quite easy to use. So it's still the best personal blender for green smoothies just not the best overall.
Tips For Making Green Smoothies
Just a couple of tips to help for when you get started!
Always Add Liquid
Always make sure you add a little liquid into the blender as well, that just helps make sure everything circulates and blends properly, water or coconut water are the healthiest but apple juice can be quite tasty mixed in and adds a bit of sweetness that you might not otherwise get in a green smoothie.
Leaves Make Less Than You Think
Spinach is the worst for it, once you add spinach you'll realise there's hardly anything in it, still super healthy but be aware a whole bag of spinach won't take up as much room as you might think in your smoothie.
Best Green Smoothie Recipes
As an extra bonus here are a couple of recipes that can get you started!
Lean Green
2 handfuls spinach
1 ripe banana
1 cup soya milk
1 cup frozen pineapple chunks
1/2 tsp of ginger
1 tbsp chia seeds
Just put them all in a blender and get it blended! This recipe has some nice healthy fats from the chia seeds, some magnesium from the banana and a spicy finish with the ginger, I like fresh ginger but if you don't have any powedered can be an alternative.
To blend up the seeds properly you'll need a powerful blender like the Vitamix or the Blendtec otherwise you're going to have a little bit of crunch when your drinking it, not the worst thing to have of course but something you should be aware of!
Green Kick
1 Cucumber
2 Celery stalks
6 Kale leaves
½ Lemon
1 Green apples
1 Inch ginger
A huge veggie kick with the added sweetness of an apple and some lemon, green apples have less sugar than their red alternatives so are always a good choiec.
F.A.Q on the Best Green Smoothie Blenders
Are these good for all vegetable smoothies?
Yes! Greens are the toughest thing to blend so if it handles greens it can handle all the other vegetables too. Even hard vegetables like carrots or sweet potatoes (never use normal potatoes they'll make you sick!) get blended up really easily in the blenders I've talked about above. And the same goes for fruit too, if it can handle vegetables it can definitely handle making a fruit smoothies.
Do I Need To Buy A Premium Blender?
If you want to have a deliciously smooth green smoothie at home then, unfortunately, yes you do. On the whole cheaper blenders just can't handle green smoothies, or if they can at the start they quickly wear out and your smoothie gradually gets more grainy until you start to find lumps in it and then 6 months later you're ready to buy a new blender again. Not worth it. So Save up if you have to but it is absolutely worth getting a premium blender like the Vitamix or the Blendtec.
Can You Put Kale In A Blender?
Yes you can! You need a more powerful blender like a Vitamix or a Blendtec if you want to get a really smooth kale smoothie because the stalks are tough. But, you can either cut the stalks out before you blend it or accept you might have some kale stalks to crunch through while your drinking it.
Can You Blend Spinach in a Smoothie?
Again yes you can! I love putting spinach in my morning protein smoothie, although when I do it with the blueberries the color isn't the best, it comes out looking like cement… But a morning dose of greens is worth it, plus it tastes way better than it looks!
Conclusion
And there you have it! You're now well on your way to making and enjoying some delicious green smoothies in your own home, you can stop paying over the top prices in juice bars and get it tailored exactly to your needs and health goals. I hope you get to enjoy them soon! And I hope you found this helpful and if you still have any questions or you think there's anything I missed in this article then please let me know in the comments below.
Well, it's a tough call between all the blenders I looked at but I think the verdicts in, Vitamix is still the winner, it just can't be beaten in terms of the quality of the blend you get with your green smoothie, quick to make and easy to clean up after an easy choice for the top pick.
But I'm not gonna pretend it isn't expensive because it is, excellent value because you're buying an appliance for life but a big cost up front. The Blendtec is a little cheaper and does an awesome job with green smoothies so it's an excellent second choice, still built to last with the blunt blade system but that little bit more affordable so if you can't afford the Vitamix then this is the one you're going to want to go for.
But whatever you end up with I look forward to hearing about the new healthier you. and just as a last FYI. Juicing is different to blending.
Related Reading
Best Blenders for ice
Can You Blend frozen fruit?
How long do smoothies last?
Best glass blenders