There's nothing quite like a fresh smoothie, especially when it's one you've made yourself at home. Whether it's full of leafy greens or your faithful fruit smoothie recipe, there's something to enjoy for everyone.
However, using fresh ingredients does have a downside – it means that your smoothie might not last as long as ones that have been pasteurized or mass-produced. Are your superfoods still superfoods if all the good stuff has broken down?
This article will explain how long your homemade smoothies will last, usually, as well as the best ways to store your smoothies and make them last as long as possible, so you'll have your own healthy fast food!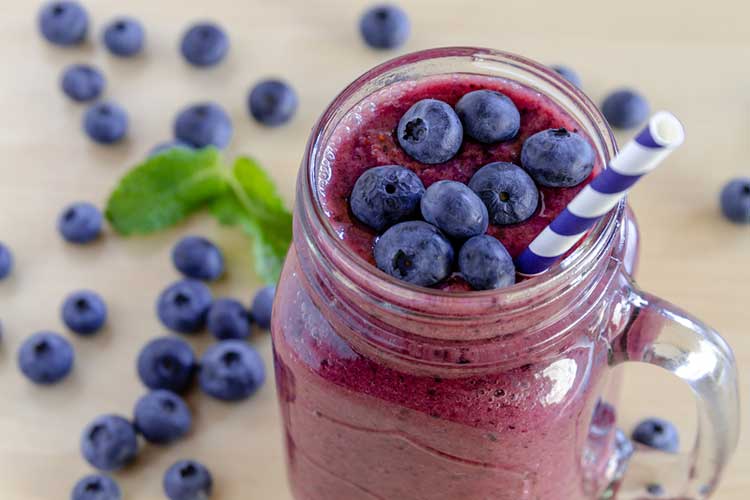 How Long Do Smoothies Last?
The short answer to this is that a smoothie will last 24-48 hours, 1-2 days, provided it's kept in the refrigerator inside a clean container like a mason jar. In the freezer, a smoothie will last for three months inside a clean container, just defrost thoroughly in the refrigerator overnight before drinking.
If you make a big batch of smoothie in the morning at breakfast, then save the extra smoothie, it should still be fine to drink the next day.
Smoothies always taste best fresh, but keeping them in the fridge or the freezer does allow you to make them ahead of time, so you can enjoy them if you're busy.
As with everything, use your best judgement when it comes to what you eat. If you take your smoothie out of the fridge and it doesn't look right or smells bad, don't drink it!
This as true for fruit smoothies as it is for green smoothies.
How Long Do Smoothies Last in the Fridge?
Like I said above, the general rule is 24 hours. however in very hot climates it could start going off in a few hours.
However, I have read about people who keep their smoothies in the fridge for several days, but there are specific things you need to do to keep your smoothie fresh that long.
If you're keeping your smoothie in the fridge then you should keep it in an airtight container. There are some really cute mason jars out there that come with airtight lids. Glass mason jars – or any glass container with an airtight lid, check out my article on juice bottles for more – would be a great option for storing your smoothie, since the glass will keep it tasting fresh.
The reason for keeping your smoothie container airtight is to prevent the fresh fruit and veggies inside your smoothie from oxidizing. As smoothie ingredients oxidize, the nutrients and vitamins inside them degrade. because they're exposed to oxygen.
This is also when they start losing their color and structure, so you'll notice your smoothie going brown or off-color and it might smell funny. If this happens, please don't drink your smoothie! You won't thank yourself for it.
Most smoothies are fine in the fridge but one thing I will mention is that bananas don't keep particularly well when they're exposed to cold. I've read a lot of people venting because their banana smoothie went brown really quickly in the fridge. Unless you're planning on drinking your smoothie straight away, I'd avoid using bananas.
How Long Do Smoothies Last in the Freezer?
Smoothies last a lot longer in the freezer than in the fridge, making it a fantastic option if you want to enjoy a healthy smoothie regularly but don't have time to make them every day.
This can also be really useful if you meal plan, since you can stock up well in advance. Planning what you're going to eat or drink in advance can also help with weight loss, if that's one of your goals.
If you make a batch of green smoothie, for example, you can put it in ice cube trays, or popsicle molds, and it will stay fresh and safe for up to 3 months! Any longer than that and your smoothie will develop a weird taste.
You can use freezer-safe mason jars for this too, if you're a fan, since they have wide mouths and the glass is thick enough to resist the cold.
No matter what you keep your smoothie in, make sure you leave a bit of room at the top of your container before freezing it. As your smoothie freezes, it will expand a little, so if there isn't any room for it to move into, your lovely mason jar will shatter.
You should also make sure your container is airtight, since that will keep your smoothie safe from freezer burn.
When it comes to thawing your frozen smoothie, leave it out and give it time. If it's separated a little or the heavy ingredients have settled at the bottom, be sure to give your green smoothie a big shake.
Once again, bananas are not an ideal candidate for fresh smoothies you're planning on freezing. Banana smoothies that have been frozen have a tendency to separate when you defrost them, making their texture pretty horrible. So again – no bananas!
So should smoothies be refrigerated or frozen? Really it's up to you and your needs.
How to Make Your Smoothies Last Longer
Whether you're keeping your smoothie in the fridge or in the freezer, there is a way to make your smoothie last even longer.
Try adding either a little lemon or lime juice to your smoothie recipes. The Vitamin C that you find in these fruits can prevent your healthy smoothie from oxidising – the process we mentioned above that breaks down the fruit and veggies in your smoothie. This means they'll stay fresh and tasty.
Does Your Blender Make a Difference?
There are lots of different blenders out there – Nutribullets and Vitamixes to name a couple. Generally, the blender you use doesn't really matter when it comes to how long your smoothie will last in the fridge or freezer. Regardless, the fruit and veggies are going to be exposed to the air, so will oxidize over time. So a Nutribullet smoothie will last as long as any other homemade fruit smoothie.
The only blender I've found that has the potential to keep your smoothie fresh for longer is the vacuum blender. Vacuum blenders suck out all the oxygen before blending up your ingredients, which will apparently prevent them from oxidizing as quickly. If you are looking for a blender that will maximize the freshness of your healthy smoothie recipes, then I would go for a vacuum blender.
As for how long to blend your smoothies that doesn't factor in to how well they store, it just changes the consistency. And it should be pointed out that blenders are of course different to juicers.
Frequently asked questions how long do smoothies last
Do Smoothies Last Longer Than Juices?
Blending and juicing are very similar but their products can taste and feel very different. Blending generally uses more whole foods that get mixed into a thicker smoothie. Juices are usually smoother and don't have that thick texture.
Because juicing doesn't break up the fruits and veggies in the same way, they don't oxidize as much – which means juices last longer than smoothies. We've written an article all about how long juices last, which you can find here.
All in all, smoothies are better when they're fresh. If you can, then drink your smoothies as soon as you've made them, so you can enjoy the best taste and the best nutrition.
However, if you're pushed for time or need to be organized in advance, then putting your smoothies in the fridge or freezer is a fantastic idea!
Can I Make My Smoothie The Night Before?
This is the long and short of it right? You want to know if you can save time in the morning and make your smoothie the night before so you get a little longer in bed. Maybe you're worried smoothies lose nutrients overnight?
luckily you can make them the night before! With the added bonus that there will be no nutrition lost.
Because smoothies last about 24 hours you rest assured that you can make your smoothie the night before to drink in the morning. What I wouldn't recommend is making it the night before and taking it to work to drink, on the way to work is fine but don't keep it in your bag where it can get warm if you're making it the night before. It's just asking for trouble.
You could potentially make a protein powder smoothie the night before and take that to the gym first thing to drink after, but it depends how hot the locker room is, if you can keep it cool or put it in a thermos you'll be just fine.
How To Know If Smoothie Has Gone Bad
Generally, you can tell if a smoothie has gone bad, it'll have a funny smell it'll certainly have a funny taste but you can usually tell because the color has started to go a little brown. The brownness you get in a blended smoothie is particularly present if you've made a banana smoothie.
Even if you use frozen fruit, soy milk or almond milk your smoothie will still start going off about 24 hours later.
When you check, make sure you shake it first, sometimes the smell can be trapped and gets released when you shake it, this is true with dairy milk too coincidentally.
Conclusion
There you have it, your fruit of vegetable smoothie lasts about a day in the fridge, maybe two days if you've used especially fresh ingredients and added in some lemon juice to stop the oxidization. Make sure you sniff check it before you drink it if you're unsure and remember that homemade smoothies are the healthiest.
Store-bought ones either have preservatives added to them or they've been heat-treated so they last longer, don't get discouraged, and carry on your smoothie journey!
Whether you want to store fruit of veggie smoothies in the fridge or the freezer I hope you've found this useful and can now store smoothei safely. Plus your leftover smoothie won't go to waste. As one last tip, you can use an ice cub tray to freeze smoothies and you get smoothie cubes!
Leave me a comment below to let me know if this was useful!