I have to admit, the real reason I was so taken by the smoothie craze, was the ease of the whole process. Rather than all the prep and organization it takes to make a healthy meal you just throw the ingredients in the blender and there you go!
A healthy, delicious meal in an instant, or so it seems…
It didn't take me long to realize that, as quick and easy as it is to throw the smoothie together, clean up can end up taking far longer than it should. My old blender was anything but dishwasher safe as I learned the hard way. I had put in through the machine one too many times and when I went to puree some soup, I added the hot liquid and the whole jug cracked.
The mess was unbelievable as hot soup spilled everywhere. It even got behind the fridge and cooker, urgh! Now whenever I am tasked with testing the latest range of high-speed blenders, the first question I always start with is "Are the blenders dishwasher safe?".
As it happens, most models of Ninja blenders are dishwasher safe. The jugs, blades, and lids are all fine to go in the dishwasher with the exception of the Ninja Foodi hot and cold blender; because it has a heating element built into the glass jug. To help with cleaning, this model comes with a special built-in easy-clean cycle and a brush to clean under the blades.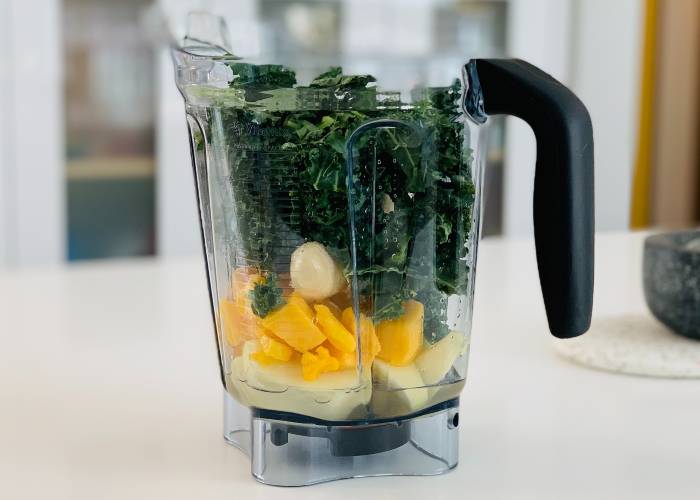 A Bit Of Background…
Before we launch into Ninja blender mega kitchen systems and other food processing options lets get a bit of background on the company itself.
Founded by Rosenzweig in Montreal in 1995, Ninja kitchen and Shark vacuum were originally known as Euro-pro. The name changed to SharkNinja in 2015 and has expanded to produce a wider range of cooking solutions.
The Ninja blender range has grown massively over the years. Over the past decade, the SharkNinja corporation has been working hard to provide high quality, powerful blenders at affordable prices.
The Ninja blender kitchen range is vast when you look at sites like Amazon and product comparison sites. To really get an understanding of the most up-to-date and newest models it's best to go to the source, ninjakitchen.com.
The wide array of products have been honed and perfected over the years to give an optimal selection of personal and professional blenders.
The thing that really excited me about the Ninja countertop blenders was the powerful motors found in all their products. The blade assembly options pulverize whole foods into a puree with just the simple press of a button.
I've tried out the latest Ninja has to offer where it comes to smoothie makers and I am keen to give my two cents on them.
Ninja Foodi Power Nutri Duo Smoothie Bowl Maker and Personal Blender
This powerful ninja blender is the ideal accompaniment if smoothie bowls are your thing. It comes with a powerful motor base and strong stainless steel blades that reduce all whole fruits to a thick, tasty smoothie in no time.
The only downside of this machine is that it doesn't come with a larger smoothie bowl option.
Dishwasher Safe: YES Blades, cups and bowl all dishwasher safe
Power: 1200 watt peak power
Blades: Hybrid Edge Blades
Cup/Blender Jug: 14 oz smoothie bowl plus two 24 oz cups (all BPA free plastic)
Auto Iq: 4 pre-set programs
Functions: Makes perfect cups of smoothies that can be enjoyed immediately or stored for later using the lids provided. The smoothie bowl has a power paddle built in to push ingredients towards the blades for perfect smoothie texture.
Ninja Professional Blender plus Kitchen System with Auto Iq
The wattage of the ninja auto iq blender is a whopping 1400 watt at peak power which makes pureeing anything a walk in the park. This really is a catch-all set-up and it would appear there's nothing this machine can't help out within the kitchen.
The only downside of this option is the plastic jugs are a bit prone to cracking but the product does come with a 1 year warranty if you run into any issues.
Dishwasher Safe: YES Dishwasher-safe blades, pitcher, single-serve cups, and processor bowl.
Power: 1400 watt peak power
Blades: Total Crushing Blades, Chopping Blades, Dough Blades, Pro Extractor Blades
Cup/Jug: 64 oz Precision Processor Bowl (plus lid), 24 oz Ninja Blending Cup (plus spout lid), 72 oz total crushing pitcher (with lid) – all BPA free plastic
Auto Iq: 5 pre-set programs
Functions: This really is a one-size-fits-all food processor and blender duo. The blender cups make for easy single-serve smoothies and the processor bowl is perfect for chopping, mixing, or kneading dough. The total crushing blades and pitcher are ideal for ice crushing to make cocktails, smoothies, and milkshakes galore.
Ninja Foodi Hot and Cold Blender
I love the idea of this hot and cold blender and soup maker but the clean up afterward is a bit fiddly. I am a dishwasher fanatic so I may be biased as this model isn't dishwasher safe.
That being said, the cleanup program works pretty well if you use it straight after blending and the brush they provided was handy to get to the hard to reach places.
Dishwasher Safe: NO but the heated clean-up program and blade brushes allow easy cleaning.
Power: 1400 watt motor base and 800-watt heating element
Blades: Stainless steel total crushing and extraction blades
Cup/Jug: 64 oz glass pitcher
Auto Iq: 12 programs plus heat
Functions: Hot and cold blender options to make everything from hot soups, sauces, and fondue to cold drinks, cocktails, and ice cream.
Nutri Ninja Blender Pro
This is a compact and simple smoothie maker. It hasn't got the pre-set programs like the other models but you can crush ice by manually pressing the pulse button. I love the fact that the cups fit nicely in the top rack of my dishwasher and don't take up much space at all.
It's more powerful than my Nutribullet and makes a lovely silky smoothie but it was disappointing to find that the cup attachment started leaking after a few uses.
Is the Nutri Ninja Dishwasher Safe: YES dishwasher safe blades, cups and lids
Power: 900 watts
Blades: Pro extractor blades
Cup/Jug: 18 and 24 oz Nutri ninja cups (plus spout lids) – all bpa free plastic
Auto Iq: No
Functions: Individual smoothie cups, manual pulsing option to crush ice, seeds and tough fruit and veggies
FAQs on are ninja blender dishwasher safe?
Are all Ninja blenders dishwasher safe?
Most models are but the Ninja blender Foodi Hot and Cold Blender is not. Those that are dishwasher safe, the jugs, ninja blender cups, lids and blender blades can all be washed in a dishwasher but the motor base must be cleaned with a damp cloth.
Can you put hot liquids in the Ninja blenders?
You can't put hot liquids in the blender but you can put warm liquids in them. Make sure the liquid isn't warmer than 180F.
Can you use a Ninja blender instead of a juicer?
A juicer works differently compared with a blender as it separates the whole fruit pulp from the liquid components. You can make juice in a blender however, you just need to strain the mixture afterward.
Can you replace your mixer with the Ninja blender?
The Ninja blender kitchen system does double as a mixer but the only downside is that it only does high speeds. If a recipe calls for low-speed mixing (like a light batter) then the Ninja blender may be too powerful.
Take-Home
Ninja blenders are powerful blenders that make smoothie making a breeze. Most models have dishwasher safe components but some do not. The processing power you get for the price makes these blenders a great option to quickly produce delicious smoothies.
Generally you can wash most ninja blenders in the dishwasher but hand washing in warm water and soapy water is always an option. But extra care should be taken when washing the blender blades because they are often extremely sharp. And as a rule, only the blender container jar is the only dishwasher safe part.
If you want an easier cleaning process, the Vitamix has a self cleaning mode. This is especially useful if you're making green smoothies where the food residue can be stubborn. A paper towel to wipe away the excess smoothie is often a good idea.
And yes you need to clean your ninja after every use. And no, the electrical components, like the jar base, shouldn't go in the dishwasher.
As a final tip you should know that dishwashing risks shortening the life span of the blender by possibly causing the blades to blunt.