There comes a point where everyone gets fed up of shaking their own protein shakes.
The little metal ball thing never seems to mix it properly and you always get left with clumps of powder either stuck to the bottom or worse in little air bubbles that pop in your mouth.
Yuck.
Or you just get fed up of the same ol' taste every time.
So why not get a blender right?
If you get a blender for protein shakes you can make them with all sorts of added ingredients to bulk them out with flavor and nutrients. And they mix far quicker than trying to do it by hand, and they do a far better job of mixing it all together.
With that all said let's get stuck into what you need to look for a protein shake blender and then some of my top choices for the best ones available.
But first, here's a table of the top choices. Just click the name to head to Amazon where you can order yours.
Best Protein Shake Blenders
What You Need To Know Before You Buy Your Protein Shake Blender
A quick look at the different things you have to consider to make sure you get the best one for you.
Will It Leave Any Clumps
As I said before, the last thing you want is to get hit with a big lump of dry whey powder while you're drinking your shake.
So you want to make sure the blender has enough power to thoroughly mix the powder through. Luckily, this doesn't actually take very much since it's just mixing a powder rather than blending anything hard. If you want to add nuts or ice then you'll need more power but 200-400 watts should be enough for basic powder then 600+ watts for harder ingredients.
How Big Is The Cup
If you just make them with the 200 ml of water then you'll be hard pressed finding a blender with a container size that's too small. But throw in a banana, a handful of ice and a big spoonful of peanut butter and things get a little more tricky.
So if you like to have huge double scooped protein shakes packed full of everything and anything then you'll need to get a standalone blender (I've got my favourites below) otherwise a personal one that you can take off and stick a lid on will be just fine. Which takes me too…
Can You Put A Lid On It
I like being able to blend up the shake turn it over, put a lid on it and head out the door. It's so much more convenient than having to pour it out into another container before you can drink it, and it saves on washing up which is always a win in my mind.
Personal vs Stand Alone Blenders
I've covered this a little already but I thought it worth mentioning again so you know which you need.
Personal protein shake blenders are good if like being able to just blend it up turn it around and drink it, or if you tend to make them and take them on the go. And if you like having normal sized ones without any harder ingredients in them as the power tends to be lower.
And just to be clear personal blenders are the ones like NutriBullet that have a bottle you attach the blender part too.
Stand alone blenders, on the other hand, are good if you make really big protein shakes or if you add lots of harder ingredients into them. Personal blenders might leave things a little bitty compared to a stand-alone blender which will be more powerful and able to blend anything.
Is It Easy To Clean
No one likes washing up, and washing a blender can be a pain in the ass. So look for one that has minimal parts and hopefully says somewhere that it's easy to clean. I like personal blenders for this reason, they're nice and easy to clean as long as you have a long brush to get inside the bottle part. And they fit really easily in the dishwasher.
What Is The Best Protein Shake Blender?
All the best protein shake blenders reviewed, they're all available on Amazon so you can click through the Price & Reviews button and order yours.
Best Personal Blender For Protein Shakes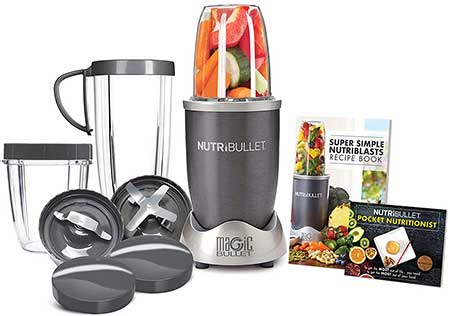 High Speed Personal Blender
Brand: NutriBullet
600 Watt Motor
Includes 3 Cup Sizes
Super Easy To Clean
A supremely powerful person blender the NutriBullet is the way to go if you want to have deliciously smooth protein smoothies.
The biggest cup size is 24 oz so more than big enough for standard use and single-serve protein shakes plus it comes with three different cups so if there's more than one of you in the house you can each make your own shakes and take them away.
The cup size is nice and wide so it's really easy to get in it with a sponge to clean it, but at the same time, it's dishwasher safe as long as you leave it on the top rack.
If you're wanting straight-up protein shakes this'll do the job with ease, but if you're wanting smoothies then you'll get on fine with even nuts and hard fruits in it. The only problem you might have is with lots of big ice cubes, it's not quite powerful enough to handle ice but as long as there isn't too much in there it gets on just fine.
It also comes with a couple of little freebie books, so you get one on different smoothie recipes, which is good because you can just add protein powder on top, and a copy of pocket nutritionist which helps you find what nutrition different foods have.
Overall an easy choice for protein shakes and smoothies.
Best blender for protein shakes with ice
Ninja Protein Blender
Brand: SharkNinja
700 Watt Motor
2 x 16 oz Cups
Recipe Book
So another personal blender with a badass name? But how do they compare…
Well you've got an extra 100 watts of power which makes it fully capable of crushing ice into your smoothies, but you also have a slightly smaller cup size at 16 oz as opposed to the 24 oz of the NutriBullet above.
So pretty similar and it depends what you need them for, if you want extra power and have a lot of ice then this will be the one for you but if you like giant protein shakes then you'll need the bigger cup size of the one above.
It's again pretty easy to clean, the glasses are a little taller so you need a brush to get into them but again it's dishwasher safe so you can always clean them that way. Though while we're on the tall cups you might have trouble fitting them on a normal shelf in the fridge, not a huge problem but something to be aware of if you're going to keep it in an office fridge, you'll have to try and claim some door space.
Apart from that it's a solid choice of blender for making protein shakes, it's capable of blending pretty much anything you could need, easy to clean and it's got a handy to go lid.
Though, a quick note to say that the handy to-go lid is quite small for really thick smoothies, a regular protein shake is fine but if you make thick creamy smoothies then you'll need to drink them with the lid off.
Best Cheap Protein Shake Blender
Cheap And Cheerful Blender
Brand: Oster
250-Watt Motor
Dishwasher Safe
20 oz Cup
If you just want to make protein shakes without any extra fruits or ingredients (any more than just a banana kind of thing) then this is the way to go.
250 watts is more than enough to mix up a protein shake and turn soft fruits into smoothies. The cube is made of BPA free plastic and again it's all dishwasher safe so easy enough clean up.
Again it's a very tall bottle so you might have some trouble storing it but for the price, it's not a huge issue I would say. The tall bottle can also cause some clumping to happen in the top corners if you put the powder in first, if it were squatter I think it would blend together a bit better, but it's not a huge loss, and it's stuck there rather than floating through it when you drink it. Plus an element of you get what you pay for because the price is so low.
So yeah, you can make protein shakes, add a little bit of fruit and definitely not much ice to it. But to have that you pay a lot less than some of the others on this list so it's a give and take. I personally like something with a bit more versatility, but this is about you not me!
I've got more cheap blenders reviewed here.
Best Portable Blender For Protein Shakes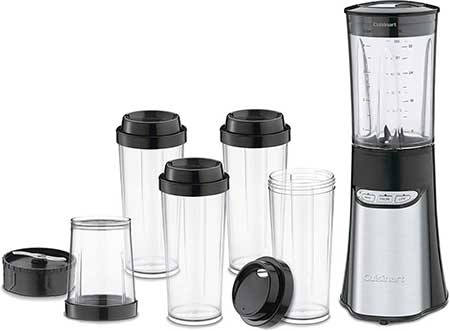 Multi Cup Blender
Brand: Cuisinart
350 Watt Motor
High, Low And Pulse Settings
BPA Free
Cuisinart have been making quality goods for a very long time, their first food processors were the industry standard and they've been making excellent blender like products ever since.
So what about this one?
You've got 350 watts of power so it's a little more powerful than the Oster above but it's also a little more expensive. It still struggles with ice or frozen fruit but makes short work of fresh fruit and protein smoothies.
You also get a load of different cups with it, too many some might say, but they all come in handy. Especially over the years as you seem to misplace them and leave them on the subway, you get three travel cups with lids for on the go, a mincing cup and a chopping cup. So you'll be cupping mad not to love it. Get it?!? No, me neither but it was worth a shot….
Ideal if you have a household making lots of basic protein shakes because you can all have a cup each and make them all from the same base and just swap them all out as you go.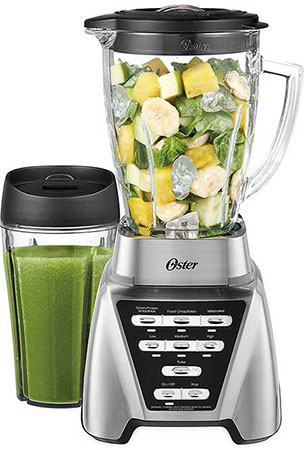 Stand Alone Protein Blender
Brand: Oster
1200 Watts!
Includes 24 oz Travel Cup
7 Speeds
1200 watts? Now we're talking, this will take down ice and make the smoothest protein shakes you've ever had. It won't quite manage veg in the way a Vitamix will but for protein shakes it has everything you could need.
One thing I really like is that it comes with a travel cup that is 24 oz and you can actually blend right into it the way you can with the personal ones, it just also includes a really nice glass jar as well.
On the Amazon page they a few recipes of different foods and dips you can make with it which I thought was pretty cool, I'm all about the versatility and getting as much use as I can out of it so I was more than happy with that.
The downside is it's not as easy to clean, because it's the big jar you have to really get in and about it, and while it is dishwasher safe it can be a bit of a hassle actually getting it to fit into the machine properly can be a bit awkward.
For under $100 you're getting a great stand-alone blender that will have you making giant loads of protein shakes in no time.
Final Tips For Making Protein Shakes In A Blender
Just a last couple of tips so you can get the most from your blender after you've bought one.
Put The Powder In Last
If you put the powder in first and then water on top it just tends to get stuck at the bottom until you clean it when your done. But put the powder in last and it all mixes together nicely with little to none of it getting stuck on the sides.
If You've Got A Lower Power Model Add Less Ice Cubes
If you've gone for a lower power blender that can't handle crushing ice then just add a couple of ice cubes instead, that way they melt and the whole things gets cooled down without having to be crushed up by the motor.
F.A.Q On Protein Shake Blenders
Can you use a blender for protein shakes?
Why yes you can! I'm sure you gathered that by now but I know it's a concern so thought I'd mention it here. Nothing happens to the protein powder while it gets blended, the whey (or any other type of powder) doesn't break down or lose any of its nutrition from the blender, it just mixes faster and a lot easier.
Plus you can mix in fresh fruit to make it taste better.
Do I need a blender for protein shakes?
Nope, you can get on just fine with a regular protein shake bottle that has a mixer of some kind in it, either the little wire ball or a sort of mesh grate that sits near the top to break up the lumps and mix the protein together.
But the advantages are there for a blender, it's faster, mixes better and you can add in fruit and blend in ice to keep it chilled and tasting a bit better. The only disadvantage is that you can't make it while you're out and protein shakes don't keep very well so you're going to want to blend it and drink it. Whereas with a bottle you can put the powder in the bottle and then pour in some water later on in the day to actually make the shake.
Should protein be mixed with milk or water?
It's up to you! You can use either but be aware it will change how much fat and protein is present plus how many calories are actually in the drink. I actually much prefer the taste of protein powder with milk, it's just more creamy and delicious, whereas with water it just tastes, well… Watery you know?
Using water would make it last longer compared to milk which can spoil however. Check out this article on how long smoothies last for more info.
Conclusion
And that's it! I hope you've found it useful and can start blending yourself up some protein smoothies in no time at all (I've got more smoothie blenders reviewed here).
To sum up, the Nutribullet is still my favourite protein shake blender, it's small, comes with a few different cups, powerful enough to handle some fruit and ice as well to make it really tasty plus it cleans up easily and washes up fast too.
But the Shark was a close second, however, I'm pleased with all the blenders I found for this article, if you know of any others or think I missed anything in this article then please let me know in the comments below, I'm always updating these articles so get in touch!