Kale: one of the famous-est of superfoods!
Fried in olive oil with a little bit of garlic? Absolutely delicious. Pushed through a juicer, raw? Well…
I'm kidding, I'm kidding. Juicing kale is really common and is so good for you! I have to admit that it isn't the tastiest of juice ingredients – it doesn't taste as good when it isn't fried with garlic, for some strange reason – and is definitely helped by mixing with other ingredients to make a yummy healthy green juice. But when you consider the nutritional value that you get from kale, it makes the odd taste worth it – lots of iron, vitamin a, vitamin c, vitamin k, and protein to name just a few benefits. Especially when you can add some zing and spice with lemon or ginger.
Juicing raw kale won't make you ill in any way, provided you've washed it thoroughly.
Why You Shouldn't Juice Kale – Dangers and Side effects
I did a lot of research into this and I have to say that a lot of it was… stupid. There's not really another way to say it. The main thing that people generally warn against is consuming four and a half cups of kale a day, because it can cause you problems if you already have weak kidneys.
I'm not saying that this is bad advice, it's true that if you drink four and half cups of kale a day you'll have problems! But I don't know anyone who could stomach that much kale juice! Kale is an ingredient, you don't have it in the same way you have orange juice – generally kale is part of a green juice. But on the off chance that you thought about doing, drinking glasses of kale juice is bad if you have weak kidneys.
I'd say that a more important thing to know about kale is that it is high in vitamin K. Vitamin K is usually great – it works to heal any wounds you get and is what clots your blood to stop you from bleeding. However, vitamin K is an issue if you have to take aspirin, or any other blood-thinning medication because it thickens your blood. It might undo the good that your medication is doing for you.
A single cup of kale contains six times the daily recommended amount of vitamin K, so if you have any concerns then please speak to your doctor.
Can You Juice Kale Raw?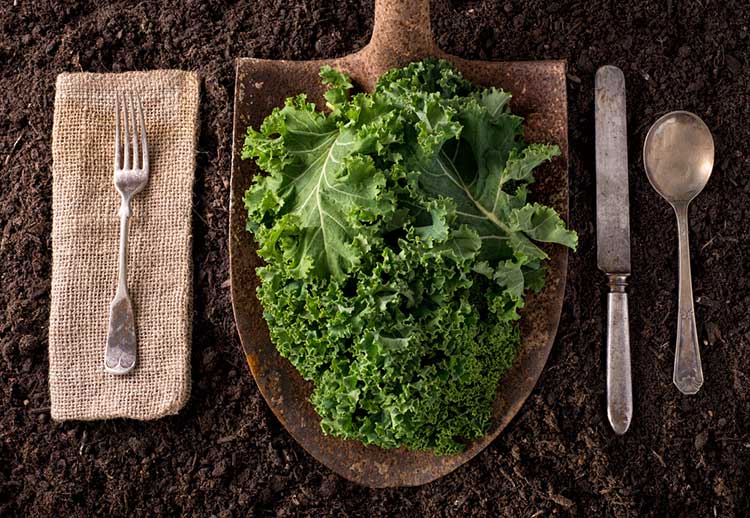 You absolutely can, it's a great addition to your fresh juices. Like with any raw food, it's very important that you wash it thoroughly since there's a chance it has dirt or pesticide on it. Washing it under the tap will do the job, just make sure you do this before it goes anywhere near your juicer!
When you're juicing your kale, you need to put it through your juicer bit by bit and push it through with the tamper. This means the total time you spend making a kale juice in it is generally longer than other vegetable juices. But it's worth it!
Some people think that you should boil you kale first before you juice it but I prefer juicing it raw. The flavor is intense but it really packs a nutritious punch!
Can You Juice Kale Stems?
This depends on the kale you buy, really. If you buy kale that has large stems with brown spots that look dry, then chop them off. These stems are just that – dry, and they won't yield a lot of juice. So leave them out, don't put them in your juices.
The kale that I tend to buy is chopped into small pieces, so taking the stems off these would be too much effort – I just put them into my juicer as they are and it works just fine.
When it comes to juicing your kale in general, then I'd recommend getting yourself a masticating juicer. It'll juice kale more effectively if you're planning on doing it regularly than centrifugal juicers, since masticating ones separate the juice from the pulp better.
What Kale Can You Juice?
As far as I'm aware you can juice any type of kale you can find. If you know differently, please get in touch with me and let me know! Reader interactions are a big part of the reason I update articles, so don't hesitate to get in touch.
Unless you're lucky enough to have a specialty grocery store nearby, chances are you'll be buying curly kale – it's the classic kind and one of the best. This is what I use based purely on how easy it is for me to find.
But you can make kale juice with any type of kale if you can find them: Red Russian, Lacinato, Ornamental, Chinese, Rebor. You can also juice kale that you grow yourself.
The rule I use for juicing kale is that I won't juice it if I wouldn't eat it. If your kale is a funny color or has a strange smell, then don't juice it. Kale like that would do better in the compost bin!
How Much Kale Should You Juice?
It's really up to you – just make sure it's less than four and half cups a day! A cup of kale, or five or six leaves is a good amount to add to a kale juice recipe. It's the portion I recommend in the green juice recipe below.
If you'd prefer a strong-tasting kale juice, then try doubling up the amount. If you're juicing kale for the first time though, I'd recommend tasting small amounts first before jumping in with too much! It's an intense flavor and not as palatable as juices like celery juice or watermelon juice. Leafy greens take a while to get used to if you're a newbie to juicing but stick with it!
How Much Kale Juice Can You Drink A Day?
I'd say that a big glass (about 16oz) of green juice a day is plenty. And when I say green juice, I mean a juice that's a mix of fruit juices and vegetable juices, not just a glass of kale juice. Your green juice should also contain watery ingredients like celery juice or carrot juice too.
When it comes to your kale, you should add about one or two cups in your green juice. You could probably drink more than that, but I think it would be more beneficial to consume a combination of fruits and vegetables, rather than only kale. I'd also recommend getting your daily fruits and veggies in both juice and solid form too. Besides, there is no need to drink kale juice every day.
You can substitue other leafy green vegetables like spinach too.
The Best Kale Juice Recipe
I think the best healthy kale juice recipe has to be the mean green juice by Joe Cross. It's the standard when it comes to green juices and is tried and true. Check it out below or take a look at the other green juice recipes I've got here.
1 cucumber
4 celery stalks
2 green apples
8 kale leaves with stalks
1 lemon
1 inch piece of ginger
Peel the ginger and the lemon, then wash all of the other ingredients. Then put them all through your juicer, starting with the kale and the ginger.
Just make sure your juicer is up to snuff, since you'll need a juicer that can handle leafy greens, like these ones I've reviewed.
Pour into a glass and enjoy your delicious green juice! You can also add a few drops of lemon juice for a little more zest.
Can You Juice Kale F.A.Q
From what I've been able to find, you need to thaw your kale before you juice it, the same as all vegetables. This is because you'll get more of the nutrition out of them than if they were frozen. As they thaw, the cell walls of vegetables collapse, which means that you get more juice and nutrition out of them.
Can you juice kale in a Breville juicer?
Yeah, absolutely! I said it previously but I'd recommend a masticating juicer rather than a centrifugal juicer if you're juicing kale since you'll get more juice that way. Masticating juicers grind down ingredients rather than spinning them around.
Can I use kale in smoothies?
Yep! You can have kale in smoothies just like you can have kale in juices. Green smoothies are really good for you and usually have more fiber than juices.
What other veggies can't be juiced?
There really aren't very many vegetables that you can't juice. Obvious ones are squash and potatoes, which don't juice well and won't taste nice! Although it's technically a fruit, you also can't really juice avocados either since they just turn to mush.
Conclusion
There you have it! I hope you're excited to get some kale, the cruciferous vegetable, in your juicer and start enjoying the delicious health benefits it can bring you. Green vegetables are always good, especially dark leafy greens like kale, but spinash and swiss chard can be excellent too.
Stick to about 1 cup of kale in a standard green juice recipe and make sure you add some lemon and ginger to help cut through the bitterness. But don't just juice, try sauteeing it and having it as a side with your dinner too! You won't regret it!