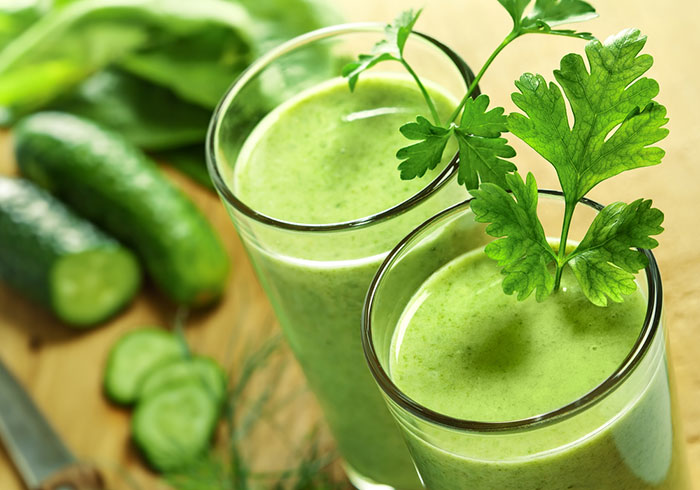 Green juice is one of the best things you can have as part of your day-to-day diet. It has so many health benefits: strong hair, glowing skin, even weight loss!
I think most people already know that green juice is good for you but in this article I've waded through all of the anecdotal evidence to bring you scientific facts about the health benefits of green juice.
Let's jump in!
What is Green Juice?
Green juice is any juice that's come out of a juicer and is green in color. Green vegetables = green juice.
Easy.
However, this means that green juices can vary wildly!
The benefits of each green juice depend on the fruits and veggies that are in them. However, it's generally true that fruit and veggies that are similar in color have the same nutritional value, so you will find some similarities across all green juices.
For the purposes of this article, I'm going to be using the Mean Green Juice recipe – made famous by the Fat, Sick and Nearly Dead documentary – as my reference for all the benefits you can get from a green juice. It contains kale, celery, cucumber, apple, ginger and lemon.
Keep reading for the full Mean Green Juice recipe!
Why Green Juice Is So Healthy?
Green juice is fantastic because so many vitamins, minerals and enzymes are packed into a single glass. You'll have heard the term detox before but with a daily green juice, taking care of your body is so simple. You'll feel fantastic with the big burst of goodness you get from your favorite green juice.
Green juice also makes it easier to get the recommended (or even bigger) amount of fruit and veggies you should have a day. There isn't any cooking involved and drinking a juice takes a lot less time than making your way through a bunch of collard greens!
Scientifically-Backed Green Juice Benefits
Like I said, these health benefits I've put together are based on the Mean Green Juice recipe but they do apply to most other green juices too.
1. Younger Looking Skin
Green juice has a lot of Vitamin A in it, which is ideal if you want to care for your skin. It can actually repair and regrow skin cells, which means younger-looking skin.
Vitamin A is actually the active ingredient in some prescription medications that are used to treat acne and other skin conditions.
Dr David Greuner says this about it: "[Vitamin A] works by signalling to the cells to grow at a faster rate, bringing fresher, more youthful skin to the surface more rapidly. Used in excess, it can be quite irritating, however"
I'll point out here that the amount of Vitamin A that you get from a green juice won't irritate your skin, it'll only improve the way it looks.
2. Healthy Hair
If you're struggling with hair loss, there's a good chance it's caused by a vitamin deficiency. Green juice can help with your hair loss, but only if this is the cause. If you're losing your hair because of male or female pattern baldness, then I'm afraid green juice isn't going to help.
However, all of the goodness you find in green juice will keep your hair feeling strong. Vitamin A will help the cells regrow as they're needed. Vitamin C aids the production of collagen, which is a key ingredient in healthy, strong hair.
But it's got everything in it to keep your hair feeling strong, vitamin A to help the cells regrow as they need. And it's got Vitamin C which helps you make more collagen which is one of the key ingredients of healthy hair.
If you're over 30, then this is particularly relevant to you, since this is when your collagen levels start to drop.
3. High Energy Levels
Green juice is a fantastic energy booster. That's why it's great to have in the morning – it could even replace your morning cup of coffee!
The reason for this is because green juice has a high level of protein, which fuels you for longer. Green veggies also contain Vitamin B6, which is what helps your properly digest the energy you get from your food and assists your body in as many as 10 different reactions, including metabolising proteins.
Green juice also contains lots of iron, which can be useful for vegetarians and vegans who might struggle to consume enough of it. This is useful for increasing your blood flow, which can help you feel more awake. If your blood flow is healthy, then the rest of your body is getting plenty of the oxygen you breathe, as well as all the nutrition you absorb from your green juice.
Healthy blood flow is also important in maintaining the health of all your organs, which means it could potentially keep away conditions like heart disease.
4. Weight Loss
I've explained already that green juice is packed with nutrition and it makes it easy to eat the required amount of fruit and veggies. As well as being really good for you, green juice is low in calories, which makes it a great recipe to try if you're keen to lose weight.
If you're looking for the weight loss benefits of green juice, then try swapping out an unhealthy breakfast for a green juice instead.
Another option is trying out a juice fast or juice cleanse. For this, you swap out your regular meals for healthy green juice or fruit juice for several days. I wouldn't go any longer than 5 days, this is more than enough time to reap the health benefits of a juice cleanse.
The ginger in the Mean Green Juice is also good for weight loss because it can kick start your metabolism by increasing your stomach acid production.
5. Healthy Eyes
I've already gone on and on about how great Vitamin A is, but I'm going to keep going! It's also really good for your eyesight. In South East Asia, Vitamin A deficiency has actually been linked to blindness in thousands of children.
You probably aren't deficient but extra Vitamin A will help slow the degenerative process that happens in your eyes as you get older.
6. Boosted Immune System
No one likes getting sick. The key to avoiding all the bugs that go around is a strong immune system and drinking green juice can help you get there.
Green juice is packed with Vitamin C – even more so if you include carrots – and we've all heard by now the health benefits of Vitamin C. It's been shown to help boost your immune system!
Again, green juice is full of Vitamin B6. It isn't just good for your energy levels, it also protects you from illness and is responsible for a lot of the biochemical reactions that keep your immune system strong.
7. Protection Against Free Radicals
Free radicals are molecules that float all around us and are responsible for damaging cells in the body.
These damaged cells are the ones that make you look older but can also make you feel older too. In the worst cases, free radicals can be carcinogenic, which means they can cause certain cancers to develop.
Luckily we can fight them! Antioxidants can protect you from free radicals. They block them from doing harm in the body, and green juice is a great source of antioxidants. Which means drinking your daily green juice is really important!
Potential Side Effects
In my research I couldn't find any side effects from drinking green juice. What I will say is that you should always listen to your body. If you're drinking green juice and don't feel good, then maybe it isn't right for you.
Bloating or toilet trouble are generally signs that you need to change the recipe you're using or just move on and try a different juice or smoothie.
Green Powder Vs Fresh Green Juice
The final question is, is a green powder just as good as a fresh green juice?
I would argue no. And not just because as the owner of Juice Buff I think juicing is great!
Fresh juice is always superior because all of the digestive enzymes and nutritional value is locked in them, ready to drink and enjoy.
However, with green powder there's no way of knowing if you're still going to get all the same nutrition. Some companies claim they do lock it in, but there's no way to prove it.
So stick to fresh juice, but if you can't for whatever reason, green powder is the next best thing.
Mean Green juice Recipe
Lastly, as promised, here is the Mean Green Juice recipe. If you'd like some more info on making green juice check out this article.
1 cucumbers
4 celery stalks
2 green apples
8 kale leaves with stalks
1 lemon
1 inch piece of ginger
This recipe is so easy, I love it so much!
Peel the ginger and the lemon, then wash all of the other ingredients.
Put everything through your juicer. You'll need a juicer that can handle leafy greens, like these ones I've reviewed.
Pour into a glass and enjoy your delicious green juice!