Drinking green juice is a delicious snack, but not all green juice is created equal (or tasty). With so many options for vegetables, fruits, and herbs to add where do you even begin? What are the best ingredients to add to green juice?
The best ingredients for green juice are vegetables (leafy greens, cucumbers, carrots, beets, fresh ginger, celery), fruits (apple, lemon, mango, pineapple, berries, grapes), and herbs (parsley, cilantro, basil). But your green juice doesn't need to include all three: vegetables, fruits, and herbs.
We'll walk you through the anatomy of good green juice, what vegetables, fruits, and herbs make great additions to green juice (and the nutritional benefits of those ingredients), and what tools you need to make the best green juice.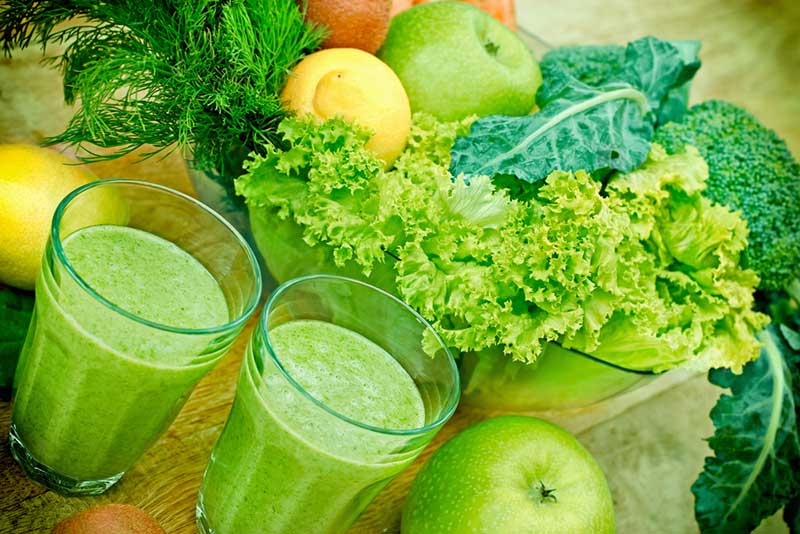 The Anatomy of Good Green Juice Recipe
When it comes to deciding what to include in your healthy green juice recipe, the possibilities are endless! While not all fruits and vegetables are ideal for juicing, there are so many combinations that can give you a green juice that is nutritious, delicious (and looks pretty dang good, too!).
The three essential components of a green juice recipeare vegetables, fruits, and herbs. You don't have to include all three in your green juice, but you can mix and match from all three categories.
The Best Vegetables for Green Juice
Many vegetables, including nutrient-dense leafy greens, can provide a solid base for any simple green juice recipe. You can choose just one vegetable or add a few.
Kale
If you're looking for a robust and earthy flavor, start with kale. Kale is an excellent source of Vitamins A, C, and K. When consumed raw, kale also has high levels of antioxidants which protect your cells from damage caused by free radicals. Kale can also reduce cholesterol and risk factors for heart disease.
Spinach
Spinach will bring a mild and sweet taste to your green juices. It has high levels of Vitamins A and C and is also a great source of antioxidants. In addition to antioxidants and vitamins, spinach has nitrates, which can positively impact heart health. Baby spinach may also have antacid effects.
Swiss Chard
Swiss chard can have a strong flavor that can be a bit on the bitter side when eaten raw but is perfect for juices with fruit. A serving of swiss chard has plenty of antioxidants and Vitamins A and C. Research shows that swiss chard can have positive effects on blood sugar for people with diabetes.
Cucumbers
Want crisp, cool, and sweet in your green juice? Cucumbers are the way to go! Cucumbers have a high water content, so they are great for juicing. Cucumbers also have Vitamins C and K, potassium, and manganese. Cucumber can even help with inflammation.
Beets
Beets add a deep, rich purple color to your juices and an earthy flavor. Manganese, potassium, and folate are all found in beets along with nitrates, which are good for your health. Beets can impact blood pressure and even mental performance.
Carrots
Green juices with carrots add natural sweetness and a beautiful orange color to your glass. It doesn't hurt that they also add biotin, potassium, and Vitamin A to your glass. Carrots also provide antioxidants like beta-carotene.
Celery
Celery has high levels of Vitamins A, C, and K as well as healthy antioxidants. Celery can also help with inflammation and could even help with decreasing blood pressure.
The Best Fruits for Green Juice
Fruits add a lot of flavor to your green juices! They provide sweetness, brightness, and even some tart flavors to make your juice taste fresh.
Apple
Depending on the type of green apple you choose, green apples can add sweetness, tartness, and a fresh taste to your green juices. Apples are vitamin-packed! They contain Vitamins A, E, and B, Vitamins like B1, B2, and B6. Apples can also be good for heart health and weight loss.
Pineapple
If your juice needs sweetness and tartness to tie it all together, pineapple has you covered. Fresh tasting pineapples are bursting with nutrients! They contain Vitamins C and B6, manganese, and excellent antioxidants. Pineapples can even help with digestion and boost your immunity.
Lemon
Lemons will not only add a lot of Vitamin C to your green juice (And potassium and Vitamin B6 too!), but a powerful flavor as well. Adding lemons to your juice will add acidic, tangy, tart flavors. Lemons pair especially well with dark, leafy greens to add brightness.
Mango
If you're looking for a sweet, tropical taste, mango is the way to go. Mango in your green juice will add sweetness, some citrus flavors, and even some tartness. Additionally, mangoes are incredibly high in antioxidants that protect your cells from free radicals and can be good for your immune system and heart.
Berries
Berries will add sweetness, tartness, and a ton of fresh flavor to your juices. The type of berry you use will influence what flavors you add, but all berries are delicious in juices. Berries are full of antioxidants, in addition to Vitamins C and K and manganese. Berries can also help reduce inflammation and help regulate blood sugar.
Grapes
Grapes are sweet and juicy and perfect additions to your green drink. Depending on the type of grapes you juice, they may also add tartness. They will also add Vitamins C and K along with powerful antioxidants to support your health. Grapes may help lower blood pressure and reduce cholesterol.
The Best Herbs for Green Juice
Herbs add freshness, brightness, and lots of intense flavor to your green juices!
Parsley
Flat leaf parsley will brighten the flavor of your homemade juice. Parsley not only adds fresh flavor but Vitamins A, K, and C to your juices as well. Fresh parsley may even help with blood sugar and antioxidants.
Cilantro
Adding cilantro to your green juice will add a fresh, citrusy flavor. Cilantro contains folate, potassium, and manganese, as well as Vitamins A, C, and K. Cilantro can help manage your blood sugar and even support brain health.
Finding the Right Juicer for You
Now that you know what ingredients make good green juice, don't forget that a good juicer is an essential part of making the best green juice recipe. There are two main types of juicers: centrifugal and masticating or cold press juicers.
Here's the difference between the two main types:
Centrifugal Juicers. Centrifugal juicers use a metal blade that spins against a mesh filter and separates the juice from the pulp. Centrifugal juicers produce heat, which can break down enzymes and nutrients in the fruits and vegetables.
Masticating or Cold Press Juicers. Masticating juicers press crush fruits and green vegetables and then press them to extract their juice. This juicer extracts more nutrients from the green vegetables and fruits because it doesn't involve any heat to break down nutrients.
Picking the right juicer for your needs and your budget will give you the tools you need to make the best green juice possible! Check out our article on the best juicers for green juice for more info.
Conclusion
Green juice recipes, made from any combination of green veggies (including leafy greens), fruits, and herbs, can be a healthy way to extract nutrients from your food and support your good health.
Tasty green vegetable juice can't take the place of healthy, balanced meals. Still, they can help you consume essential vitamins and minerals that are part of a healthy diet. You can mix and match different vegetables, fruits, and herbs to find the green juice that suits your tastes and mood.
And while a true green juice is usually dark green in colour, green drinks can have a bitter taste if you're not used to it, so sweeten it up with fruits. Oh and juice is best if you drink immediately after they're made for the most nutrition! Green smoothies are also great, and you can trurn them into juice by straining through a fine mesh strainer and seperating all the pulp.
Prep time is minimal and the health benefits are massive. Of course you should still be having whole vegetables in your diet.
Happy juicing!
Sources