Wondering what a ginger shot can do for you?
You're in the right place.
Whether I feel a cold coming on or need a pick me up a ginger shot is always there for me.
But the best bit?
Ginger shots seem to have far too many health benefits for how small and delicious they are.
So let's get straight in and look at how it can benefit you!
Yay!
Alternatively click here to download the complete list as a pdf!
1. Ginger Wakes You Up
I love it in winter but really a ginger shot is good at any time of the year, the warmth that runs through you after you throw one back in the morning is incredible.
Plus you get the spicy satisfying taste of the ginger which kicks you in the butt and gets you psyched for the day.
I personally get a bit of a funny tummy when I drink coffee first thing so this is my secret weapon of getting up in the morning.
Click here to see my top recomendations of juicers for ginger shots
2. Kick Start Your Digestion
On the same thought, whether you have a ginger shot first thing in the morning or later in the day it will reawaken your digestion.
Because the extra ginger in your diet causes more stomach acid to be created which will help you digest.
Simple!
3. Help Lose Weight
Now that you're stomach acid levels are increased you'll notice it sounds a lot like your metabolism will have been increased…
And you're right!
Your metabolism gets increased which helps you burn more calories and lose weight faster.
4. Helps Prevents The Common Cold
If you mix some lemon juice into your ginger shot it will have double the cold-fighting power helping to ease sore throats and fight of the rhinovirus which is what causes colds in the first place.
Just throw back a ginger shot before bed and in the morning if you feel a cold coming on to keep the worst of the symptoms at bay.
5. Increased circulation
Even I was surprised to learn this one but Ginger can actually increase circulation as well as an aspirin can, helping to prevent blood clots and stroke which is awesome!
But please, if you've been prescribed a blood thinner by your doctor don't throw them away! Always listen to your doctor!
Just enjoy a ginger shot as well.
6. Natural Anti inflammatory
On the same thought ginger is actually a great anti-inflammatory too! It works great for pain relief alongside an ibuprofen.
The anti-inflammatory and increased circulation make it a great post workout drink that results in increased blood flow and speedier muscle recovery so you can get back to the gym faster than ever!
7. Natural Antioxidant
Give yourself an antioxidant boost with a ginger shot because ginger actually has some of the highest antioxidant levels of all fruits and vegetables.
8. Regulates Blood Sugar
Great news if you have type 2 diabetes because ginger can actually help manage sugar levels without insulin (again please don't throw away your insulin….).
Longer term patients found their blood sugar levels more stable and balanced through regular consumption of ginger, cue the ginger shot waltzing onto centre stage, It's the drink that just keeps on giving!
Now I'm sure you're eagerly expecting the 9th and 10th health benefits the fantastic little ginger shot can give you, well you can get these and the previous 8 points in a handy pdf you can look back by just entering your email below for the newsletter and it will get sent your way.
Click here to get your free download and discover the two bonus benefits!
Plus you'll get all my favourite juicing news, recipes, deals and more sent to you!
Know any other health benefits? Add them in the comments!
As an another added bonus I made this article into an inforgaphic! Enjoy!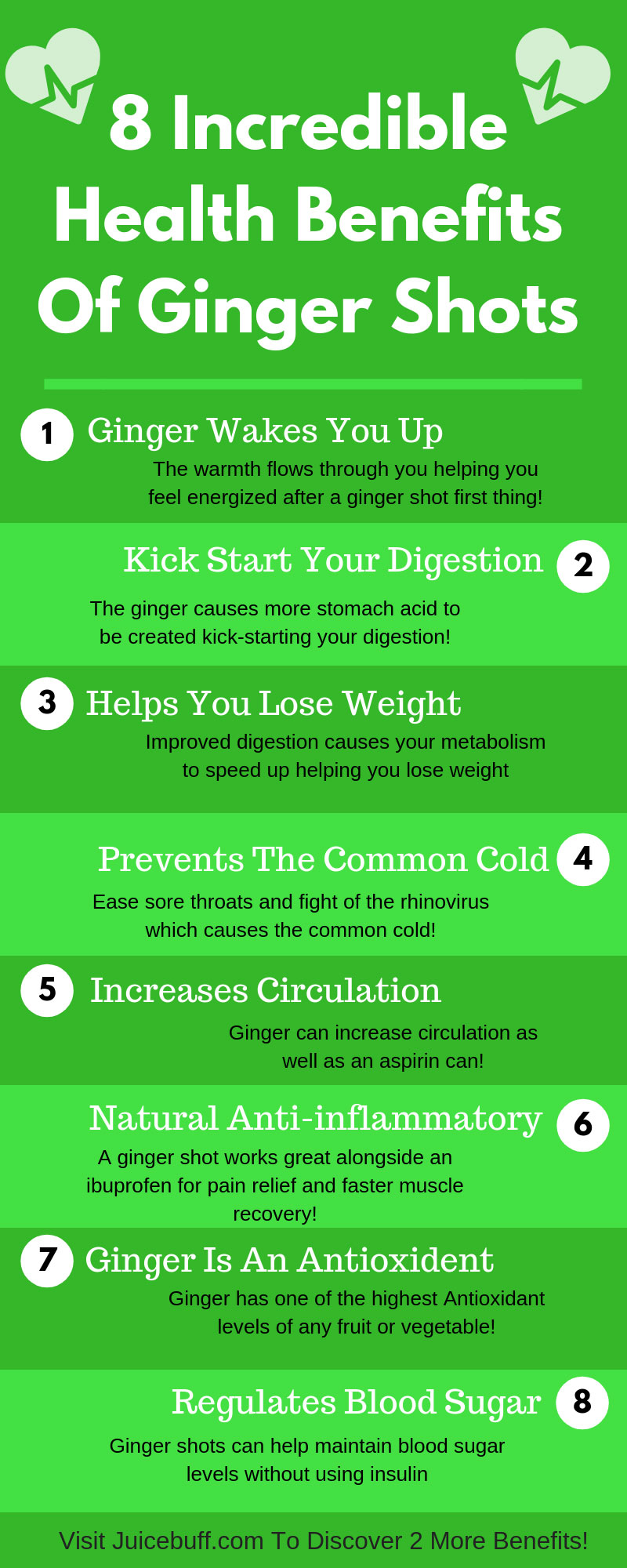 – Mia