In short, broccoli can be juiced just like spinach, carrots, kale, celery, and other leafy greens. However, raw broccoli is not easy to digest and can cause gas and bloating for some people.
While bloating feels different for everyone, it generally involves an irritated digestive tract, burping, belching, enlarged abdomen, and abdominal pain. Bloating, gas, and stomach upset may not have lasting health effects, but they sure are uncomfortable.
Broccoli contains a complex sugar substance called raffinose, which is notorious for causing gas. Intestinal bacteria in the small intestine have a hard time digesting raffinose, especially when consumed raw. When bacteria in the large intestine digests raffinose, they create gas, which can cause excessive bloating and an upset stomach.
However, broccoli juice may not trigger a bloated tummy for you. The combination of gases produced depends on the types of bacteria in your colon and everyone has a distinctive group of bacteria in their digestive tract.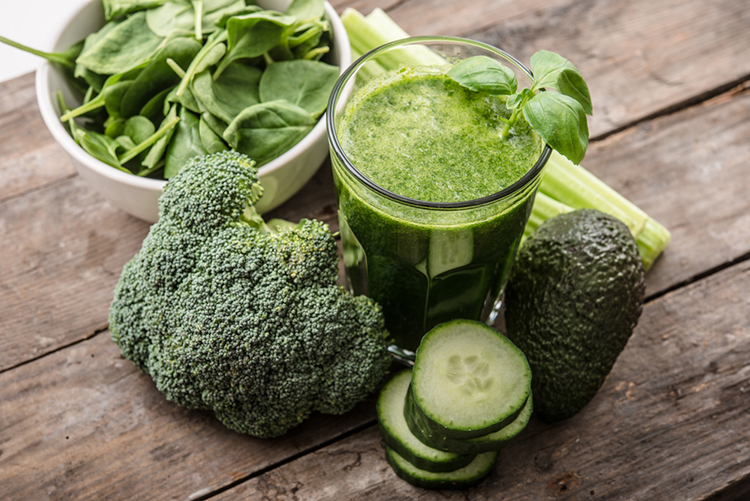 What Should You Do If Juicing Broccoli Makes You Bloated?
If you have a hard time digesting this juice, you can try other types of green vegetable juices such as spinach, kale, swiss chard, and celery.
Spinach, kale, and celery make great substitutes for your green juice, as they are high in the same antioxidants, vitamins, and minerals. However, if you struggle with broccoli then you should avoid cabbage and cauliflower, since these are also cruciferous vegetables.
Some people have also found that mixing broccoli juice with fresh ginger provided a significant reduction in bloating symptoms. A study conducted in 2013 showed that fresh ginger reduced excessive gas, bloating and provided many other gastrointestinal benefits. Ginger shots will also have the same effect. I have a detailed article on how to make ginger shots in a blender that I recommend you read.
Health Benefits of Broccoli Juice
The appeal of broccoli juice does not lie in its taste, unfortunately, but in its numerous health benefits. Broccoli juice is a detox diva that is utterly loaded with bioactive compounds and is a great source of vitamins and minerals.
Due to its unique nutritional and healing properties, this vegetable has earned a good reputation over the years as superfood when it comes to fighting different types of cancer. Multiple studies prove that broccoli reduces the risk of cancer and tumors, and can even slow their progression.
The carotenoids that it contains – which can also be found in sweet potato – are what have the cancer-fighting properties, but some carotenoids are converted into Vitamin A, which is great for your eyesight.
Broccoli also has high levels of Vitamin K, which has been found to improve cognitive abilities, and Choline which improves your memory.
Broccoli can even:
Improve your liver health
Reduce your risk of heart disease
Lower your cholesterol
Cure allergies
In order to enjoy these health benefits of broccoli, you need to embrace the benefits of juicing. Juicing broccoli means you can absorb its nutrients directly into your bloodstream. However, if you cook broccoli, you reduce its nutritional value significantly.
5 Broccoli Juice Recipes
Pure broccoli has a very strong taste, so it's best to mix it with other fruits and vegetables to make it more palatable. These are my top 5 broccoli juice recipes. I was so surprised with how tasty they were, that I almost forget they had broccoli in them.
Preparation Tips
Before you begin the juicing process:
Wash all your produce well
Chop them all and remove the skin where appropriate
When you're putting your ingredients into your juicer, alternate between fruits and veggies.
1. Broccoli Blueberry Goodness Juice
Ingredients
2 heads of broccoli
1 cup of blueberries
2 carrots
1 tomato
1 apple (cored)
Blueberries are amazing for your vision, relieving stress and keeping your skin healthy. Carrot juice is also packed with beta-carotene, which is an antioxidant. Antioxidants are really good at fighting free radicals, which we're exposed to by air pollution.
2. Sunshine Juice
Ingredients
1 head of broccoli
¼ pineapple
A small handful of parsley
1 apple
1 orange
This broccoli-pineapple combo is full of Vitamin C, which will not only lift your taste buds but also significantly improve your immune system. This juice also has anti-cancer and anti-inflammatory agents and if that wasn't enough, the apple juice in this recipe can improve your brain function.
3. The Classic Green Detox Juice
Ingredients
1 head of broccoli
1 large cucumber
Handful of spinach
1 cup mint leaves
1 juiced lemon
¼ pineapple as a sweetener
The ingredients in this drink are full of liver and kidney detoxifying enzymes that eliminate toxins in your body. The classic green detox juice lowers your blood sugar levels, reduces your cholesterol levels and can help with weight loss. Cucumber juice is an unusual ingredient but is excellent for hydration!
4. Delicious Broccoli, Apple and Lime Juice
Ingredients
1 head of broccoli
2 apples
1 lime- juiced
1-inch ginger root
This juice is packed with inflammatory and antioxidant properties that alleviate arthritic pain, improve heart health, reduce muscle pain/soreness, and can even help prevent cancer. It's an amazing addition to your healthy diet!
5. Sweet, Simple and Spicy Juice
Ingredients
2 broccoli florets
1 cored apple
1-inch piece of ginger root
1 cup mint leaves
The simple broccoli juice significantly helps in flushing toxins out of the body and is ideal for beginners. The mixture of ginger and mint makes this a more interesting juice than most and is great if you're adventurous with your tastes.
How Much Broccoli Juice Should You Have?
The amount of broccoli juice you should have depends on your health goals but it's advisable to have just 1-2 glasses (12-16 oz) a day, even if you have a stronger digestive system.
Broccoli doesn't contain all of your nutrition for the day, so make sure you mix it with other fruits and veggies to get all of the goodness you need.
Due to its bloating side effects, it's essential not to overdo broccoli. Start slow until your stomach can tolerate a larger amount of this juice and then if you want to, you can increase your intake.
Can You Juice Broccoli Stems?
The stems of the broccoli can be juiced and are just as healthy as the florets.
Instead of throwing away your stems while cooking broccoli for dinner, save them for juicing later. They have the same nutritional profile as florets and are completely edible!
Use the stems to make yourself a glass of creamy and tasty broccoli juice as follows;
Ingredients
1 broccoli stem
1/4 cup of coconut milk
Handful of spinach
Ground flaxseed- 2 tsp
1 lemon- juiced
1/2 a cup of water, to help the ingredients go through smoothly
This creamy drink is full of Omega-3 fatty acids, antioxidants and Vitamin E that does wonders for your skin. And it'll help you reduce your food waste, which is important for everybody!
Conclusion
People who often experience an upset stomach and bloating symptoms will have a hard time handling broccoli juice and should try juicing other types of vegetables such as kale, spinach, or celery.
If you can stomach broccoli juice, it will provide your body with a wide range of nutrients and medicinal benefits, including cancer prevention. Feel free to get back to us. We'd love to hear about your broccoli juicing adventures!
Happy juicing!