Spinach is a great green vegetable – one of the most nutritious and filling! However, you might not have known that juicing spinach is one of the tastiest ways to prepare it, as well as one of the healthiest.
A study conducted by Linkoping University in Sweden revealed it's best not to heat up spinach before eating it, because the key antioxidants in spinach are sensitive to heat. Up to 40% of these antioxidants are lost when you cook it!
Spinach actually happens to be one of my favorite vegetables. I'm a fan of green juice and for me, this is a key ingredient in all my green juice recipes. Its nutrient profile is pretty impressive. It has high levels of:
Vitamins A, B2, B6, C, K and E
Antioxidants – at least 13 different types!
Folate
Potassium
Zinc
Magnesium
Iron
Calcium
Copper
When you juice spinach, you get all of the goodness with none of the hassle. Eating spinach raw – or any raw fruits and veggies for that matter – can be difficult for many of us, so spinach juice is an excellent compromise.
Like I said, I have spinach juice fairly often, in combination with other fruit juices and vegetable juices. Whenever I have it, I always feel energized and rejuvenated. It makes me feel good because I know that I've made a really healthy choice and I can honestly feel the difference. It also helps that I have a good juicer, which will help me make whatever recipe pops into my head!
Can You Juice Spinach?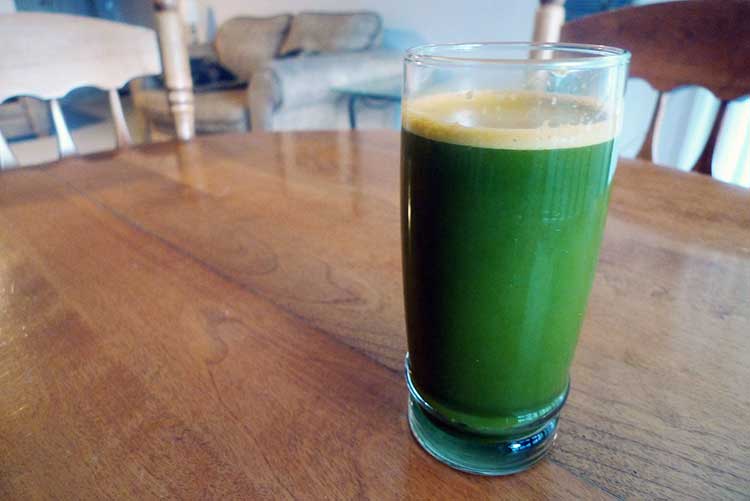 I've answered this already but… yes. You can juice spinach. You can make spinach juice.
For the best results, I'd recommend using a masticating juicer, since this will maximise the amount of spinach juice you actually get. Masticating juicers 'chew up' the fruits and veggies you put in them and can be more reliable for juicing leafy greens like spinach or kale.
Another good tip is to roll up your spinach before you put it into the juicer. This will further improve how much juice you get. If you find the pulp is still a little wet when it comes out of your juicer, just run it through one more time and that'll sort it.
How To Make Spinach Juice
Juicing spinach is really simple and requires minimum preparation. Just wash your spinach, roll it up, and push it through the juicer. The juicer removes any fiber or pulp and produces your spinach juice out the other side.
Spinach really is the vegetable that packs the healthy eating punch but it does have a down side – a mild metallic taste. This can put people off if they aren't keen but, thankfully, you can disguise it with other fruits and veggies no problem using some easy recipes.
I've tried several different spinach juice recipes over the years and I think that these are the 5 that are best for beginners. In a lot of these, the recipe calls for apples. Apple juice is an excellent spinach-sweetener and work great for cloaking the distinct taste spinach can have, as well as being cheap to buy.
Also, in many of these recipes they call for unpeeled fruits and veggies that grow close to the ground. Because of this, you should make sure you clean your ingredients thoroughly before putting them in your juicer, to get rid of any lingering germs and dirt. A good scrub under running water will do the trick but if you're worried about pesticides or other chemicals, then soak them in some water before using them.
Spinach Juice Recipes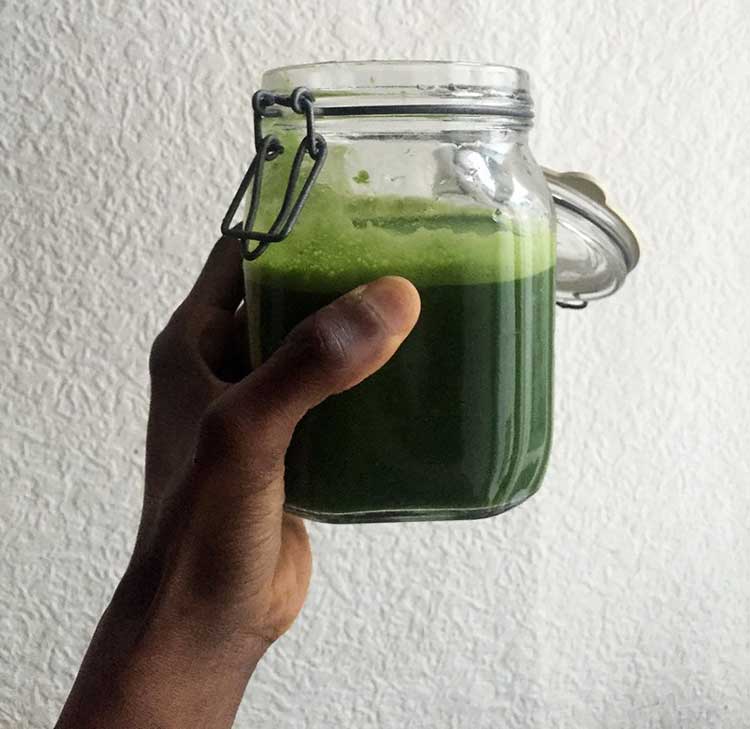 I've got more green juice recipes here but these are a few great spinach specific recipes.
1. Spicy Spinach Juice – Energy Boosting
This delicious juice has a dominant ginger flavor and is good at boosting or restoring your energy levels.
Ingredients
1 handful of baby spinach leaves
4 medium carrots, chopped and with ends removed
1 apple- cored and quartered
¼ inch piece of ginger root, peeled
You can remove the skin of your carrots if you like before you start. I like leaving the skins on for further nutritional benefits, since the skin has been proven to provide antioxidant, antitumor and antimutagenic benefits.
Put your ginger in first, to make sure you get the most juice out of it as possible.
If you haven't made ginger juice before, start with a small piece of ginger root to start with. It has a spicy, hot taste, but is incredibly good for your health. It can just take a while to get used to! Also, make sure you peel the ginger!
Follow the ginger with your rolled up spinach, then use your apple and carrot to push the spinach through your juicer.
If you haven't juiced ginger before, start with a smaller piece of ginger root. It has a spicy, hot taste, but is incredibly good for your health.
2. The Spinach Detox Juice – Cleansing
This fruit and veggie combo makes the perfect green detox juice. It's packed with goodness and has a really zesty flavor. The parsley means that this juice has extra Vitamin K, which is great for your blood flow and metabolism.
Ingredients
1 handful of baby spinach leaves
1 apple, cored and quartered
1 handful of parsley leaves
1 cucumber, roughly chopped
1 medium lemon, peeled and halved.
¼ inch piece of fresh ginger, peeled
Put all of your ingredients into your juicer, apart from one half of your lemon.
That's it!
Give your juice a taste – it'll be strong, sharp and sweet. However, if you like, you can squeeze the other lemon half and include some extra lemon juice in your recipe. Citrus juices are excellent at eliminating the taste of spinach, since it can be quite sharp.
If lemon juice isn't your thing, then you could add two extra chopped carrots or another apple.
3. Mr. Cool Juice – Refreshing
This combination of ingredients will make your morning juice healthy and cool! It helps reduce inflammation in your digestive tract and can stimulate your immune system, to keep you healthy!
Ingredients
1 handful of baby spinach leaves
1 cup mint leaves, finely chopped
1 lime, peeled
1 cucumber, roughly chopped
Crushed ice for serving
Prepare the glass you're going to use for you juice by filling it with the crushed ice.
Put all of your ingredients into your juicer, followed by a cup of water to make sure they all go through smoothly.
Pour your juice over the crushed ice and enjoy!
4. The Fruity Spinach Juice – Sweet-Tasting
This recipe is a little unusual but is still an easy recipe to make at home. It'll sweeten up your day, as well as provide you with plenty of Vitamin C. The avocado in there is also really filling, so it can help with weight loss.
Ingredients
1 handful of baby spinach
1 pineapple, peeled and cut into chunks
1 apple, cored and sliced
1 chopped avocado
Crushed ice for serving
Put the crushed ice into the glass you're going to use for the juice.
Combine all of your ingredients in the juicer.
Strain your juice and then pour over the crushed ice.
Optional: add a cute mini umbrella…
5. The Immune Booster – Protecting
See when you're just feeling a bit under the weather? This is the juice for you. I rely on this whenever I feel a bit unwell to give me a much-needed lift.
Ingredients
1 handful of baby spinach leaves
1 lemon, peeled
1 orange, peeled
1 apple, cored and quartered
¼ inch piece of ginger, peeled
8 fresh mint leaves, finely chopped
Combine all of your ingredients in your juicer, making sure you don't put the spinach and mint in last.
Pour into your glass and enjoy – it's honestly that simple.
Lots of the ingredients in this juice are packed with Vitamin C, which is what makes you feel so good when you drink it. If you've already been struck down with flu, then consider two glasses a day to sort you out. The Vitamin C can even be useful for helping your muscles recover after a workout.
4 Tips for Juicing Spinach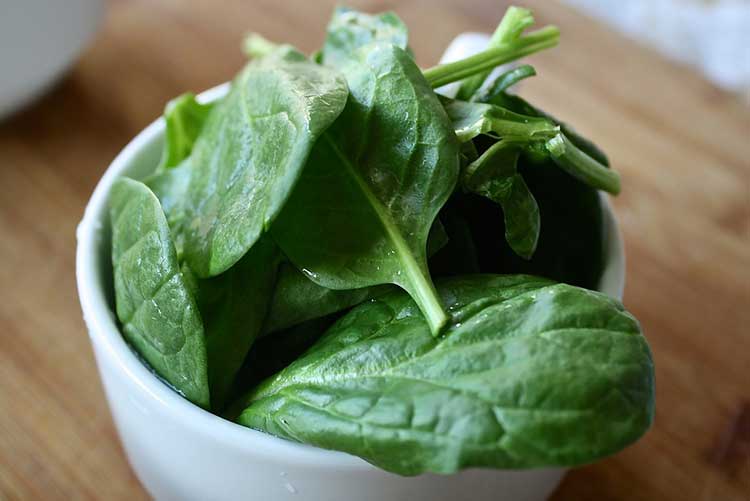 1. Choosing Your Spinach
When you're choosing spinach for juicing, look for a vibrant green color, with no signs of yellowing, bruising, dark patches or wilting on the leaves or stems. I prefer to use fresh baby spinach leaves as they are very tender and have a lighter flavor.
2. Storing Your Fresh Spinach
To ensure your spinach lasts as long as possible, it's essential to pick the very best, fresh spinach. Also, you should never wash your spinach before storing it in the fridge – which I didn't know for a long time! The moisture that's left behind when you wash spinach encourages it to spoil prematurely. Store your fresh spinach in a dry airtight plastic bag and for only up to 5 days.
3. When Should You Drink Spinach Juice?
Any time is fine but if you want to maximize your nutrient absorption, drink your spinach juice on an empty stomach. I know it sounds bizarre, but it's true!
Drink your spinach about 30 minutes before having a meal, or 2 hours after you've finished a meal.
You should also drink your spinach juice as soon as you prepare it, since the goodness you find it in is very sensitive to air, light and heat. As soon as you make your juice, the nutrition will start breaking down.
5. Storing Your Spinach Juice
If you made too much spinach juice, or you simply don't have time to juice every day, don't worry! You can store your juice in the fridge in an airtight mason jar.
Remember I said earlier that a masticating juicer is the best one for making spinach juice? Well there's another reason, aside from the way it grinds up your ingredients. The other main type of juicer – a centrifugal juicer – will generate quite a lot of heat and friction while it makes your juice, which affects your ingredients. The heat can trigger oxidation, which will change the taste and lessen the freshness of your juices.
Depending on the juicer you use, your juice might not last as long in the fridge as you'd think.
For more hints and tips, I have two articles dedicated to storing and freezing your fresh juices, which I encourage you to check out if you have questions.
7 Incredible Health Benefits of Spinach Juice
1. Strengthens Your Bones and Teeth
Your bones and teeth are pretty important – you want to keep them strong and healthy! Spinach juice helps support your bone structure and teeth because it's full of:
Calcium
Vitamin C
Vitamin D
Potassium
Magnesium
All of these are essential to maintaining bone health and spinach juice is an easy way to get them all.
2. Improves Your Vision
We only get one pair of eyes, which become weaker as we age – so it's crucial to take care of them.
Fortunately, fresh spinach juice is rich in potent antioxidants, which not only improve your vision but also help you maintain your long-term vision. A win-win!
Spinach is one of the greatest sources of lutein – commonly referred to as 'the eye vitamin' – which prevents eye diseases such as cataracts, retinitis and even the age-related macular degeneration (AMD).
3. Keeps You Energized
If you are a constant victim of the afternoon slump, try a glass of fresh spinach juice to perk you up.
Spinach juice is an excellent source of iron, which is required to transport oxygen to your entire body. High levels of oxygen boost your vitality and keep you energized.
Spinach is also rich magnesium, which plays a significant role in brain function. It also contains folate which helps your body transform food into energy. Good all round!
4. Reduces Your Cancer Risk
Spinach is rich carotenoids, lutein, and zeaxanthin, which all have antioxidant functions and protective functions against cancer.
They play a significant in removing unstable molecules, called free radicals, before they damage your cells and cause cancer.
This is an important one, since it's a step we can all take to stay healthy for longer.
5. Great- Looking Skin
Spinach is packed with antioxidants, which promote skin cell regeneration and help you maintain a healthy skin tone. Caring for you skin like this will help prevent the signs of ageing that a lot of us worry about.
Vitamins A and E, which are present in spinach, can help you skin retain moisture; boost collagen production; and can fight against all kinds of skin issues.
And if that wasn't enough, the high levels of Vitamin A and C, iron, and folate in the spinach promote hair growth and keeps it moisturized.
All in all – awesome!
6. Boosts Immune System and Prevents Infections
I mentioned this in a couple of the juice recipes above but spinach juice boosts your immune systems. It has high levels of Vitamins C, D, & E, beta carotene and numerous antioxidants which increases your body's ability to fight infections and inflammatory diseases.
7. Cares For Your Heart Health
Spinach juice protects you against heart disease and high blood pressure. The lutein in it reduces harmful protein concentrations in the blood and the thickening of artery walls, thus reducing the risk of heart disease. Since these are issues that face a huge number of Americans, this is something we should all take note of.
Final Thoughts
Spinach is one of my best go-to greens for juicing and for good reasons; it is easily available, inexpensive, and the world's top healthy vegetable. The benefits of spinach juice are innumerable and it's just one of those drinks that keep on giving. Let me know what you think if you give spinach juice a go, I'm dying to know what you think!
Happy Juicing!