Juicing spinach is easily one of the best ways to have it.
A study conducted by Linkoping University in Sweden revealed its best not to heat spinach before taking it. This is because the key antioxidants in spinach are sensitive to heat and up to 40% can be lost during cooking.
Spinach happens to be one of my favorite vegetables because of its highly impressive nutrient profile. It's low in calories, yet one of the world's most nutrient-rich foods with high contents of; folate, Vitamins A, C, K, B2, B6, & E, antioxidants (at least 13 different types) and minerals such as; potassium, zinc, magnesium, iron, calcium, and copper.
Juicing spinach is an excellent way to deliver all these nutrients to your body in a way that it can easily absorb and process them. If you don't like raw vegetables, spinach juice is also a fun way to add a high concentration of nutrients to your diet.
As someone who enjoys juicing, spinach juice always feels like a great investment in my health. It always makes my body feel healthy, rejuvenated, clean and energized. And since I am blessed with a high- quality juicer that is great with vegetables, I make this super-cleansing juice on a regular basis.
Can You Juice Spinach?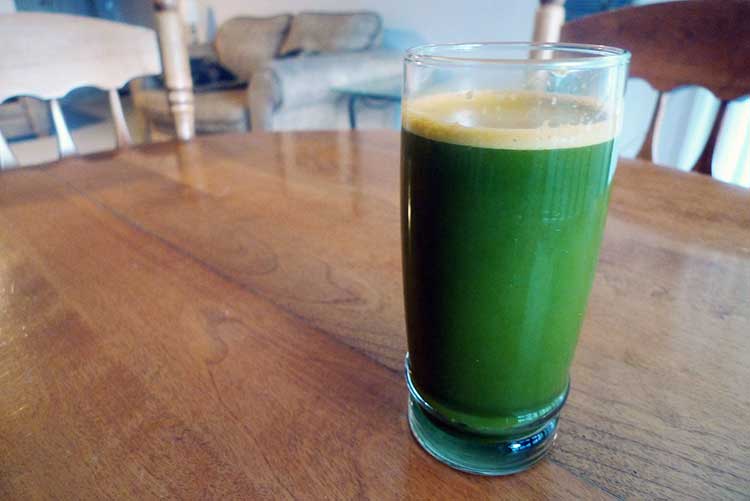 Yes you can juice spinach, it juices best in a masticating juicer and if you roll it up before you put it in it gets crushed better leaving you with more juice out the other side. And if the pulp comes out a little wet then just run it through again and you'll be fine.
How To Make Spinach Juice
Juicing spinach is really simple and requires minimum preparation. Just wash your spinach and push it through the juicer. The juicer removes any fiber or pulp and produces your spinach juice out the other side.
Although a small service carries powerful nutritional benefits, spinach's mild metallic taste can sometimes make it feel like it's lacking in flavor. Fortunately, spinach is very easy to disguise with fruits and vegetables.
I've tried a couple of different spinach juice recipes over the years and would like to share 5 tasty recipes which are also great for beginners.
You will notice that apples are my go-to spinach juice sweeteners. They are inexpensive and do a great job in balancing out the earthiness taste found in spinach.
Handy tip; Most of these recipes make use of unpeeled fruits and vegetables that grow close to the ground. Make sure you wash them thoroughly to get rid of germs and dirt. Generally, a basic scrub under running water should do, but you can also soak them in water to remove any traces of pesticides or other chemicals.
Spinach Juice Recipes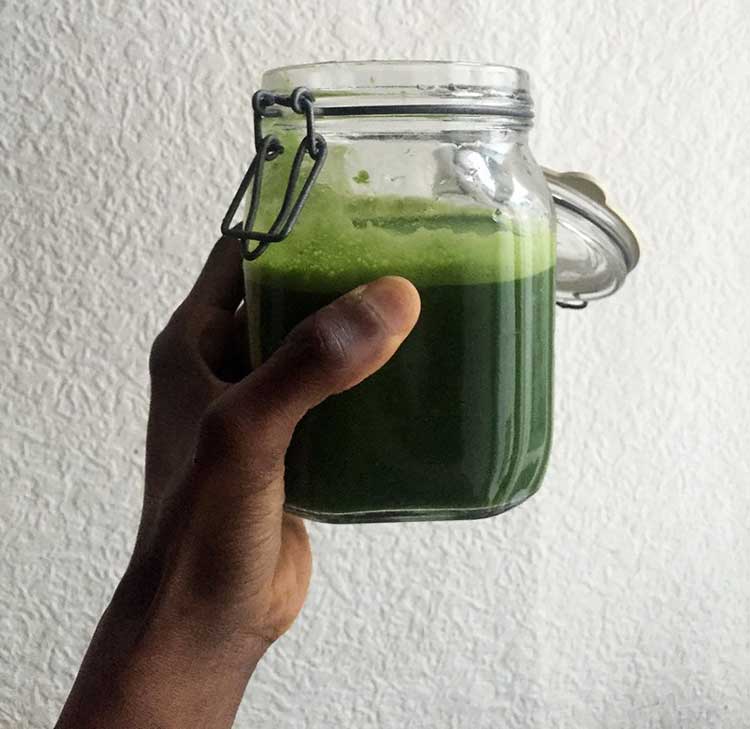 1. Spinach, apple, carrots, and ginger
This delicious juice has a dominant ginger flavor and is good at boosting or restoring your energy levels.
Ingredients
1 handful of baby spinach leaves
4 medium carrots, chopped and with ends removed
li>1 apple- cored and quartered
¼ inch piece of ginger root, peeled
You can remove the skin of your carrots if you like. I like leaving the skins on for better nutritional benefits since the skin has been proven to provide antioxidant, antitumor and antimutagenic benefits.
Put the ginger root first into the juicer to get as much juice out of it as possible. Place your spinach into the juicer and add the apples slices and carrots to push the spinach through.
If you haven't juiced ginger before, start with a smaller piece of ginger root. It has a spicy, hot taste, but is incredibly good for your health.
2. Spinach, Parsley, Apple, Cucumber, and Lemon
This veggie and fruit combo makes the perfect green detox juice.
Ingredients
1 handful of baby spinach leaves
1 apple, cored and quartered
1 handful of parsley leaves
1 cucumber, roughly chopped
1 medium lemon, peeled
¼ inch piece of fresh ginger, skinned
Cut the lemon into two and reserve one piece. Push the ginger followed by spinach, cucumber, parsley, apple, and the lemon into the juicer.
The drink has a strong, sharp sweet taste. If you like, you can squeeze the rest of the lemon and stir. Lemons & limes are great at eliminating the mild metallic spinach taste. If it's too sharp, consider adding two chopped carrots or another apple and stir.
3. Spinach, apple, mint, lime, and cucumber
These ingredients make a cool healthy juice to start your day. This drink is good for reducing inflammation in your digestive tract and is a good way to stimulate your immune system in the morning.
Ingredients
1 handful of baby spinach leaves
1 cup mint leaves, finely chopped
1 lime, peeled
1 cucumber, roughly chopped
Crushed ice for serving
Add some crushed ice into your glass. Combine the spinach, mint, lime, and cucumber into the juicer and follow with a cup of water, for the ingredients to go through smoothly. Pour the spinach juice over your crushed ice.
4. Spinach, pineapple, and apple
Spinach, pineapple, and apple make a simple sweet earthy drink.
Ingredients
1 handful of baby spinach
1 pineapple, peeled and cut into chunks
1 apple, cored and sliced
1 chopped avocado
Crush ice for serving
Combine the baby spinach leaves, pineapples, apple into the juicer. Strain the juice and pour into the crushed ice.
5. Spinach, lemon, orange, apple, ginger, and fresh mint
I call this drink my 'immune booster'. This spinach recipe is great for boosting your immunity and lifts your energy.
Ingredients
1 handful of baby spinach leaves
1 Lemon, peeled
1 orange, peeled
1 apple, cored and quartered
¼ inch piece of ginger, peeled
8 fresh mint leaves, finely chopped
All the ingredients here have Vitamin C and their own unique healing abilities. I drink two cups of this juice daily when I have the flu and it works wonders every time. The Vitamin C packed juice is also extremely useful in muscle recovery when taken post workout.
5 Tips for Juicing Spinach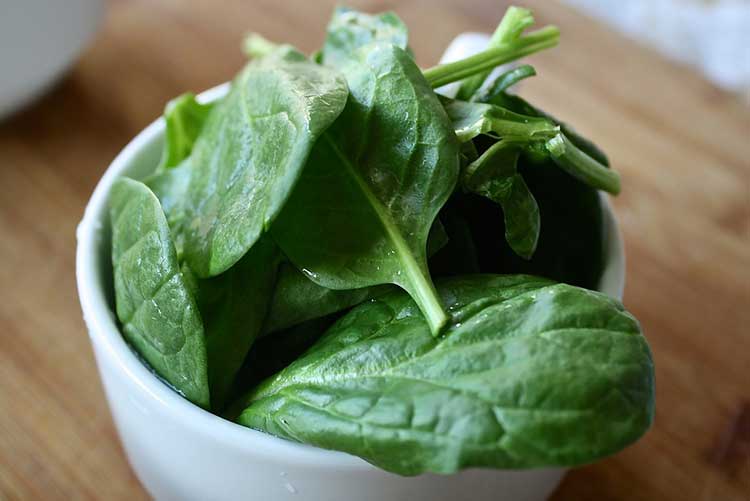 1. Choosing your spinach
When choosing spinach for juicing, look for vibrant green spinach with no signs of yellowing, bruises, dark patches or wilting on the leaves or stems. I prefer to use fresh baby spinach leaves as they are very tender and have a lighter flavor.
2. Storing your spinach
If you are storing your spinach, it's essential to select the very best healthy, fresh spinach so that it can last longer. You should never wash your spinach before storing it in the fridge. The moisture encourages it to spoil prematurely. Store your fresh spinach in a dry airtight plastic bag and for only up to 5 days.
3. Drink on an empty stomach
To maximize nutrient absorption, take your spinach juice on an empty stomach. It's advisable to take it 30 minutes before a meal and 2 hours after a meal.
4. Drink immediately afterward
The minute you juice spinach, the cells break open to provide the nutrients, vitamins, and minerals and which are sensitive to air, light, heat, and will deteriorate if not taken immediately. Take your spinach juice within 30 minutes after preparing it.
5. Storing your spinach juice
If you made too much spinach juice or you simply don't have time to juice every day, don't worry. You can still store your juice in the fridge in an airtight Mason jar. It's important to note that some juicers such as centrifugal juicers generate a lot of heat and friction during juicing. This can trigger oxidation, which affects the taste and freshness of your juice in a few hours.
For more hints and tips, I have two articles dedicated to storing and freezing your fresh juices, which I encourage you to check out.
7 Incredible Health Benefits of Spinach Juice
1. Strengthens your bones and teeth
Your bones play many significant roles such as supporting your body, providing structure & good posture, anchoring muscles and protecting organs. Spinach Juice supports your bone structure and teeth by directly providing your body with lots of Calcium, vitamin D, vitamin C, potassium, and magnesium, which are all important nutrients for bone health.
2. Improves your vision
We only get one pair of eyes, which become weaker as we age and so it's crucial to take care of them. Fortunately, fresh spinach juice is rich in potent antioxidants, which not only improve your vision but also help you maintain your long-term vision.
Spinach is one of the greatest sources of lutein, commonly referred to as 'the eye vitamin' which prevents eye diseases such as cataracts, retinitis and even the age-related macular degeneration (AMD).
3. Will keep you energized
If you are a constant victim to the afternoon slump, try a glass of fresh spinach juice to maintain elevated energy levels throughout your day. Spinach juice is an excellent source of iron, which is required to transport oxygen to your entire body. High levels of oxygen boost your vitality and keep you energized.
Spinach is also rich magnesium which plays a significant role in brain function, and folate which helps your body transform food into energy.
4. Reduces Cancer Risk
Spinach is rich carotenoids, lutein, and zeaxanthin, which have antioxidant functions and protective functions against cancer. They play a significant in removing the unstable molecules called free radicals before they damage your cells and cause cancer.
5. Great for Your skin
Spinach is packed with antioxidants, which promote skin cell regeneration, healthy skin tone and prevents signs of aging on your skin such as wrinkles. Vitamin A and E in spinach help your skin to retain moisture, boosts collagen production and fight against all kinds of skin issues. And if that was not enough, the high levels of Vitamin A &C, iron, and folate in the vegetable promote hair growth and keeps it moisturized.
6. Boosts immune system and Prevents infections
Spinach juice contributes to improving your overall health by boosting your immune system. Vitamins C, D, & E, beta carotene and the numerous antioxidants in spinach increase the fighting ability of our bodies against infections and inflammatory diseases.
7. Good for your heart health
Spinach juice protects you against heart disease and high blood pressure. The presence of lutein content in spinach reduces harmful protein concentrations in the blood and thickening of artery walls, thus reducing the risk of heart disease.
Final Thoughts
Spinach is one of my best go-to greens for juicing and for good reasons; it is easily available, inexpensive, and the world's top healthiest vegetable. The benefits of spinach juice are innumerable and it's just one of those drinks that keep on giving.