There's just something about a glass jar blender that says good taste.
They look nice, feel nice, and there's something reassuring in the heaviness that you know you've got a good quality product.
The only hard part is knowing which one to buy!
That's is where I come in…
I've put together this guide to help you choose the right glass blender. Each one I've reviewed is also available on Amazon so you can just click through the Price & Reviews at Amazon button and order yours today!
Best Glass Blenders Reviewed
1. Top choice – JOYOUNG Glass Jar Blender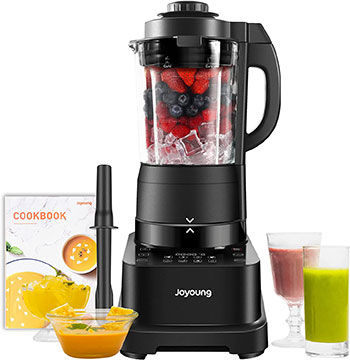 Pros
Very powerful 28,000 rpm speed
60 oz glass container
LED touch control screen
Cons
Quite loud when running
Tall at 18.6″
OK, first things first. This is a tall blender at 18.6″ tall so if you want to keep it under your counter, make sure it's going to fit before you order it.
Happy with the height? Let's move on…
The Joyoung glass blender is immense when it comes to blending power. six stainless steel blades and a whopping 28,000 rpm that makes light work of anything you could want to make.
It's not a hot blender like a vitamix so blending hot soups is out of the question but the large 60oz capacity is ideal for blending cold soups together. Plus, the BPA free glass jar is dishwasher safe so clean up is a breeze.
The LED touch screen is wipeable for easy clean up if spillage occurs and the overall price is much lower than you'd expect from a blender of this quality.
The only problem is that it's quite loud as far as blenders go but that's the price you pay for efficient blending power.
If you're looking for a blender with a glass jar look no further than the Joyoung Easily the best blender on the list, no plastic blender of this price range can come close to matching it's quality.
2. Runner Up – BLACK+DECKER Countertop Blender with glass jar
Pros
700/350 Watt Motor
50 oz Jar
Dishwasher safe
Non drip spout
Great price
Cons
Not good for soups
Could be a more powerful motor
Want a good glass blender that doesn't use a touch screen? This is the one for you. An exxcellent no frills blender that's more than capable of whipping up a smoothie. Simpler to use than the Joyung mentioned above and almost as effective.
The glass jar is is dishwasher safe and it's pretty easy to clean, no creases or bumps for food to get stuck in.
They're a bit cheeky in the marketing saying it uses a 700w power but then a small print saying it recorded 700w for 100 ms which is 0.1 seconds and it actually uses a 350-watt motor… Not impressed by the sleight of hand against that because for the price 350w is fine, it's enough to blend together a smoothie.
It's designed to have a nice flow of liquid on the inside so everything circulates for a nice even blend, but combine that with a gentle shake of the whole thing while it's on just ensures that, a bit of a pain but nothing uncommon for a cheaper blender.
If you're interested in a quality blender on a budget that's not necessarily glass then check out my other article on cheap blenders.
3. Budget pick – Hamilton Beach Power Elite Wave Action Blender
Pros
Fantastic price
Excellent for fruit smoothies
Blends frozen fruit and ice cubes
12 functions
Cons
Smaller 40 oz capacity
Doesn't blend as smooth as other blenders
There are two superbly cool things about this Hamilton Beach blender. The first is that it has stainless steel patented ice sabre blades that work to break up ice and frozen fruit. This is great if you drink a lot of smoothies made with frozen ingredients but be warned you'll still get the odd ice chunk because of the lower motor power.
Second, the Hamilton Beach uses elite wave action to pull ingredients down towards the blade for a more even blend. Some cheap blenders need turned off and stirred part way through, not so with this. However, it only works if you don't over fill the blender.
For the prie of sub $50 you really couldn't as for more especially since glass containers generally add a premium to the price. And when you consider most glass blenders are also more expensive than the Hamilton Beach you're onto a winner.
So why isn't it top of the list?
Well I'll tell you. You get what you pay for to a point, a little less power and blending tasks will be a little more difficult. For instance, curshing ice cubes is possible but not as effective compared to the Joyoung blender at the top of this list.
So you get more than what you pay for but not as much as a higher end blender.
4. Best Glass Blender for Smoothies – Anthter CY-305R Professional Blender
Pros
950W & 25,000 RPM motor
4 speed settings plus pusle
six stainless steel blades
Simple to use and clean
Cons
Not great for blending ice
Won't make hot soup
smaller 24 oz capacity
This is the ultimate in no frills smoothie blender except it's a coveted glass jar blender of course, no plastic jar here!
It's got a 4 setting variable speed control to adjust and a pulse setting for added control making it both super simple to use, especially compared to the Yoyoung blender, and ideal for making smoothies. It will struggle with frozen drinks but if you don't mind the odd crunchy bit of ice you'll be just fine.
The stainless steel blades are built to last and if course like the other glass blender jars this one is also dishwasher safe.
Simple to use, easy on the wallet. If you want to be able to make smoothies but ant to avoid plastic then this is the best blender for you.
5. Best for Crushing Ice – Oster Core 16-Speed Blender with Glass Pitcher
Pros
Feed cap for adding ingredients while blending
can easily crush ice
Comes with a food processor attachment
Cons
Not as powerful as other blenders
Can't handle hot liquids
Some of the settings are pointless
This oster blender is in the leagure of the hamilton beach above but isn't as good when compared to the Joyoung blender at the top of the list.
But it does a great job of blending ice so you can't argue with that! The four stainless steel blades are superb for ice crushing and can make both crushed ice for drinks and crush it into smoothies just like the best blenders can. The glass pitcher is a little smaller at 24 oc but this is perfect for making one or two smoothies at a time.
LIke any of the best glass blenders on this list it's dishwasher safe but what's different is it also comes with a food prcoessor attahcment for chopping vegetables. And while 16 setting might be better than seven speed settings the smooth blending process of the oster blender is matched regardless.
If frozen drinks are what you want then this is the best glass blebder for you. A super glass picther far superior to a plastic jar blender.
Advantages of Glass Jar Blenders
Need another reason to go for a glass jar blender over a plastic one? Well I've got several for you.
Doesn't scratch
A glass pitcher is just that little bit stronger and more durable than plastic is so it won't get caught and scratched while you're using it. Particularly if you blend a lot of ice, that causes the most scratches and can give a plastic jug that cloudy appearance which just doesn't look nice.
Plus big scratches are hard to clean out of because you never quite get into them properly and if you blend up something that can stain they stay that colour for far too long.
Doesn't Retain Odour
In the same way that plastic blenders can get scratched up and stuff can get stuck in the scratches it can be prone to holding a lingering odour. Especially if you store it for long enough you can take it out the cupboard take the lid off and be hit with a wall of smell.
But that doesn't seem to happen with a glass pitcher, unless you've just straight up not cleaned it properly which is on you to do and not the glasses fault!
Looks Nicer
There's just something about the way glass blenders look, it's so classy and feels expensive even though it doesn't necessarily cost more.
Uses Less plastic
The final win is that you use less plastic, we can all try and reduce our plastic use and by getting a glass blender you can no you're doing your part for the environment.
Other Things to Consider When Buying A Glass Blender
Just a few other things you might want to look out for when you're buying a glass blender, because it's all well and good getting a glass one but if it's not used as a blender then you've wasted your hard earned cash! Luckily all the ones reviewed here are top quality.
Size
Just making sure the glass pitcher is big enough for what you need it for, a small 32oz blending capacity might be plenty for 2 or 3 smoothies but if you're making bit family batches of soup then you might need up towards a 64 oz capacity of jug.
Power
More than 800-1000 watts is generally plenty for most fruit smoothie making. If you like green smoothies then you're going to need some extra power, which some of the best glass blenders have, so you'll want up around 1200+ watts, same goes for ice you need that extra power if you want to get crushed ice.
Versatility
I like my blenders to be able to do a little bit of everything, whether I want a smoothie a pesto or to make some smooth soup. So have a look what accessories come with it, you sometimes get blenders that come with travel cups which can be ideal if you like to take a smoothie on the go.
Other Glass Jar Blenders Reviewed
Cuisinart Stainless Steel and Glass Jar Blender
Brand: Cuisinart
750 Watts
2-Speeds
40-oz Jar
This is a really nice glass blender because it's got a minimal amount of plastic throughout the whole thing. The lid is plastic but the main base is all metal and the jug is of course glass.
It's 750 watts and a smaller 40-oz container so a pretty basic blender but it's perfect for smoothies, and most things you could need. The two speeds add that little bit more control for making sure you don't over blend your smoothies.
A really nice looking blender that's not too hard on the wallet either! A great price and a sleek finish means it will sit nicely inside any kitchen.
It's nice and easy to clean which is always a plus, nice and easy to clean inside of in the sink but also dishwasher safe which just makes life that little bit easier. You can just put all the removable parts inside the dishwasher and hey presto you're sorted.
Overall, a great glass blender that will serve most people day in and day out.
Oster Reverse Crush Counterforms Blender with glass jar
Brand: Oster
600 Watts
50 oz Capacity
7 Speeds
Just because it's a blender with glass jar doesn't mean it has to be expensive!
The Oster glass jug blender is everything the beginner smoothie maker needs, 600 watts of blending power and a 50 oz capacity jug means you can be sipping on delicious smoothies in no time. Plus you've got 7-speed settings so you can enjoy the exact texture you want.
600 watts does limit it in terms of being able to crush ice and it will struggle with hard stalks of vegetables like kale, but like I said this is a budget model ideal for casual use, make some smoothies and enjoy.
What's cool about this model is that it has a built-in reverse spinning blade, so when it's on it spins one direction and then reverses itself so any food that might be stuck underneath the blade gets pulled back through and blended smooth. This is a really common cause of lumps, food stuck under the blades, which is nice because no one likes getting an unexpected lump of banana when they're drinking!
Oh, as a last win you'll be pleased to hear the big glass jug is dishwasher safe, it's not got too many lumps of bumps that can become hard to clean if you do want to do it by hand, but being able to just put it in the dishwasher is just so much easier.
Conclusion
That's it for all the best blenders with glass pitchers! Plastic jars will never feel the same after this, it will be glass jars or no jars when it comes to your blending needs. Whether you're making smoothies or ice cubes these blenders with glass jars will see you right.
A glass blender is a durable blender and if you combine it with a powerful moitor and BPA free plastic parts then you're not a winner. Even tough ingredients like frozen fruit and ice crushing won't stand a chance.
Lower your plastic waste and avoid getting a plastic blender, by now you must know that a glass blender if the only way to go right?
It's just a shame Vitamix or Blendtec don't have a glass jar option!