There's just something about a glass jar blender that says good taste.
They look nice, feel nice, there's something reassuring in the heaviness that you know you've got a good quality product.
The only hard part is knowing what one to buy!
Which is where I come in…
I've put together this guide to help you choose the right glass blender, I'll cover the couple of things to know and look out for before moving on to my top picks and reviews. Each one I've reviewed is also available on Amazon so you can just click through the Price & Reviews at Amazon button and order yours today!
Check out the table below for the quick summary.






Advantages of Glass Jar Blenders
Need another reason to go for a glass jar blender over a plastic one? Well I've got several for you.
Doesn't scratch
Glass is just that little bit stronger and more durable than plastic is so it won't get caught and scratched while you're using it. Particularly if you blend a lot of ice, that causes the most scratches and can give a plastic jug that cloudy appearance which just doesn't look nice.
Plus big scratches are hard to clean out of because you never quite get into them properly and if you blend up something that can stain they stay that colour for far too long.
Doesn't Retain Odour
In the same way that plastic can get scratched up and stuff can get stuck in the scratches it can be prone to holding a lingering odour. Especially if you store it for long enough you can take it out the cupboard take the lid off and be hit with a wall of smell.
But that doesn't seem to happen with glass and less you've just straight up not cleaned it properly which is on you to do and not the glasses fault!
Looks Nicer
There's just something about the way glass looks, it's so classy and feels expensive even though it doesn't necessarily cost more.
Uses Less plastic
The final win is that you use less plastic, we can all try and reduce our plastic use and by getting a glass blender you can no you're doing your part for the environment.
Other Things to Consider When Buying A Glass Blender
Just a few other things you might want to look out for when you're buying a glass blender, because it's all well and good getting a glass one but if it's not used as a blender then you've wasted your hard earned cash! Luckily all the ones reviewed here are top quality.
Size
Just making sure it's big enough for what you need it for, a small 32oz blending capacity might be plenty for 2 or 3 smoothies but if you're making bit family batches of soup then you might need up towards a 64 oz capacity of jug.
Power
More than 800-1000 watts is generally plenty for most fruit smoothie making. If you like green smoothies then you're going to need some extra power so you'll want up around 1200+ watts, same goes for ice you need that extra power if you want to get crushed ice.
Versatility
I like my blenders to be able to do a little bit of everything, whether I want a smoothie a pesto or to make some smooth soup. So have a look what accessories come with it, you sometimes get blenders that come with travel cups which can be ideal if you like to take a smoothie on the go.
Best Glass Jar Blenders Reviewed
And here we are at the main event!
I've gathered together my favorite glass jar blenders and reviewed them, they're all available on Amazon so you can click through and order yours today.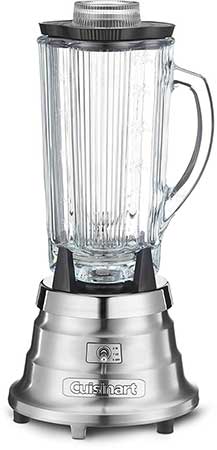 Glass And Stainless Steel Blender
Brand: Cuisinart
750 Watts
2-Speeds
40-oz Jar
This is a really nice glass jug blender because it's got a minimal amount of plastic throughout the whole thing. The lid is plastic but the main base is all metal and the jug is of course glass.
It's 750 watts and a smaller 40-oz container so a pretty basic blender but it's perfect for smoothies, and most things you could need. The two speeds add that little bit more control for making sure you don't over blend your smoothies.
A really nice looking blender that's not too hard on the wallet either! A great price and a sleek finish means it will sit nicely inside any kitchen.
It's nice and easy to clean which is always a plus, nice and easy to clean inside of in the sink but also dishwasher safe which just makes life that little bit easier. You can just put all the removable parts inside the dishwasher and hey presto you're sorted.
Overall, a great glass blender that will serve most people day in and day out.
Basic Glass Blender
Brand: Oster
600 Watts
50 oz Capacity
7 Speeds
Just because it's a glass blender doesn't mean it has to be expensive!
The Oster glass jug blender is everything the beginner smoothie maker needs, 600 watts of blending power and a 50 oz capacity jug means you can be sipping on delicious smoothies in no time. Plus you've got 7-speed settings so you can enjoy the exact texture you want.
600 watts does limit it in terms of being able to crush ice and it will struggle with hard stalks of vegetables like kale, but like I said this is a budget model ideal for casual use, make some smoothies and enjoy.
What's cool about this model is that it has a built-in reverse spinning blade, so when it's on it spins one direction and then reverses itself so any food that might be stuck underneath the blade gets pulled back through and blended smooth. This is a really common cause of lumps, food stuck under the blades, which is nice because no one likes getting an unexpected lump of banana when they're drinking!
Oh, as a last win you'll be pleased to hear the big glass jug is dishwasher safe, it's not got too many lumps of bumps that can become hard to clean if you do want to do it by hand, but being able to just put it in the dishwasher is just so much easier.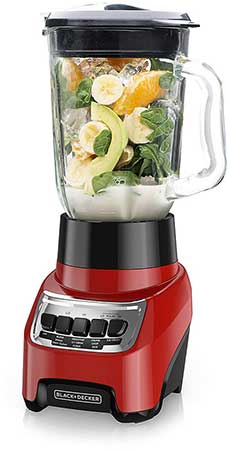 Budget Glass Blender
Brand: Black + Decker
350 Watt Motor
Dishwasher Safe
50 oz Jar
Need a glass blender but a bit tight on cash? This is the one for you. A budget no frills blender that's more than capable of whipping up a smoothie.
The glass jar is is dishwasher safe and it's pretty easy to clean, no creases or bumps for food to get stuck in.
They're a bit cheeky in the marketing saying it uses a 700w power but then a small print saying it recorded 700w for 100 ms which is 0.1 seconds and it actually uses a 350-watt motor… Not impressed by the sleight of hand against that because for the price 350w is fine, it's enough to blend together a smoothie.
It's designed to have a nice flow of liquid on the inside so everything circulates for a nice even blend, but combine that with a gentle shake of the whole thing while it's on just ensures that, a bit of a pain but nothing uncommon for a cheap blender.
If you're interested in a budget blender that's not necessarily glass then check out my other article on cheap blenders.
Conclusion
A lot of great blenders here all with glass jugs, Amazon do have others so if you're not convinced by any of these then click through anyway and see what else you can find, these are just my favourite picks for the moment. The Cuisinart is fantastic, sleek and stylish but a someone with some more serious blender needs will be better of with the Blendtec