I was in the pre-prepared juice section at my local store – a section I'm not overly familiar with because I prefer making my own juice – and realized that I had a question.
In one hand, I had a bottle of prune juice and in the other a bottle of plum juice. That sounds like the start of a joke but I promise I'm going somewhere with this.
It made me realize that I actually didn't know what the difference between prune juice and plum juice was. Two different products but I could not tell you which was better than the other. So I decided to do some research so that I could share the answer with you!
In short, the difference between plum juice vs prune juice is that plum juice is made from fresh plums while prune juice is made from dried plums. Prune juice is made by rehydrating prunes in boiling water and then juicing them because there is nothing to juice from them otherwise.
While that's the one-line answer, there's more to this question which I'm going to explain below. Want to know whether plum juice or prune juice is better for you? Then read on!
Is There A Specific Type of Plum Called A 'Prune'?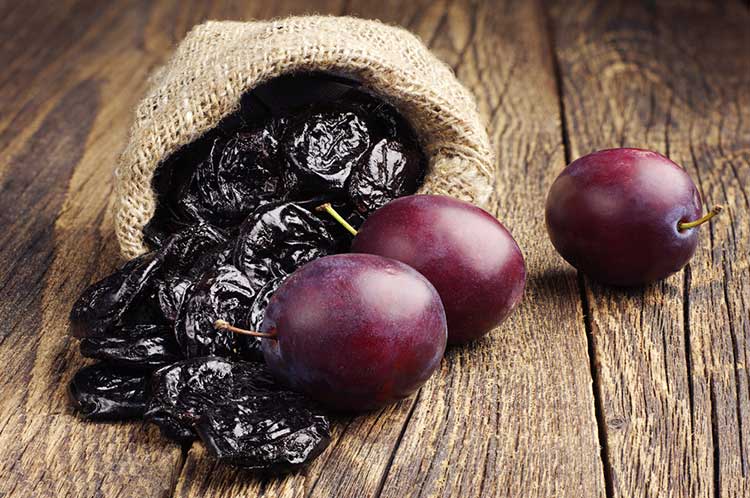 Any type of plum that's grown specifically to be dried can be called a prune. There are lots of different types of plum varieties, so this is the best way to differentiate those that are going to be prunes.
Prune juice is always made from dried plums, not fresh ones.
Most prune juice cartons will say something like "prune juice – water extract from dried prunes."
If a prune juice carton says "made from fresh prunes", it's just referring to the type of plum. It's still prune juice and will still have that distinctive prune juice taste.
Confused? Yeah, I know! It's not easy to keep up with.
How Is Prune Juice Made?
Prune juice has been made commercially in the United States since 1934 and is probably the only juice that's made from dried fruit. You have to admit that the process is a lot easier when you use traditional fresh fruit!
The dried plums are rehydrated with boiling water, which allows the fruit to disintegrate a little. Then the fruit gets juiced using either a centrifugal process or a masticating process (these are both types of juicer you can purchase for your home too).
The juice produced from the previous step is filtered and then reduced down further to a concentrate.
If you think this all seems excessive… you're right, it totally is.
Prune juice might not be for everyone, so drinking fresh plum juice or eating whole prunes instead will give you the same results.
Can You Make Prune Juice At Home?
Yes, you can! Making other fruit juices at home is arguably easier but if you're looking to incorporate more dietary fiber into your routine, this could be a good way to do it. In fact, because you only need prunes and water to make your own prune juice, it could be better for you than prune juice you buy at the store, since you avoid all the added artificial sweeteners.
Ingredients
5-6 prunes
1 cup hot water
Method
1. Put the prunes into a bowl and pour 1/4 cup of water over them. They won't be completely covered by the water and that's okay. Do not use all the water!
2. Leave the prunes to soak in the hot water for about 30 minutes. They will absorb the water and swell a bit. If this hasn't happened after 30 minutes, leave them for a bit longer.
3. Now blend the prunes along with the remaining 3/4 cup of water. You should blend them until the mixture is completely smooth.
4. After that, pour the prune mixture through a fine strainer and into a glass. You might need to press it through with a spoon.
5. Put the prune juice into the refrigerator and make sure it's chilled before drinking.
If you want to, you can replace the hot water with a flavored tea or apple juice for example to give your prune juice a different taste.
Prune Juice vs Plum Juice
Which Tastes Better?
Plums and prunes taste different, so it makes sense that plum juice and prune juice also taste different.
Prune juice – Prunes taste sweeter than plums do, so prune juice is naturally sweeter. One thing to be aware of though is that prune juice tends to be a lot thicker than plum juice, due to its high fiber content. Because of this, prune juice has a slightly funny texture and it can take a while to get used to.
Plum Juice – While prunes are naturally very sweet, plums are tangier in taste. However, they're still a fruit and are full of natural sugars! So you'll still get a sweet treat with plum juice.
Which Has More Health Benefits?
Both plum juice and prune juice have the same fruit beginnings. They start life as fresh plums but when the process of making them both is complete, these juices are completely different – and actually have different health benefits!
1. The Drying Process
One of the reasons that prune juice and plum juice have different health benefits is the drying process that is used to make prune juice.
This drying process breaks down the Vitamin C that naturally occurs in plums, which means it's lost.
However, the drying isn't all bad though. It actually preserves the other vitamins that you find in plums like Vitamin A, Vitamin B6, Vitamin E, and Vitamin K.
So prune juice might not have as much Vitamin C as plum juice, but still has a great deal of nutritional value.
2. Sugar Levels
I mentioned earlier that plum juice doesn't taste as sweet as prune juice – it's more tangy – but it turns out that plum juice actually has the higher sugar content of the two.
Regardless of which juice you'd prefer, make sure that you keep an eye on the added sugar content in juices you buy from the store. They can make a usually healthy fruit juice unhealthy and more calorific than you'd expect. This can be an even bigger issue if your goal is weight loss and you're trying to eat healthier
3. Constipation
This could be what pops into your head when you hear prune juice, since the natural laxative effect is what prune juice is most known for. In fact, the link between bowel movements and prune juice is so well known that prune juice companies actually tried to change the name of their product to "dried plum juice" to improve their image but it didn't work!
While prune juice has the bigger reputation, both plum juice and prune juice will help relieve constipation as they both contain sorbitol. The main difference in them is that prune juice has a higher fiber content, which will help out your digestive system more effectively.
So if you aren't sure what to go for, then choose prune juice if you're having tummy trouble. The benefits of prune juice on your digestive tract have been tried and tested, so you can be sure that it'll help – just don't have any before a long car journey or important meeting!
Making Prune Juice
Making Prune juice usually requires you either buy pitted prunes or you can remove the pits yourself. You can usually do this with just your fingers and give them a gentle squeeze.
Apart from that you just want to make sure you wash your fuit as you always do when you're making homemade juice. Prune juice contains natural sugar so you might want to complement it with vegetables rather than more fruits.
Prunes are also a great addition to tastyjuices by upping the sweetness level and if you're a smoothie fan they can add texture.
F.A.Qs about Plum Juice and Prune Juice
Where can you buy plum juice?
This is an easy one – pretty much anywhere! You can get plum juice at most supermarkets and you can even get it online from Amazon if you want to get plum juice even more conveniently!
What is plum juice good for?
Like I talked about previously, plum juice is good for helping with constipation and relieving tummy trouble. However, it has other health benefits too!
The dietary fiber in plum juice helps with weight loss since it can make you feel full for longer, meaning all the snacks will stay in the kitchen!
Plum juice is also packed with antioxidants which can keep a great deal of harmful conditions and illnesses at bay, like heart disease or strokes.
It also contains lots of other vitamins, like Vitamin A and Vitamin K so it's good for pretty much everybody, but it's particularly great if you're pregnant, since that's when you need to get the right nutrition!
Is prune juice good for detox?
The word detox is in just about everyone's vocabulary now but can vary widely in meaning depending on what you read. There's a lot of misinformation out there so I'm always wary about recommending a detox.
When prune juice is recommended as part of a detox, it's often part of something called a colon cleanse due to its laxative properties. Colon cleanses involve completely 'clearing out' your digestive tract and getting rid of toxins using laxatives or enemas.
However, there is no evidence that these cleanses have any health benefits and can even harmful or dangerous. If you have problems with your digestion, then speak to your doctor before doing any drastic or changing your diet dramatically.
Is it OK to drink prune juice every day?
You can drink prune juice every day but it's important to stick to the recommended daily serving. 5-6 prunes a day is more than enough and consuming more than that could have nasty side effects! You should also make sure that you have plenty of water along with your prune juice every day.
Can you freeze plum juice?
Plum juice can be frozen and can last for up to 30 days. Plum juices freezes a lot better than fresh stone fruits do! Just make sure that you leave some space at the top of the container you put it in since the juice will expand once it's frozen.
How long does prune juice last once opened?
Prune juice will last about 7-10 days once you've opened the carton. However, if you notice that the color has changed or the taste has worsened, then don't drink it!
Conclusion
Even though prune juice and plum juice start from the same genus prunus fruit trees, the results are quite different!
Prune juice can be made from different varieties of plums but these plums are always dried, then rehydrated and made into prune juice. Plum juice is always made from fresh plums.
Both prune and plum juice is good for you – the nutrition facts don't lie – and they can really help your digestive health. However, if you're buying it for yourself, make sure that your plum juice or prune juice doesn't have added sugar in it – check the ingredients first.
As a final point, not all plums are created equally. So which juice you choose will be a factor. They all are a great source of vitamin C of course but I like to go for organic juice. It's not usually my cup of tea but cold prune juice in the morning can be a good time.
And eating fresh regular plums is also a great way to have mroe fuit in your diet, it doesn't just have to be juice.
Happy juicing!