I was standing in the store in the pre-prepared juice section – a section I'm not overly familiar with, because I prefer making my own juice – and in one hand I had a bottle of prune juice and in the other a bottle of plum juice. That sounds like the start of a joke but I promise I'm going somewhere with this.
It made me realise that I actually didn't know what the difference between plum juice and prune juice was. So I did some research and found out!
Plum juice is made from plum juice. Prune juice is made from dried plums. That's the basic difference! Prune juice is made by rehydrating dried plums in boiling water.
There's a little more to all of this, which I'm going to explain below, including discussing which of these fruit juices is healthier for you.
Is There A Specific Type of Plum Called A 'Prune'?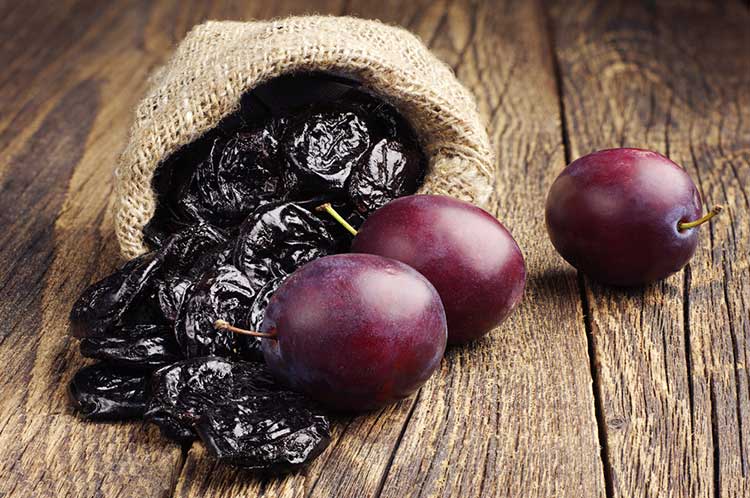 Any type of plum that's grown specifically for drying can be called a prune. There are lots of different types plum varieties, so this is a way to differentiate between them.
But prune juice are always made from dried plums, not fresh ones.
Most prune juice cartons will say something like "prune juice – water extract from dried prunes."
If a prune juice carton says "made from fresh prunes", it's just referring to the type of plum. It's still prune juice.
Confused? Yeah, I know!
How Is Prune Juice Made?
Prune juice has been made in the United States commercially since 1934 and I think it has to be the only juice made from a dried fruit. It's not an efficient process, after all.
The dried plums are rehydrated with boiling water, which allows the fruit to disintegrate a little. Then it gets juiced using either a centrifugal process or a masticating process and the juice is filtered, then reduced to a concentrate.
If you think this seems excessive… you're right.
Drinking fresh plum juice or eating whole prunes will give you the same results!
Prune Juice vs Plum Juice
Which Tastes Better?
Plums and prunes taste different, so it makes sense that plum juice and prune juice also taste different.
Prune juice – Prunes taste sweeter than plums do, so prune juice is naturally sweeter. One thing to be aware of though is that prune juice is a lot thicker than plum juice, due to its high fiber content. This means that the texture can take a while to get used to.
Plum Juice – Plums have a more tangy taste than prunes. However, they're still pretty sweet due to their natural sugar content, like most fruit juice.
Which Is Healthier?
Both of these juices start off as the same fresh fruit but when the process is finished, the health benefits you get from them are actually quite different.
The Drying Process
The main difference between these two juices is the drying process that's used to make prune juice.
During this drying process, the Vitamin C that you find in plums breaks down and a lot of it is lost.
However, this drying process actually preserves the other vitamins you find in the plums, like Vitamin A, Vitamin B6, Vitamin E and Vitamin K.
Sugar Levels
Plum juice doesn't taste as sweet as prune juice but actually has a higher sugar content.
When you're choosing plum juice or prune juice, keep an eye out for any that have added sugar. It can make weight loss difficult, since you end up consuming more calories than you realise.
So overall it depends, if you're looking for vitamin C than plum juice is the way forwards but if you're looking for potassium then prune juice will serve you better. But I'd say both are generally healthy for you provided there's a minimum or no added sugar and you enjoy it in moderation.
Constipation
The laxative effect and the way it affects your bowel movements is probably what you think of first when you think of prune juice. This happens so often that prune juice companies even tried to change its name to 'dried plum juice' but that didn't happen.
Both plum juice and prune juice are good for helping with constipation, since they both have sorbitol in them. Prune juice also has a higher fiber content than plum juice, and this can also help out your digestive system.
If you aren't sure which one to pick, then go for prune juice. The benefits of prune juice have been tried and tested – just don't have any before a long car journey!
Conclusion
The differences between prune juice and plum juice are minor but they are different.
Prune juice can be made from different varieties of plums but they are always dried, then rehydrated and made into prune juice. Plum juice is always made from fresh plums.
Both juices are good for you, the nutrition facts don't lie and they can really help out with your digestive health. However, if you're buying it for yourself, make sure that your plum juice or prune juice doesn't have added sugar in it – check the ingredients first.
Let me know in the comments below if you still have any questions or there's anything you think I've missed!
Happy juicing!