I was standing in the store in the pre-prepared juice section, a section I'm not overly familiar with because I prefer making my own juice fresh, but in one hand I had a bottle of prune juice and in the other a bottle of plum juice.
What on earth is the difference?? I'm sure you're as puzzled as I was and that's why you've ended up here.
Well I did some research, and the difference between plum juice and prune juice is that plum juice is made from fresh plums whereas prune juice is made from dried plums. They get the juice out the dried plums by rehydrating them in boiling water.
There's a little more to it than that I which I'm about to go into further down as well as the difference in taste and if one is healthier than the other.
Is it not made from a variety of plum called a prune?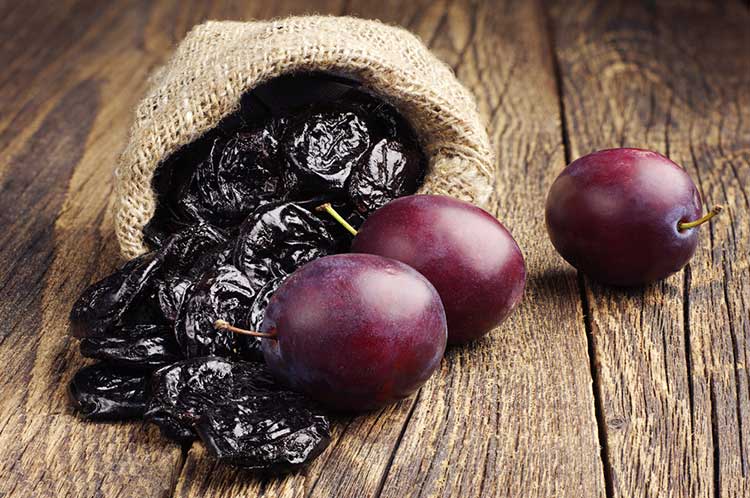 Any type of plum that's grown specifically for drying can be called a prune.
But in general, prune juice is made from dried plums, not from fresh plums that haven't been dried yet but were going to be. I suppose if that happened then it would never have been a prune and so they couldn't call it prune juice!
Most prune juices will say something like Prune Juice – water extract from dried prunes. If it says made from Fresh prunes then it's the variety they're made from but this isn't usually the case but most will read as the below does.
How is prune juice made?
Prune juice has been made in the United States commercially since 1934 and I think it has to be the only juice made from a dried fruit which is obviously not very efficient making it more expensive.
The dried plums are rehydrated with boiling water which puts the liquid back into them and allows the fruit to disintegrate a little. This then gets juiced through either a centrifugal process or a masticating process and the juice is then filtered and reduced down to a concentrate.
If you think it seems a really excessive way to get the juice out when then you're right, so you can either drink the fresh plum juice or eat the dried prune and it will be a much more efficient process.
Although, they do taste different and some people prefer prune juice which is why it gets made.
Prune Juice vs Plum Juice For Taste
Plums and prunes taste different so it makes sense the plum juice and prune juice also tastes different.
Prune juice – Prunes are naturally sweeter than plums are so the juice will naturally have more of a sweetness to it which a lot of people prefer. The texture, however, is a lot thicker which can be a bit strange on first tasting.
Plum Juice – Plums, on the other hand, have more of that tangy sweetness to them. They're still a fruit so there is still a sweetness to them from the natural sugars, it's just not as pronounced as it is in prune juice.
Which One Is Healthier Plum Or Prune Juice?
Although it starts off as the same fruit there's actually a bit of a difference in nutrition in plum juice and prune juice.
The drying process
The biggest difference, is that during the drying process of the plums to turn them into prunes the vitamin C breaks down and a lot of it gets lost. But the drying process means the other nutrients which are not broken down are present in higher concentrations so you get more potassium, vitamin K, Vitamin E, and B vitamins.
Sugar levels
And although plum juice doesn't taste quite as sweet it actually has more sugar in it which is bizarre when you think about it. But what you have to look out for is added sugar because added sugar is never good and leads to a lot of excess calories and carbohydrates without any extra nutrition.
So overall it depends, if you're looking for vitamin C than plum juice is the way forwards but if you're looking for potassium then prune juice will serve you better. But I'd say both are generally healthy for you provided there's a minimum or no added sugar and you enjoy it in moderation.
Plum juice vs prune juice for constipation?
I think its ability to help make you poop is the first thing anyone thinks when they think about prune juice. It became such a stigma they even tried to change the name of prune juice to dried plum juice but the plans fell through.
But is plum juice just as good at helping with constipation? It is up to a point because both plum and prune juice both have sorbitol in them which is the laxative that helps you go to the bathroom. But prune juice has a little more fiber which can be good for helping ease digestion.
If in doubt stick with prunes they've been tried and tested for many decades and haven't let anyone down, just don't have too many before a long journey!
Conclusion
The differences between prune juice and plum juice are minor but they are in fact different which is why they're labeled differently. Prune juice is made from rehydrated dried plums we're as plum juice is made from fresh plums.
Both are healthy, both are good for constipation, but the main thing to look for if you're buying it in the store is looking for that it states no added sugar somewhere or check the ingredients to make sure that sugar isn't one of them.
Apart from that let me know in the comments below if you still have any questions or there's anything you think I've missed this article and I'll get it updated.
Happy juicing!