Juicers are designed to turn a large variety of fruits and vegetables into fresh juice without issue. However, you may be wondering if there are any limits to the types of produce you can use, such as olives.
What happens if you put olives in a juicer? If you put olives in your juicer, you will most likely get olive "juice" or paste as a result, which can be later used to make olive oil. However, if you do not first remove the olives' seeds (also known as the pit), you risk damaging your juicer.
While juicers are simple machines to use, it does not take much to make them ineffective. When experimenting with juicing different fruits and vegetables, such as olives, you need to be mindful of the limits of your particular machine, as well as the maintenance required between juicing to ensure it continues operating at its best.
Can I Juice Olives in the First Place?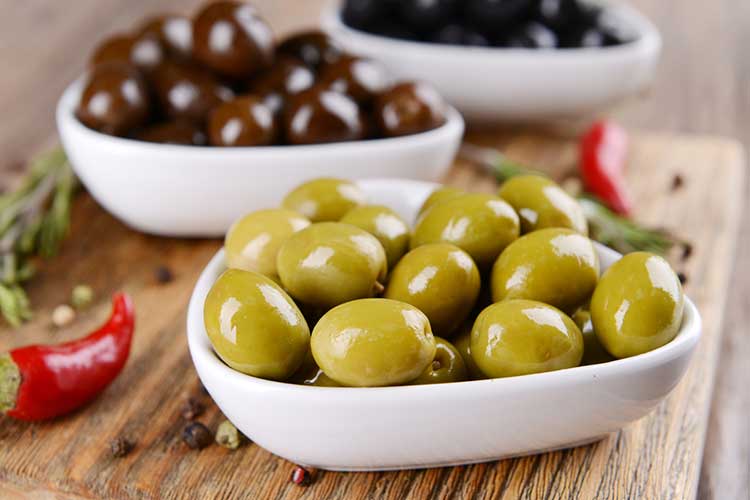 Before we talk about juicing olives and the effects it may have on your juicer, there's one question we should address: can you put olives in your juicer at all? Yes, you can definitely use olives in your juicer, but you will need to remove any seeds, or pits, the olives may have first.
A juicer is designed to press soft fruits such as oranges, apples, and the like to the point where it can excrete their healthy juices to create a nourishing beverage. However, olives, in particular, have these relatively small, yet strong, pits inside them, which can (in a somewhat literal way) throw a wrench into your juicing plans.
Of course, if you have a manual variant of a juicer, then these little seeds will not present as much of a problem, but if you have a juicer that relies on any sort of complicated mechanism, then the pits can pose a danger to your juicer after repeated use.
Removing the pits from olives is a very simple yet somewhat tedious endeavor; you can usually get it done with just a knife. You can also purchase pitted olives (Amazon), which are essentially olives with the seed or pit already removed; however, many pitted olive varieties are usually stuffed with spices and the like, rendering them useless for juicing purposes. Make sure the pitted olives you purchase do not come already stuffed or seasoned.
If you do not mind pitting the olives yourself or have found a good brand of unstuffed, pitted olives to use, then juice away!
What Can a Juicer Yield with Olives?
If you want to get the most out of your olives with a juicer, there are a few things to keep in mind. For one, it is essential that you only use fresh olives since they will be more likely to produce more "juice." After even a single day, they will become too unsuitable for creating the amount of juice you want. Secondly, the result of a juiced olive is not necessarily something that is recommended to add to your morning smoothie or drink on its own.
So, what do you end up with when you juice olives? After you have added a bunch of pitted olives to a juicer, you will find that you end up with a unique looking "juice" or paste. It looks green in color and might be a little mushy in texture. In other words, it may not appear very appetizing at first glance.
However, what you are looking at is not something meant to drink; in fact, what you are seeing is unfiltered olive oil. That's right, you can produce olive oil at home, with just a juicer and some unseasoned, pitted olives! All you need to do is filter the paste and juice that came from the juicer.
The downside to this, though, is that you will only be able to produce high-quality olive oil if you press both the olive and the pit inside—something that you cannot really do with a standard juicer.
So, what else can you do with the olives at that point if you want to make olive oil out of them? Fortunately, there are some other alternatives to juicers that you can use.
Alternatives to Juicing Olives
If you want to juice olives to produce olive oil at home with a juicer, you can, but the result is usually suboptimal and can be quite tricky to do. However, there are a couple of alternatives readily available that you can use to make quality olive oil: millstones and oil presses.
Millstones
Millstones will require manual work compared to a juicer. It involves placing the entire olive—seed and all—into a circular plate with a mechanism with two stone wheels attached to it. The wheels are turned using a handle, and upon rotation, begin to crush the olives inside the plate. The result is a rich paste that will maximize oil production without having to throw away any of the good stuff.
Afterward, you will need to filter the paste into a mason jar or some other container using a paper filter such as this one on Amazon. You will notice that after filtering, the jar will have water and oil present that will naturally separate. After this happens, use a small siphoning tube to remove the oil and move it into another jar or container, using a funnel if needed.
Oil Press
An oil press is on the more automatic side of things. All you need to do is to place the olives with seed and all inside of it. Then the process of extraction will begin, which involves filtering the oil out of the olives. Some particles might mix in the oil through the extraction process. However, you can quickly get rid of them using a funnel to filter out the oil.
Making olive oil at home is easy. Yes, you can use your juicer if you do not want to purchase any of these devices. However, if you wish to make your own homemade, high-quality oil, then getting your hands on either one of these devices is definitely a good investment.
No matter what method you decide to use, storage of the oil is just as important as its production. Olive oil must be immediately stored in dark-colored brown or green bottles (Amazon) after production, preferably with a cork being used to cap it off if you do not plan on immediately using it. Then, the containers must be stored in a cool and dark place so that your oil can last for a long time.
In Summary
Putting olives in your juicer may sound like an interesting experiment to try out. However, nothing magical will come out of it, and you will most likely not be able to use the result for consumption other than in the form of olive oil. Worst yet, if you accidentally add olives with their pits into your juicer, you may cause significant damage to the machine itself.
For this reason, when putting olives in your juicer, you must first take the seeds out of the olives since the pits are quite strong and could damage the inner mechanisms of your juicing machine. There are well known and viable alternatives such as a millstone and an oil press that will not only produce high-quality oil but will also make the process much easier.
Olives are a great fruit, and its oil can become a valuable asset in the kitchen, so whether you are making it with a juicer, a millstone, or an oil press, the result is definitely worth it when done right.
Or you could keep your green olives for your martini!
Related Reading
Can you juice sweet potato
Can you juice banana
can you juice avocado
can you juice brocolli
References:
https://www.legit.ng/1212425-how-olive-oil-home.html
https://tastessence.com/how-to-make-olive-oil
https://www.cnet.com/how-to/how-to-juice-at-home-juicer-tips/
http://blog.countrytrading.co/2014/05/28/how-not-to-make-olive-oil/