The bead of water rolling down the glass, the sun beating in the window, and the anticipation of a crisp glass of freshly made apple juice.
Sounds good right?
Few things are as refreshing as a glass of apple juice, especially when you've made it yourself. But to make apple juice you're going to need the right equipment and that starts with the best apple juicer.
The top picks I've found were chosen because they can make delicious apple juice but also because they're good versatile juicers that you can make lots of different types of juice with apple or no.
Check out the table below for my top 3 picks of the best apple juicers and click the links to head over to Amazon where you can order yours today.
Title
Top Pick
Breville Juice Fountain



Best For
Professional Juicing and Large Volume

Best For
Professional Juicing and Large Volume
Top Pick


What Type Of Juicer Is Best For Apples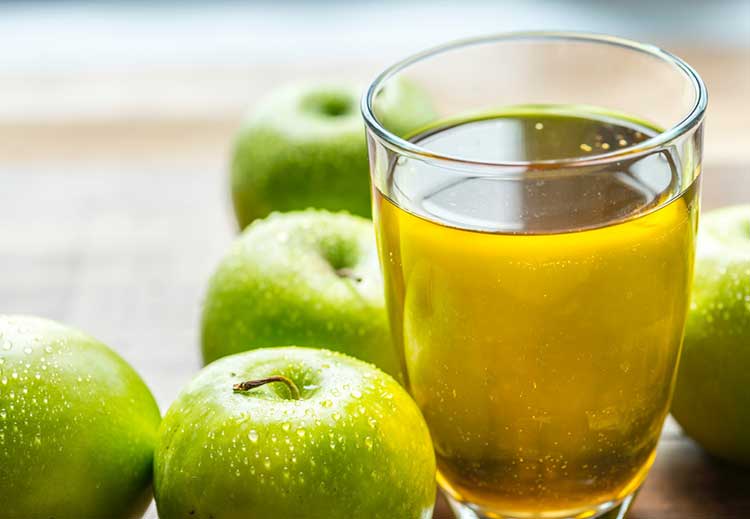 You get two main types of juicer, masticating and centrifugal, masticating works with a slow spinning auger than squeezes the apples and crushes out every last bit of juice.
Whereas centrifugal ones have an incredibly fast spinning cutting blade that mulches up the apples and flings them to the side where the pulp gets caught and the juice gets allowed to pass through.
To me masticating juicers are the way to go, they produce more juice from the amount of fruit you put in and they don't heat it up so all the nutrition gets locked inside and you're left with the healthiest juice possible.
But Centrifugal produce juice faster and they can be cheaper as well so it's up to you what you need.
Tips For Juicing Apples
You know you need a masticating juicer, great, one step closer to making apple juice. But I wanted to share a couple of tips on making apple juice before we move on. This of course starts with choosing the best apples.
Peel On but Core Out
You can juice the core of an apple, but I don't like to, apple seeds when they get crushed and digested release very small amounts of cyanide, now I'm talking really small amounts, you need to eat hundreds of apples before anything bad will happen.
But I'm not much of a risk taker and it's really easy to get an apple corer that removes the core and the stalk leaving you with all the good parts.
The skin you can leave on, you don't have to peel the apples just make sure you're giving them a wash before you juice them.
Quarter Them First
Some juicers can handle whole apples, others can't, some can one day but then jam the next. So to avoid your juicer jamming just cut the apple into quarters, it saves time later if it gets jammed and you have to clean it out.
And just roughly, they're just getting juiced after all they don't need to be perfect!
Use As Fresh As Possible
Apples have a really good shelf life compared to a lot of fruits as long as the skins intact but it's always best to use apples that are as fresh as possible. Either straight from the tree or from the shop.
So What Apple Juicer Should I Buy?
Great question, I've found and reviewed the 3 best ginger juicers below, they're all available on Amazon so you can click the Price & Reviews Button and Order Yours Today!
Slow And Steady
Brand: Omega
Type: Masticating
Good For Large Quantities
Good For All Round Juicing
Sleek Design
This Omega comes up again and again as one of the top juicers out there. Its sleek metal body means it can be kept out on the counter and it's juicing power is unrivalled for its price. It can just keep going and turn anything you put into it into juice.
The feed chute isn't the biggest so you'll need to quarter the apples but you now know you need to do that anyway right?
If you want to make a commitment to a healthier you this is the way to do it. Delicious apple juice and an easy way to get more juice into your life.
Juice Fountain Plus
Brand: Breville
Type: Centrifugal
Produces Juice Fast
High Juice Yield
Easy Clean Up
The Breville juice fountain is a staple in the juice world, it's got a higher yield than most centrifugal juicers which you'll love because you don't need as many apples.
And it's super quick, you can juice an 8 oz glass in just 5 seconds!
They claim you don't need to chop up before you put it, which to me is asking for trouble, but a centrifugal is less likely to get jammed so if you're in a hurry then go for it. It's final plus point is that it has 2 speeds, high speed for hard fruit and veg like apples and then a slow speed for soft fruits giving it a nice versatility.
A great apple juicer for people who want their juice fast.
Upright Apple Juicer
Brand: Mueller Austria
Type: Masticating
Great Price
Large Feed Chute
Anti-Drip Cap
This upright masticating juicer is a great choice for anyone who wants apple juice but is on a tight budget. It's German engineered so you know it's going to be high quality which is shown in the clever anti-drip cap that stops it dripping all over your counter when you're done using it.
Nothing worse than cleaning up a big sticky puddle after you've made your apple juice.
The other problem can be that it's upright which makes it tricky to store, it's about 19 inches tall (half a metre) so have a think about if you have a cupboard you'll be able to keep it in before you fully commit to buying it.
Because 19 inches tends to be slightly too big to leave on a counter underneath your cupboards.
Conclusion
There you have it! I hope you found it useful and I hope you found a juicer you like the look of, if so just click the price and reviews button next to the one you're interested in and you can go to Amazon, read some more info and you'll be sipping on fresh apple juice in no time.