If you've had a bumper crop of fresh fruit and you're wondering what to do with it, you might start wondering whether or not you can freeze your fresh juice.
You might even be struggling with making fresh juice every day and looking for a more time-efficient routine. Is it possible to make a big batch of juice and then freeze it to have later? Can you enjoy a longer shelf life juice that still tastes great? I did some research and found out.
You can freeze your juice and it lasts for 3 to 6 months but the problem is that you do start to lose some of the nutrition over time – although it's not as much as you'd expect. However, the longer the juice is frozen, the more vitamins and minerals you're going to use.
I read a study on frozen orange juice that found after 24 months, 20% of the vitamin C in the juice was lost. Fortunately, the enzymes don't actually disappear because they only get affected by high acidity or heat, so when frozen, they're actually completely fine.
I couldn't find anything about the other vitamins but I imagine it's a similar situation, with them disappearing over time.
So nutrition is lost when you freeze your juice, which means that fresh juice is always best. However, if the choice is between freezing your juice and throwing it out, definitely freeze it. I talk about juicing frozen fruits and veg here for those interested.
If you have any doubts about freezing your juice, think about all the frozen vegetables that you probably have in your freezer. Frozen peas are marketed as being extra healthy because they're frozen as soon as they're picked. This is meant to be better than having them some weeks later, by the time they make it to the store. Presumably they don't lose that much nutritional value, otherwise, the FDA would be all over them to change their practices.
What You Should Freeze Your Juice In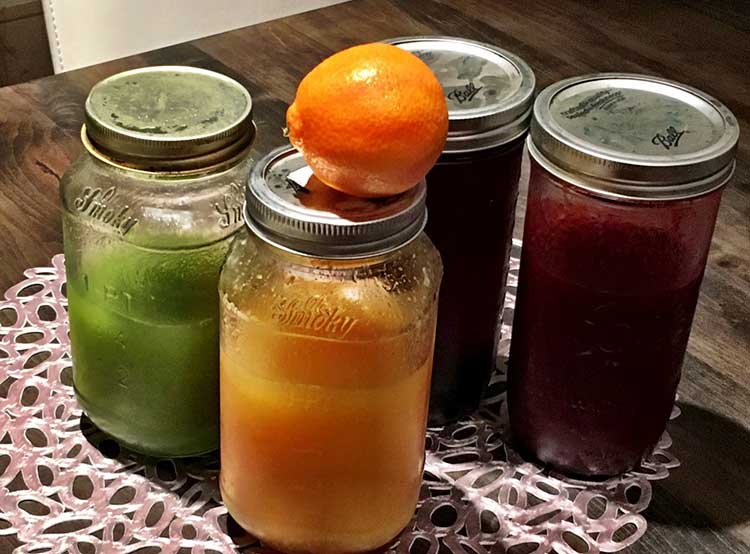 So what should you be freezing juice in? Can you freeze juice in glass jars? Or are you better with a plastic container?
The truth is, either work fine. You should just make sure you're using BPA-free materials, since these are better for you. A glass jar or mason jar would work great.
Make sure that when you fill up your container, you leave a little bit of space in the top of it (about half an inch) because the frozen juice expands. If you don't leave space, your container could burst! Trust me, nothing is harder to clean than frozen juice all over your freezer.
Another fun way to store juice in the freezer, is to pour it into an ice cube tray and freeze it, giving you little ice pops of fresh juice. These are really refreshing on a hot day! This method isn't the most space-efficient method, but it's really fun!
You can even add these ice cube tray juice cubes to other fresh juices you've made to cool them down and add an extra layer of flavor as the juice cubes melt.
How Long Does Juice Last In The Freezer?
If you've decided to go ahead and freeze your juice, I'm sure you're wondering how long it's going to last in there. Well, the study I mentioned before with the frozen orange juice actually ran over 24 months, which is a sign that it can last a really long time!
But, I would say about 3 to 6 months is as long as you're going to want to leave your juice in the freezer. That way lots of nutrition will still be there, and it definitely won't have spoiled
What can happen though, is that the juice tastes different when you have it after it's been frozen. A lot of people I've spoken to have talked about defrosting juice but then throwing it away, because the taste changed.
I can't seem to put my finger on why, but I assume it has something to do with not mixing it properly once it's been defrosted. Your juice can separate as it thaws, so you need to give it a good stir, or a shake if it's inside a bottle, before you drink it.
This is true for freezing fruit juice and fruit and vegetable juice.
How Long Does Juice Last When Not Frozen?
I've actually got a more detailed article on this, which I encourage you to check out.
But the short version is, it depends what type of juicer you've got. Juice from a centrifugal juicer doesn't last very long – about 24 hours before it starts to spoil.
Masticating juicers, however, can make juice that lasts about 2 to 3 days. They use a slower juicing process, which stops the oxidation of the juice itself and makes it last longer.
This is all assuming your vegetable or fruit juice is kept in a clean bottle or airtight container inside the fridge. So if you're looking to make juice the night before you need it, or make your juice in batches so you can have a few days at a time, then you're going to want a masticating juicer.
Again this is true for fruit juice and fruit and veggie juice.
Tips For Enjoying Juice From Frozen
Make sure it's defrosted properly – Your juice will be a bit weird if you don't defrost it properly. The water defrosts first and the fruits and veggiesdefrost second. If you don't let your juice completely thaw, then you'll have bits of ice and watery juice, which will not taste good! And if you freeze orange juice with pulp hte pulp might defrost slower.
Drink soon after defrosting – Once it's defrosted you should drink it pretty quickly. How long you have will depend on what type of juicer you used to make it and how long after you made your juice that you froze it. Generally, you want to drink it within a few hours of defrosting but certainly that day or, if you've defrosted it in the refrigerator overnight, then drink it by the end of the day that it fully thaws.
FAQ
Are There Any Juices You Can't Freeze?
I haven't been able to find any juices that you can't freeze, fruit juices and vegetable juices are both fine. You can juice just about anything: carrot juice, apple juice, orange juice, green juice – the lot!
But the same rules apply no matter what you're juicing. Your juice will expand as it freezes, so leave a little room at the top of the container, which should also be clean.
And make sure you drink it within about 3-6 months.
Can I Freeze My Juice During A Juice Cleanse?
You could, but I wouldn't recommend it.
During a juice cleanse, you NEED all the nutrition you can get because you're going to be having fewer calories than normal.
This doesn't apply if you've bought pre-made juices that frozen specifically for juice cleanses (see my raw generation review for more). These are flash frozen to preserve nutrients in a way that you can't manage with your own freezer.
While I'm on that, I'll say that freezing is the much better choice to pasteurizing, especially high-pressure-pasteurizing, of juice because this can heat it up. Heating it up is what breaks down the healthy enzymes that you need.
If you want to save time during your juice cleanse, then chop and prepare all of your fruits and veggies ahead of time, and then put them into freezer bags or plastic containers. This way, you can take them out when you need them and won't have as much prep to do in the morning.
Conclusion
And that sums it up! You can, in fact,whther it's homemade juice or store bought juice freeze juice but I would only do it if you have to. If you freeze your juices then you lose some of the nutrition and you lose more the longer you have it frozen.
Just be aware that freezing your juice, especially if you freeze fruit juice can affect the flavor, so you might even want to try a test batch that you freeze for a few days and then thaw, to see how it is. Before you end up with 12 gallons of frozen orange juice you don't want to drink!
The ice cube tray method to freeze juice is definitely worth trying, freezing into an ice cube tray is a delicious and fun way to store your juice. Whether it's frozen orange juice, frozen green juice, or anything in between.
And even if cold pressed juice is best when fresh that doesn't stop you needing to freeze it sometimes. And what's more refreshing on a hot day than an ice cube made of fruit juice?
Other juicing questions:
Can You Juice A Whole Grapefruit?
Can You Juice Lettuce? How to Do It and Top Recipes
Can You Juice Watermelon? How to Do It and Top Recipes
Can You Juice a Mango? How to Do It and Top Recipes