When it comes to making positive life changes, what to do and how to follow through can feel overwhelming. Chef V's 21 Day Detox tackles this challenge by providing fresh, organic juices and drinks shipped to the detoxer's door for three weeks. So, what makes this detox program different, and is it worth signing up for?
Chef V's 21 Day Detox is a great option if you are looking for an organized program with freshly prepared organic products. This detox delivers everything you need to your door each week. However, if you prefer to prepare your own juices with local products, this detox may not be for you.
In the rest of this article, we will look at Chef V and what to expect with this detox program. You will also learn about some pros and cons to help you decide if this detox is the right choice to kickstart your health. Or check out my favourite juice diets you can order at home here.
Or click here to jump to the website and order now
What Is Chef V's 21 Day Detox?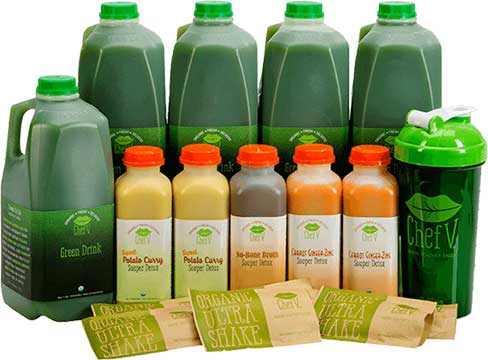 Veronica Wheat, also known as Chef V, is the creator of this detox program and has designed it to be as healthy and fresh as possible. She makes all of her products on the spot in either her California or New Jersey locations. Each batch of green juice and other cleansing products is made to order; nothing is made and stored, and everything is fresh and certified organic.
The 21 Day Detox is more involved than her shorter juice cleanse packages. This program includes the signature Green Drink, Protein Drinks, and Detox Soup. This package also includes a meal planner and cookbook created by Chef V to help guide your transformation from short-term detox to long-term healthy habits.
This detox rotates between full three-day cleanses followed by four days of "healthy routine." During the full cleanse days, you will drink the green drink four times a day, drink your protein drink twice a day, and enjoy your soup once a day. During the "healthy routine" days, you will drink one green juice and one protein shake, and then you can choose your meals.
To get a look at the schedule and get a feel for this detox's flow, you can view her official website.
This detox is more than a quick cleanse. It is designed to help you redesign your eating habits and eliminate unhealthy cravings. By following the program for the full duration, you will experience many health benefits and lay the foundation for a healthier future.
Pros of the Detox
Chef V has done a lot to make her customers happy. From customer service to the sourcing of her ingredients, there are so many pros of this program.
Let's take a look at some of the highlights.
Quality of Product
As I said in my full review of Chef V, their ingredients are certified organic, non-GMO, completely plant-based, and free of soy, nuts, refined sugars, and gluten. The ingredients are fresh, and she is careful with her process to keep these top ingredients as nutritious as possible when they reach the detoxer.
For example, the green drink is blended, as opposed to juiced. This means you're not losing any part of the leafy green when making it liquid — all of the fiber is still there, just in an easy-to-drink form. The taste is quite good as well, with a bit of apple added to give it just a touch of natural sweetness and no refined sugars used in these drinks.
The green drink is loaded with leafy super greens that are all packed with health benefits. These include two different types of kale, as well as collard greens and several others. If you're interested, you can see the full ingredient list on her website here.
All of her products are made fresh and shipped within 24 hours. That means that when you open your door on the first day of your cleanse, you will have fresh and healthy supplies ready and waiting for you. There is no blending or juicing required of you; simply enjoy her recipes. New packages arrive each week to continue to provide you with fresh drinks and soups.
Customer Service
Chef V is a small business owner that has gone through great lengths to make sure her customers feel supported as they start their detox journey. When you sign up for the detox program, she will send you emails paced to match your detox plan. These can be particularly uplifting if you are struggling on a particular day. Her words of encouragement are there to keep you on track to follow through on your commitment to your health.
Health Benefits
As with any good detox, the health benefits of committing to this process can be overwhelming. There are so many areas you may experience changes. It will depend on you and your body, but people will often report higher natural energy levels, clearer skin, and general positive feelings. Weight loss is common as well.
On the inside, your body has a chance to flush out all the harmful toxins that have gotten lodged. With a break from processed foods, unhealthy fats, and refined sugars, your body has a chance to heal itself and come back into balance.
In addition to what your body has a chance to get rid of, you also give it all the nutrients it is craving. You may find naturally sweet food more satisfying as you cut out refined sugar.
Plus check out the success story below!
Simplicity
This detox is perfect for the on-the-go individual who does not have much time or energy to create their own detox plan. Everything you need is provided for the full cleanse days, and plenty of support is provided as you prepare meals during the healthy routine days. This is an organized, supportive way to get started making a big, healthy change.
Cons of the Detox
When it comes to detoxes, Chef V has developed a high-quality option that allows your body to come back into balance naturally. However, some cons may cause some to choose another path to a healthier life.
Let's take a look at what these are.
Cost
With Chef V, you are paying for convenience and top-quality products. However, depending on your habits, you may not find the price tag worth it. If you enjoy shopping for fresh, local ingredients and preparing your own food at home, the convenience and corresponding price of this detox may not be very appealing to you.
If this sounds like you, you may take the ideas introduced by Chef V and try your own version at home. This would allow you to prepare your own blended drinks and soups to your liking and at a lower price point than enrolling in the official three-week detox.
Environmental Impact
Your detox supplies will be shipped from either Chef V's California or New Jersey location. If you are conscious of your carbon footprint, you may feel uncomfortable about your juices being shipped potentially long distances regularly. If you pride yourself on using ingredients local to your area and reducing the carbon footprint when it comes to your food, this detox might be uncomfortable for you to do.
Final Thoughts
If you're looking for an organized and organic way to get started with a detox, Chef V is a great choice. What you receive in the mail from her will be tasty and fresh and help you reset your body in a deeply positive way. If you choose not to purchase her product, you can still get inspired by her recipes to make your own healthy detox drinks at home.
Click here to jump to the website and order now