Juice cleansing is a fast and efficient way to lose weight quickly and jumpstart a healthy lifestyle. They aren't just for the beginning of a new year, you can jump on any time.
But there are so many to choose from! It seems that more and more juice cleanse delivery companies are popping up and it can be hard to know which one is best. What's the best way to detoxify? Is detoxing even the right way to describe it? Which cleansers are the ones for you?
That's where I come in.
I've found and reviewed all the best juice cleanses that are out there, whether you're looking to lose weight, detox and give yourself younger-looking skin. take a look at the list below to see my favourites and click the name to be taken to their website where you can order yours!
P.S. I secured an exclusive discount code for Raw generation, enter JuiceBuff10 for 10% off any order!
Of course, please talk to your doctor first and don't do yourself any harm through a juice cleanse – be sensible!
The 5 Best Juice Cleanses Reviewed
It's time for the main event: the review of the Best Juice Cleanse Delievrys available here in the United States!
The criteria for making this list was that the juices MUST be cold pressed juices; suitable for vegans and vegetarians; be delicious; have no added sugar; and be available across the entire USA. Which made Chef V and easy choice of top pick.
1. Best Juice Cleanse For Weight Loss – Chef V Juice Cleanse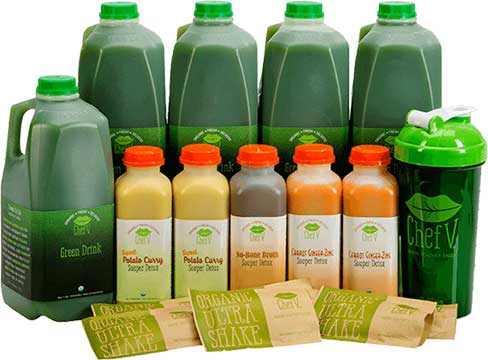 Best Juice Cleanse For Weight Loss
Includes Cold Press Juice And Soup
Organic Ingredients
Based in LA, the Chef V cleanse is perfect for beginners who are looking to do their first cleanse but aren't too sure about it. You'll get 4 big green juices as well as 2 protein shakes and 1 detox vegetable soup, so this is a great way to try a little bit of everything. On top of that you get access to some recipes to start with before and after the cleanse, so you can try your own smoothies or your own juices – get the juicer working!
The soup adds a nice hot meal to the end of your day, which can help you maintain some normality while keeping up with the juice cleanse, and the protein shakes give you some extra energy if you're an active person.
You'll get free shipping in LA, Orange County, San Diego, New York City and North Jersey but they do deliver across the United States. These are slightly different to the Raw Generation juices, since these only last for seven days after you buy them but they're never frozen and don't get pressured during their packaging.
This is the perfect cleanse for beginners.
Click here to read my full Chef V review or go to their website and order yours.
2. Best Seven-day Juice Fast – Raw Generation Skinny Juice Cleanse
Best Cleanse For Beginners
Keeps For 6 Months In Freezer
Top Rate Juice Cleanse
Best Tasting Juice Cleanse
Use coupon code: JuiceBuff10 for 10% off your first order!
Raw generation juices are cold pressed and flash frozen to lock in all the nutrients. They get delivered in a cool bag and you just pop them in your freezer, where they can last for 6 months until you need them.
They deliver nationwide, so you can get them at home or at the office, and the shipping is free!
But the best thing are the 5 delicious flavours you get. I'll let you click through the button above which takes you to the website to get the specifics of each flavor, but what I'll tell you is they're sweet without being high in sugar and one of the tastiest fresh pressed juices available.
This cleanse is 6 bottles of juice a day, so you won't feel hungry and the 7-day cleanse option will help you lose weight in no time, if that's what you're looking for.
Click here to read my full Raw Generation review or go to their website and order yours.
3. Best 5 day juice cleanse – Raw Generation Protein Cleanse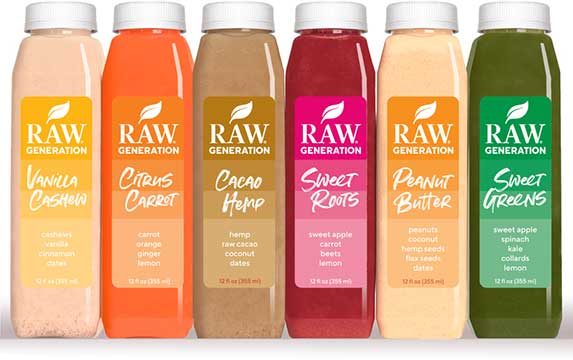 Great for gym junkies
Keeps for 6 months in freezer
6 bottles a day
Use coupon code: JuiceBuff10 for 10% off your first order!
Price & Reviews
This one I like because to me Protein is what's missing from a juice cleanse. Protein helps keep your muscles strong and mean you can still do your workout while you're on the cleanse.
You get 40g a day of powerful plant based protein to keep your muscles fueled, which can help you lose weight by allowing your metabolism to keep running strong.
You get 5 delicious flavours to enjoy, I'll let you check them out on their website, and you get to drink 6 bottles a day which I love because it means you aren't going too long without anything. So if you start getting hungry you're likely not far ot from your next juice.
This juice cleanse delivers all over the USA and and stays happily in your freezer for up to 6 months, so if you don't finish, don't worry! You've got loads of time left to enjoy any bottles you don't get too.
4. Best 3-day juice cleanse – Suja Juice Cleanse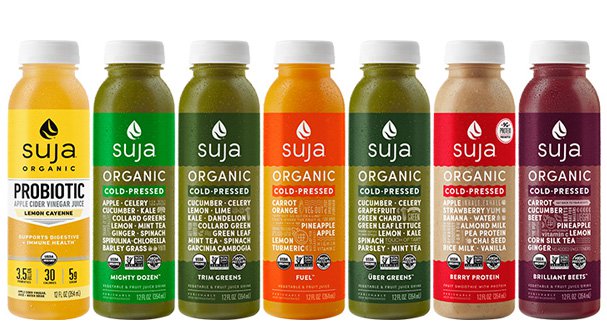 Best 3-day Juice Cleanse
Organic
Includes Breakfast Recipe
Suja juice have a great 3-day cleanse which offers an organic and low-calorie approach to juicing. It includes seven cold press juices for each day, including one probiotic lemon water, and one protein juice to keep those energy levels up. Lemon juice is an excellent detox ingredient – packed with vitamins.
Plus, they recommend and give you a recipe for overnight oats to have as a healthy breakfast. Overnight oats are low-calorie but it's also nice just having some solid food to start the day. It's a front-loaded approach to calories, so you have your calories in the morning to see you through the day and your fresh pressed juices to keep you topped up.
The 3 days will pass in no time at all and you'll come out the other end slimmer and happier.
5. Best Juice Cleanse in NYC – Juice From The Raw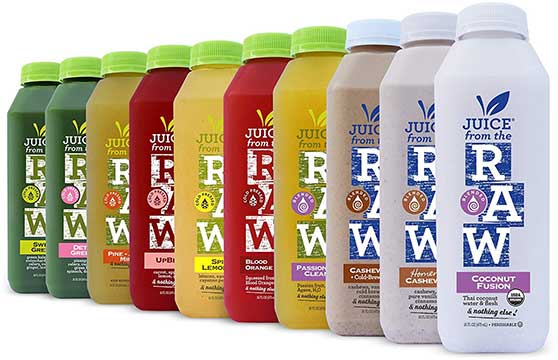 Delivered Frozen
Made in NYC
Includes Lunch
No, I'm afraid I don't mean they deliver your lunch every day!
This is a 9-day cleanse, which lets you have one salad a day. Again, the inclusion of some solid food makes a big difference to how easy this cleanse is – you'll feel fuller than if you were just on juice alone. There is also a 3 day cleanse option.
Apart from that you get to have four tasty juices per day and they're all very tasty! They arrive frozen and go straight in the freezer, where you can keep them for up to 6 months. Once they arrive, defrost the ones you need for the next day and you're ready to go.
You also get 10 different flavors to enjoy over the 9 days and you'll be provided with an order to have them all in. This cleanse has a lot of variety, so you aren't going to get bored, which is important when you're on a longer cleanse. This is another one that's great for losing weight.
6. Best 1-day Juice Cleanse – Healthy Choices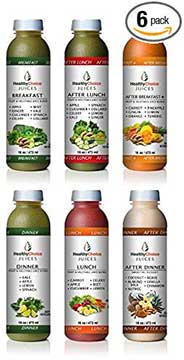 Best 1 Day Cleanse
6 Flavors
Lasts 60 Days
I was unsure about including this one because they use a process called High Pressure Process – or HPP -to pack their juices.
This process keeps the juice fresh so it can last for up to 60 days but the downside is that it kills off the live enzymes and can reduce the nutritional value of your juices. Fresh juices have a much higher nutritional value.
But, this is a 1-day cleanse, which not many people offer, so I thought I'd include it anyway plus it's a cheap juice cleanse which is feels more inclusive. You get 6 different flavours to enjoy throughout the day, so you're never going long periods without anything to eat. And they taste pretty darn good!
A good alternative to this might be the Raw Generation 3-day cleanse, but divide it up into 1-day cleanses. The Raw Generation cleanses have a shelf life of 6 months, so you have plenty of time to get through them.
How To Prepare For Your Juice Cleanse
I've got a whole guide on juice cleansing that you should definitely read but if you want the quick version, stay right where you are!
Before you get your teeth into your juice detox cleanse, make some small, healthy changes to your diet and lifestyle. This will make your transition into your cleanse a lot easier and you'll be more likely to stick to it! If you already live pretty healthily and are reasonably active, you can probably jump straight into your cleanse, but if not, consider the changes below:
Avoid foods that are heavily processed, soda, instant foods, takeaways – basically anything you know is unhealthy. processed foods in particular will get cleanesed out so you can give yourself a helping hand before by removing them in advance. Also, try to drink less caffeine if you can and avoid alcohol as far as possible.
Instead, start having salads, soups, homemade meals, nuts, lots of veggies. You could also consider swapping from dairy products to alternatives, like nut milk. These alternatives are often lower in calories than dairy but they're also easier on your digestive system.
If you're cleansing, please make sure that you're properly hydrated! You aren't eating as much as normal, so you'll dehydrate more than you realise.
If all of these seem too much or too overwhelming, changing eating habits can be hard, then just try to minimise your sugar intake. That's what's going to make the real difference. And can help you pre-emptively cut off any unhealthy cravings for bad foods.
How Long Should You Cleanse For?
This is usually everyone's first question. How long am I going to juice cleanse for?
This is an important question, since it'll impact how much juice you buy. So you should consider this before you start! Most cleanses vary in length between one day and seven days and each type of cleanse has different health benefits:
7-Day Juice Cleanse – This is the best option if you're looking to kick off a healthy living overhaul. Some people who have done this have lost up to 20lbs, so if weight loss is your focus, this is good for you. This juice diet is not easy! However, it's worth it if you're looking for the best results.
5-Day Juice Cleanse – This isn't as extreme as a week-long commitment but still excellent for losing weight quickly. It's perfect if you're looking for a juice fast for its detoxification benefits.
3-Day Juice Cleanse – These are a good option for doing regularly, every two to three months or so. A 3-day detox cleanse is great for resetting your body and using as part of a healthy diet. These, like the other cleanses, are good cleanses if you're looking to quickly slim down before a holiday or an event that's coming up. They're also perfect for beginners.
2-Day Juice Cleanse – You can do these over a weekend, which can make them a bit easier. Take some time when you're off work and don't have any big commitments, then you can relax, detox and start afresh on Monday morning!
1-Day Cleanse – This type of cleanse is a much easier commitment, You can do them once a month, or even once a week if you're feeling keen! You feel really awesome after doing one of these and they are ideal for recovering from a night of partying!
Do I Need To Buy my Cleanse Locally?
If you can that's great! Places like NYC and LA have lots of juice bars that offer juice cleanses, but for the rest of America who might not have that option, don't worry. You can buy tastey juice cleanses online and those are the ones I'm going to talk about.
Juice Cleanse Health Benefits
There are lots of health benefits to completing a juice cleanse. I've listed the main ones below so you know what you're getting in to – and so you'll have plenty to motivate you when you really want that burger and fries!
1. Weight Loss
It's the one we're all hoping for, right?
Well, you might have heard that after a juice cleanse you end up putting the weight back on again, but that's not completely true. Some of the weight lost during a juice cleanse is water weight but it's also fat that you've burned from being in a calorie deficit.
Often people carry a lot of excess water, especially if they're overweight, so if this gets lost during a cleanse, it's inevitable that some of it will return, since your body need to store water, but not all of it will.
The weight you lose during a juice cleanse is real weight loss and as long as you keep up a healthy lifestyle and healthy diet after you finish your cleanse, the weight will stay lost.
The great thing about a juice fast is that because you're getting so much nutrition, you don't feel as sluggish or tired as you would just cutting out calories from your diet normally. You get packed full of vitamins and goodness which leaves you feeling energised and invigorated while losing weight. This can even be improved if you go for organic produce juices or raw juices. And it's why you can including juicing as part of a healthy diet. Lots of healthy fats and fresh fruit and veg.
2. Detox The Body
A juice detox cleanse is a form of fasting, and while you fast, some really cool things happen inside your body.
One of them is that your organs actually shrink down to conserve energy, and when that happens they get rid of all the bad cells and keeps all the good cells. Then, as you take in the nutrition from your juice fast, your organs are able to replace the bad cells with new, healthy ones.
We're surrounded by a good deal of pollution on a regular basis. Giving your body a chance to recover, even if it's just a one-day or two-day detox can be really helpful. For example, if you drink out of plastic bottles, some plastic enters your system and needs to be purified by your liver. This is hard work, so giving your liver and other organs a chance to relax and catch up can only be a good thing.
A juice cleanse is the ideal way to fully detox and leave your body feeling fresh and invigorated.
3. Clear Skin
Raw fruit juices and vegetable juices are full of vitamins, as I'm sure you know, but these vitamins aren't just good for your insides – they are also the key to having bright, healthy, young-looking skin. Vitamin A, for example. Vitamin A helps produce new skin cells that can replace the old, dull, damaged ones.
Meanwhile, Vitamin E works to protect against free-radicals. They're a type of molecule that exist all around us, particularly in air pollution, and can damage skin cells.
And finally, you have Vitamin C which works to protect your skin from UV damage. It's ideal for the summer months or if you live in a state that enjoys sunny weather all year round. Sun damage is what ages your skin the most, so do as much as you can to protect it!
Conclusion
There are so many options when it comes to juice cleanse delievries, whether's it's a New Year's cleanse after the holidays or any other time, there's one out there for everybody. Take the time to find the length that's right for you and the variety of juices that suits you best and you'll be a juice cleanse pro!
I also tried to include a variety of flavors beyond a standard green juice, from pineapple juice to orange juice. But the best liquid cleanse doesn't need to be expensive so I tried to include an affordable juice cleanse too.
If you've found the one you like the sound of and decide that you're going to give it a try, please come back and share how you got on with the best liquid detox for you in the comments – we'd all love to hear your thoughts and if you noticed any differences when you were finished!